Baby-Proofing Checklist: How to Baby-Proof a Home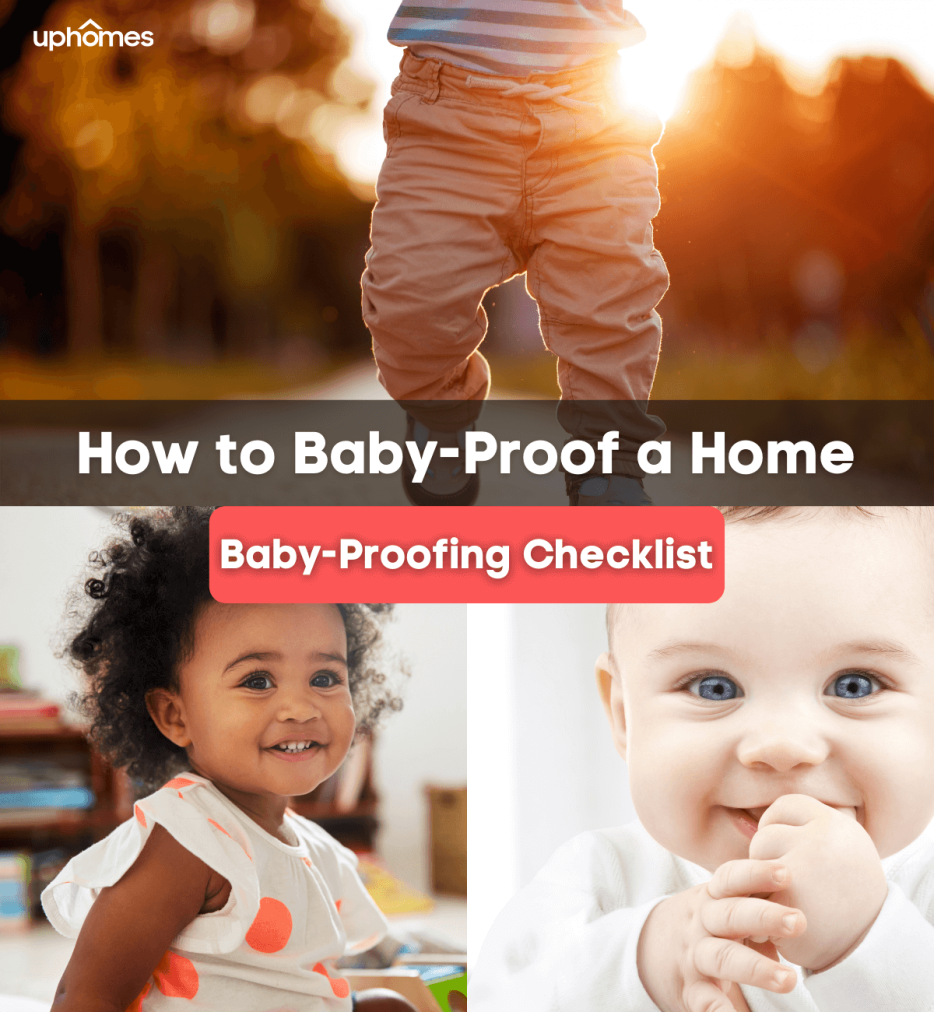 Baby-Proofing Checklist: How to Baby-Proof a Home
For those who are expecting for the first time, life can get a bit hectic during the last few months. One of the things you need to do before you bring your new baby home is to baby-proof your home. You might ask yourself if you really need to baby-proof your home – yes, you do, if you want to keep your baby safe. However, you don't necessarily have to go out and spend money on all the newest baby-proofing things on the market. People have been having babies for centuries and have been able to baby-proof their homes without spending a ton of money.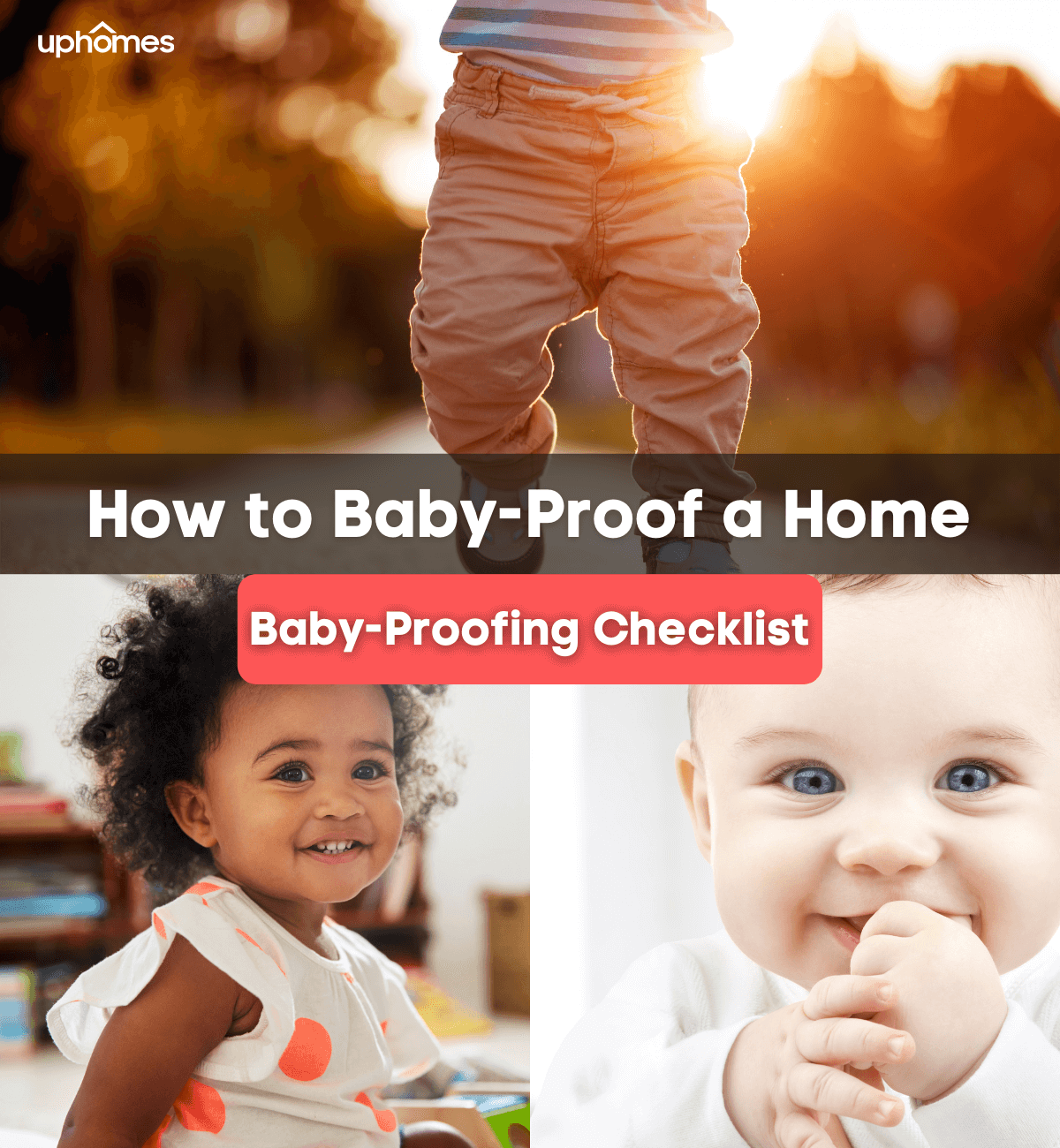 The project of baby-proofing your home can seem daunting at first, but when you have a baby-proofing checklist, it will ensure that you don't forget anything, and you can take it one step at a time so you don't become overwhelmed. Different types of homes require different types of baby-proofing and our baby-proofing checklist is a great guide to get you started!
The Major Things First
Look for the big things first, so you can get them over with and out of the way, especially those things that will take the time or that you'll need to call professionals in to repair. Sometimes when buying new construction homes you can ask the builder to assist with a few of these items or you may even find a home that comes already baby-proofed! With that being said, let's dive into the major items on our Baby-Proofing Checklist:
Replace broken windows and doors. Put finger pinch guards on any doors your baby can reach.
If you have a basement, make sure the lock on the basement door is working and that everyone in your home, including guests, keeps the door locked. Adding a safety chain to the door helps when your baby can reach the door and figure out how to unlock it.
Check your smoke detectors and carbon monoxide detectors to ensure they are working. If you regularly forget to check the batteries, set a monthly alarm on your phone to check them, or make it a point to check them on the first of the month.
If you have an older home that was built prior to 1978, check to see if it has lead paint and asbestos. If so, call in the appropriate remediators to get rid of these poisons.
Any painting and remodeling should be done at least three to four months before you bring your baby home, especially if you are removing lead paint and asbestos.
Even if it doesn't have lead in it, make sure paint is not peeling from the walls.
Check furniture for anything that might pull away from the walls if a toddler pulls on it or climbs on it. Fix it to the wall or install an anti-tip kit to keep it from tipping when the baby pulls on it or tries to climb it.
Check appliances for tipping. Most stoves come with an anti-tip kit, but many people do not install them.
If your stove has a bottom drawer, put a child-proof lock on it so your baby can't open it. Do not store glass cookware in it, even if you lock it.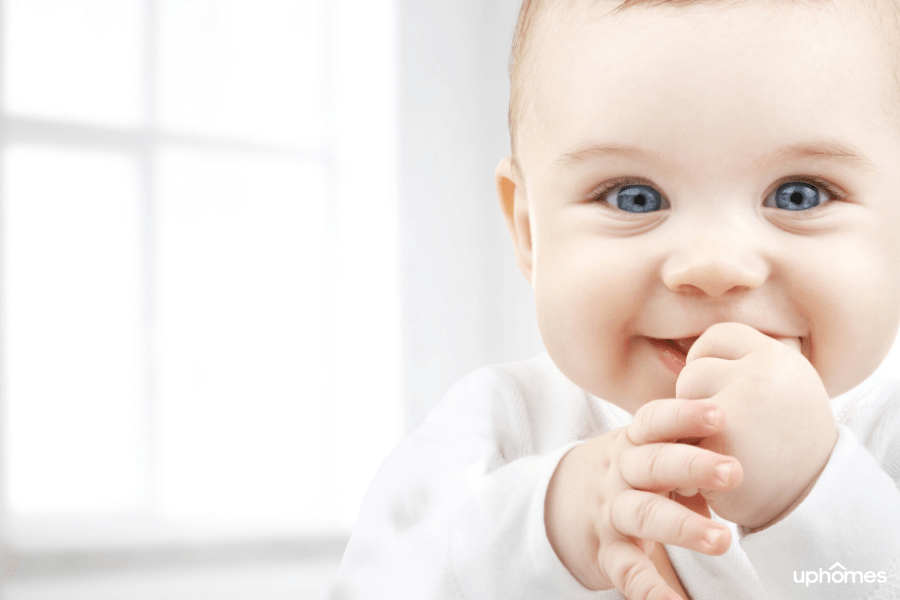 Room by Room
You can what seems like a huge chore into several mini-jobs by going from room to room. Depending on the amount of time you have, you can do a room a week.
The Kitchen
If your home has an open floorplan, baby-proofing the kitchen is more important than if you don't. You can always use baby gates to block off the kitchen, but it is safer to baby-proof it. Someone could leave a gate open, or a pet could knock a gate down, and your baby could get into all kinds of stuff.
Install child-proof cabinet latches. Look for those that won't destroy your cabinets, especially if you rent an apartment. The magnetic locks that you can install inside the cabinet doors work well, but a toddler might be able to pull the cabinets open.  Choose a type that will work for stronger toddlers.
Install stove-knob covers so your baby can't pull himself up and turn the knobs, especially if you have a gas stove.
If you don't trust your cabinet locks or if your toddler figures out how to open them, move all cleaning supplies to a higher storage spot. Many of these products use bright colors on their labels, and your baby might think they are toys and put them in their mouths.
Make sure any throw rugs have nonskid pads under them, especially when your baby starts walking. If the corners are turned up, remove the rugs. You could trip on them, or they could slide out from under you when you are carrying your baby. 
Dining, Bed and Living Rooms
The biggest problem with the living and dining rooms is furniture with sharp edges. You can add stick-on corner cards, so the edges aren't as sharp. Once your baby starts standing and walking, the chances of falling into a sharp edge are much higher.
Corner cards for sharp edges, or if you are in the market for new furniture, choose pieces that have rounded corners.
Store tables with glass tabletops until your children are older or replace them with wooden furniture. The glass tops could easily break, especially if toddlers start throwing their toys around. While that is the behavior most parents put a stop to, there's always a first time. 
Put child-proof coverings over every outlet that is not being used.
Tie up cords on window blinds and shades, or change your window coverings to something that does not have cords.
Anchor the television to the wall and hide the cords. If your TV is on a stand, make sure it's anchored to the stand or to the wall behind it.
Make sure area rugs have a non-slip backing and that the corners and edges of the rugs are not lifted up. You can use double-sided sticky tape to hold edges down.
Remove heavy décor from tables and shelves that are within your baby's reach.
Remove table lamps from end tables until your baby is old enough to know not to pull on the lamps or the cords.
Make sure your fireplace or wood/pellet stove is blocked off, even when it's not in use.
If you have a stone hearth that is up off the floor, cover the edge with something soft or block your baby's access to the area. If she should fall, she could crack her head open on the stone.
Remove tablecloths. A baby or toddler can pull them and anything on top of them right onto his head.
Make sure dressers, cabinets, small tables, floor lamps, and other furniture cannot topple over onto your baby or toddler if he pulls on them to stand or climbs them.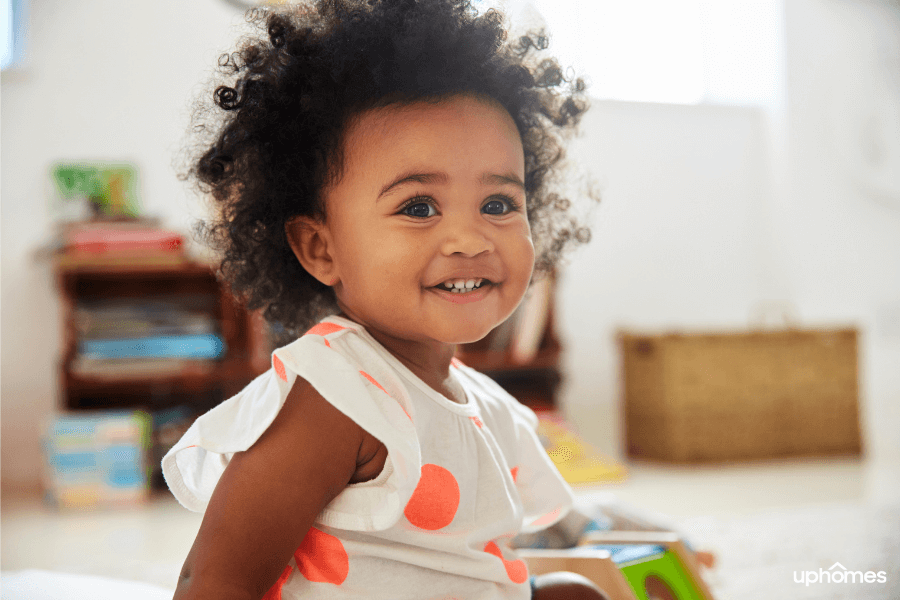 The Nursery
In a nursery, you need function and safety, especially once your baby starts standing and climbing.
Make sure all furniture cannot tip, including dressers. Toddlers will pull out the drawers and climb in them.
Keep wall hangings away from the crib and other places a baby or toddler might be able to stand and climb to reach them, especially over the crib. You can paint designs on the walls or use wallpaper to decorate those areas.
Make sure the area under and around the crib has thick carpeting, so if your baby climbs out and falls, the fall will be somewhat cushioned.
Use an open bin for a toybox. The lids on lidded toyboxes could come down and smash your baby's fingers, arms or even his head.
Use UL-listed nightlights.
Do not use mobiles above cribs and playpens.
Keep crib bumpers, blankets, pillows, and toys out of the crib.
Child-proof outlet coverings.
Finger-pinch guards for door hinges.
Window locks on the windows. Always make sure they are locked when your baby is in the nursery unsupervised, such as nap time or bedtime.
If you have screened windows and like to leave the window open during the daytime, make sure your baby can't climb up and push the screen out. Block off the screen with a baby gate.
Bathrooms and Laundry Rooms
Both areas have cleaning supplies, and bathrooms have medications that could cause your baby severe illness or even death if he swallows them. Always keep medications and cleaning supplies out of reach of your child. Always assume that your toddler will figure out how to open child-safe containers, including pill bottles.
Child-proof latches for cabinets. If your medications and cleaning supplies are in a drawer or under-counter cabinet, you might go a step further and put locks on the drawers and cabinets.
Toilet lock.
A thermometer to check the bathwater temperature. Some people recommend turning the hot water heater below 120 degrees Fahrenheit, but you won't have the disinfecting properties of hot water if you do this, which could lead to illness if you don't get the dishes properly cleaned.
Child-proof outlet coverings, especially in the laundry room where outlets are closer to the floor.
Move shampoo, conditioner, and soap off the ledge of the tub or shower. Instead, get a hanging shower caddy and store them out of the baby's reach.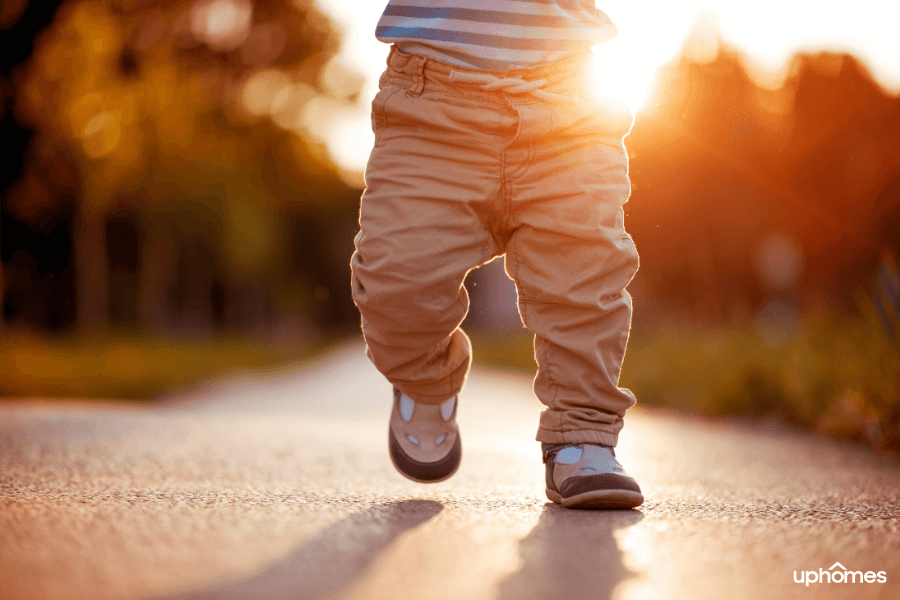 Overall Safety Tips
Look at the rooms in your home. If you have rooms where you don't want the baby to go into, get enough baby gates to block off those rooms. You should still use child-proof outlet covers and make sure none of the furniture can topple over on top of your baby in the event that she bypasses the gates.
Most houseplants are poisonous. Make sure they are out of reach. Hang them from the ceiling or walls high enough so that even if your toddler climbs on furniture, they are out of reach. Even non-poisonous houseplants could cause an illness.
Lock any liquor cabinets or move liquor out of reach into a high cabinet or onto a higher shelf. Some people store their liquor bottles on top of the fridge.
Cover or use baby gates to block access to radiators. Heating vents can also get hot, plus your baby's fingers could get stuck in certain types of floor heating vents. Cover them or change the grates out to something that has larger vents than the size of a toddler's fingers but not large enough for a hand to fit through.
Make sure the caps on all doorstops cannot be removed. They can present a choking hazard. If they are loose, you can replace the doorstop or glue the caps on with a strong glue that won't loosen.
Keep batteries out of reach of your children. Check toy batteries frequently to make sure they are not leaking, especially if they are in a toy that your child puts in her mouth. 
Keep your home vacuumed to ensure small items such as paper clips, loose change, and other small items are not laying around, as they pose a choking hazard.
Store keys, purses, and wallets out of your baby's reach.
Gate off stairs, even those that lead to the second floor. Once your baby starts crawling, he could try to climb the stairs.
Baby Safety When Your Attention is Elsewhere
There will be times when you can't give your baby your full attention if you are home alone or if you are a single parent. While you are in the shower, cooking dinner, or even doing housecleaning chores and laundry, never leave your baby where she can crawl or toddle into a dangerous spot. You may want to use smart devices to assist you with ensuring the safety of your baby.
Putting a baby in a playpen, a walker, swing, or another item made for babies is much safer than letting them crawl or walk around on the floor when you have to take your eye off the baby to finish your chores.
You can also opt to cook, shower, or do a majority of the cleaning during your baby's nap time. You'll know that he is safe in his crib or playpen and won't be getting into stuff that could cause an illness.
If you tackle each room by itself, you'll find that you won't break the bank, and you won't be as stressed while waiting for your baby to be born. Plus, you'll be able to take your time and make sure you get everything done, especially if you start baby-proofing your home shortly after you learn that you are expecting.

Find your new home
Search real estate and homes for sale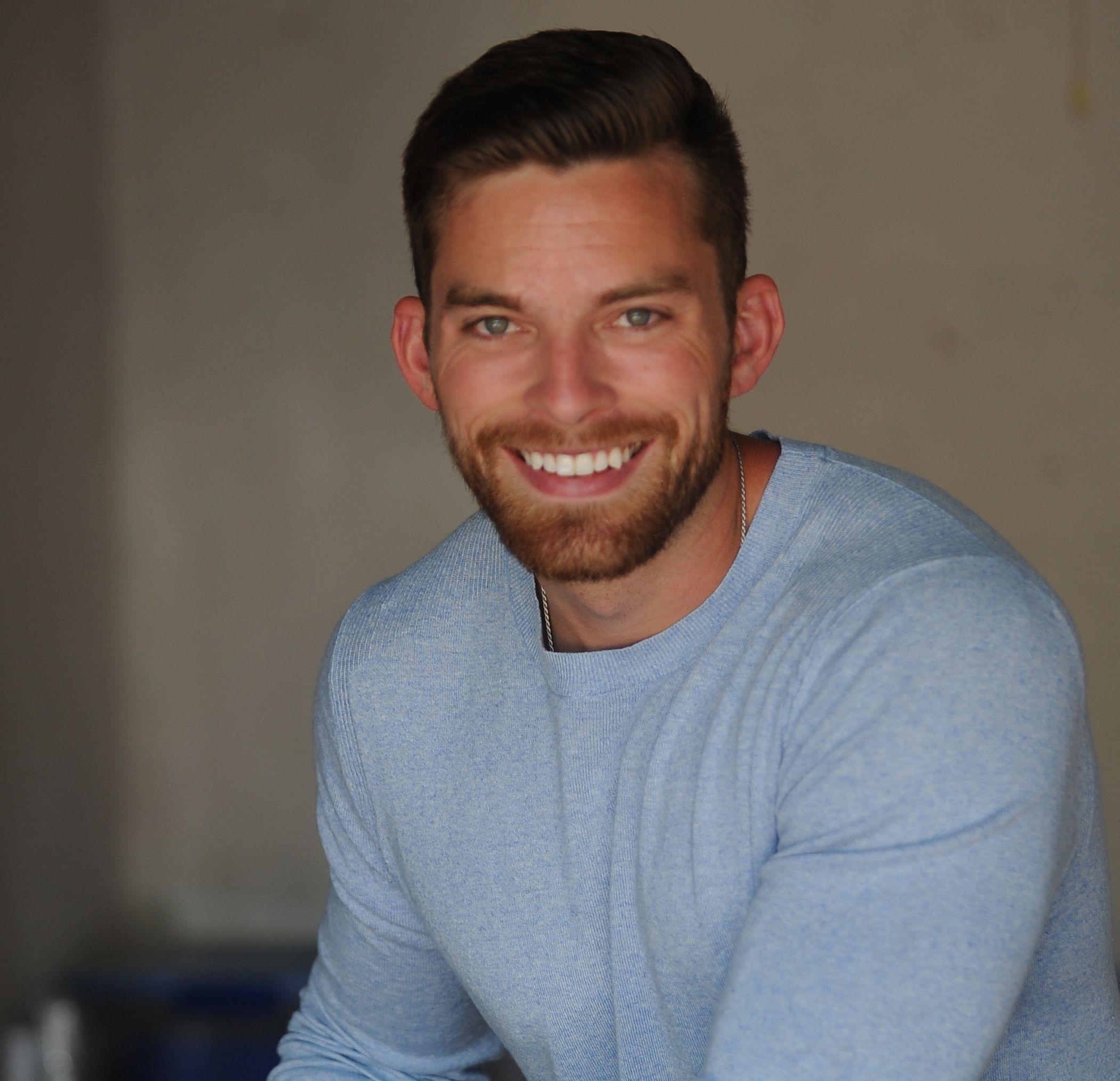 Ryan Fitzgerald
Hi there! My name is Ryan Fitzgerald, and I am a REALTOR®. My goal is to help you learn more about real estate through our Real Estate Blog! Hopefully, you enjoyed the above blog post and it found a way to provide help or value to you. When you're ready to buy or sell a home of your own let us know here. Please feel free to join the conversation by dropping us a comment below.