11 Best Things To Do in Daytona Beach, FL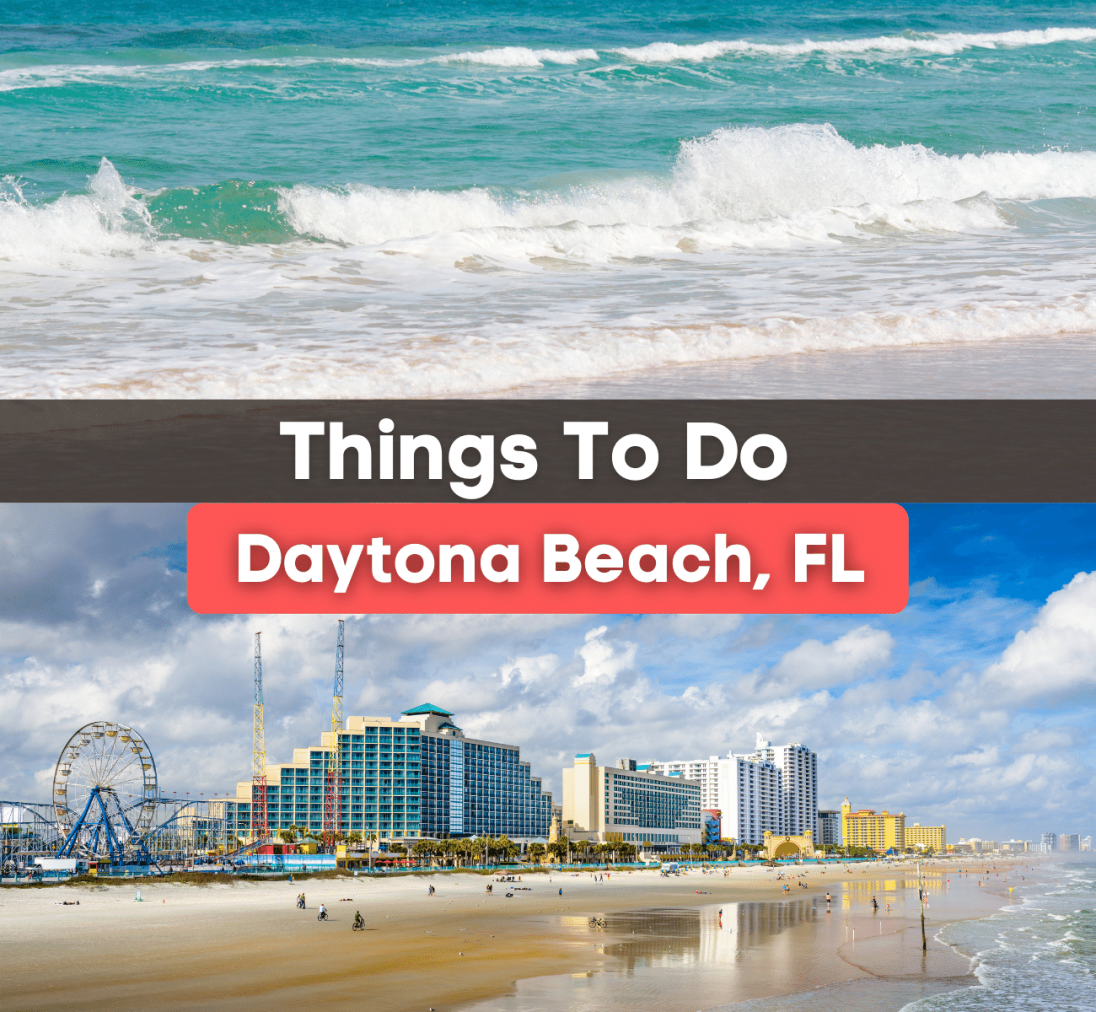 Things To Do in Daytona Beach 
Are you looking for the best things to do in Daytona Beach, FL? Here are eleven top things to do in Daytona Beach! 
Daytona Beach, Florida, might be a notorious spring break destination for its beautiful beaches, but the area has more to offer than just prime access to the coastline. From top-rated restaurants to family-friendly parks, having fun in the sun is a way of life in this sought-after Florida city with beautiful homes and a low cost of living. 
If you are moving to Daytona Beach and are interested in learning more about how to spend your time, then this is the guide for you. Whether you are searching for something fun to do with friends or family, Daytona Beach is bound to have a new activity to try within proximity to one of its many safe neighborhoods. 

Check out these best things to do in Daytona Beach
Daytona Beach Boardwalk and Pier 
Location: 12 N Ocean Ave 
Hours: 9 AM to 11 PM Sunday - Friday, 9 AM to 12 AM Saturday 
Phone Number: (386) 252-8276
The Daytona Beach Boardwalk and Pier is one of the most recognizable and famous landmarks in Daytona Beach. Offering fun on the beachfront, this historic boardwalk and pier is the center of the community. First built at the turn of the 20th century and constructed of palm logs, the pier was rebuilt and refurbished in 2009 before reopening to the public officially in 2012. 
Since its initial construction in 1925, this pier has withstood the test of time and natural disasters from fire and hurricanes. A popular destination for residents and visitors, many restaurants, gift shops, snack bars, and arcade games can be found on the pier, which makes it a go-to destination for family fun every day and night. 
Located just steps from the coastline, free fishing is allowed on the east-end pier, and no fishing license is required. Metered parking is available at the base of the pier at Breaker's Oceanfront Park.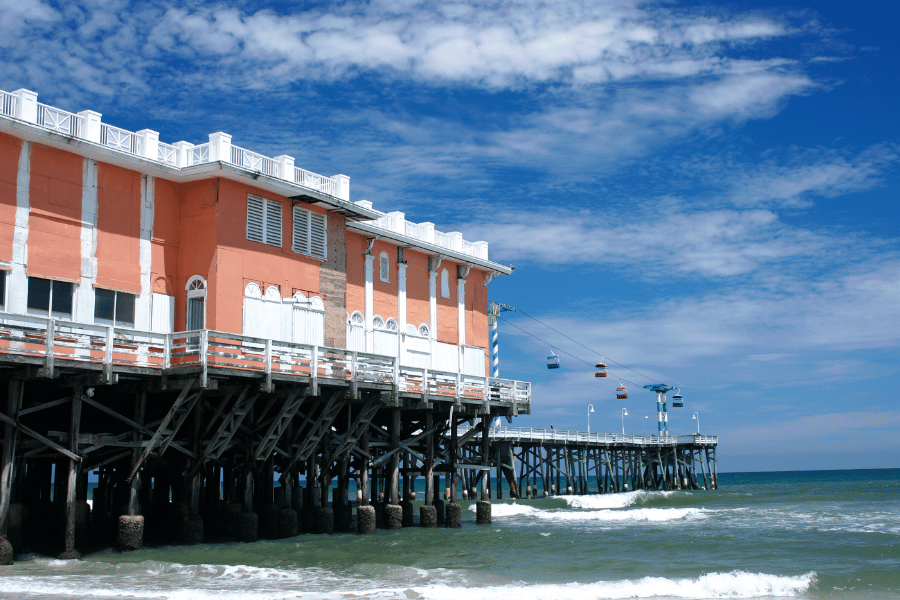 Daytona International Speedway 
Location: 1801 W International Speedway Blvd 
Hours: 9 AM to 5 PM every day 
Phone Number: (800) 748-7467
The Daytona International Speedway is a world-renowned race track home to the Daytona 500, the most prestigious race in NASCAR. First opened in 1959, this massive speedway and mult-sports facility welcomes hundreds of thousands of racing fans to the area for races. Tickets for the Daytona 500 start at $221 and can reach upwards of $1,387, depending on where you sit and when you buy. 
Great for fans of all ages, the Daytona International Speedway offers plenty of things to do and see throughout the year, from hands-on interactive speedway tours to exploring the Motorsports Hall of Fame of America, which honors racing and features unique exhibits. Tickets to the Speedway tour are only $25 for adults and free for kids under four years. 
Not only is the speedway a destination for NASCAR races, but it also hosts Welcome to Rockville, a famous hard rock and heavy metal music festival. This four-day music festival features a robust lineup of musical performances, three stages, a Ferris wheel, carnival rides, and plenty of food and drink options. 
Daytona Beach Bandshell
Location: 70 Boardwalk 
Hours: Open 24 hours 
Built-in 1937, the Daytona Beach Bandshell is a historical and community gathering space listed on the National Register of Historic Places. Located at Ocean Avenue in Daytona Beach, this coquina amphitheater is a popular destination for open-air concerts and community events in the summer. 
Best known for its summer concert series, live concerts occur every Friday and Saturday night from the end of May to the beginning of September. Not only are the concerts free, but there are fireworks every Saturday after the concerts starting at 9:45 PM. You can check out the event calendar for more information so that you can start planning what concerts to attend. 
Parking is available in surrounding parking lots and garages operated on a first-come, first-serve basis.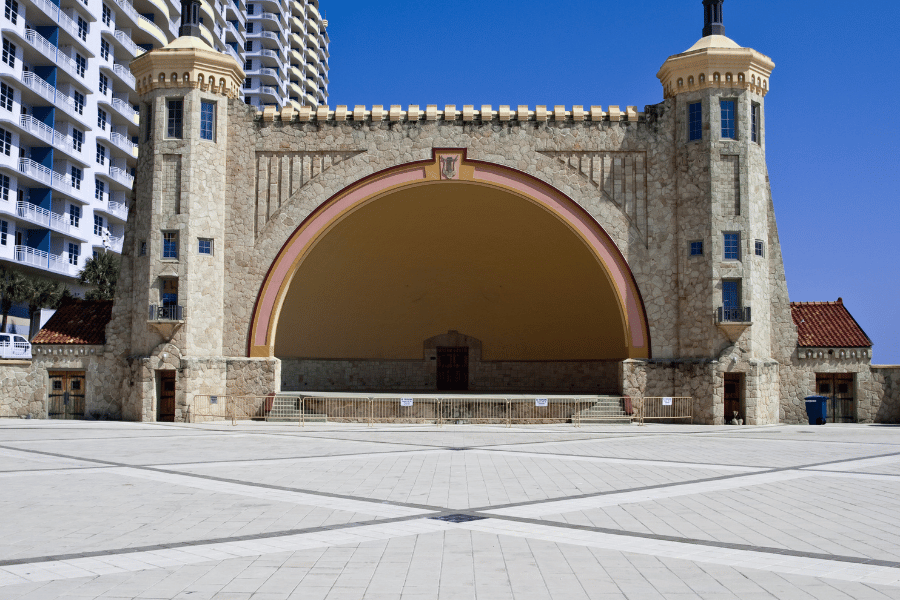 Daytona Lagoon
Location: 601 Earl St
Hours: 11 AM to 10 PM every day
Phone Number: (386) 254-5020
Daytona Lagoon is a great place to take the whole family for a full day of fun in the sun. This top-rated family-friendly waterpark and entertainment center features waterslides, a wave pool, a splash and play center, a lazy river, private cabanas, go-karts, mini golf, a climbing wall, laser tag, and an arcade. 
Offering something for everyone, this Daytona Beach favorite attraction is ideal for birthday celebrations, parties, and gatherings with friends and family. Considered to have the largest variety of attractions in Volusia County, visitors will always be energized when at Daytona Lagoon. 
Providing multiple ticket options, visitors can either pay per activity, purchase a day pass, or invest in a season pass. Tickets start at $23.99 per person, and super season pass holders are $169.99 per person. Season pass holders can take advantage of unlimited access to the waterpark, weekend early entry, $2 off locker rentals, and discounts on food and merchandise purchases. 
Museum of Arts and Science - Daytona Beach 
Location: 352 S Nova Rd 
Hours: 10 AM to 5 PM every day 
Phone Number: (386) 255-0285
Do you love all things art, science, and history? Then head to the Museum of Arts and Science in Daytona Beach. Also referred to as MOAS, this is one of the largest museums in Central Florida since it houses over 30,000 unique objects. As part of the American Alliance of Museums, visiting the MOAS is a memorable experience since it is an affiliate of the Smithsonian Institution. 
Situated on a 90-acre nature preserve, the MOAS features one of the best and finest collections of American art in the Southeast. Home to the Lowell and Nancy Lohman Family Planetarium, the Charles and Linda Williams Childrens Museum, and history exhibits, this facility always has something interesting to see and experience. 
A perfect place to visit for school trips and college students, both self-guided and guided tours are available. The museum also offers indoor and outdoor reception options for weddings. If you are looking for the perfect venue for your dream wedding, the Museum of Arts and Science might be the place. 
General admission tickets for the museum can be bought online in advance. Plan your visit today. 
Daytona Flea and Farmers Market 
Location: 1425 Tomoka Farms Rd 
Hours: 9 AM to 5 PM Friday - Sunday, closed throughout the week 
Phone Number: (386) 253-3330
Nothing is better on the weekend than visiting the Daytona Flea and Farmers Market to purchase locally-made goods and produce. Since 1981, this large market in Volusia County has been open every Friday, Saturday, and Sunday, rain or shine all year. Not only is there free admission, but there is also free parking which makes visiting this local favorite market easy. 
Featuring over 1,000 booths, 400 permanent vendors, two restaurants, and nine snack shacks, the Daytona Flea and Farmers Market is truly a unique experience. Welcoming over two million visitors annually, there is no better place to shop for fresh vegetables, fruit, and other goods.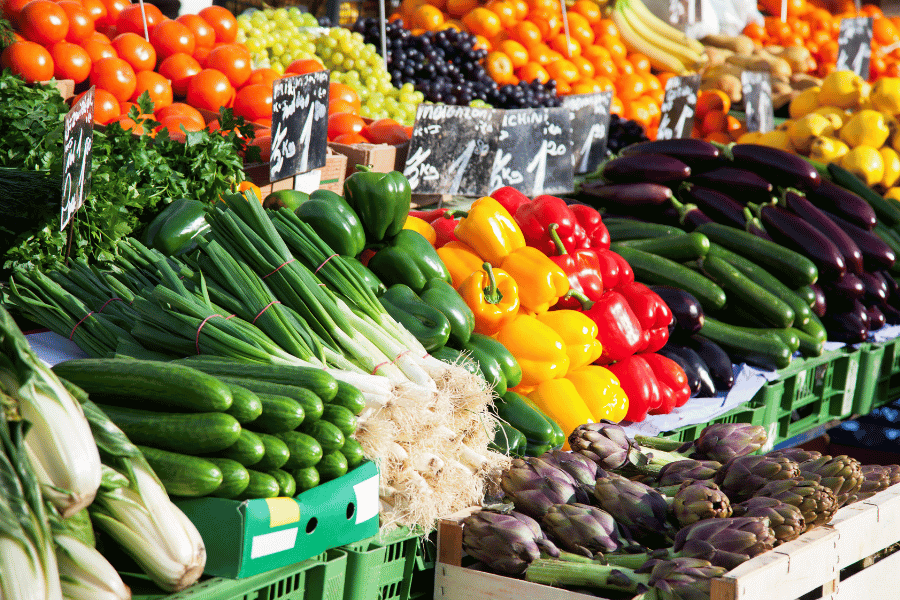 Angell and Phelps Chocolate Factory 
Location: 154 S Beach St 
Hours: 9:30 AM to 5 PM Monday - Saturday, closed Sunday
Phone Number: (386) 252-6531
A must-visit for chocolate lovers, the Angell and Phelps Chocolate Factory, has been making delicious chocolates and candies since 1925 in Daytona Beach. Providing a variety of housemade confections, visitors can enjoy free samples and take a tour of the factory to see how the chocolates are made. All chocolates and candies can be purchased inside the retail store and online. 
Tanger Outlets Daytona Beach 
Location: 1100 Cornerstone Blvd
Hours: 10 AM to 9 PM every day
Phone Number: (386) 843-7459
Get your shopping fix at the Tanger Outlets in Daytona Beach. This popular shopping mall chain has up to 36 locations in the United States and Canada and is home to brand-name and designer outlet stores. Providing great savings, visiting this outlet is one of the best ways to shop the latest styles from well-known brands, including Kate Spade New York, Adidas, Michael Kors, Vera Bradley, and Nike Factory Store. 
Sun Splash Park
Location: 611 S Atlantic Ave 
Hours: 5 AM to 11 PM every day 
Phone Number: (386) 248-8072 
Sun Splash Park is a beautiful four-acre Daytona Beach park with a great Boardwalk and Atlantic Ocean view. Best known for its seasonal interactive splash pad, this park is a popular spot for families and young children to cool off when the weather is hot and sunny. 
Offering walkways and a covered playground, there is no better way to relax and spend time outside than visiting this park. Open daily and featuring restroom facilities, showers, picnic pavilions, and direct access to the beach, this well-maintained park is open to the public and has 162 parking spaces. 
Ponce de Leon Inlet Lighthouse and Museum 
Location: 4931 S Peninsula Dr, Ponce Inlet, FL 
Hours: 10 AM to 6 PM every day 
Phone Number: (386) 761-1821
Located in Central Florida at the Ponce de Leon Inlet, the Ponce de Leon Inlet Lighthouse and Museum is a historic brick and granite lighthouse constructed in 1887. As one of the few lighthouses still with its original keeper dwellings and outbuildings, it is also one of the largest and best-preserved lighthouses in the country. 
Considered a National Historic Landmark, this lighthouse is the oldest and tallest in Florida, where visitors can climb 203 steps to the top. Providing breathtaking ocean and inlet views, this one-of-a-kind world-famous lighthouse offers plenty of experiences for all ages. 
Home to a museum and gift shop, general admission tickets are $6.95 for adults and $1.95 for children ages three to eleven. School groups can visit for free.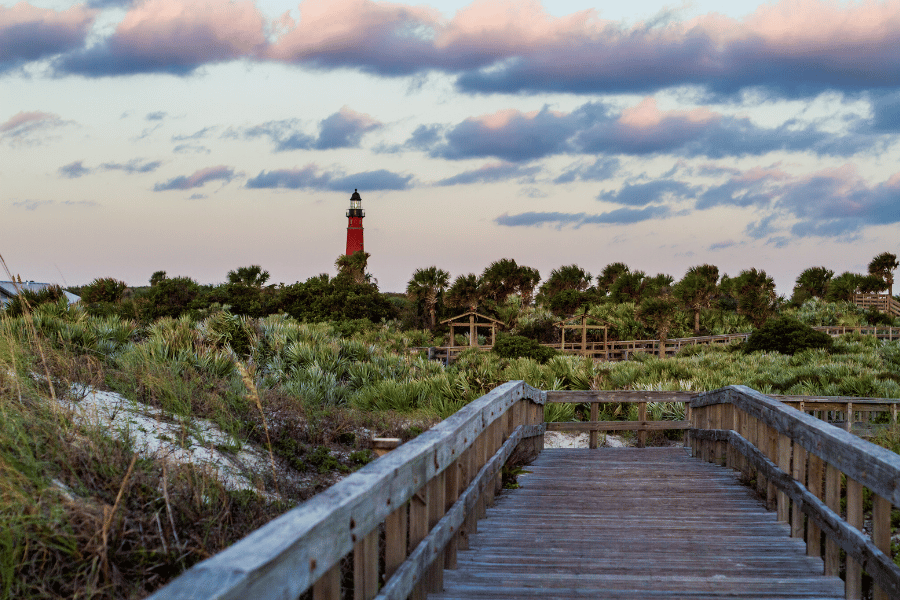 Jackie Robinson Ballpark 
Location: 105 E Orange Ave 
Hours: 9 AM to 5 PM Monday - Saturday, 11 AM to 5 PM Sunday 
Phone Number: (386) 257-3172
The Jackie Robinson Ballpark in Daytona Beach is recognized as one of the best ballparks in Minor League Baseball for its updated amenities and historic charm. First opened on June 4, 1914, this is the fourth oldest ballpark in professional baseball. 
As the site of the first racially integrated baseball game, this ballpark was renamed in 1989 after Jackie Robinson, the first African American to play in major league baseball. Now home to the Daytona Tortugas MLB team, a statue was added in Jackie Robinson's honor right outside the Orange Avenue Gate of the ballpark. 
FAQ: Things To Do in Daytona Beach
Here are some common questions about the best things to do in Daytona Beach. 
How do you spend a day in Daytona Beach? 
Daytona Beach, Florida, has tons of unique stuff to do for a full day of fun, whether you enjoy hitting the beach, exploring its historic downtown, checking out its family-friendly museums and attractions, or having a bite to eat at one of its many delicious restaurants. 
Is the Daytona Beach Boardwalk free?  
The Daytona Beach Boardwalk is a free attraction, but it is still good to have money on hand to take advantage of its shopping, dining, and entertainment options. 
Why is Daytona Beach famous? 
Daytona Beach is considered the "World's Most Famous Beach" for its hard-packed sands, pristine coastline, and motorsport racing at the Daytona International Speedway. 
Does Daytona Beach have nightlife?
Home to a thriving and lively nightlife scene, residents and tourists alike can enjoy Daytona's many bars and nightclubs, open to the early morning hours and featuring live music. 
Can you drink alcohol on Daytona Beaches?  
Alcohol and glass containers are prohibited on Daytona Beach and Volusia County Beaches. 
Things To Do in Daytona Beach, FL - Final Thoughts 
A new and unique experience is always awaiting you in Daytona Beach, Florida. From the Daytona International Speedway to museums and historical sites, residents and visitors alike are never bored in this beautiful Florida city. Home to many attractions that are great for all ages, there is no shortage of things to do with friends and loved ones. 
If you are moving to Florida and are ready to call Daytona Beach home, contact one of our Realty Specialists at UpHomes to help you find your dream home. 

Find your new home
Search real estate and homes for sale