Life in Reno: 10 Things to Know BEFORE Moving to Reno, NV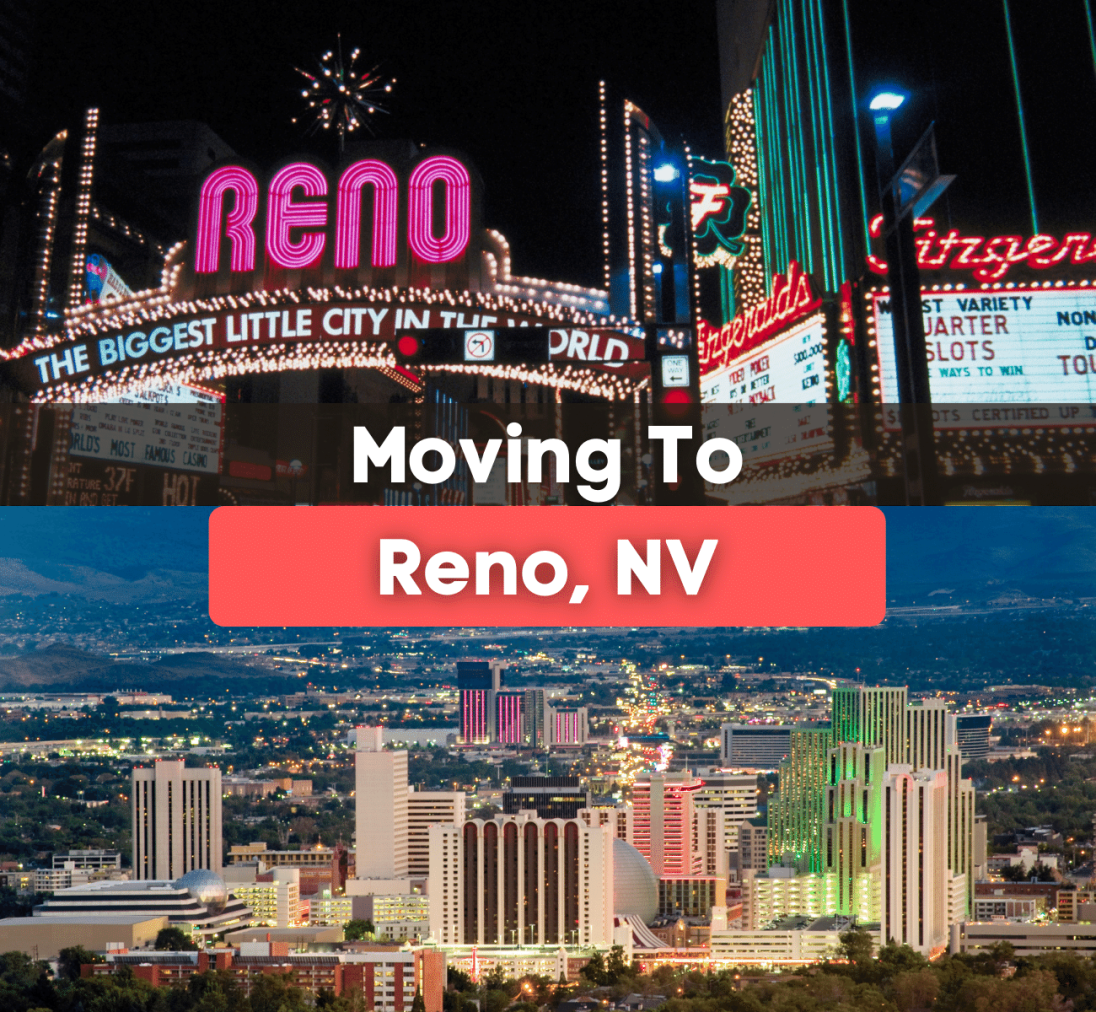 Living in Reno
Are you considering moving to Reno, Nevada? Make sure you know these ten things about life in Reno!
Reno is located seven hours from Las Vegas and only 22 miles from Lake Tahoe in the northwest section of Nevada. Nicknamed "The Biggest Little City in the World" due to its wide range of amenities but relatively small size, Reno quickly became a resort destination in 1931 when Nevada legalized gambling. Now best known for its neon lights and lively casinos open 24/7, Reno is calling your name.
Compared to Las Vegas, Reno is much smaller than Sin City and cheaper, setting the two cities apart. While Reno may be most famous for its gambling and world-class entertainment, the city is also known for its unique museums, diverse culture, outdoor recreation, and renowned dining scene.
Reno is one of the most sought-after cities in the American West, attracting many young professionals, singles, retirees, and families to the area for its low taxes, top-paying jobs, and natural beauty. Considered one of the best places to live in Nevada, Reno has been ranked as the 17th best place to live in the United States for quality of Life, the 38th in the best place to live, and 99th in the best place to retire.
If you are wondering if moving to Reno is a good idea, keep reading. Whether you have visited before or are just now learning about the area, we have put together this go-to moving guide to help you decide if Reno is for you. Keep scrolling to learn more about why you should move to Reno, Nevada!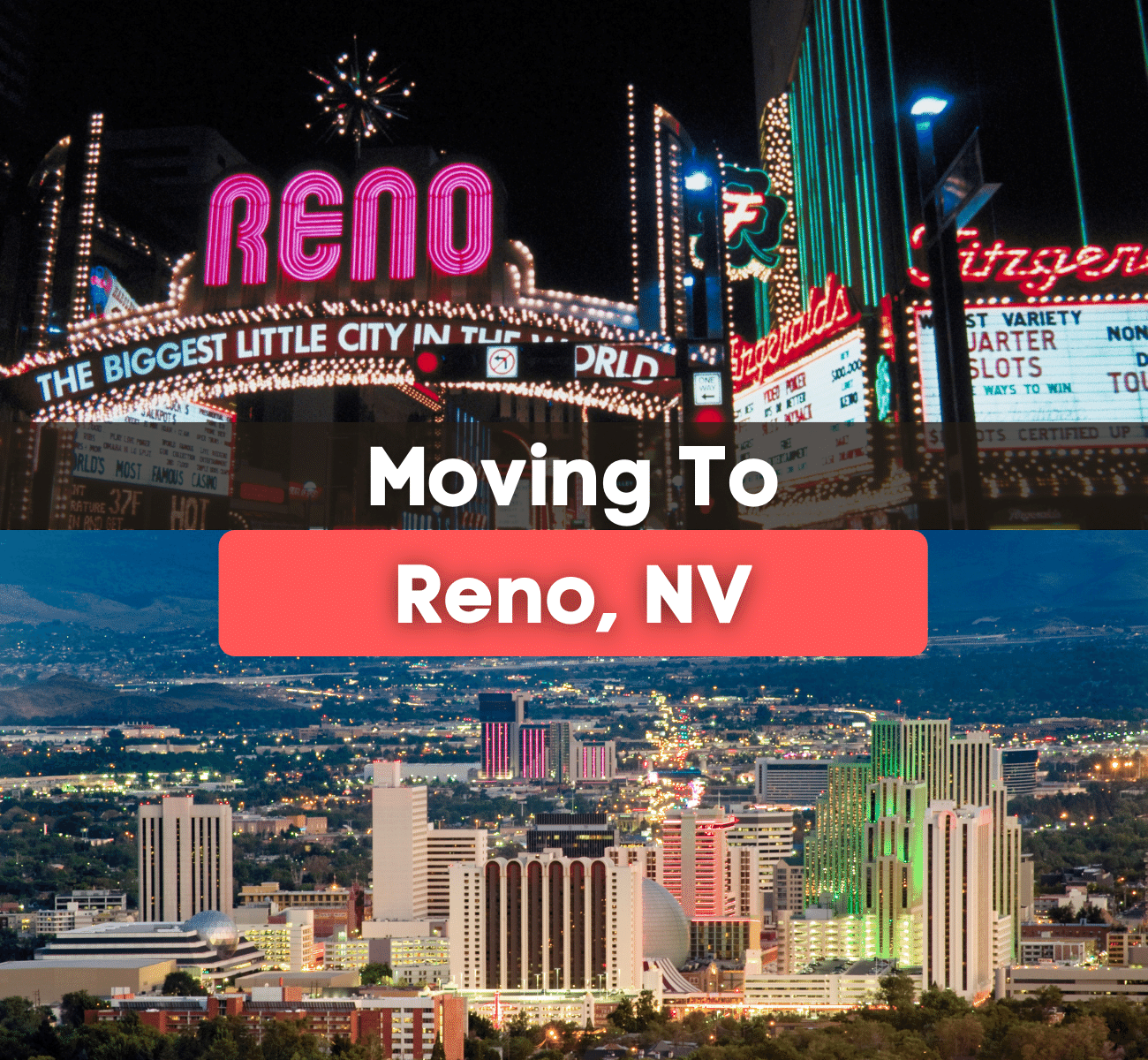 Here is what you should know before moving to Reno!
Cost of Living
Reno is considered expensive, with a cost of living that is 8% higher than the national average and 3.7% higher than the Las Vegas average. While Reno may be more affordable than living in San Francisco, New York City, and Portland, it is less costly than Fresno.
Ranked 21 out of 100 of the least affordable cities in the country by the RealtyHop Housing Affordability Index as of April 2021, Reno households will need to be making at least a salary of $80,000 to live comfortably. While housing costs are the most costly expense in the city, transportation expenses such as bus fares and gas prices are 19% higher than the national average. In comparison, utility prices are 17% lower than the national average.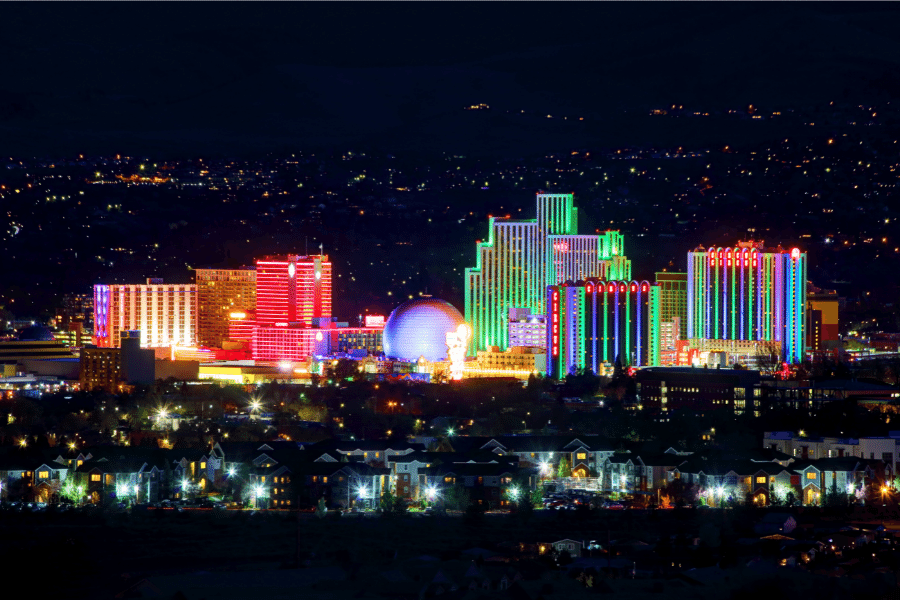 Housing Market
The housing market in Reno is a whopping 27% higher than the national average due to the lack of supply and rising demand for housing. With home values increasing by 21.7% over the past year, it is predicted that home prices will continue to grow over the next year but at a slower rate. Thankfully now that demand is cooling down, homes can stay in the market longer, which is good news for homebuyers that are ready to act now.
Named the second-best city in the United States to buy a home for its low property taxes and high incomes, Reno is an excellent place to invest in real estate overall. While the typical value for a home in Reno is around $584,256 as of July 2022, the median listing home price seems to be trending upwards by 13% yearly.
Weather
Known for having a semiarid climate and an average of 300 days of sun per year, Reno is a sought-after place to live for its weather alone. Providing the perfect hybrid climate with four distinct seasons due to its mixture of desert temperatures and Lake Tahoe's high mountain weather systems, Reno experiences hot and arid summers and cold and snowy winters.
While the summers can reach high temperatures in the 90s due to its elevation of 4,500 feet, Reno receives an average of 22 inches of snow annually. Reno also receives around nine inches of rain on average. The temperature typically varies between 23 degrees Fahrenheit to 90 degrees Fahrenheit and rarely dips below 13 degrees or rises above 97 degrees throughout the year.
Job Market
Did you know that more than half of all new Reno residents relocated from California? Drawn to the area for its low taxes and fantastic job opportunities, it is no surprise to learn that Reno was ranked number one in the nation for job growth in 2019. Seeing an increase in 10,700 jobs since March 2021, the Reno area is full of opportunities to advance your career since it has many job openings.
With an economy based around the gaming and entertainment sector, Reno has been focused on diversifying its economy over the past few years as it has expanded into the healthcare, technology, and manufacturing industries. Some of the best companies to work for in Reno right now are Microsoft, Intuit, Ormat Technologies, and Northern Nevada HOPES.
The average annual salary in Reno is around $50,085. As of June 2022, the average hourly wage in Reno is $25.36, which is about 9% below the national average of $28.01 an hour, according to the United States Bureau of Labor Statistics.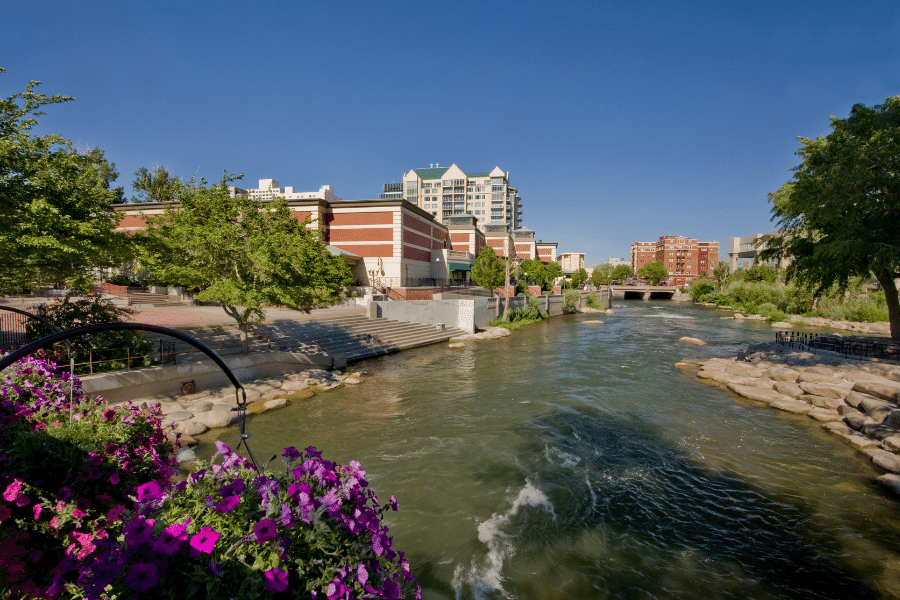 Crime Rate
Unfortunately, Reno has a higher crime rate than other similar-sized metro areas. With a crime rate of 39.31 per every 1,000 residents, your chance of becoming a victim of violent crime is one in 177, while your chance of becoming a victim of property crime is one in 45. Locals that live in Reno generally consider the southwest part of the city to be safest.
While the crime rate may be on the higher side, some areas and neighborhoods in Reno are certainly safer than others. Make sure to learn about the crime rate in the neighborhood of your choice before buying a home in Reno.
For more information about how to stay safe, especially if you are moving alone, refer to our Living Alone: Home Safety Checklist.
Schools
As part of the Washoe County School District, Reno has one of the highest concentrations of top-ranked public schools in Nevada. Home to a total of 111 public schools, there are over 64,584 students in the district. There is a district minority enrollment of about 60%.
Check out these top-rated schools in the Washoe County School District:
Data sourced from GreatSchools.
For those looking for higher education opportunities, Reno is also home to the University of Nevada Reno, a public four-year university, and Truckee Meadows Community College, a public two-year college that offers both certificate and associate degrees.
Art and Culture
Reno is a leader in arts and culture and is home to various performing arts centers, galleries, and historic architecture. Reno is constantly inspiring its residents to be creative, featuring spectacular murals around every street corner and special events that celebrate the achievements of local artists.
Check out these art museums, art spaces, and galleries in Reno, NV:
Family-Friendly Parks
Surrounded by some of the most breathtaking scenery in the American West, spending time outdoors and breathing in the fresh air is one of the best things you can do when living in Reno.
Check out these beautiful parks in Reno, NV: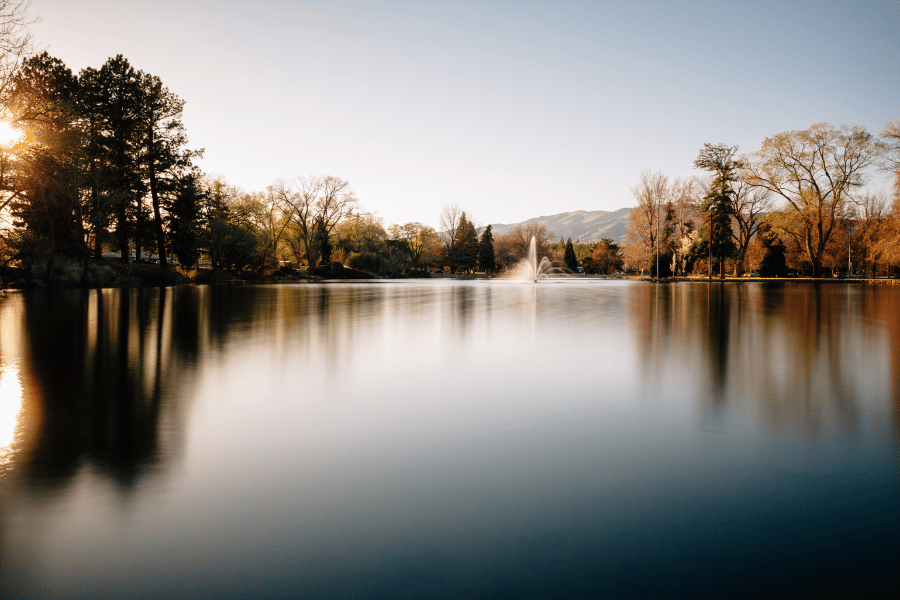 Restaurants
With more than 140 restaurants in Reno, it can be hard to pick just one. Offering a large variety of cuisine choices, the restaurants in Reno focus on using high-quality ingredients and friendly service to create not just a nice meal but an experience.
Check out these best restaurants in Reno, NV:
Casinos in Reno
From poker to slots, Reno is home to some of the most dynamic casino action in Northern Nevada. While there is undoubtedly more to Reno than just gambling, spending a night or two on the gaming floor is a rite of passage for new residents.
Visit some of these top casinos in Reno, NV: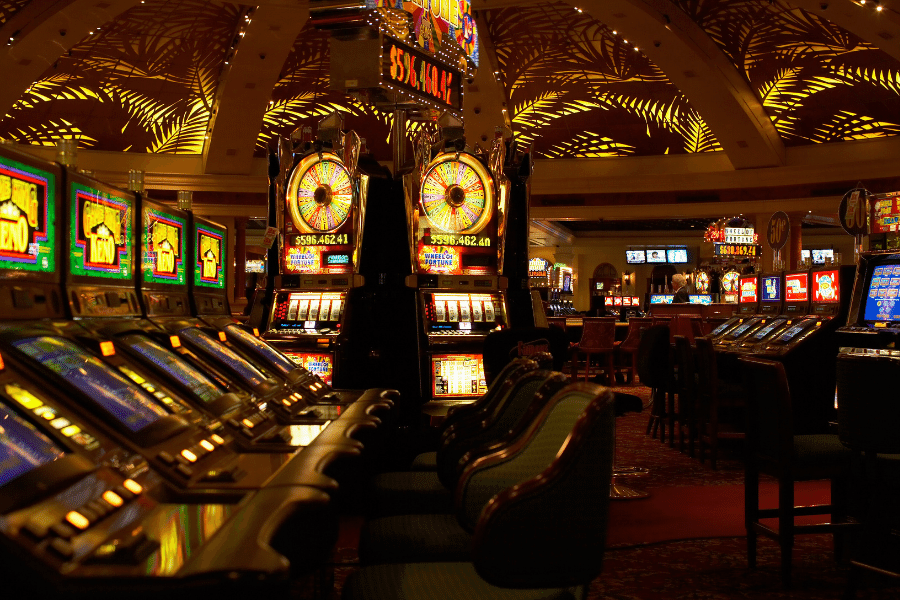 Pros and Cons of Moving to Reno, NV
Pros:
Low taxes
Incredible outdoor adventures
Exciting nightlife
Vibrant art and culture scene
World-class dining options
Desirable weather
Excellent education system
Top-rated jobs
Popular resort casinos
Cons:
High cost of living
High housing prices
High crime rate
Winters can get cold
Limited public transportation options
Moving to Reno, NV - Final Thoughts
Not only does Reno offer an excellent quality of life, but its ability to perfectly blend urban living with small-town charm makes this northwestern Nevada city so desirable. Even though living in Reno may be more expensive, its top amenities, high-quality entertainment, and access to outdoor recreation make Reno a sought-after place to live and vacation. If you are interested in searching for homes for sale in Reno, then make sure to reach out to one of our Realty Specialists. Contact us today to kick start your home-buying journey in Reno, Nevada!

Find your new home
Search real estate and homes for sale