5 Things to Know BEFORE Moving to Rapid City, SD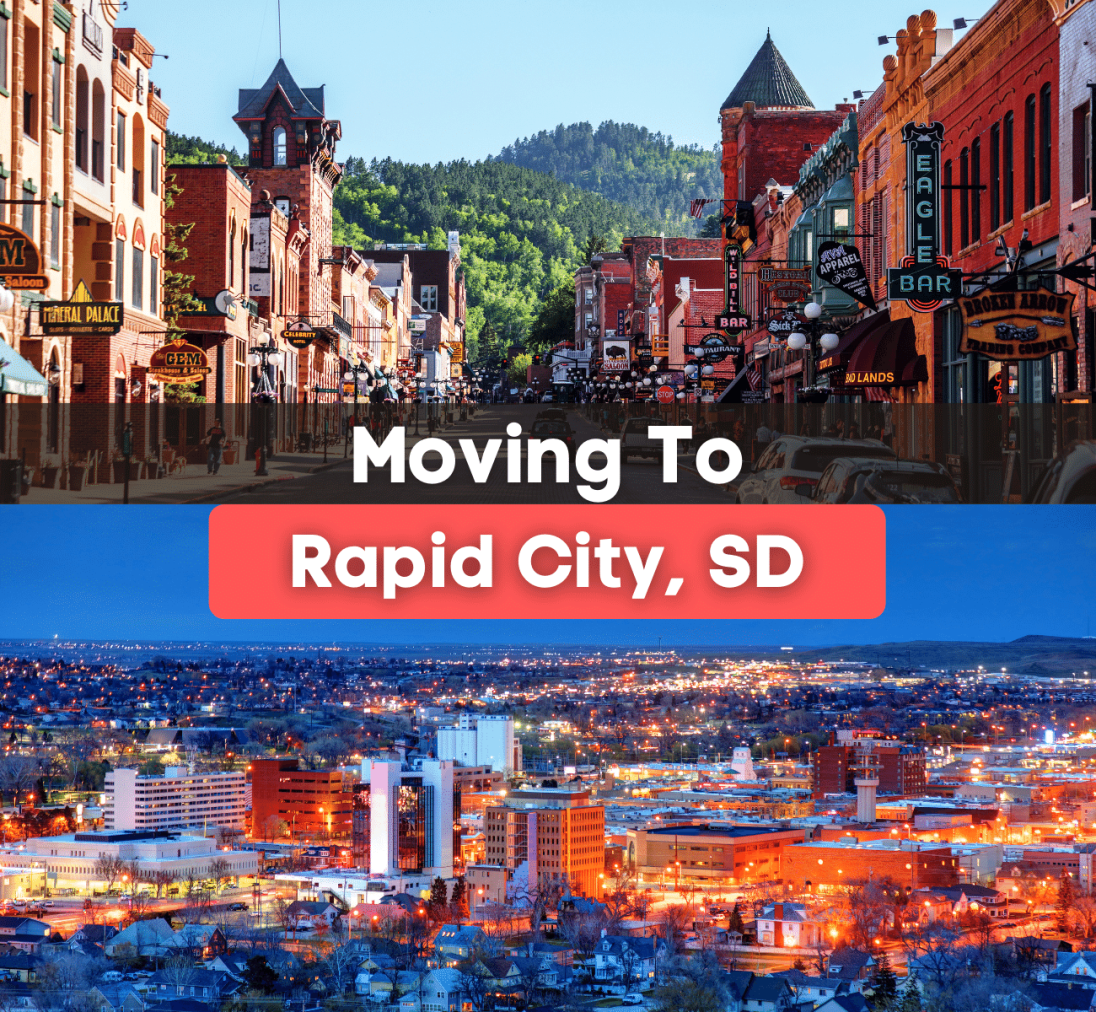 Living in Rapid City, SD
Are you moving to Rapid City, SD? Make sure you know these five things about life in Rapid City!
Rapid City is a fantastic place to live. Located on the western side of South Dakota and just east of the beautiful Black Hills, living here, you get the luxury of living within the beautiful landscape that the city sits within while still having access to excellent restaurants, cafes, shops, and many stunning attractions.
With a population of 76,541 people, Rapid City is the second largest city in the state but is still considered a small town with a laid-back feel. Known as the gateway to Mt. Rushmore and many other attractions, this city also sees a lot of tourists throughout the year.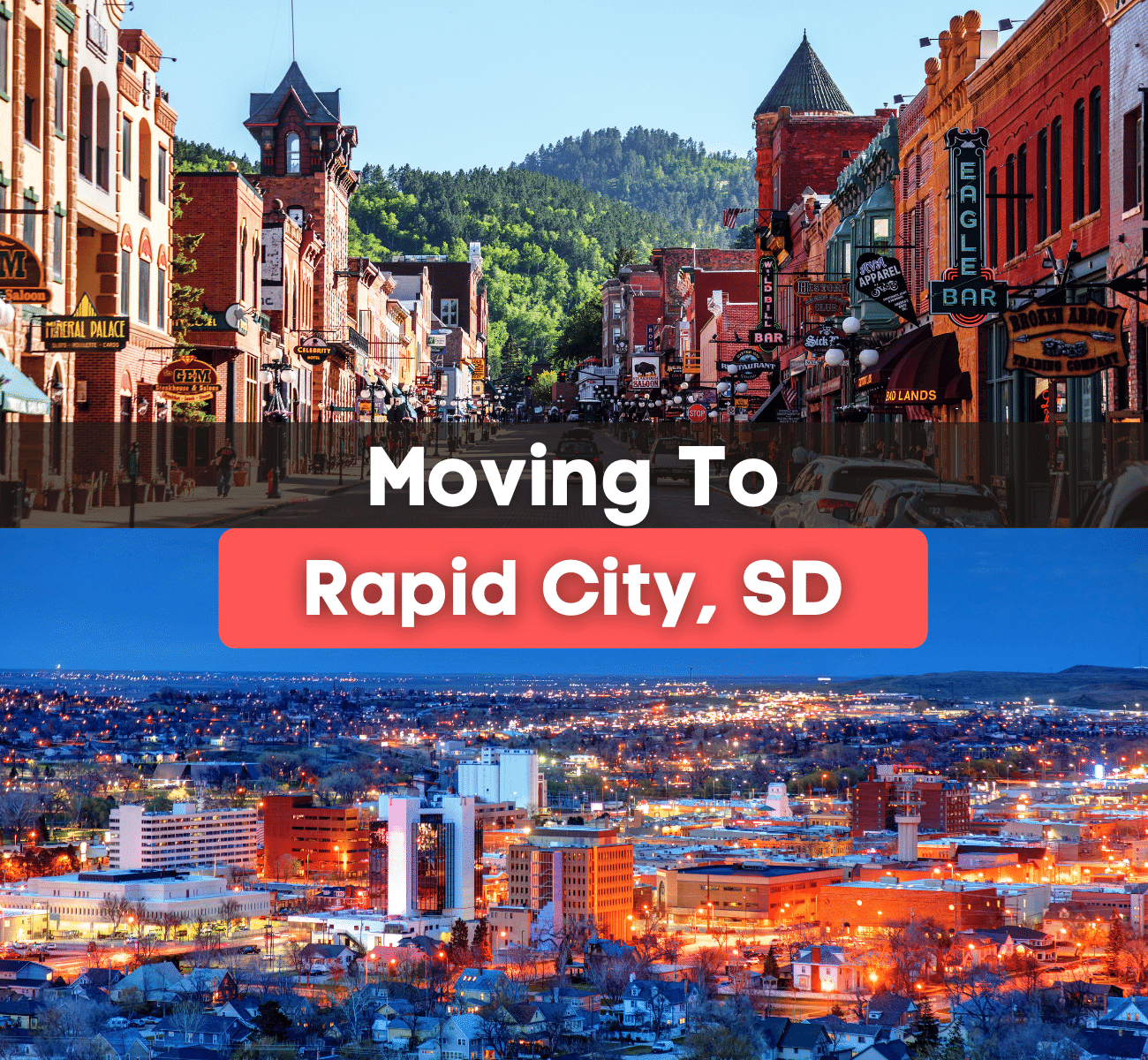 Settled first in 1876 during the Black Hills gold rush, this city was first founded by unsuccessful miners that wanted to start businesses and other opportunities in the area, such as selling supplies to the miners headed into the Black Hills. Now, the city still has a very midwest feel to it, but with taverns, bars, museums, art galleries, and many more shops and eateries.
If you want a city full of activities to do year-round, a lower cost of living with more land, and relatively safe and low stress, this is a great city for you. Read on to find out what Rapid City offers and some things you should know before moving.
Here are the things you should know about living in Rapid City!
Rapid City is Cheap
Rapid City is a cheap place to live, with homes that typically have more land and spectacular views. The housing costs are about 9% lower than the national average, with the median home value at $350k. Many families and young professionals live here, with homes typically having about 3-5 bedrooms and located near great school districts.
The average household income in Rapid City is $53,760, less than the state average of $59,896. But, if you make more and want to spend more, the most expensive neighborhood is Highway 16, with a median home value of $540k.
Although home values are less expensive than the national and state average in Rapid City, the food costs are slightly above. Due to being far away and having less access to food vendors, Rapid City food costs are somewhat more expensive than the national average.
Also, something to consider when looking at expenses is transportation. Most people living in Rapid City own a car because public transport is only in more populated areas, and everything is spread out. Although gas is cheap in South Dakota, you will drive farther and more often than in other places, causing your overall transportation costs to be slightly higher.
Rapid City is a Four-Season City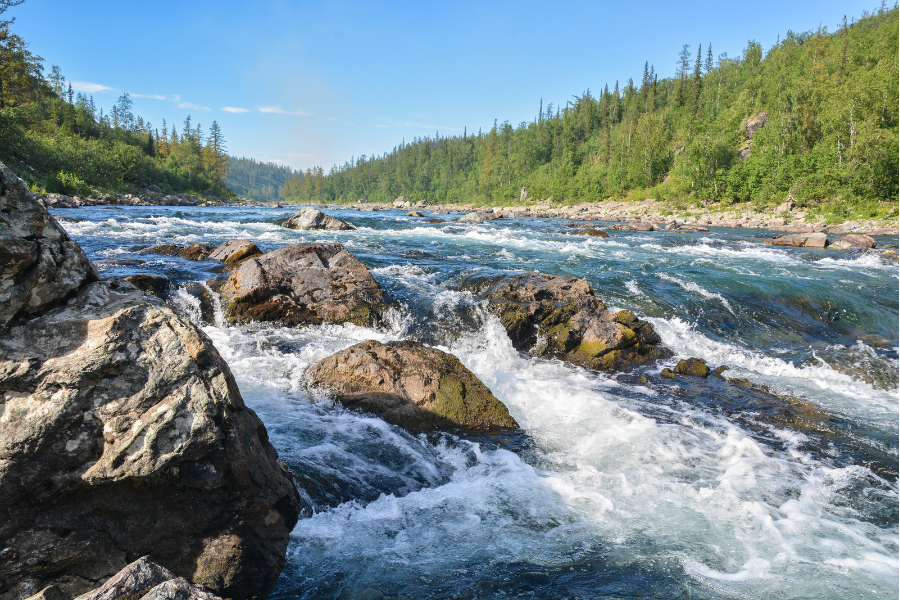 The weather in Rapid City is sometimes unpredictable, ranging from blazing hot days to some reaching as cold as below zero. But, no matter what, you will genuinely experience every season if you live here.
The winter months are December to March, with daily temperatures averaging the mid 30's. During these cold months, the rivers and lakes turn into icy sculptures, and the city sees at least 5-15inches of snow a month, making it sometimes difficult to get around! So, before moving here, be aware that you will have to purchase a winter coat to survive these months.
As March ends and the snow melts away, the spring season in Rapid City approaches. The spring season is from March to June, and temperatures average range between 50 and 60 degrees making it warmer but not hot. These months turn the snow into colorful flowers through the hills, and rain often falls, brightening everything around it.
When June comes to a close, summer hits the city until August, with temperatures averaging in the 70-80s, sometimes climbing past the 100s. Summers here are typically pretty dry, and the wind makes them bearable. Many people escape to the lakes and rivers during these months to cool off and enjoy the sun.
Lastly, the fall season is from September to November, with temperatures averaging around the 50-the '60s again, and has some of the dryest months of the year but the most beautiful. Fall leaves cover the small mountains and hills, and waterfalls rush over their edges, complete from the spring and summer rainfalls.
No matter your favorite season, you can experience them all here.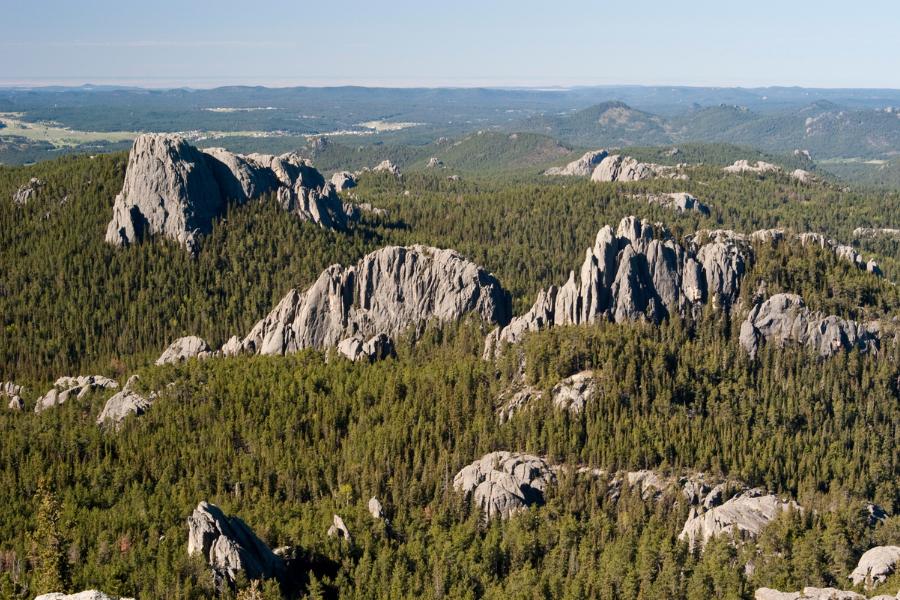 Diverse Landscape
Rapid City has one of the most diverse landscapes in South Dakota, from rolling hills to rocky mountains to rivers flowing through woodland forests. Known for the Badlands National Park and the Black Hills National Forest, this area of the state is an outdoorsman's dream.
Located 75 miles east of Rapid City and showcasing dramatic rock formations with canyons and pointed tops, the Badlands attract people and animals alike. Bison, big horn sheep, and prairie dogs call this area home, and you can often see them within the park grounds. Visitors come from all over not only to take in the natural beauty of this landscape but also to learn about its history.
The Badlands are one of the richest fossil beds, with over 13,000 bones extracted from the exposed rock and collected for research over the years. This area has informed many scientists of life before our time and has provided information about different mammals and prehistoric relics. You can learn about these fossils at the museum or try to find some on your own within the rock.
You can enjoy the Badlands through multiple hikes ranging in difficulty and length, spot wildlife with binoculars or up close, or choose to come at night and see millions of stars in the night sky. With such unique geographical features, it is an excellent place to visit and spend some time.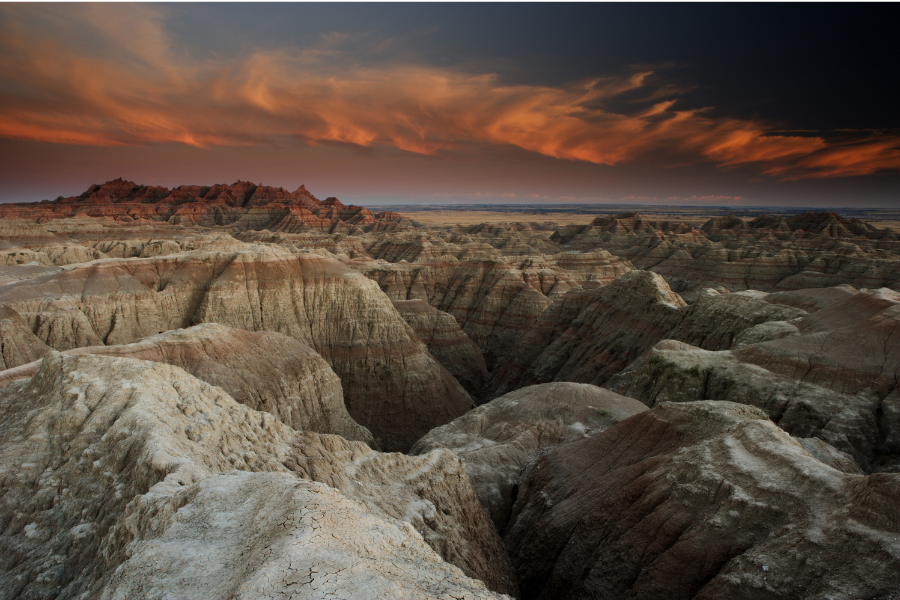 Rapid City is physically surrounded by beauty, with the Badlands on the east and the Black Hills on the west. The city sits on the very east side of the forest, with much more to explore as you travel throughout the park. The Black Hills are in South Dakota and Wyoming, showcasing stunning views and rich wildlife. There is much to explore here, known for Spearfish Canyon, Cathedral Spires rock, Black Elk Peak, and Devil's Tower.
The park is rich in geography and wildlife, such as elk, bison, deer, pronghorn, prairie dogs, mountain lions, and wild turkeys. You can easily spend days and weeks within the trees and peaks hiking the many trails, fishing in the streams and lakes, rock climbing the many cliffs and boulders, or panning for gold that the park used to be full of, starting the initial migration to the state.
Being surrounded by such spectacular nature, you can easily forget that downtown Rapid City has beautiful landscaping. Walking along the streets, you will see numerous art galleries, boutiques, restaurants, theatres, and event spaces. One of the trademarks of the downtown area is also the City of President statues which are life-sized statues of all the presidents placed throughout the streets.
Not only does the downtown area of Rapid City has lots of beautiful buildings and architecture, but also lots of green spaces and outdoor spectacles such as the fountains at Main Street Square or well-lit Memorial Park.
Attractions & Activities Are Everywhere
Rapid City is most known for its many attractions and attracts millions of tourists annually. This city and surrounding areas hold a diverse attraction list, from historical monuments such as Mt. Rushmore and Crazy Horse to fun animal exhibits such as Reptile Gardens. Not only are there many attractions for tourists to enjoy, but there are also many activities and events for locals to participate in throughout the year.
Hunting and fishing are one of the most popular outdoor activities that individuals enjoy throughout the forests and prairies of Rapid City. The Black Hills are full of whitetail deer, turkey, elk, bighorn sheep, game birds, mountain lions, and more for rifle and bow hunters. August is the most popular time people hunt in Rapid City but the season typically ranges from September to January.
Not only do people take to the hills for hunting, but they also enjoy fishing in the lakes and streams. Fishing is allowed in any lake in the Black Hills, where you can catch walleye, northern pike, bluegills, crappies, and trout. The dedicated fly fisherman spends much of September-December trying their nets while surrounded by lush forest.
Living in this beautiful area full of wildlife and outdoor spaces provides you with a long list of things to do and enjoy while living here. Check out the list below to help you decide where to start!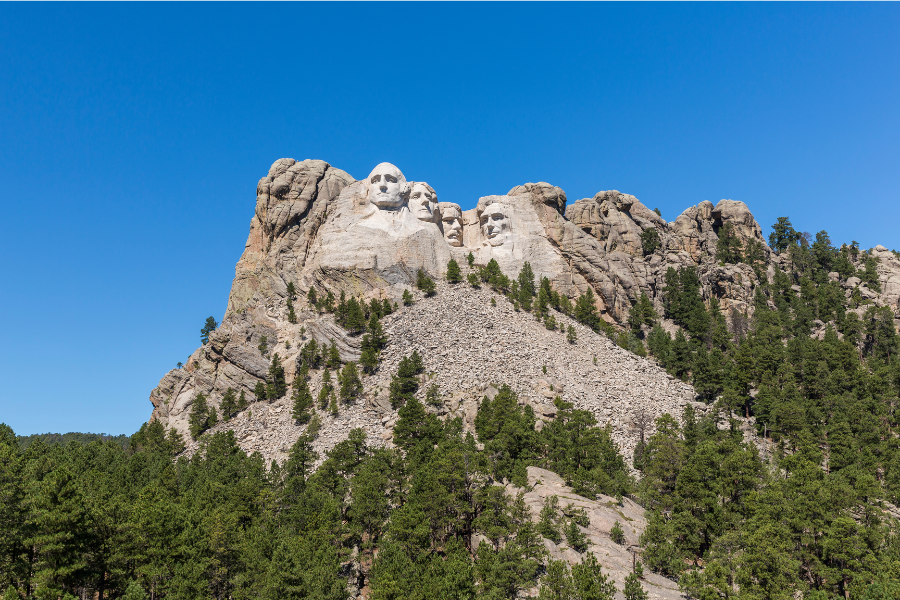 Local Favorites:
Nightlife
When looking at this outdoorsy city, you wouldn't think it would also have a bustling nightlife culture. But, when the sun goes down, Rapid City's downtown lights turn on, and you can enjoy a variety of establishments, from elegant restaurants and cocktail bars to breweries and pubs. Although the town itself has a more laid-back feel, with mostly families and young professionals living here, you are bound to find a rowdy bar, nightclub, or live music if you are looking for it to liven up your evening.
Rapid City's food scene is also unique, with dishes and restaurants inspired by Eastern European, Native American, Himalayan, Indian, and Tibetan influences. With such a diverse selection and varying price points, there is something new or familiar for everyone to enjoy.
Check out the list below of places to visit along the dazzling streets of this fun midwestern city!
Pros and Cons of Living in Rapid City, SD
Pros
Low cost of living
Lots of outdoor activities
Beautiful landscapes
Close to famous attractions
Cons
Extreme weather at times
Things are very spread out
Limited diversity
Sparsely populated
Moving to Rapid City, SD - Final Thoughts
Rapid City is an exciting place to live, with beautiful nature surrounding you while still having a vibrant downtown and small-town feel. With a low cost of living and easy access to the best attractions in the state, it is no wonder that it is the second most populated city in South Dakota. If you are willing to bare the weather at times and don't mind driving to get places, this city in South Dakota could be your new home.
If you or anyone you know is considering moving to South Dakota and want to call Rapid City home, contact us here so we can connect you with one of our Realty Specialists. No matter your price point or preferences, we are confident we can help you find your new midwest home.
Whether you are searching for new construction homes in Rapid City or townhomes in Rapid City, there are beautiful homes and safe neighborhoods to choose from in Rapid City that will meet your lifestyle. We are always here to help and are ready to answer any questions you may have about the home-buying process.

Find your new home
Search real estate and homes for sale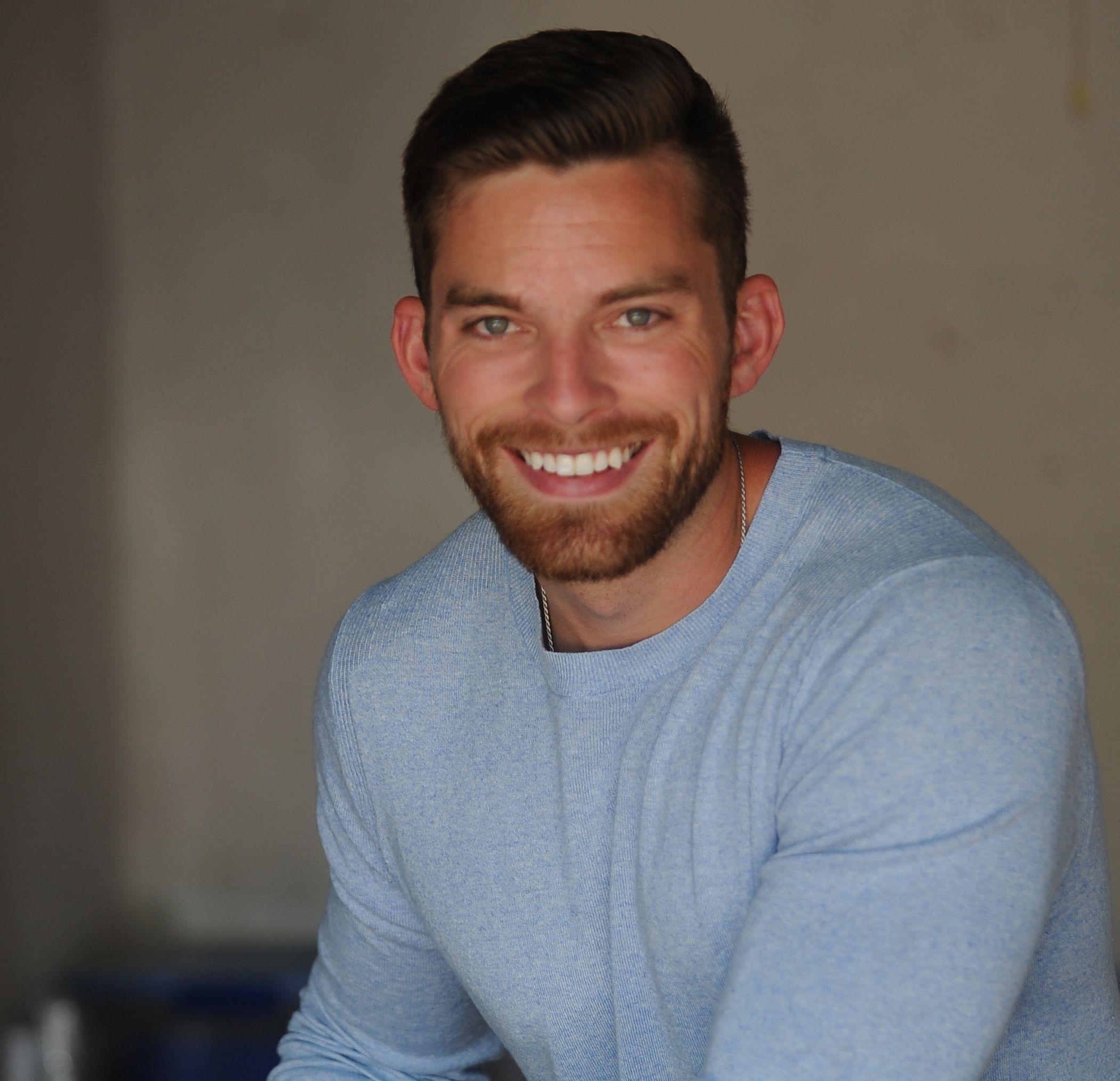 Ryan Fitzgerald
Hi there! My name is Ryan Fitzgerald, and I am a REALTOR®. My goal is to help you learn more about real estate through our Real Estate Blog! Hopefully, you enjoyed the above blog post and it found a way to provide help or value to you. When you're ready to buy or sell a home of your own let us know here. Please feel free to join the conversation by dropping us a comment below.