5 Things to Know BEFORE Moving to Philadelphia, PA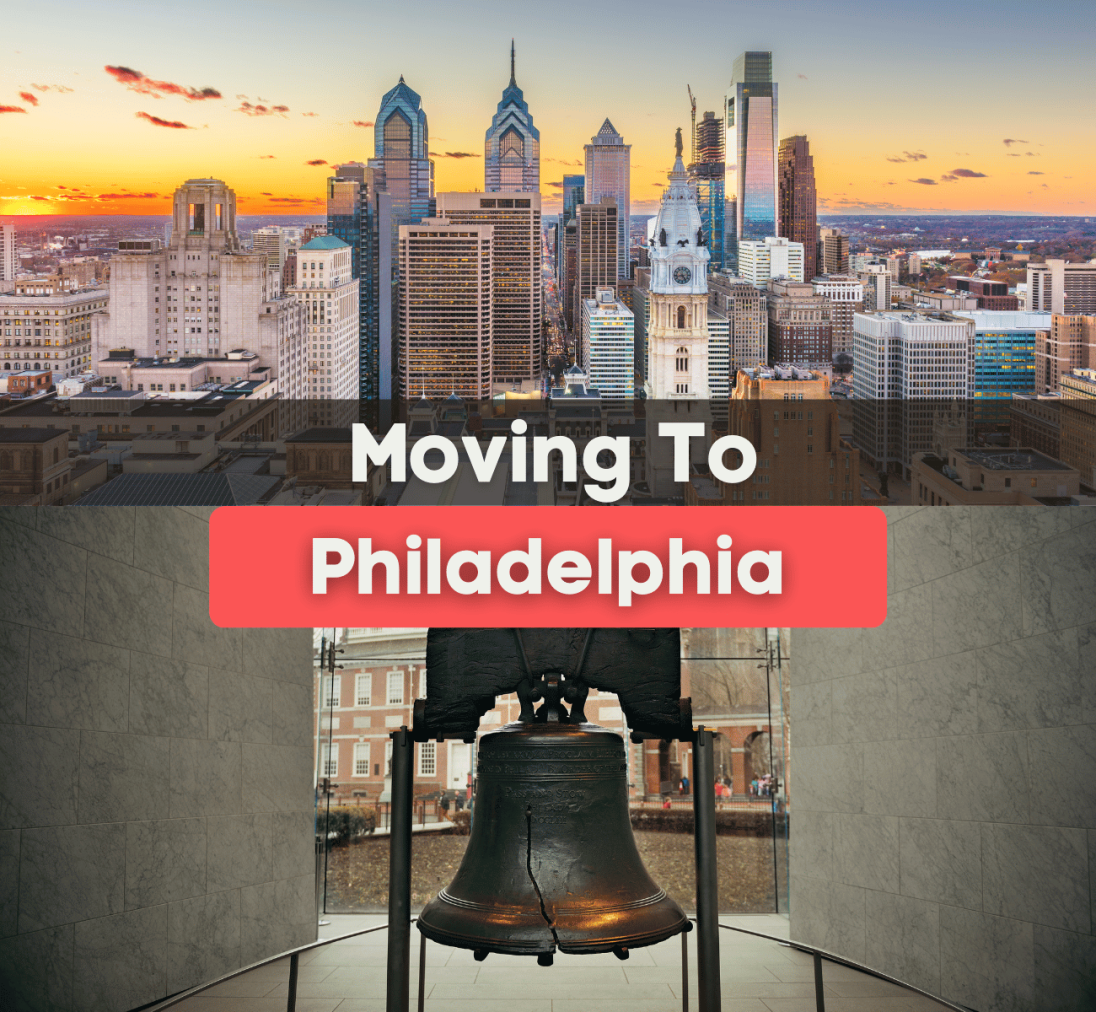 Living in Philadelphia 
Are you moving to Philadelphia, PA? Make sure you know these seven things about living in Philadelphia. 
Philadelphia is the largest city in Pennsylvania and is known as the birthplace of the United States. With a population of over 1.5 million residents, this urban city is a popular and great place to live. 
Known for its rich American history, diverse arts & culture scene, delicious eateries and bars, recreational activities, well-known and supported sports teams, and convenient location in many other metropolitan areas, it is no wonder why so many choose to move here.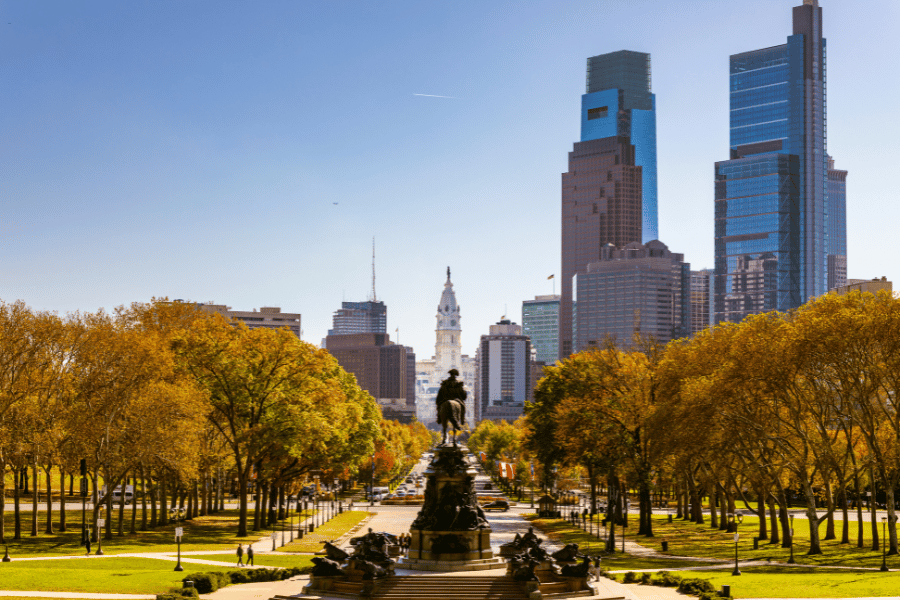 With a lower cost of living compared to other top northeastern cities, great places to live with many different housing options, and so many great things to do and see, this is a wonderful city to live and grow in. 
Whether you want to live in a vibrant city full of art, history, and culture or find a quiet area to live close to your job downtown, there is a place for you in Philadelphia. Read below to find out more about what it is like to live in Philadelphia and what to expect when moving here. 
Here are the things you should know about life in Philadelphia!
Cost of Living 
Philadelphia is not the cheapest place to live, but it remains one of the cheaper Metropolitan areas, with the cost of living in New York or Washington D.C. almost 40% higher. The cost of living in Philadelphia is 10% higher than the state average and about 7% higher than the national average, making it the most expensive city in Pennsylvania as well as the most populated. The estimated overall costs per month for a family of four living in Philadelphia is around $4,000, not including rent. 
To be able to afford to live a city lifestyle, you will need to be able to make enough to compensate for the cost of living there. The average income for Philadelphia residents is around $70k, about $20k over the national average. This means that many individuals living or moving here have higher salaries than the rest of the nation, which correlates to the higher cost of living. But, surprisingly, the minimum wage in the state of Pennsylvania is only $ 7.25 per hour, which is much lower than in surrounding areas as well as one of the lowest minimum wages in the country.
Being located in a large urban city with tons of things to do, opportunities, culture, and easy commutes to other Metropolitan areas is convenient and exciting for many making a move to Philadelphia. Although lower in cost than other large northeastern cities, make sure you know what the cost of living is going to look like for you here. 
Let's take a look at some of the average expenses of living in Philadelphia.
| | |
| --- | --- |
| Cost of Living Item | Philadelphia  |
| Home Value | $270k |
| Rent | $1,900 per month |
| Utilities | $200 per month |
| Food | $388 per month |
| Transportation | $96 per month |
| Income | $70k |
*Information is from the U.S Census bureau, Rent Cafe, SEPTA, and Bureau of Labor Statistics 
Real Estate 
If you are moving to Pennsylvania, Philadelphia is a great place to live with a diverse housing market. The current average home value in Philadelphia is around $270k, making it one of the cheapest big cities to live in, depending on your location, home style, and size.
Many residents living in the downtown area of Philadelphia choose to rent due to the constant flow of people moving in and out, as well as the homes typically being smaller in size in the urban areas of the city. The average rent per month in Philadelphia is around $1,900 per month, depending upon location, number of rooms, and amenities.
One of the charming touches on this city is that not only does it have rich historical history, but it also has remarkable historic architecture. As you walk down some of the streets in Philadelphia, you will spot Rowhouses with brick walls and short steps leading up to the front door paired with many windows outlined with shutters. These homes stacked on top of one another were very popular in Philadelphia's early construction to be able to fit many residents on its narrow lots, making it the "city of homes" by the end of the 19th century. 
Although many enjoy the historic-looking townhomes and apartments that hold Philadelphia's history, there are many new contemporary townhomes and high-rise apartment options as well. Often these newer builds also hold amenities such as laundry rooms, gymnasiums, recreation rooms, parking garages, and more, but they cost more in rent.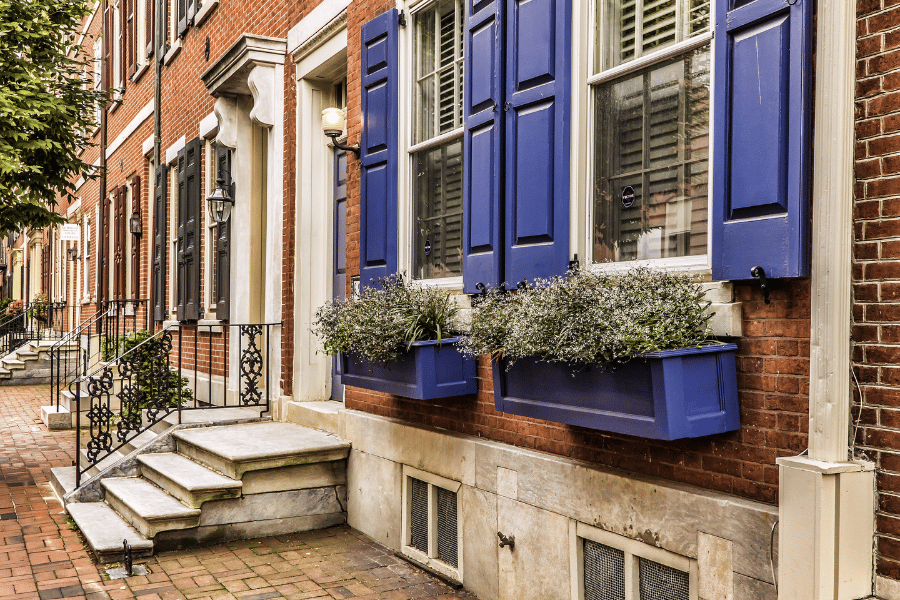 If moving to the city with your family, you most likely will want to purchase a home with more space and less sound echoing throughout the entire night. One of the most popular family-friendly neighborhoods in Philadelphia is Fitler Square, with a mixture of brick houses, restaurants, cafes, and parks. The median cost of one of these spacious and charming homes in Fitler Square is around $900k, making it much more expensive but liveable with a family. 
Whether you want to live in a small historic one-bedroom in the heart of the city or a spacious renovated home on lots of land, Philadelphia truly has something for everyone. Check out the real cost of living in Philadelphia before moving to see what neighborhood and housing best fits your lifestyle and budget.  
Weather 
Located in the northeast part of the country, Philadelphia is known for its warm and humid summers and cold and snowy winters. The temperatures will range from 20-90 degrees throughout the year, letting residents truly experience every season. 
The city of Philadelphia gets an average of 47 inches of rain per year, while the country average is 38 inches. So, due to its humid climate, Philadelphia does get a few more inches of rain per year than other states but isn't considered an overly wet area. But it is definitely considered a snowy city.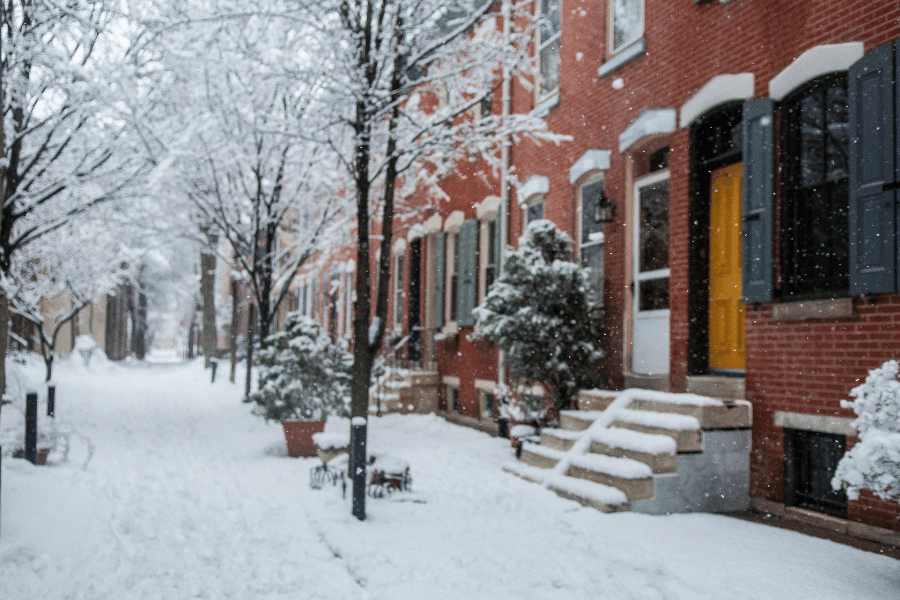 Philadelphia gets an average of 23 inches of snow each year, and on some winter days, it can snow so much that the snow on the ground is up to five inches deep. Although the winter is only three months here, the few days the city is covered in a white coating is quite stunning. 
Arguably one of the best parts of the year to be in the city is spring. With average daily highs of 78 degrees and cherry blossom trees sprinkling the streets, residents and visitors can enjoy the lush parks and attractions outdoors without having to be bundled up from head to toe. 
The one thing you do have to look out for weather-wise in Philadelphia is hurricanes and tropical storms. Being located near the Atlantic ocean puts Philadelphia at risk of large rain storms that can cause flooding, as well as high winds debris from hurricanes that hit the coast and can cause damage to the city. But, the state of Pennsylvania is landlocked, and so the grade of any tropical storm or hurricane is typically lessened by the time it gets to Philadelphia, causing many storms do not cause much damage. 
Famous Attractions & Things to Do
According to a study by the Philadelphia Convention and Vistors Bureau, about 36.2 million people visit Philadelphia annually. Some of the biggest draws that bring people to this city are its important American history and artifacts, major sports teams, museums, and of course...its Philly cheesesteaks. 
Living in a city that still holds so much history and importance in its nation is a powerful feeling but also exciting. Residents can enjoy the many tourist attractions, parks, art shows, and events year-round, as well as some local favorites that not everyone is aware of as well.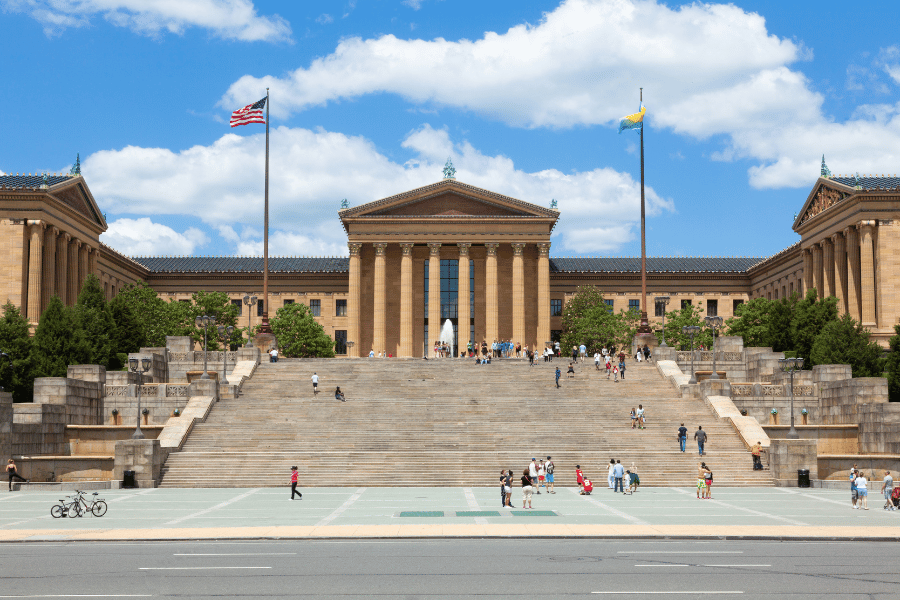 Check out some of the local favorites of things to do in Philadelphia as a resident below. 
Local Favorites 
Transportation
Philadelphia's public transportation system (SEPTA) is the nation's 6th-largest public transportation system and is recognized as one of the most comprehensive bus/subway/commuter-rail systems in the United States. 
Besides walking or biking, utilizing Philadelphia public transportation system is the easiest and most reliable way of getting around the city. SEPTA has a rail, bus, subway, trolley, and high-speed system that can take you from any part of the city to your destination. The cost of one ride is $2, and your first transfer is free with a SEPTA key card. After that, a transfer is just $1, and if your paying in cash, one trip is $2.50. 
If you are a resident that uses SEPTA often, there are also one-day, weekly, and monthly passes from $13-$96 to utilize and have the option to pay ahead. If you are wanting to keep your car while living in Philadelphia, living downtown might be a bit more difficult. 
The average cost of parking and keeping your car in the city is around $275 a month or $9 a day. This is due to many of the parking spots in Philadelphia being paid parking, and to be able to keep your car in a lot or deck, you have to pay a monthly fee. Many apartments, townhomes, and houses also charge you to keep your car on the lot or don't even have a parking spot available with your housing. 
Pros and Cons of Living in Philadelphia 
Pros:
Low cost of living 
Rich history and culture 
Tons of attractions and things to do
Diverse housing options 
Prime location between major cities 
Excellent Public Transportation Systems 
Diverse Neighborhoods
Lush outdoor spaces and parks 
Cons: 
High crime rates in certain areas 
Crowding 
Heavy Traffic 
Cold Winters
Low minimum wage 
Living in Philadelphia-Final Thoughts 
Philadelphia is a great place to live, with diverse neighborhoods and housing options in a city full of important American history, art & culture, recreational activities, and fun things to do and see. Living near some of the biggest metropolitan cities with a lower cost of living and a more small-town feeling, Philadelphia is a great place for families, young professionals, college students, and those wanting a quieter living but commuting to another city for work. 
If you or anyone you may know is moving to Philadelphia, PA make sure to contact us here so that we can get you connected with one of our Realty Specialists. Whether you want to live in the heart of the city or in a calm and charming neighborhood just outside of it, we will work with you to find the perfect home. No matter your budget, style preferences, or needs, we will be with you every step of the way. 

Find your new home
Search real estate and homes for sale