Learning At Home: Distance Learning Tips and Resources for Families with Students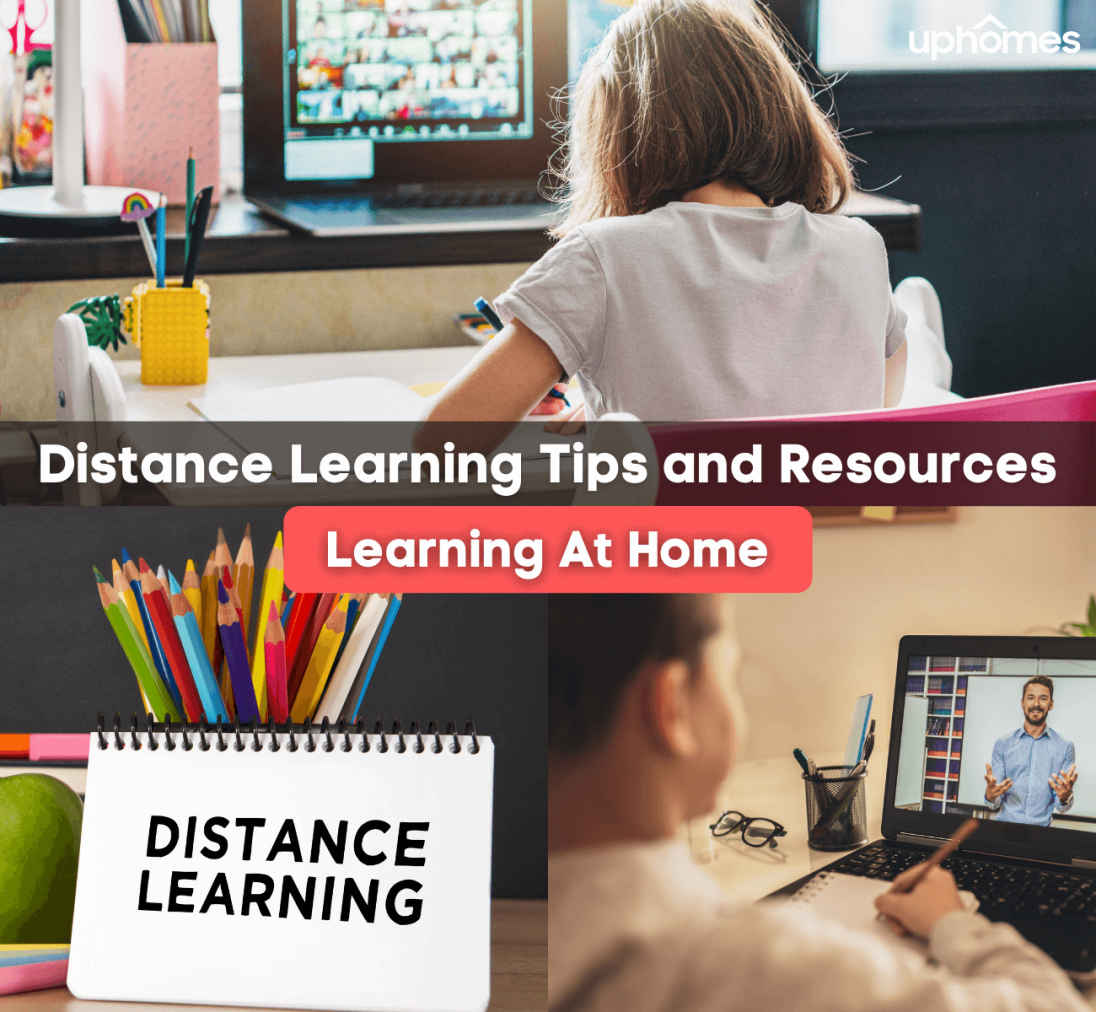 Learning At Home
What is Distance Learning?
Distance learning is defined as the method of learning through the internet, mail, or email, where students and teachers do not meet in the actual classroom. By learning remotely, both students and educators can interact without face-to-face meetings. By corresponding through internet resources, students can complete assignments from home or any other location with internet access. As technologies continue to evolve, the popularity of distance learning increases.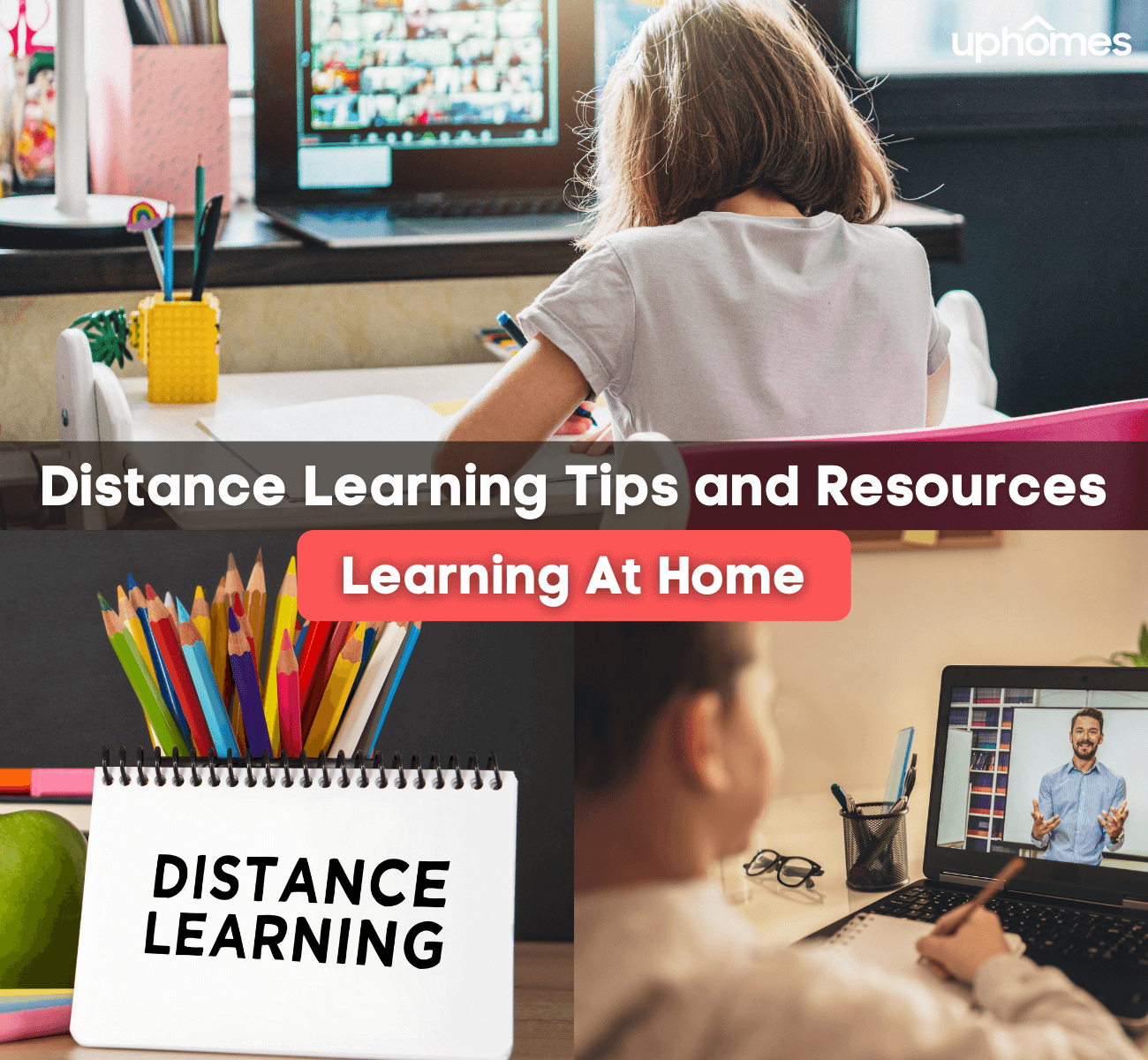 As of 2018, there were 6,932,074 enrolled students in distance education courses. This means that 35.5% of students at the postsecondary institution level are learning through distance education. More public institutions are relying on distance education compared to private nonprofit and private for-profit institutions. Students who are pursuing undergraduate degrees seem to be more likely to participate in distance education learning in comparison to postbaccalaureate students.
What is the Difference Between Distance Learning and Online Learning?
So what makes distance learning different from online learning? While they may have similar meanings, distance learning is a subset of online learning. Both involving teaching and learning through the computer and online resources, three factors play an important role in separating the two.
Location: One of the main differences between distance learning and online learning is that online learning can still be in the classroom. On the other hand, distance learning is completely remote. If you are in the classroom but completing assignments through the internet, you are participating in online learning.

Interaction: Are interactions with the instructor and other students regularly in person? Do you use video calls or other forms of communication that are outside of the classroom? Online learning uses a blend of in-person interaction with digital assignments, while digital learning features no in-person interaction.

Intention: Online learning was created as a way to mix up lesson plans and provide different forms of teaching styles and learning methods. Meanwhile, distance learning was only created with location and interaction in mind.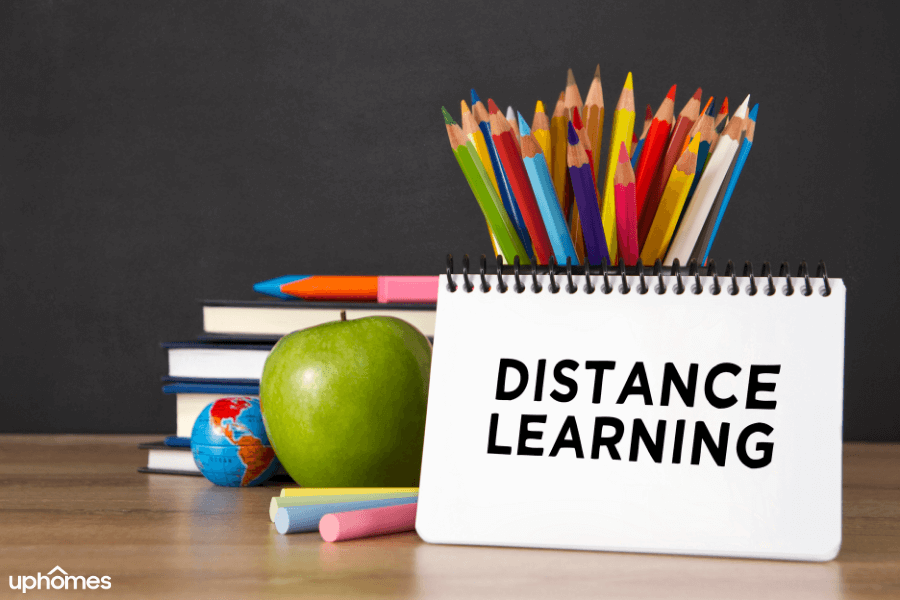 Benefits of Distance and Online Learning
Since the COVID-19 Pandemic, the use of distance learning has become a lifesaver for the educational community. Since students can learn remotely, there is more flexibility to complete assignments and learn new material without all of the distractions that an in-person classroom environment can cause. Not only is online learning an amazing time saver and a great way to mix up lessons, but students become more engaged in assignments and instructional material.
What are Common Reasons for Distance Learning?
There are many reasons why distance learning is becoming so popular. Not only does distance education allow for flexibility, but both students and instructors will have easy access to educational material and lesson plans at all times no matter the location. One of the most common reasons for distance learning is due to relocation. If you and your family are moving and are in the process of buying a new home, distance learning is a great resource. When searching for a new home, distance learning means quality education no matter where you decide to move to. If you are moving in the middle of the school year and are searching for new construction homes, distance education will allow for continual success without falling behind in your studies. When looking at homes for sale, consider moving to a school district that offers distance education.
If you or a member of your family have to relocate with the military and are attending an online university program through distance learning, military personnel can take classes from anywhere at any time. By offering associates, bachelors, masters, and doctoral degrees completely online, be able to finish coursework on your own time from anywhere no matter where the military is moving you to.
In the case of natural disasters and inclement weather, unexpected circumstances always used to be a problematic situation in the school system. After the COVID-19 Pandemic shocked the world, being forced to adjust to distance learning has led to a major shift towards a learning environment that is completely online. Now if there is a snowstorm or lack of transportation to and from school, students can turn to distance education. If a school has to close for any unexpected reason such as a disease outbreak, distance learning will allow students to continue to complete assignments and stay on track with the lesson plan.
The introduction of distance learning has also made a huge impact on homeschooled students. Now, instead of parents having to teach their children learning material on their own, students can have access to distance learning from home and learn from teachers conducting video conferences and video calls.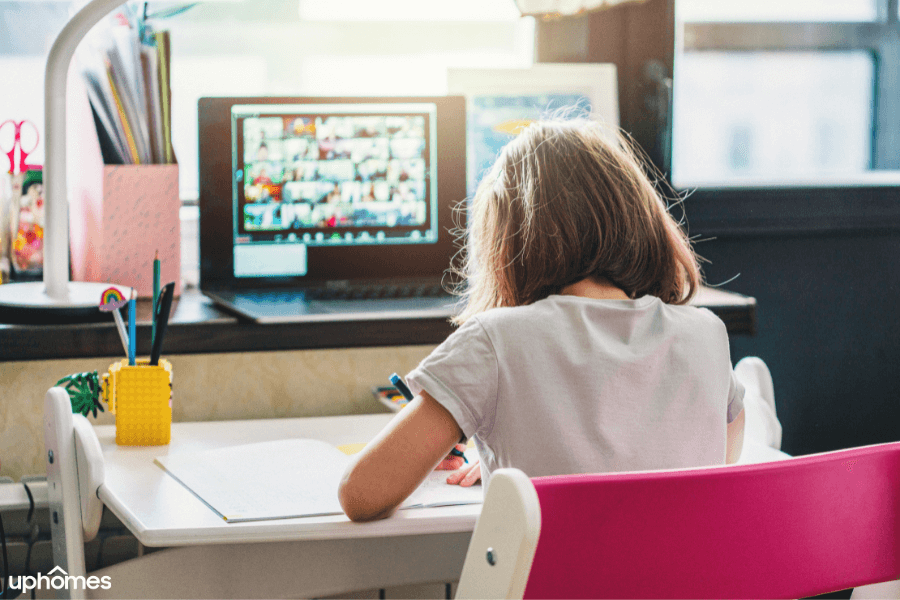 What are Common Challenges Students Face While Learning at Home?
External Distractions
While learning at home certainly has its benefits, multiple challenges can arise that have the potential to hinder learning. When there are external distractions present while working on schoolwork it can make it hard to focus and complete assignments. Some distractions that can occur while working from home can include package deliveries, pets moving around, kids crying, the doorbell ringing, or someone in the house that is cleaning or making food.
Having easy access to social media such as Youtube and Netflix as well as free rein to browse the internet can also be a distraction from coursework. While on the computer, students will have increased screen time which can lead to impaired cognitive performance, obesity, lack of sleep, chronic neck and back problems, anxiety, depression, mental health problems, and lower test scores. Specialists recommended that students and children should limit screen time to one to two hours a day. While distance learning may require longer periods behind the screen, staying on task is a must to get work done quickly.
Staying Motivated
It can be hard to stay motivated when learning from home without being surrounded by peers. Social isolation and the lack of social interaction can lead to feelings of loneliness, depression, anxiety, and a long list of mental health issues. If you are working from home and want to improve your mental health, consider setting up a meditation space, eating a healthy diet, and staying connected to others outside of a learning environment.
Maintaining a healthy school-life balance is essential to staying motivated, happy, and healthy. Make sure to set manageable goals, eat well, make time for exercise, delegate your work, ask for help when needed, and allow time for relaxation. By prioritizing your time, complete school work with efficiency while still making time for yourself.
Technical Issues
One of the main struggles and concerns of distance learning is technical issues and unreliable internet connection. Technical issues and unequal internet access have been some of the major problems associated with virtual education as seen through the COVID-19 Pandemic. It is hard for teachers to hold students accountable when students are working in an unreliable learning environment.  Currently, 78% of schools have provided students with technology devices but only 45% have provided students with wifi hotspots. It has also been reported that 31% of teachers have had issues with remote instruction. Students that are living in high poverty and rural districts have the most issues with distance learning and lack of wifi.
Lack of internet connection and overall motivation and support from teachers and families as well as limited access to internet-enabled devices, wifi hotspots, equipment, and tech support are all problems that students can face. This lack of support services and problems with equipment leads to a divide in quality instruction and education. Most colleges and school systems have no resources in place to provide remote students with tech support. Plus, unfamiliar technology can be confusing for students to understand and learn.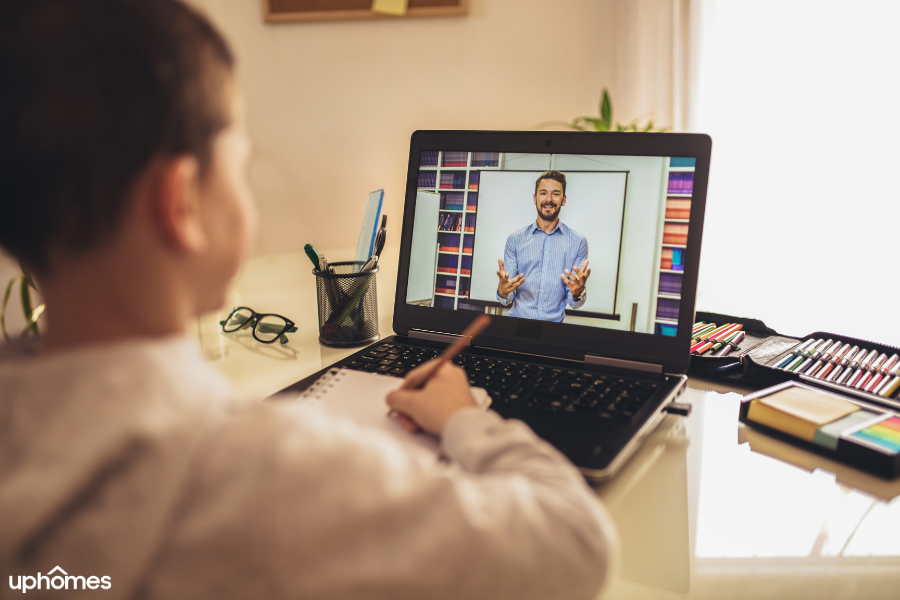 How to Overcome the Challenges of Distance Learning
Internet Provider Programs
Ever since the COVID-19 Pandemic, the increased popularity of distance learning has put a higher importance on quality internet connectivity. Now there are government programs in place for students to help get internet service. Designed specifically for students, the Connect2Compete program and the Altice Advantage Internet were enacted to provide affordable internet for K-12 students. The Emergency Broadband Benefit program is another option that will save individuals $50 to $75 a month on internet bills if they qualify for the program which includes low-income households and those that have received the Federal Pell Grant. For low-income subscribers, Lifeline Support provides a $9.25 monthly discount for users. Internet providers are providing student plans and student discounts as well including popular companies Xfinity, Spectrum, AT&T, and Frontier.
Technical Support and Troubleshooting Resources
Understanding basic troubleshooting steps can go a long way when fixing simple computer problems. First, try some basic solutions such as restarting your browser, clearing any cookies, or disabling extensions. Document the problem by taking a screenshot or recording a screencast. If you can not fix the problem yourself, make sure to remain calm and collected when on the phone with tech support. For students, some institutions are offering 24/7 tech support. Make sure to understand what resources are available to you and what your options are. Another way to get tech support is through peers and student groups. Online support forums and online resources may offer the best help.
Set Up a Good Learning Environment
A great learning environment will increase productivity and enhance your learning experience. Design your study space and home office by keeping it ergonomic, well lit, and organized. By making your workspace your own, any amount of added comfort can go a long way during the workday. By reducing distractions and taking frequent breaks, accomplish all of your goals and double productivity.
Finding a School-Life Balance
Managing school and everyday life can be tough. To stay sane and reach optimal academic functioning, certain steps need to be taken. First and foremost, get organized by maintaining a clean environment. By having a designated place to work every day as well as keeping a calendar with upcoming due dates and assignments, easily stay on task. Make sure to avoid multitasking and keep away from distractions. Next, time management is important. Consider time blocking, creating a daily schedule, starting the day off by writing down daily goals, avoiding procrastination, and celebrating accomplishments no matter how small.
Make sure to set limits to make time for your personal life and hobbies. By setting aside time to relax, take a breather from moments that are stressful or overwhelming. Find a supportive network of friends, do not be afraid to ask questions, and set limits and timeouts when it comes to phone usage and computer browsing. It is also important to prioritize maintaining a healthy lifestyle. Not only is sleeping for eight hours daily important but staying active and setting time aside to eat healthily will do wonders for both physical and mental health. Create a schedule that allows for stretch breaks, drink lots of water, and take a walk in between assignments to get some fresh air.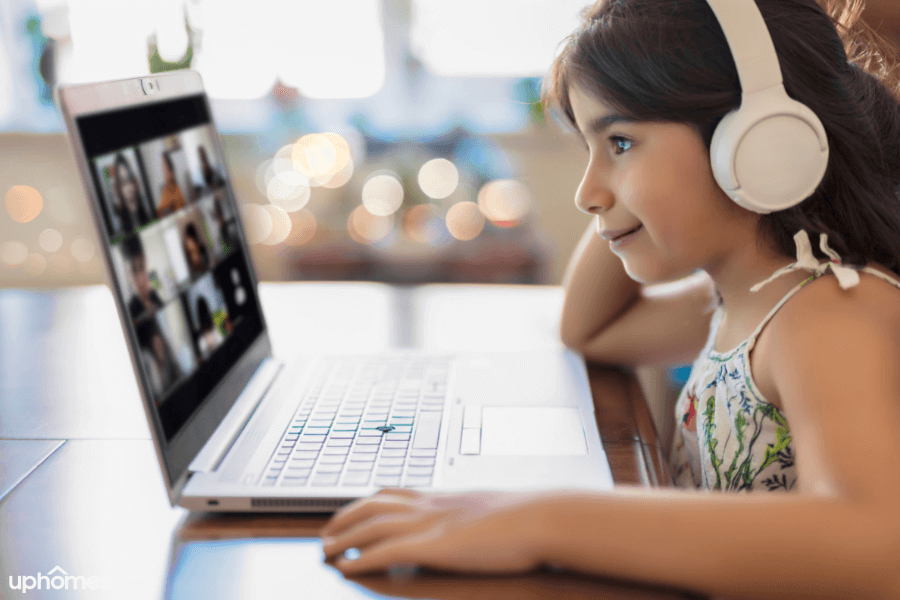 Participate in Online Discussions
Creating virtual study groups is a great way to maintain peer relationships while in a distance learning environment. Learning in a group is a great place to ask questions and better understand the material. Contact friends or ask the instructor to help you find reliable peers to form a study group. Find a virtual meeting platform that works for all involved. This may be through Zoom, Skype, Google Meet, Facetime, or other online programs. Make sure to factor in any technical and wifi issues before planning out future study sessions. Find a group member who will moderate each session to ensure that the group stays on track to complete assignments and reach goals. Make sure to stay on topic and set aside time for breaks. Participating in online discussions is great for mental health, but it will help with feelings of work isolation.
Remember to follow these study etiquette suggestions:
Free Remote Equipment Resources
Additional Distance Learning Resources

Find your new home
Search real estate and homes for sale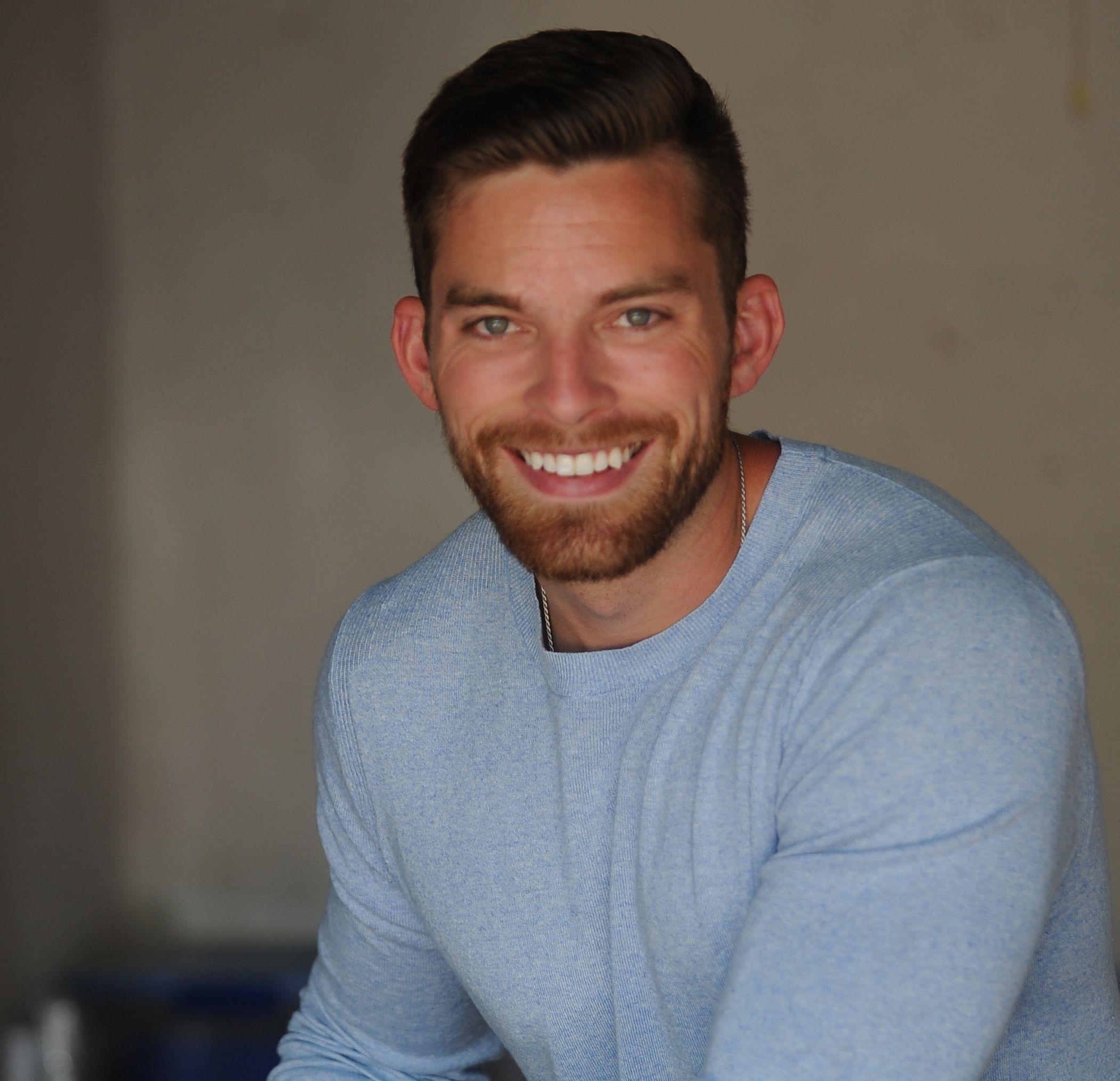 Ryan Fitzgerald
Hi there! My name is Ryan Fitzgerald, and I am a REALTOR®. My goal is to help you learn more about real estate through our Real Estate Blog! Hopefully, you enjoyed the above blog post and it found a way to provide help or value to you. When you're ready to buy or sell a home of your own let us know here. Please feel free to join the conversation by dropping us a comment below.