5 Best Neighborhoods in Vail, CO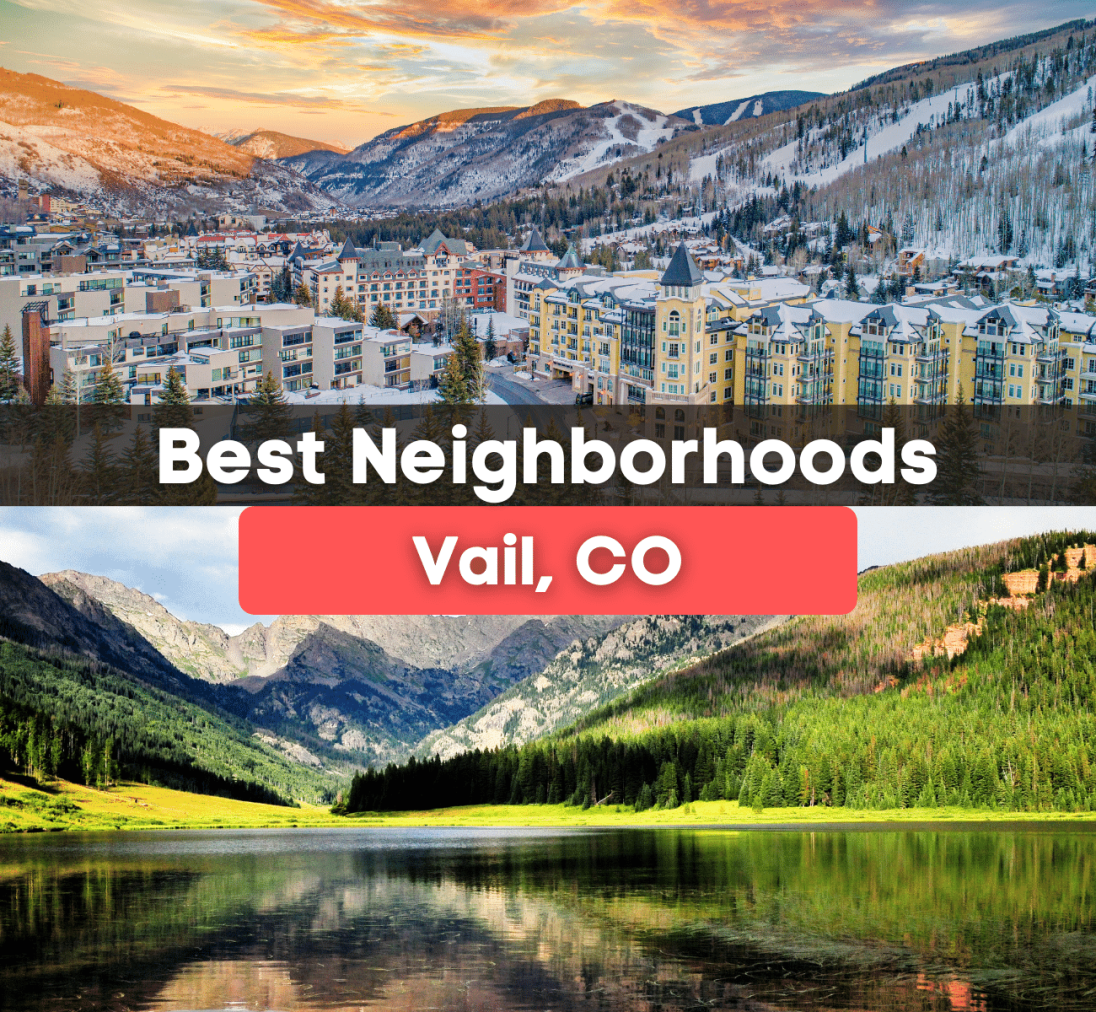 Best Places to Live in Vail, Colorado
What are the best neighborhoods in Vail, Colorado - Here are the best places to live in Vail!
Vail is a 40-mile mountainous stretch along I-70 in Eagle County, Colorado. Located in one of the passes in Colorado's Rocky Mountains, living in Vail offers some of the most amazing scenery you'll ever see.
It's a small town but its reputation is huge as a world-famous destination for skiing. The number of tourists that Vail attracts during the ski season is increasing every year. That's because Vail has the largest natural terrain of any ski resort in Northern Colorado!
There's plenty to do in Vail even when it's not winter. You can find awesome hiking, white water rafting, climbing, bouldering, and other warm-weather outdoor adventures.
Vail Mountain is the central attraction of the town and Lost Lake is another popular place to see near the town. Vail is also surrounded by White River National Forest which is home to mountain animals and indigenous plants.
Vail has a high standard of living compared to other places in the United States. The views, the amenities, and the kind people will want to make you want to stay there.
Each neighborhood within Vail has its own unique character and diverse real estate.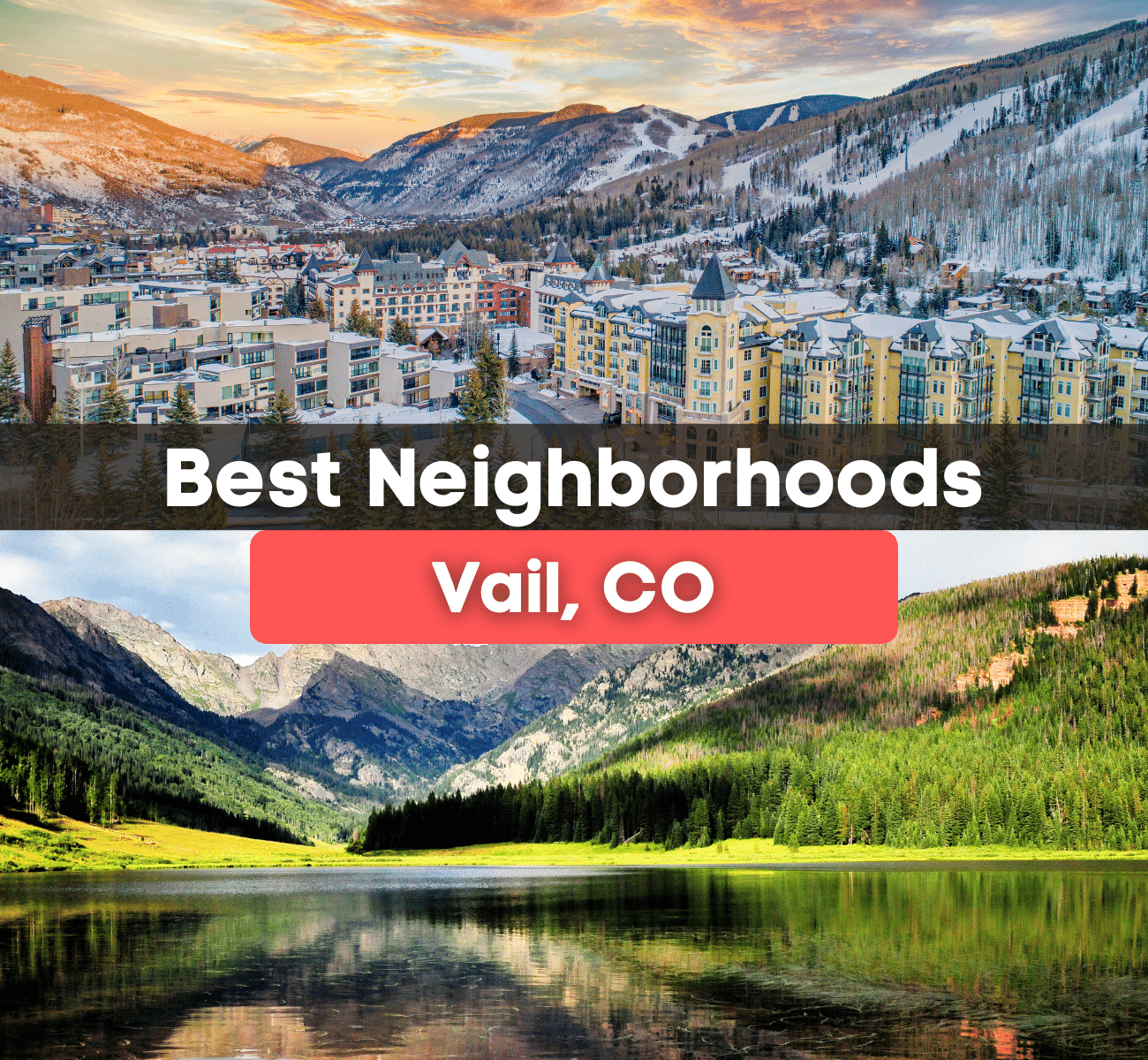 If you still haven't decided whether Vail is the right place for you, make sure to check out our blog: 10 Things to Know Before Moving to Vail, Colorado.
When moving to a new city, it's important to find the right neighborhood to fit you and your family. We've researched for you to ensure you get a look at the best neighborhoods and choose the best one for you. Keep reading to see the 5 best neighborhoods in Vail!
East Vail
As one of the earliest neighborhoods of the Vail Valley, East Vail sits at the foot of the Gore Mountain Range. It's the closest neighborhood to Denver, Colorado.
East Vail is located within a beautiful environment that includes tall evergreen trees and 14,000-foot mountains right outside your window. A lot of people also love its rock cliff faces and waterfalls that flow off of Vail Mountain and the Gore Range.
Gore Creek runs through the East Vail neighborhood as well! This neighborhood is best known for its natural beauty and convenient location.
Bikers have access to an awesome bike path that leads up to Vail Pass and runs through the Vail Golf Course. The bike path rises up to almost 4,000 feet and back into Copper Mountain on the East side of the pass.
Meanwhile, hikers can choose from various trails near this neighborhood including Gore Creek, Bighorn Creek, Deluge Lake, and Two Elk. All of the trails vary in difficulty from easy to challenging.
Skiers and snowboarders will love the easy access to the chutes of East Vail. Ice climbers also come to adventure in the ice falls during the winter when the falls have frozen over.
Most of the properties built in East Vail were constructed during the 70s and 80s but most have been remodeled. Newer homes have also been built in the last few years.
Real estate prices will start at the $400,000's for apartments and go up to several million dollars for new single-family homes.
Beaver Ponds is a nice amenity of East Vail because some of the homes sit right by the water or nearby. There are also various parks and green spaces in the neighborhood for family gatherings or to take your dog for a walk.
It's convenient to get where you need to go from East Vail. It's located just a few short miles from Vail Village and the free Town of Vail bus services run on a year-round basis. It can take you to Vail Village or all the way to West Vail.
There's even a small grocery store near the neighborhood to add to the convenience of East Vail. Head to the East Vail Market to stock up on groceries, produce, wine, and packaged liquor. It's not as densely developed as Vail Village yet you'll still have all the amenities that you want.
Local Favorites:
Bighorn Park: Popular neighborhood meeting place with a playground, picnic tables, athletic fields, an off-leash dog park, an open field, and a pond. It's a great family-oriented park with open spaces for kids to play sports.
Blu's Restaurant: World-renowned restaurant located in the Vail Racquet Club that has been open for 25 years.
Vail Racquet Club: Offers tennis, racquetball, workout, and training facilities. The racquet club has memberships available for all property owners in East Vail.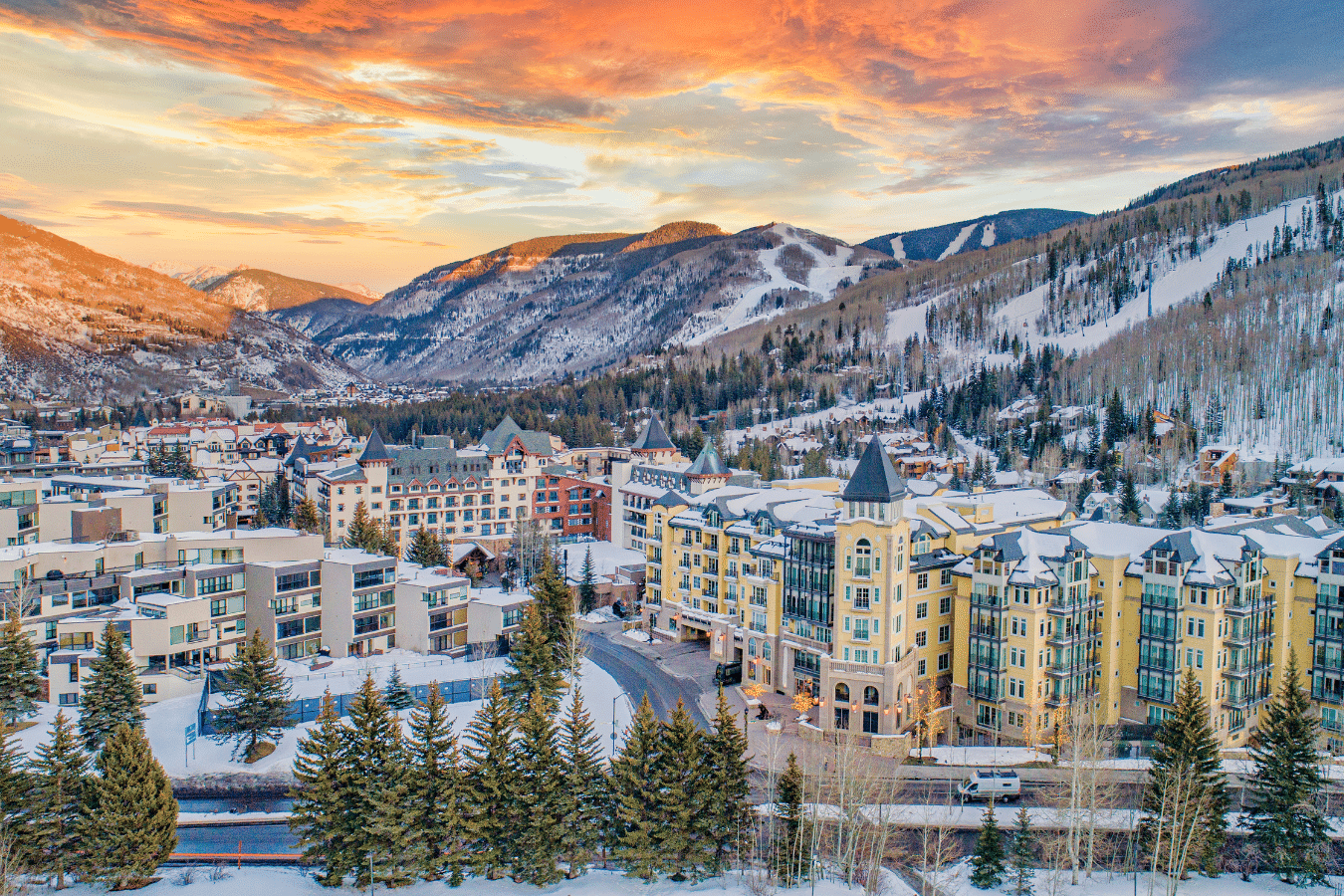 Lionshead
Lionshead is a popular location to live in because it's situated right next to Vail Village. Living in Lionshead puts you near the local ski resorts and some of the best restaurants in the city.
You can take a walk along Gore Creek to get to Vail Village, take a bike ride, or get on the free in-town bus.
The Eagle Bahn gondola will be located steps away from your door and will take you to the top of Vail Mountain. The ski school is also at the base of the mountain.
You don't even need a car in Lionshead; they actually aren't allowed! This offers some peace and safety to the residents who live there.
Living in this neighborhood also allows for easy access to some of the best hiking and biking in Vail in Gore Range. If you're looking for an easy route, try Eagle's Loop or Fireweed. You'll get a more challenging hike with the Berry Picker trail.
You can go explore Sunbird park or leave Vail to see the Holy Cross Wilderness Area. That's where you'll find incredible fishing, hiking, and other outdoor activities.
Local Favorites:
Arrabelle at Vail Square: Ice skating rink that is open in the winter. It's located in Vail Square where you can go see concerts and attend festivals during the summer. You'll have to check out the Vail Jazz Festival over Labor Day Weekend.
Imagination Station: Indoor play space for all ages. The Imagination Station features a water table, a play wall for physical and cognitive learning, a light table, builder boards for problem-solving, and a hyperbolic funnel that models planetary motion. It also offers paint-your-own pottery, art and science sessions, and virtual reality.
Montauk Seafood Grill: A 30-year-old restaurant offering fresh, high-quality seafood. The establishment also supports sustainable fishing and agricultural practices worldwide.
West Vail
As one of Vail's earliest neighborhoods, West Vail is a beautiful place to live because it overlooks the Gore Range and Vail Mountain. Many of the homes back up to the National Forest and the Gore Creek runs through the neighborhood.
West Vail does not have some of the big attractions that other neighborhoods have but it does have more affordable options and a more "local" feel."
Like most of the neighborhoods in Vail, West Vail offers some direct access to hiking and biking. You can take the Davos North Trails that connect Vail Village to West Vail. You can also get to Vail Village by car or by riding the free bus service.
West Vail has its own shopping area if you don't want to trek over to Vail Village. You can find a hardware store, delicious restaurants, gas stations, cleaners, banks, and much more. West Vail also has two major grocery stores including Safeway and City Market.
If you're looking to buy an apartment or home, just know that it is tough to find a lot of inventory because of the high demand for real estate in West Vail.
You could find a studio or one-bedroom apartment in West Vail for as low as $400,000, if you're lucky, but a large single-family home, with 4,000 square feet, would cost $4 million or more. The average price range for a townhome or duplex is about $500,000-$800,000 on the lower end.
Local Favorites:
Donovan Park: 50-acre park with playgrounds, basketball courts, and a soccer field. The park has a beautiful pavilion that can be reserved for special occasions and events.
Vail Nature Center: Free-admission learning center with a system of trails situated between a mountain meadow and Gore Creek. The 7-acre facility is perfect for exploring nature, hiking, birding tours, beaver pond tours, wildflower viewing, stargazing, and indoor exhibits.
Westside Cafe: Offers comfort food for breakfast, lunch, and dinner. It's always packed during brunch!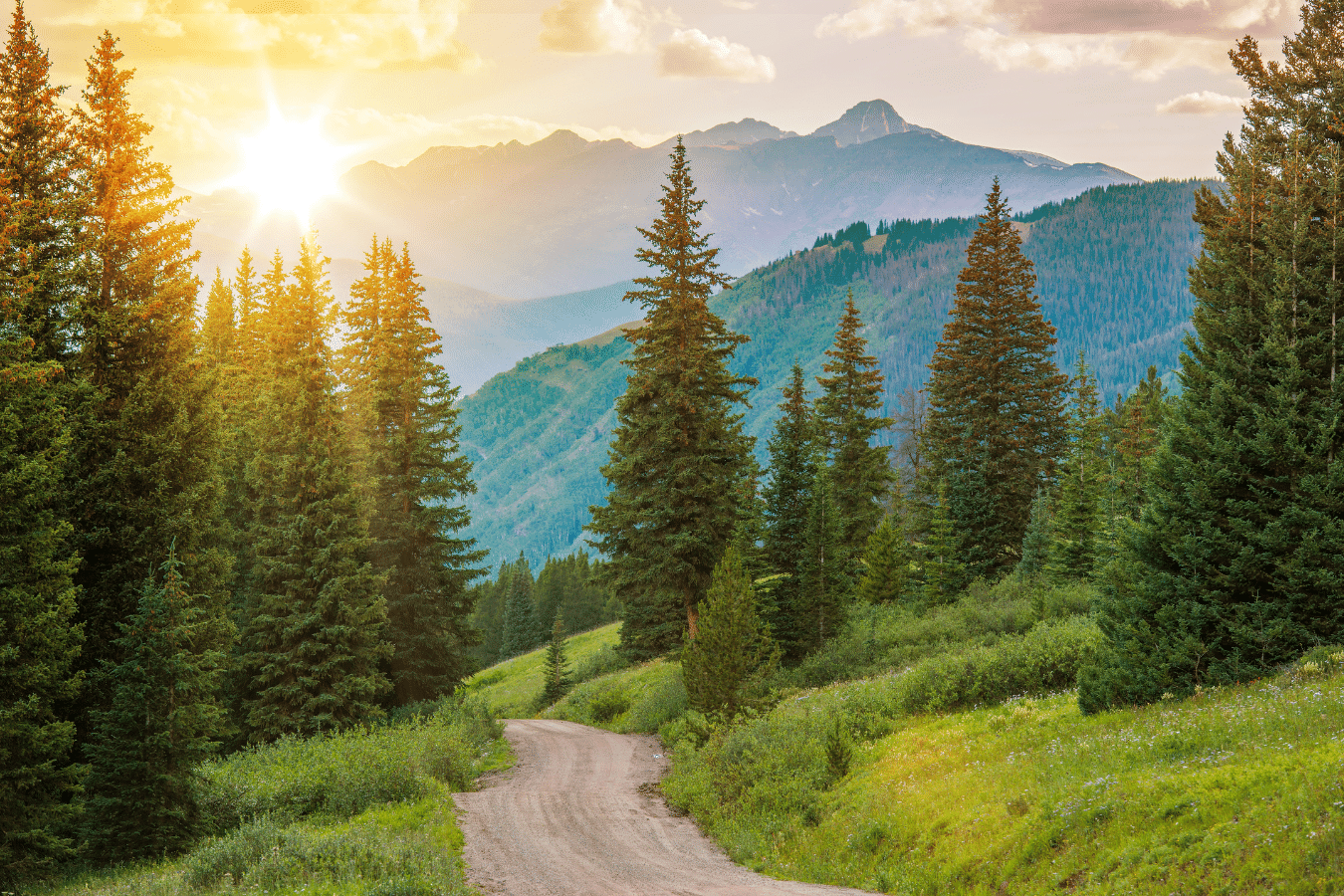 Vail Village
Living in Vail Village is like living in a big city without all of the heavy traffic. Vail Village is at the base of Vail Mountain and draws visitors from all over the world.
Vail Village is the place to be if you love being around all the action. You'll have world-famous skiing, top-rated restaurants, and glamorous stores that are steps away from your home.
This neighborhood still has a small-town feel in ways because it's surrounded by some buildings that date back to the founding of the town in the early 1960s.
You will always have something to do in Vail Village from trying casually gourmet eateries, checking out the movie theaters, bowling alley, and ice skating rink, and exploring all of the luxurious shops and boutiques.
The cobblestone streets of Vail are even heated to keep you warm!
Skiers and snowboarders take Gondola One to get to the top of the mountain. The lift is outfitted with heated seats and wifi.
The community of Vail Village always has something going on from local events, festivals, or parties
During the summer, the free Hot Summer Nights concert series is tons of fun at the Gerald R. Ford Amphitheater. It's right next to the incredible Betty Ford Alpine Gardens. The Sunday Farmer's Market fills the streets with fresh produce, baked foods, artwork, jewelry, and more.
The summer events don't stop there. The Bravo! Vail Music Festival and Vail International Dance Festival are a blast to attend. This neighborhood also has some amazing clubs and bars if nightlife is your favorite.
No matter the season, Vail Village will always have something to offer to all the residents who live there, no matter your interests.
Local Favorites:
Mountain Standard: Popular gastropub featuring delicious food, beers, and bourbon. Chef Maria Busato won the 2020 Colorado Chef of the Year. The spot serves seasonally-crafted cocktails, wine, and beer.
Forest Flyer Mountain Coaster: Enjoy an adrenaline rush and fly through the forest on this coaster that winds 3,400 feet down the mountain!
Colorado Snowsports Museum and Hall of Fame: Museum that celebrates Colorado snow sports that educate and inspire others to seek adventure. Its collection of artifacts tells the story of the birth and rise of skiing and snowboarding in Colorado.
Eaglevail
A mountain community located in the heart of the Eagle River Valley and about seven minutes away from Vail Village. It's a suburban area with a neighborly feel and plenty of community amenities.
Eaglevail is in the center of everything with Beaver Creek Mountain and the Town of Avon located a mile down the road. Edwards is only six miles away.
People who live in Eaglevail love the trail system that goes through the neighborhood. Whiskey Creek and Paulie's Little Sister all begin in EagleVail and connect to Beaver Creek and Meadow Mountain.
There are tons of community amenities including parks, a pool, tennis courts, sports fields, and bike trails.
EagleVail is also home to grocery stores, sporting goods shops, home stores, and more.
Local Favorites:
The EagleVail Golf Club: 18-hole public golf course with a river, pub restaurant, sports TVs, and Wii for the kids.
Paulie's Plunge: 4.6-mile trail featuring beautiful wildflowers. The AllTrails app rates this trail as "moderate" difficulty.
The Bottom Line on the Best Neighborhoods in Vail
If you are looking to buy a property in Vail, you should consider all the neighborhoods we have listed above before making your final decision. Make sure to reach out to one of our helpful Realty Specialists to guide you through the moving and home-buying process. Contact us today to find your dream location in Vail!

Find your new home
Search real estate and homes for sale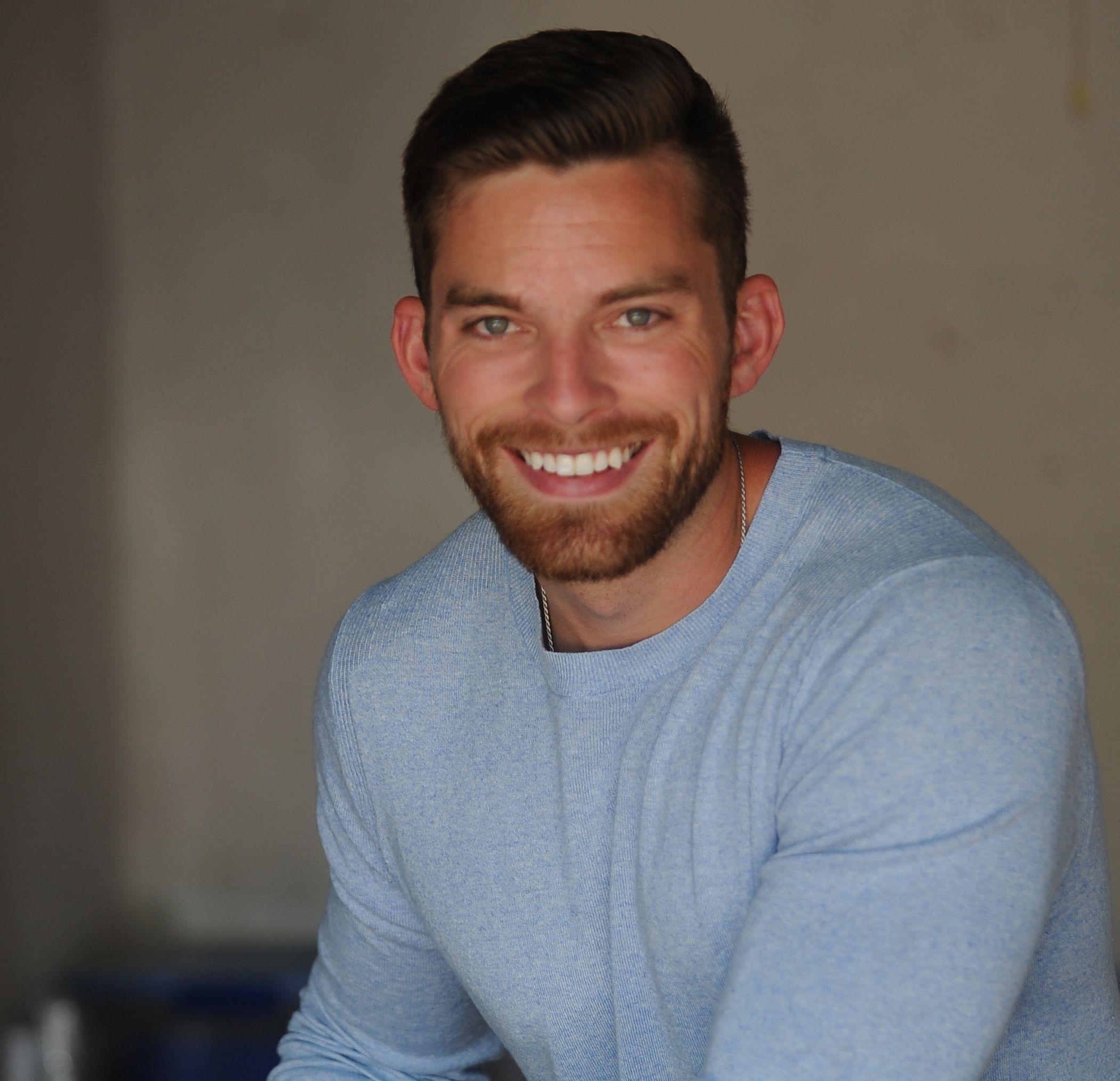 Ryan Fitzgerald
Hi there! My name is Ryan Fitzgerald, and I am a REALTOR®. My goal is to help you learn more about real estate through our Real Estate Blog! Hopefully, you enjoyed the above blog post and it found a way to provide help or value to you. When you're ready to buy or sell a home of your own let us know here. Please feel free to join the conversation by dropping us a comment below.