11 Best Neighborhoods in Tucson, AZ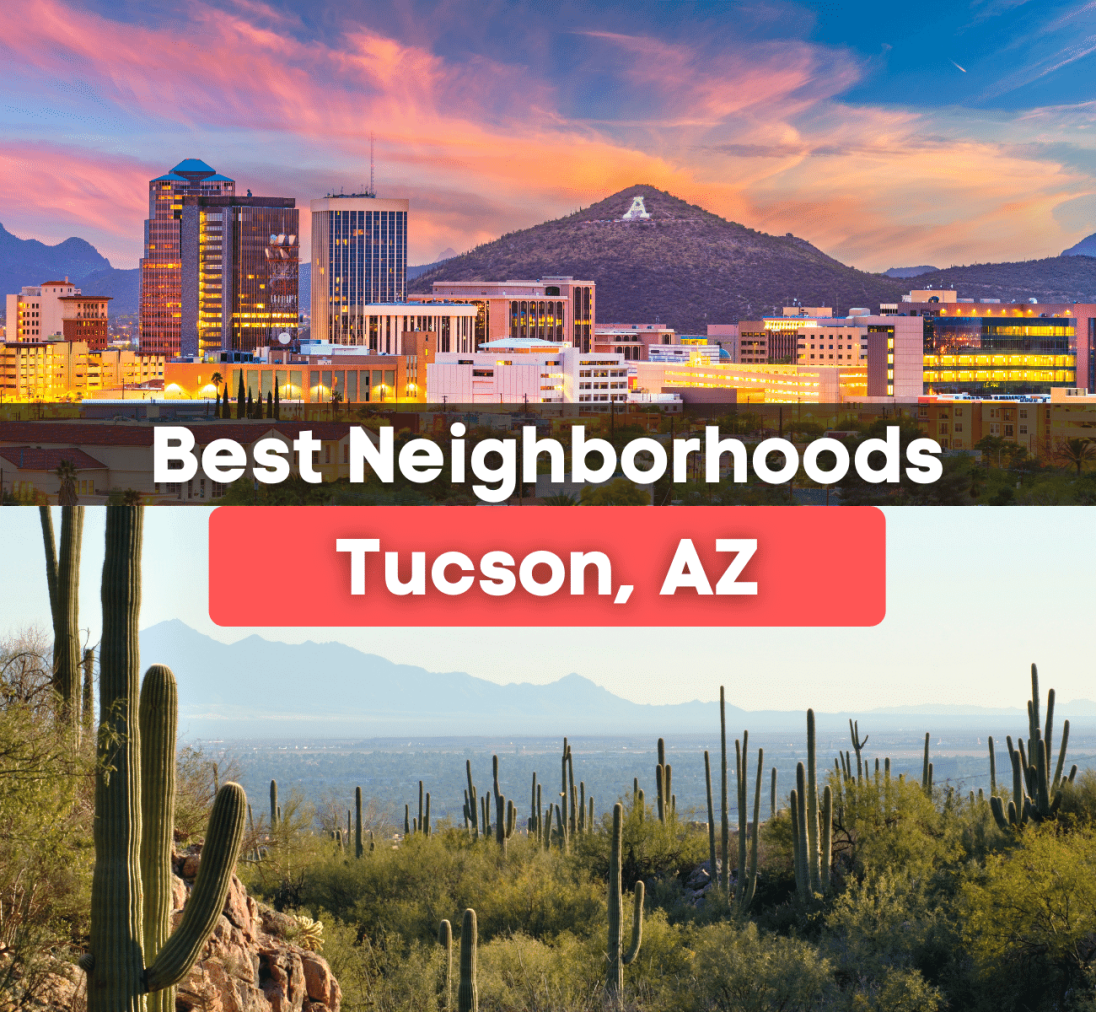 Best Places to Live in Tucson
Searching for the best neighborhoods in Tucson? Check out these ten great places to live!
Whether you want a quiet suburban neighborhood or a lively downtown place to live in Tucson, Arizona, there is no shortage of diverse communities to choose from, no matter your lifestyle.
Since location is one of the most important factors when deciding on a home, finding a safe area to call your own with its history, culture, and sought-after amenities is, fortunately, easy when moving to Tucson.
So if you are asking, what exactly is the best area of Tucson to live in? Then you have found yourself in the right place!
With the help of this ultimate moving guide, our team has put together the top ten places to live in Tucson while also highlighting local favorites to help you along your home search.
If you are searching for new construction homes in Tucson, condos for sale in Tucson, or luxury homes for sale in Tucson, then keep reading!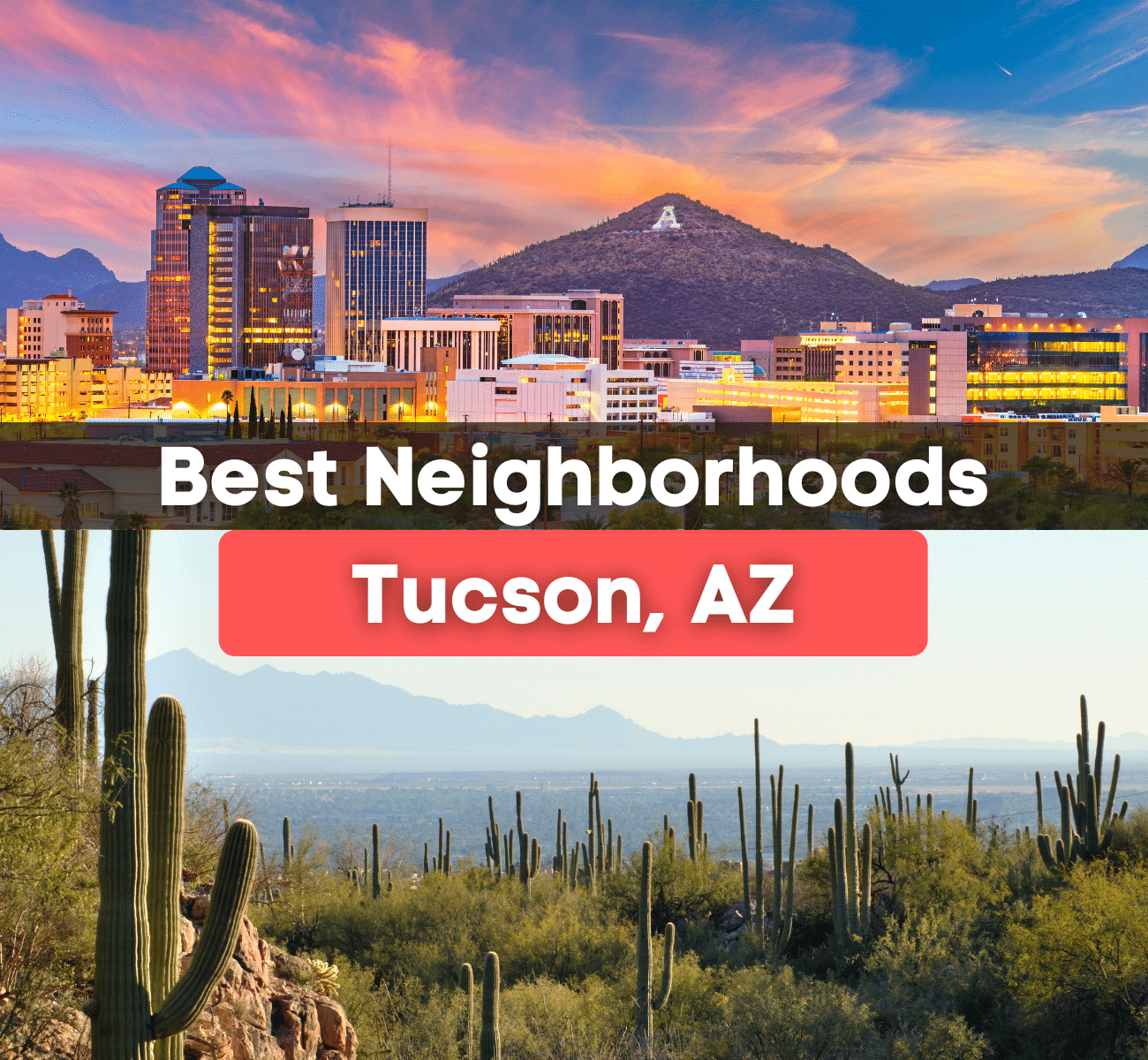 Check out these best places to live in Tucson!
Sam Hughes
Comprised of mid-century modern homes and quiet tree-lined streets, the neighborhood of Sam Hughes in Tucson is a great place to live for college students attending the University of Arizona, young professionals, and young families.
Known for its buzzing atmosphere and student-centered way of life, Sam Hughes is home to a thriving brew pub and sports bar scene that knows how to keep its residents entertained.
Home to a population of just under 5,000 people, Sam Hughes, is a relatively small community that offers beautiful architecture, affordable real estate, and dog-friendly businesses and parks.
From upscale pizzerias to modern Mexican cantinas, it is easy to see how Sam Hughes has made it to the top of our list of the best places to live in Tucson and Pima County.
Local Favorites:
Dunbar Spring
Dubar Spring is a quiet, historic, and culturally diverse community located just North of downtown Tucson. With just over 1,300 residents, Dunbar Spring is home to multiple colorful murals and a thriving art scene that welcomes creative types from all over the state and country.
Offering its residents a mix of suburban and urban living, Dunbar Spring is a great place to live for families since there are highly-rated schools and plenty of bars, restaurants, coffee shops, and parks to take advantage of.
Local Favorites:
Civano
Located in southeast Tucson, the neighborhood of Civano first opened in 1999 and was initially envisioned as "Tucson's Solar Community." Considered to be a model of a sustainable community, Civano is defined as a beautiful New Urbanist neighborhood that has its scaled-down town center.
Comprised of 650 resource-efficient homes that feature lush desert landscaping, Civano has found a way to blend the natural Sonoran desert into a modern-day popular neighborhood with diverse architecture. With brightly colored homes, tree-lined streets, sidewalks, and beautiful mountain views, Civano is genuinely a desert escape.
Local Favorites: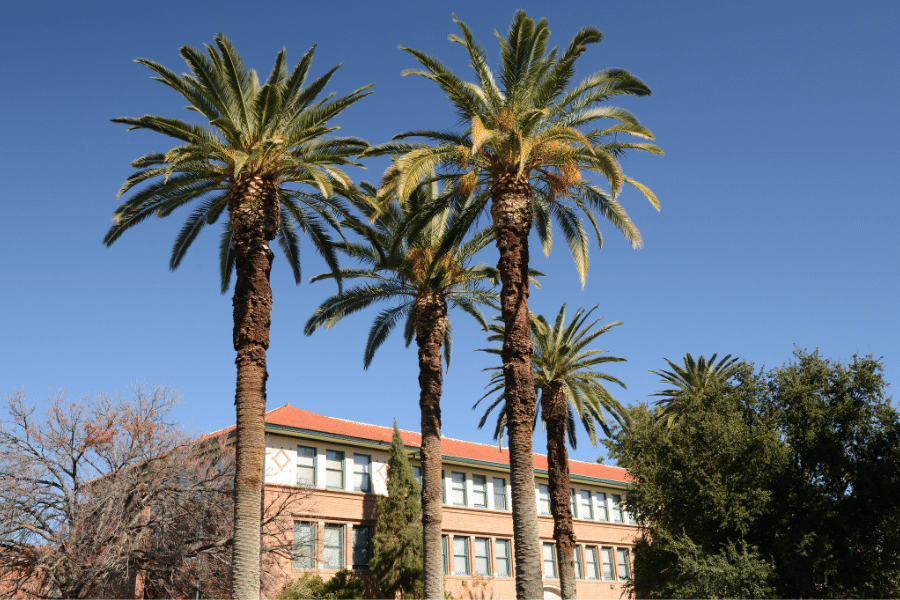 Armory Park
Offering a laid-back, family-friendly feel, the residential community of Armory Park is considered to be a good neighborhood in Tucson and Pima County. With a growing population of over 1,600 people, historic Armory Park is close to top amenities and only minutes from downtown Tucson.
Providing various dining options from cozy cafes to casual steakhouses and a trendy bar scene, there is always something new to check out when living in Armory Park. In our opinion - Armory Park is one of the best places to live in Tucson!
Local Favorites:
Old Fort Lowell
Old Fort Lowell is home to over 1,470 people and is best known for its delicious restaurants, laid-back coffee shops, and beautiful parks. Offering its residents an urban and suburban mix feel, many young professionals and retirees are deciding to move to Old Fort Lowell and buy their own homes.
Once an army post that was active between 1873 to 1891, Old Fort Lowell has since been turned into a popular neighborhood. Named the fifth best neighborhood in Tucson and the seventh best place to raise a family in Tucson, the historical significance of Old Fort Lowell makes it an exciting place to live just outside of the bustling downtown area.
Local Favorites: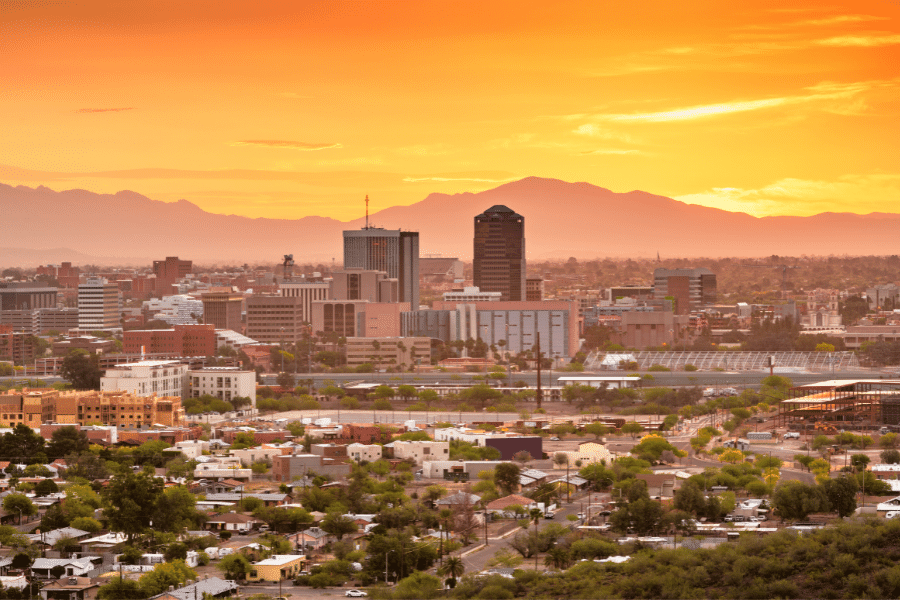 Highland Vista Cinco Via
The small neighborhood of Highland Vista Cinco Via has a population of 657 people, and it offers its residents a dense suburban feel where most residents own their own homes. Considered to be a great place to live for retirees and families, Highland Vista Cinco Via has been ranked as the second-best neighborhood in Tucson to buy a home due to affordability, location, and safety.
For those moving with school-aged children, the best public schools in the area include BASIS Tucson North, University High School, and Basis Tucson Primary School.
Local Favorites:
Barrio Viejo
Barrio Viejo, also known as "Barrio Libre," is located near downtown Tucson and is a neighborhood known for its colorful adobe-style houses, authentic Mexican cantinas that serve delicious margaritas, and retro-style bars that specialize in tasty craft cocktails.
Referred to as Tucson's old neighborhood, Barrio Viejo mainly consists of 19th-century homes and several commercial buildings. Considered to be a diverse and intergenerational neighborhood home to many parks, restaurants, museums, and local shops, Barrio Viejo has not only helped shape Tucson's history but is paving the way to a vibrant future.
Local Favorites: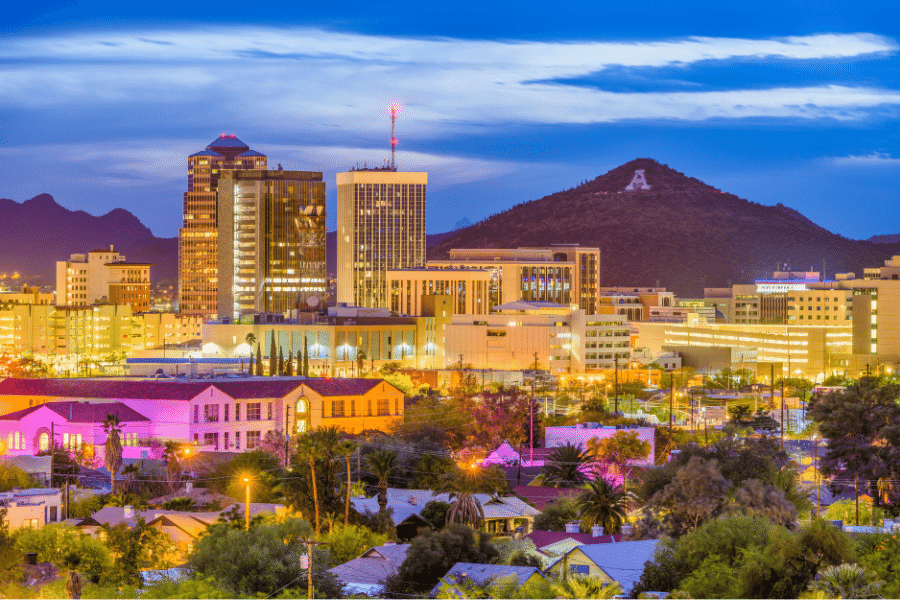 Poets Square
Poets Square provides its residents with an urban-suburban mix feel and has a population of over 1,052 people. Poets Square is home to various bars, restaurants, coffee shops, parks, and other sought-after amenities attracting many young professionals and families to the area.
Local Favorites:
El Presidio
It is located by Interstate 10 and the Loop Trail found along the Santa Cruz River, the neighborhood of El Presidio is considered to be a lively area that is rich in military history since it is the site of where the City of Tucson was established as a Spanish military fort in 1775.
Home to historical buildings, art galleries, and the oldest family-run Mexican restaurant in the country, El Presidio is a unique place to live just minutes from downtown Tucson.
Local Favorites: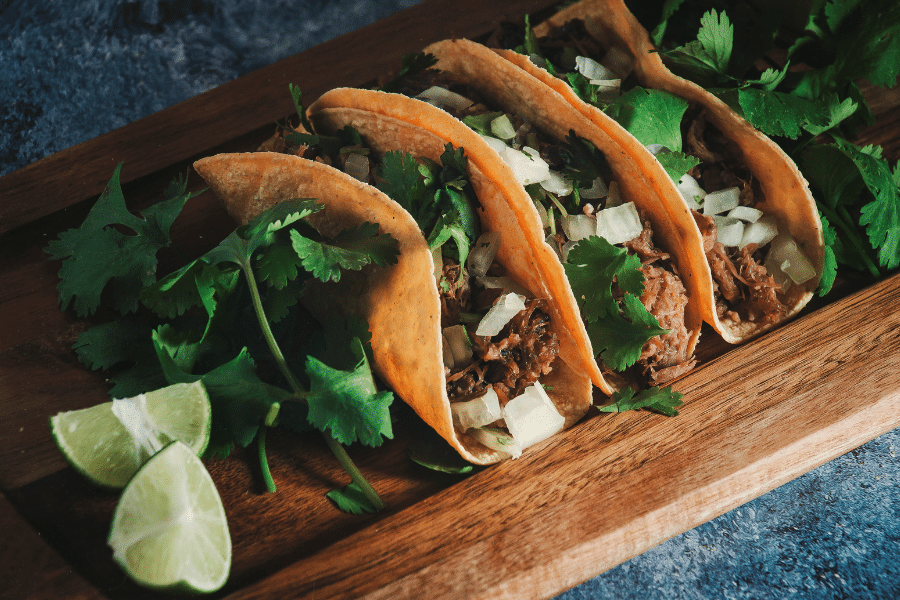 Iron Horse
Found near downtown Tucson and the University of Arizona, the community of Iron Horse is one of the best places to live in Tucson and provides its residents with an urban way of life.
Considered to be one of the most walkable neighborhoods in Tucson, Iron Horse is a beautiful historic neighborhood ideal for young professionals and families to call home.
Local Favorites:
Catalina Foothills
The Catalina Foothills is one of Tucson's most popular neighborhoods, and for good reason. Just check out the price tag on the homes in the neighborhood. With some of Tucson's best Mountain Views and access to some of the city's best hiking trails, many would say we saved the best community for last. Take note that this community will also come with many wildlife lurking about with its proximity to the mountains. That doesn't stop Catalina Foothills from being one of Tucson's top neighborhoods, thanks to the excellent school district.
Local Favorites:
La Encantada: The best outdoor shopping center in all of Tucson.
Vivace: Some of Tucson's best Italian food and a restaurant that makes for a great evening out.
Best Places to Live in Tucson, AZ - Final Thoughts
Are you ready to find the Tucson neighborhood of your dreams? Since there are so many friendly and safe options, it can be hard to pick just one favorite.
If you are interested in homes for sale in Tucson, contact us today to be connected to one of our fantastic Realty Specialists. We are always here to help and are ready to answer any questions that you may have about the home buying process!

Find your new home
Search real estate and homes for sale