10 Things to Know BEFORE Moving to Tucson, AZ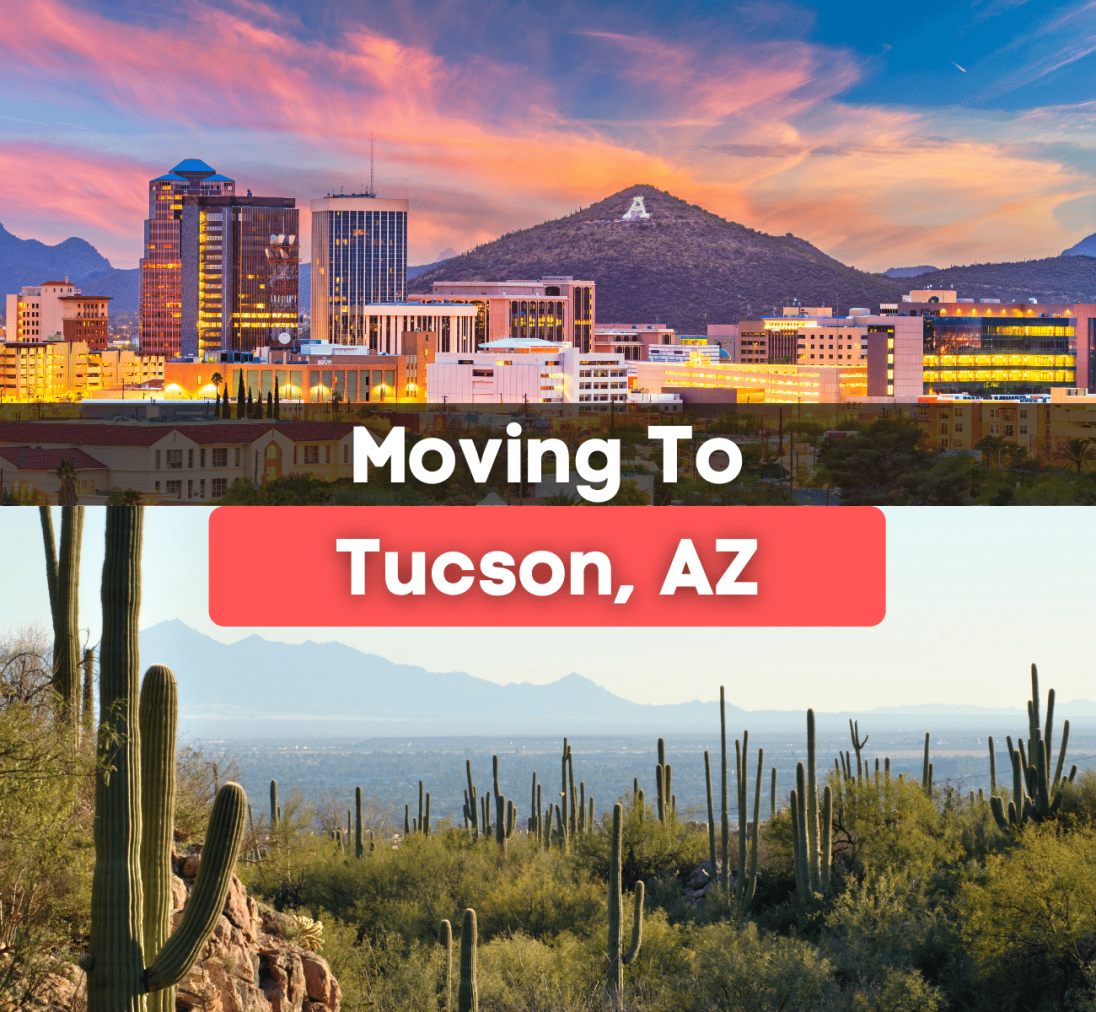 Living in Tucson
If you are moving to Tucson, AZ, make sure you know these ten things about living in Tucson!
Surrounded by the breathtaking Sonoran Desert and receiving 350 days of sunshine a year, the city of Tucson, Arizona, is not only a great place to vacation but a fantastic place to live.
As the county seat of Pima County, Arizona, and as the home to the University of Arizona, Tucson is most famous for its mouthwatering Southwestern cuisine and for having some of the cleanest air of any major city worldwide.
Home to a population of over 550,000 people, Tucson is the second largest city in Arizona, just behind Phoenix and above Mesa.
Attracting many college students, young professionals, couples, retirees, and families to the area, many people that live in Tucson are part of the city's diverse hobbyist communities, from vintage car collectors to photography and astronomy enthusiasts.
Considered to be one of the best places to live in Arizona, Tucson is a beautiful city that is often called the "Dirty T" since it is located in the desert and primarily comprises adobe-style buildings.
Whether you are moving to Tucson for work or other personal reasons, it cannot be easy to know what to expect if you have never visited.
That is why with the help of this trusty moving guide, our team has come up with a list of all that you need to know and some local favorites for you to become a local Tucsonan in no time.
With that being said, read on to learn more about what life is like in Tucson!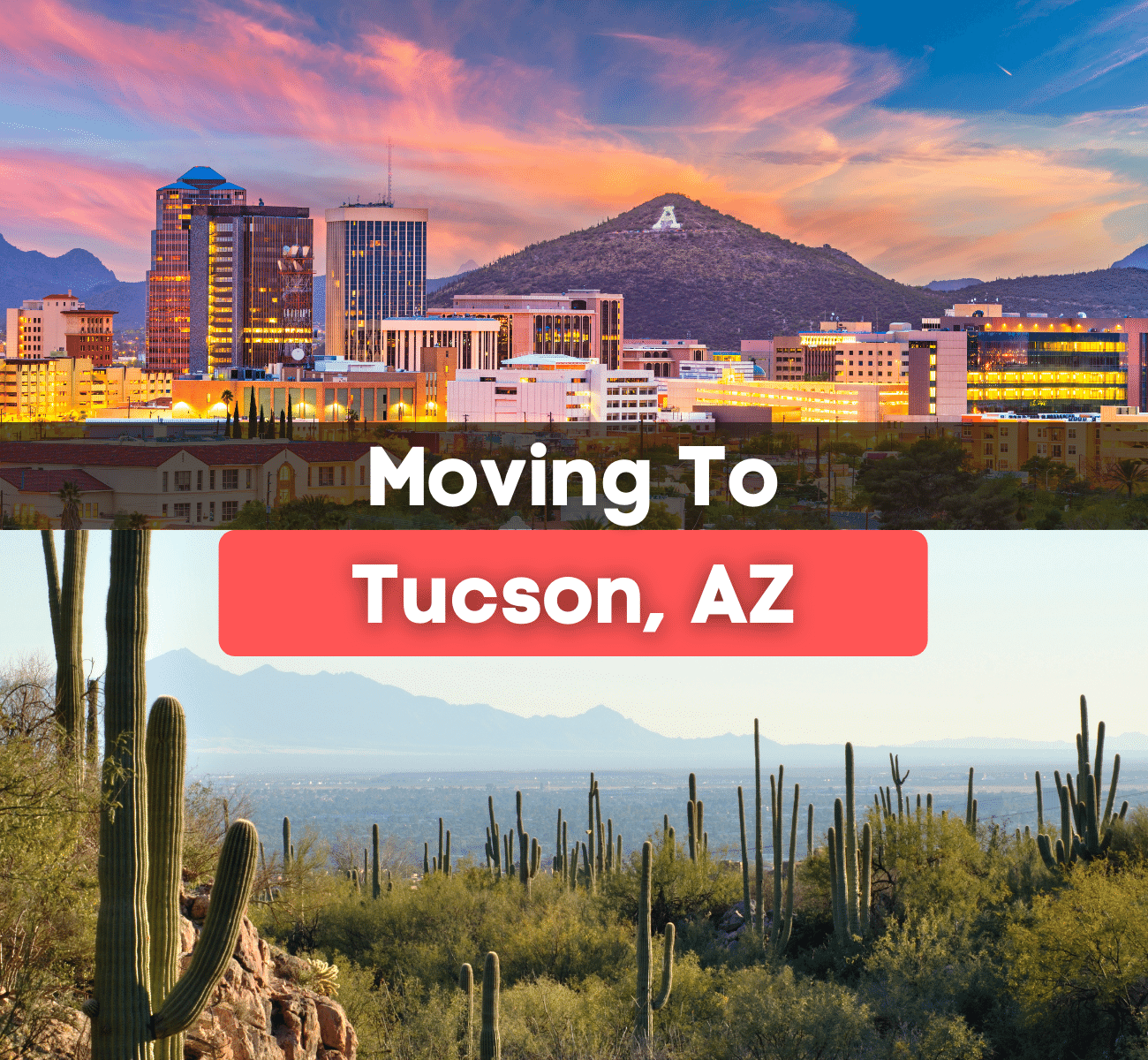 Here are the top things that you should know about life in Tucson!
Affordable Cost of Living
With a cost of living that is 6% lower than the national average and 5% lower than the state average, Tucson is one of Arizona's most affordable places to live.
Since the cost of living is relatively low, it is recommended that a single resident earn an average salary of at least $36,760 a year, or $17.60 an hour.
Known for having a cost of living that is 7.9% lower than living in Phoenix, residents would have to earn a salary of at least $55,261 to maintain the current standard of living.
Keep in mind that even though the cost of living in Tucson is affordable, employers in Tucson typically pay 4.9% less than employers in Phoenix.
While housing might be considered the most expensive cost in the city, Tucson home prices are 7% cheaper than the United States average home price of $349,000.
| | |
| --- | --- |
| Cost of Living Item | Average Tucson Price |
| Loaf of Bread | $3.50 |
| Gallon of Milk | $2.24 |
| Carton of Eggs | $1.59 |
| Energy Bill | $176.93 |
| Doctors Visit | $123.36 |
Data from Payscale
Excellent Education
As part of the Tucson Unified School District, Tucson is home to some of the best public schools in the state and the nation.
Tucson Unified's University High has been ranked as the 17th best school in the United States as of 2021, followed by Basis Oro Valley Charter School at number 23 and Basis Tucson North at 47.
Home to 337 public and 54 private schools, Tucson takes education seriously. If you are moving with school-aged children and already have a school in mind that you would like them to attend, it might be a good idea to find out which neighborhoods feed into your chosen schools.
The University of Arizona and Pima Medical Institute is located here for those looking for higher education opportunities.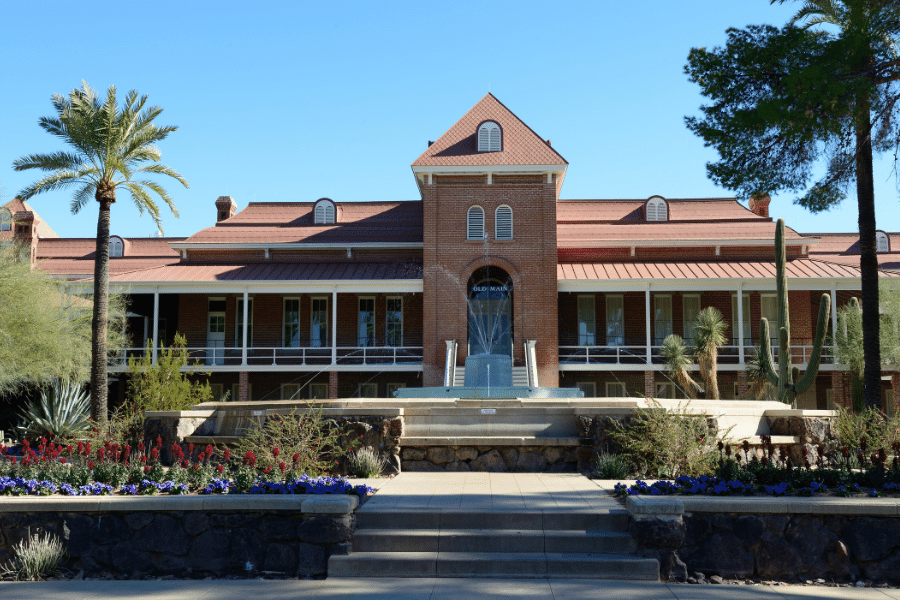 Climate
Known for having a hot desert climate, Tucson has two significant seasons where summers are sweltering, and winters are cool and dry.
Receiving only an average of 10.61 inches of precipitation a year, Tucson is very sunny and dry throughout the year, which makes Tucson the perfect destination for snowbirds due to the abundance of parks, recreation, and outdoor activities for all ages.
With temperatures ranging from around 40 to 75 degrees Fahrenheit, Tucson is generally more relaxed than living in Phoenix, and there is rarely any snowfall.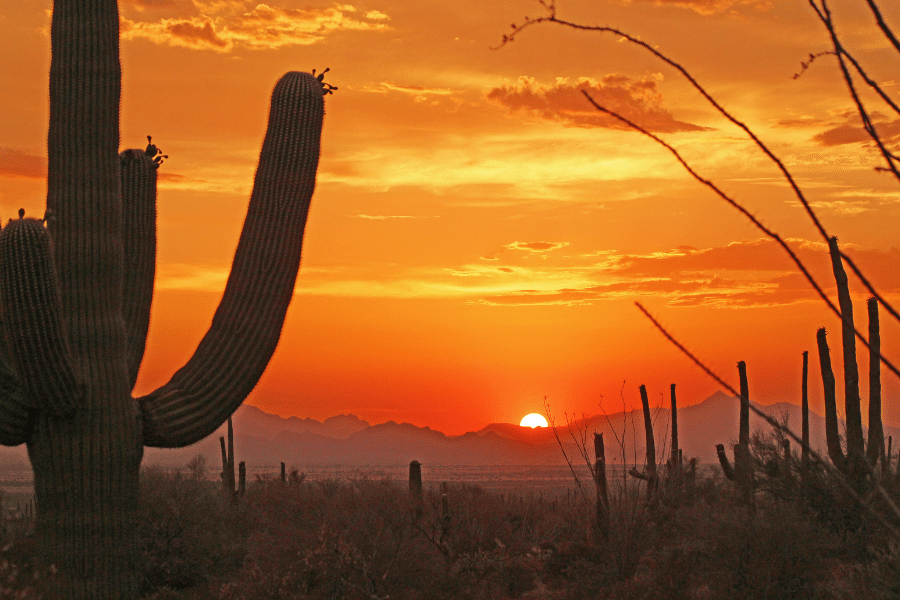 Culture and Art
Combining Mexican, Native American, and Western cultures, Tucson has found a way to blend and celebrate the city's diverse cultural background through inspiring galleries and exceptional museums.
Check out these local favorite art museums in Tucson, AZ:
Year Round Events
One of the best ways to get to know Tucscon better is by attending one of the many public events and festivals the city puts on throughout the year. No matter your age or interests, there is always something cool to try and new people to meet.
Check out these local favorite events and festivals in Tucson, AZ:
Outdoor Adventures
Tucson fully embraces its natural beauty through its many national parks and recreation areas, making the city perfect for outdoor enthusiasts and explorers.
Check out these favorite local parks and outdoor adventures in Tucson, AZ:
Family-Friendly Things to Do
Tucson is a great family-friendly destination in southern Arizona since it is full of unique activities that you can do with your kids, whether you have younger children or teenagers.
Check out these local favorite family-friendly things to do in Tucson, AZ:
Safety Rating
Unfortunately, Tucson can not be considered a very safe city since it has a medium overall risk of becoming a victim of dangerous crime.
Even though violent crime in Tucson is on a slow decline, your chance of becoming a victim in Tucson is one in 141, while your chance of becoming a victim of property crime is one in 27.
Crime rates aside, Tucson is still a trendy place to live and has some of the best communities in the state to call home. Please, refer to the Living Alone: Home Safety Checklist for information about how to stay safe, especially if you are moving to Tucson alone.
Golf Courses
Even though Scottsdale, Arizona, is home to more than 200 golf courses, Tucson has an impressive number of championship courses that offer high-end golf experiences, whether you are an avid golfer or a beginner.
Check out these local favorite golf courses in Tucson, AZ: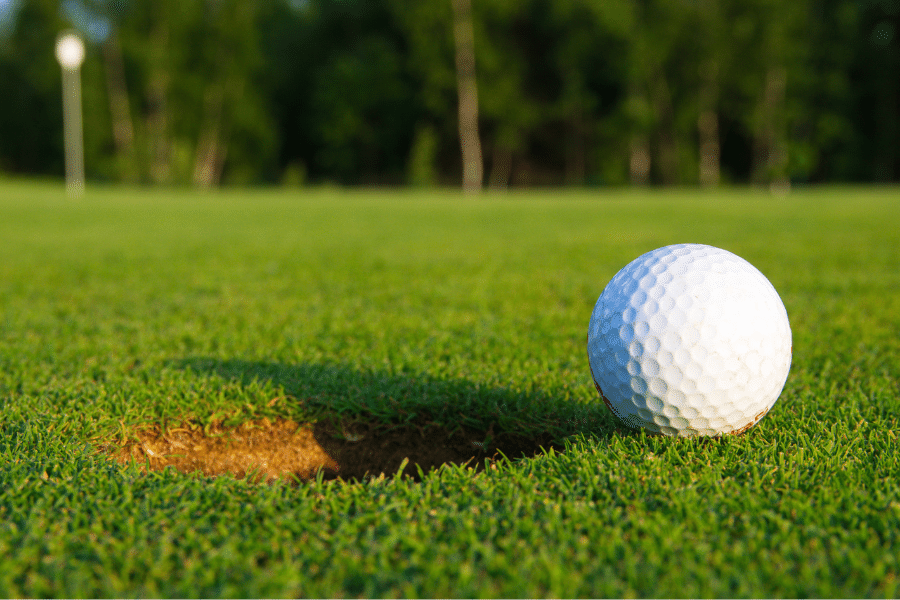 Nightlife
Tucson knows a few things about how to have a good time once the sun goes down, from quiet bars to college hangouts and lively dance clubs.
Check out these local favorite top-rated bars in Tucson, AZ: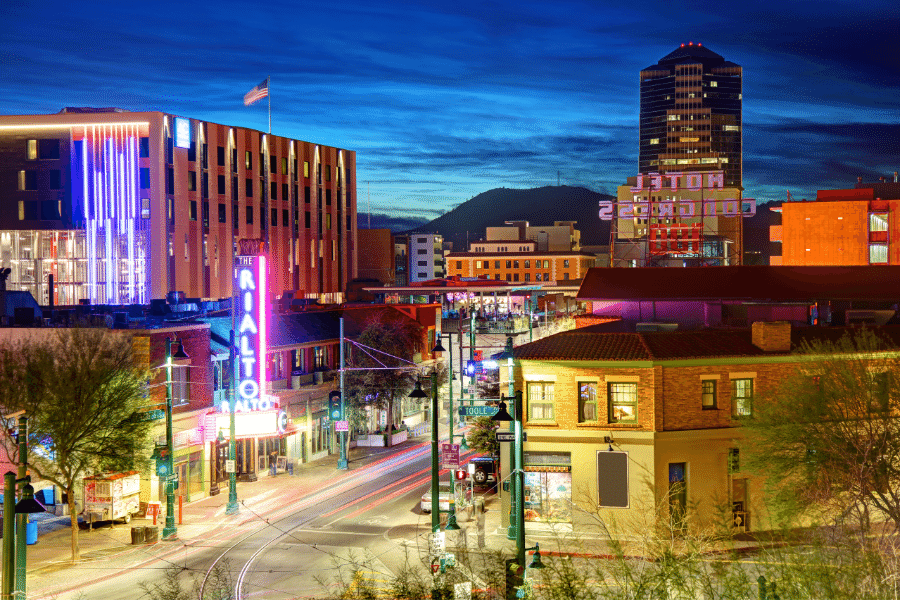 Pros and Cons of Moving to Tucson, AZ
Pros:
Affordable cost of living
Housing available for all budgets
Vibrant art and culture
Great restaurants
Highly-rated educational opportunities
Year-round events
Tons of family-friendly things to do
Nice golf courses
Exciting nightlife
Amazing outdoor adventures
Low humidity
Cons:
High heat
Higher crime rate
Commuting to the city is inefficient
Less healthy job market
Is Tuscon, AZ, the place for you?
Beloved for its warm weather and sunny skies, Tucson is the perfect place to settle down since it offers extensive city amenities with a smaller town feel.
Even though Tucson has its fair share of pros and cons, in our opinion - the pros certainly outweigh the cons, which makes calling Tucson home worth it.
So if you are ready to search for homes for sale in Tucson, townhomes for sale in Tucson, or condos for sale in Tucson, then contact us today!
Our team of friendly and knowledgeable Real Estate Specialists is ready to help kick start your home search!

Find your new home
Search real estate and homes for sale