9 Best Neighborhoods in High Point, NC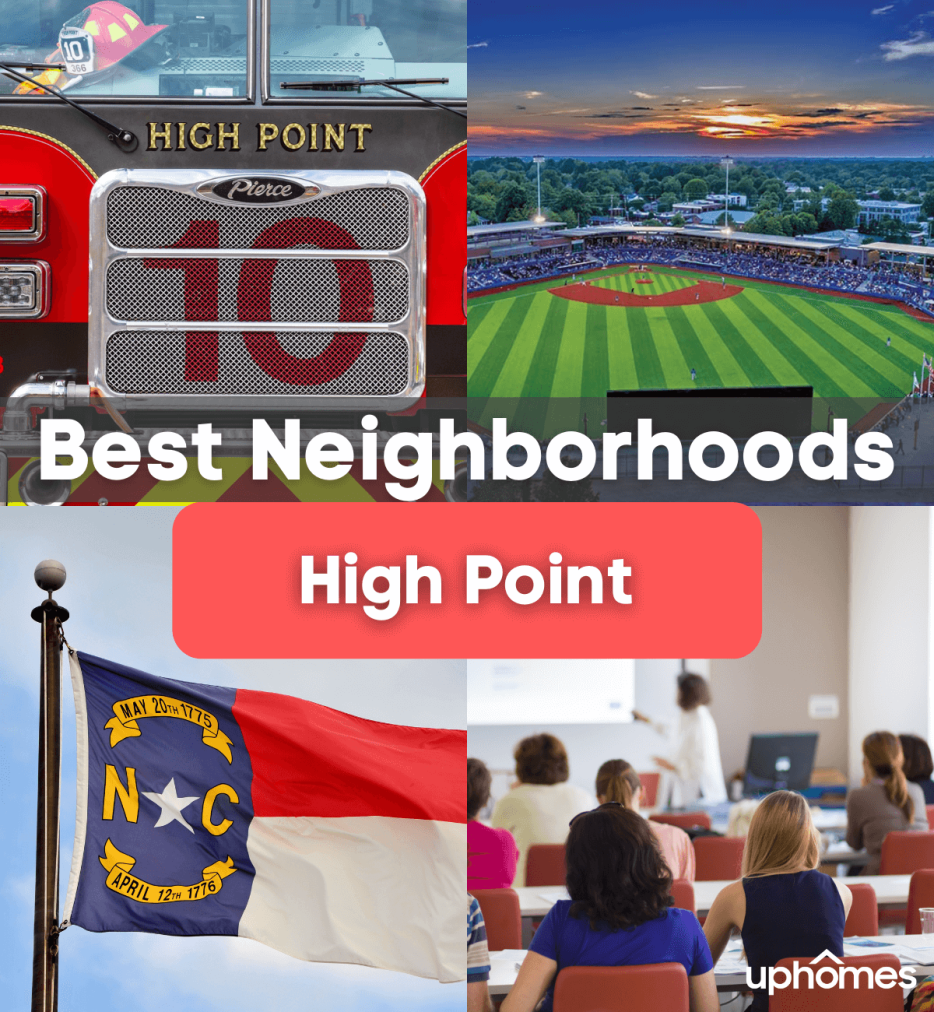 Best Neighborhoods in High Point, NC
What are the best neighborhoods in High Point, NC? A question we are asked often and happy to answer!
If you are moving to High Point, North Carolina then this is the article for you. Our team has compiled a list of the best neighborhoods in the area to make your move as stress-free as possible. The neighborhoods that we have listed below are highly sought after with great schools and amenities. Make sure to contact us so that we can help you find a home in High Point, NC!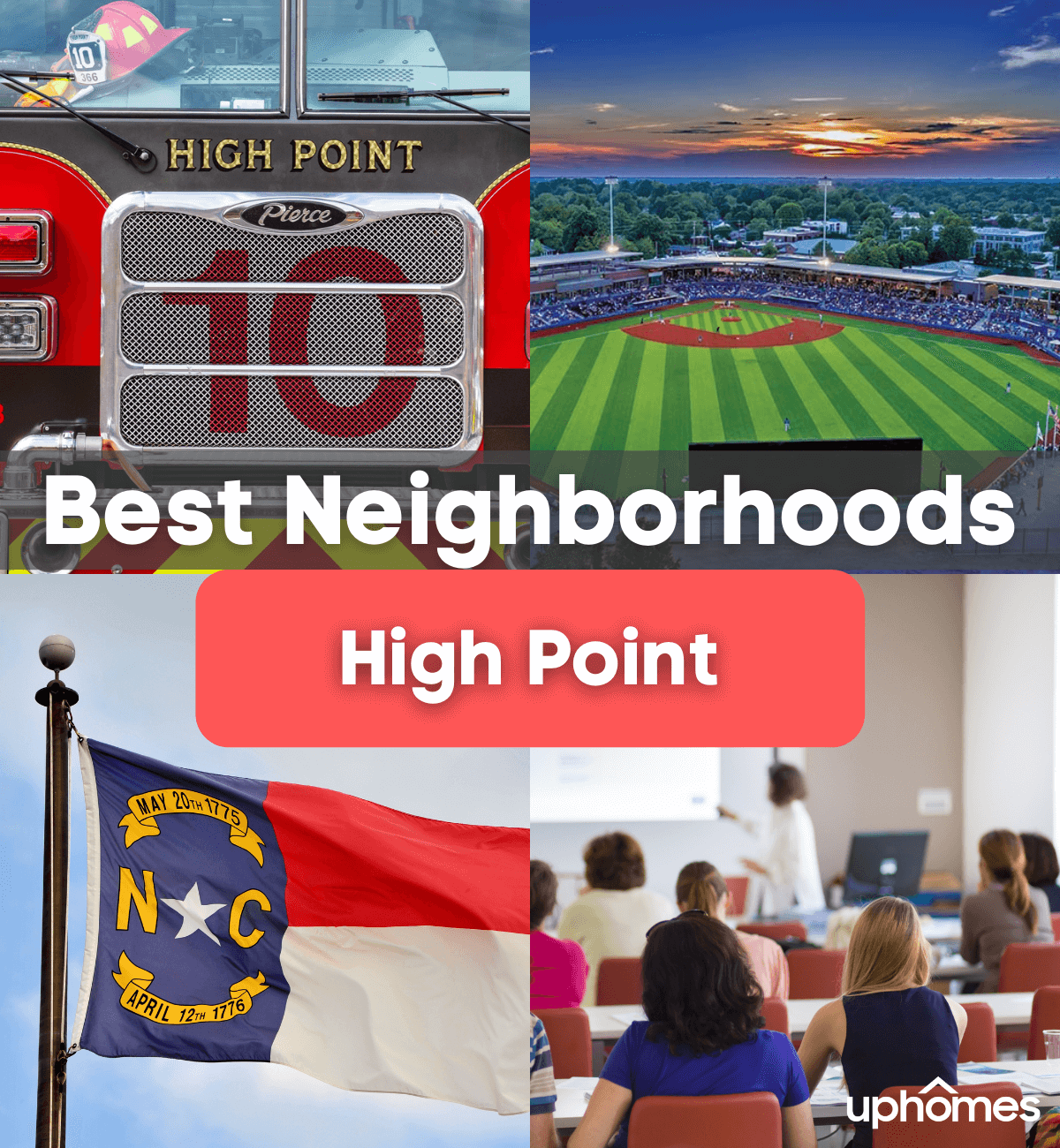 Situated in the Piedmont Triad in North Carolina, the city of High Point is a growing area with a current population of 112,791 people. Small but beautiful, High Point has seen a growing number of job opportunities as new buildings are being built, and new businesses are coming to the area. Located close to the cities of Charlotte and Raleigh, High Point is only a short drive to the mountains and the beaches of North Carolina.
Often referred to as the "Furniture Capital of the World," High Point is known for its home furnishings, woodworking, and textiles. Bringing in over 75,000 visitors to the area every six months, the High Point Furniture Market is a coveted event that has put the city on the map.
With that being said, here is our list:
The 9 Best Neighborhoods in High Point, NC!
Deep River
This suburban neighborhood is made up primarily of small to medium-sized single-family homes, apartment complexes, and high-rise apartments. This is an established neighborhood with homes that were built between the years 1970 and 1999. There have also been new construction in recent years. The demand to live in this neighborhood is high due to its above-average safety rating and charming character. The demand to live here may lead to future price increases and continued new construction.
Since High Point University is only a ten-minute drive away, there are many college students that live in the area. Due to the high number of college students, the neighborhood is safe and easy to walk around. Rated as one of the top college-friendly places to live in North Carolina, the neighborhood of Deep River is close to amenities and has many things to do. Known to be a diverse community, this neighborhood will fit many different lifestyles and will welcome any newcomer. Deep River is a great fit for our list of the best neighborhoods in High Point, NC!
Local Favorites:
Oak Hollow Square Shopping Mall: This shopping center provides all of the essentials for you and your family. Shop at the Harris Teeter, the Natural Dog Pet Food Market, and the UPS Store.
Deep River Pointe Apartments: Check out these luxury lakeside apartments with a pool and business center. Offering one and two-bedroom apartments with hard floors and new appliances.
Sammy G's Tavern: This casual spot has an intimate atmosphere serving pasta, seafood, and brunch on Sunday.
Emerywood
Located near High Point Central High School, living around the Emerywood area is perfect for families, retirees, and young professionals. This neighborhood is nice and changes rather quickly. Known to be desirable, there are many historic homes in the neighborhood with sidewalks lining the streets making the area walkable. This is a suburban location with many residents working in and around the furniture industry. With a population of about 5,026 residents and an average age of 54 years old, this is an established neighborhood in an ideal location. A well-deservedhonor to make our list of the best neighborhoods in High Point!
Local Favorites:
High Point Country Club: Since 1923, this golf and country club has been the premier golf and recreational destination for residents in High Point, NC. With two golf courses, tennis courts, a fitness center, pool, and classy dining, this golf club has a lot to offer.
Tipsy'z Tavern and Grill: Specializing in burgers, sandwiches, and homemade desserts, come to this tavern for your fix of craft beer and cocktails.
Blue Zucchini: This small bistro is serving up sandwiches, soups, and salad in a casual setting.
Florence
Florence is a suburban neighborhood in High Point made up of medium to large single-family homes and apartment complexes. There's a reason it's on our list of best neighborhoods in High Point. Homes in this neighborhood are big with three to five or more bedrooms. Houses here are also priced on the higher end making living in Florence 72.9% more expensive than other neighborhoods in the state. But, with high prices comes great quality. Homes here are established and built after 1970 which means that the neighborhood has a certain level of charm and character.
A great place to raise a big family, Florence is safe and easy to get around. This neighborhood has a mix of college students and upper-middle-class families. Many residents here commute to work. For those with school-age children, Florence Elementary School is a highly recommended elementary school for grades kindergarten through fifth grade.
Local Favorites:
Christina Gray's Restaurant and Bar: Located in a historic boutique hotel, this restaurant is serving New American cuisine with a mix of French and Italian flavors.
Magnolia Blue: A great place for a date night with an extensive selection of wine, beer, and craft cocktails. Try the Mahi tacos or the shrimp and crab pasta! Do not forget to get a dessert.
Blue Water Grill: Get your seafood, steak, and salad fix at this upscale restaurant with great service and drinks.
Sandy Ridge
This new suburban neighborhood is comprised of homes built in the 2000s. These homes are newer and consist of medium to large single-family homes and apartment complexes. The demand for houses here surpasses the number of homes that are actually in the area making this a very prized location for homeowners. About 50% of the houses in this neighborhood are considered newer which means top-of-the-line construction and up-to-date features.
Living in Sandy Ridge is considered an amazing place for retirees due to the quiet and peaceful nature of the neighborhood. Not to mention one of the best safety ratings compared to other neighborhoods in the area. A mix of college students and retirement-age residents can be seen living in Sandy Ridge.
Local Favorites:
The Budding Artichoke: Head to this local market to stock up on locally sourced and sustainable produce. This grocery store also offers grass-fed and antibiotic-free local meat. The best market to get wholesome and healthy foods.
Moose Cafe: Support the local farmer's market with southern-style comfort food made with locally grown produce. Located at the Farmers Market!
BBQ Joe's Country Cooking: If you love BBQ then this will be your new favorite spot! Fill up on BBQ and burgers in this casual country restaurant.
Eastchester Drive / Skeet Club Road
The area around Eastchester Drive and Skeet Club Road is located in North High Point. This suburban residential area is an upper-middle-class neighborhood. Houses in this area of North High Point were built between 1970 and 1999 with a mix of new construction. Many young professionals and executives live in this neighborhood. This area in North High Point blends into suburban Greensboro and has residents that have moved from other places. Centrally located to the Triad, this area is surrounded by popular shopping centers and entertainment. A great High Point neighborhood!
Local Favorites:
Oak Hollow Festival Park: Bring the family out to this 1,500-acre park with picnic shelters, playgrounds, and a marina. The best place to spend the day outside.
Giannos: Dine at this Italian restaurant serving authentic pasta and pizza in a romantic atmosphere.
Carolina's Diner: This retro diner is known for its breakfast food and classic diner favorites. Kids eat free on Tuesdays!
Oakdale
The neighborhood of Oakdale can be found in the southwest section of High Point. A suburban neighborhood, Oakdale borders Jamestown and is nice with low crime rates adding to the appeal of the neighborhood. There are pretty areas of open land that are well landscaped. Residential areas and subdivisions share the Jamestown school district which is known for its good schools. If you have kids, some schools in this district include Jamestown Elementary, Jamestown Middle, and Ragsdale High School. While this area is a little far out and not close to the city, the cost of living here makes up for it.
Houses here are a little more affordable in Oakdale compared to other neighborhoods in High Point. Houses in this area are primarily made up of small to medium-sized single-family homes. This is a popular neighborhood for college students due to the affordability of homes and accessibility to nearby businesses and excitement. One of the best neighborhoods in High Point!
Local Favorites:
Sake: The best place in town to get Sushi! Prized for its quality ingredients, friendly staff, and welcoming atmosphere.
The Biscuit Factory, Inc: This casual spot makes the best biscuits, breakfast classics, and other diner staples at great prices.
The Chop House: Great restaurant for date night or a special occasion. Known for its excellent food, drinks, service, and atmosphere. Serving local steak and seafood.
North Main Street / West Lexington Avenue
North Main Street is in the heart of downtown High Point. Living in this area means being within walking distance to favorite restaurants, shops, and entertainment. Living in this neighborhood also means being close to High Point University. Not to mention, you will have easy access to the High Point Furniture Market which takes place on Main Street. Made up of medium to large single-family homes and apartments, homes here are well established and were built between the years 1940 and 1969. Since the neighborhood is older, the houses in this area are historic. If you are looking for an eclectic neighborhood near all of the action, then this might just be the neighborhood for you.
Local Favorites:
The Penny Path Cafe and Crepe Shop: This cute little crepe shop and cafe dishes up all possible crepes from sweet and savory to a pizza crepe. There is even a fruit cheesecake crepe! Try all of them to decide which one is your favorite.
Southern Roots: A great spot for lunch and dinner! Come to Southern Roots for authentic southern comfort food. Make sure to get the fried green tomatoes.
Elizabeths Pizza High Point: Pizza lovers, this one is for you. If you like New York-style pizza, make sure to get it here.
Delmar
The suburb of Delmar is generally a more upscale neighborhood as opposed to other neighborhoods in High Point. Located north of the city, Delmar has single-family homes perfect for families and young professionals. Close to North Main Street, Delmar is in a perfect position offering peace and quiet to its residents, while still being near the small town city buzz. The residents in Delmar are very friendly and involved in the community. There is even a neighborhood Facebook page where neighbors can connect and plan community events. In our opinion - Delmar is one of the best neighborhoods in High Point, NC.
Local Favorites:
Sanibel's: Come here for a wide selection of seafood, steaks, and pasta in a timeless setting.
Putt-Putt Fun Center High Point: Spend the afternoon with some friends playing putt-putt at this fun center. Check out the arcade games, go-karts, laser tag, and batting cages also on the site.
World's Largest Chest of Drawers: This fun quirky attraction is in fact the largest chest of drawers in the world. Bring your family and friends for the perfect photo opportunity.
Brentonshire Lane / Ceder Crest Lane
Made up of medium to large single-family homes and mobile homes, this suburban neighborhood is about 76.4% more expensive than other neighborhoods in North Carolina. With a mix of new and older construction, this neighborhood is well established and bringing in new residents. The demand for housing here is above average which is why housing prices have seen an increase. Great for families and established professionals, 67.5% of the residents living off of Brentonshire Lane and Ceder Crest Lane are married. This is one of the best areas and neighborhoods in Hight Point, NC!
Local Favorites:
98 Asian Bistro: Determine if this is the best Thai food in High Point by ordering classic Thai dishes from the spring rolls to Chichen Pad Thai.
Odeh's Mediterranean Kitchen: If you love Mediterranean food make sure to check this place out. Offering tasty food alongside amazing portions at a reasonable price.
John Coltrane Statue: Located in the heart of the city off of Hamilton Street and Commerce Avenue, learn about jazz saxophonist John Coltrane while snapping a picture with this statue.
High Point, North Carolina is a unique city with a rich history involving textiles and furniture. While thousands of people visit High Point for the infamous Furniture Market every six months, furniture is not the only reason why people stay in the area. This small city is growing making it the perfect place to move to. The real estate market in High Point is affordable and as you can see from this list, there are numerous safe suburban neighborhoods perfect for starting a family or retiring.
Final Thoughts on Best Neighborhoods in High Point NC
We hope you enjoyed our list of best neighborhoods in High Point! We'd love to help you with your home search in High Point. If you're considering buying a home in one of these great neighborhoods connect with ourlocal Real Estate Experts!
#blog-best-neighborhoods-cta#
#blog-moving-cta#

Find your new home
Search real estate and homes for sale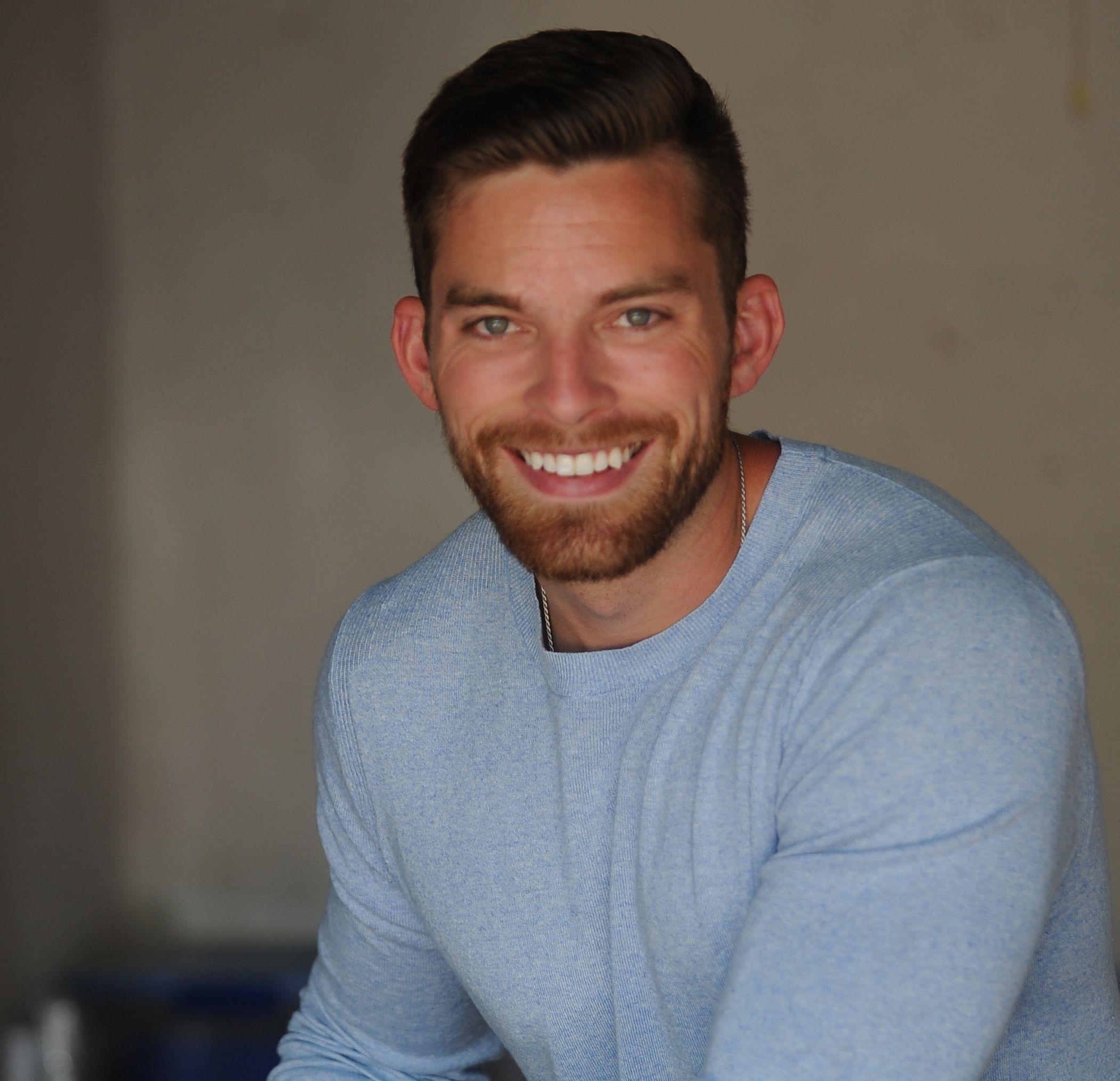 Ryan Fitzgerald
Hi there! My name is Ryan Fitzgerald, and I am a REALTOR®. My goal is to help you learn more about real estate through our Real Estate Blog! Hopefully, you enjoyed the above blog post and it found a way to provide help or value to you. When you're ready to buy or sell a home of your own let us know here. Please feel free to join the conversation by dropping us a comment below.