The Complete Guide to Digital Marketing in Real Estate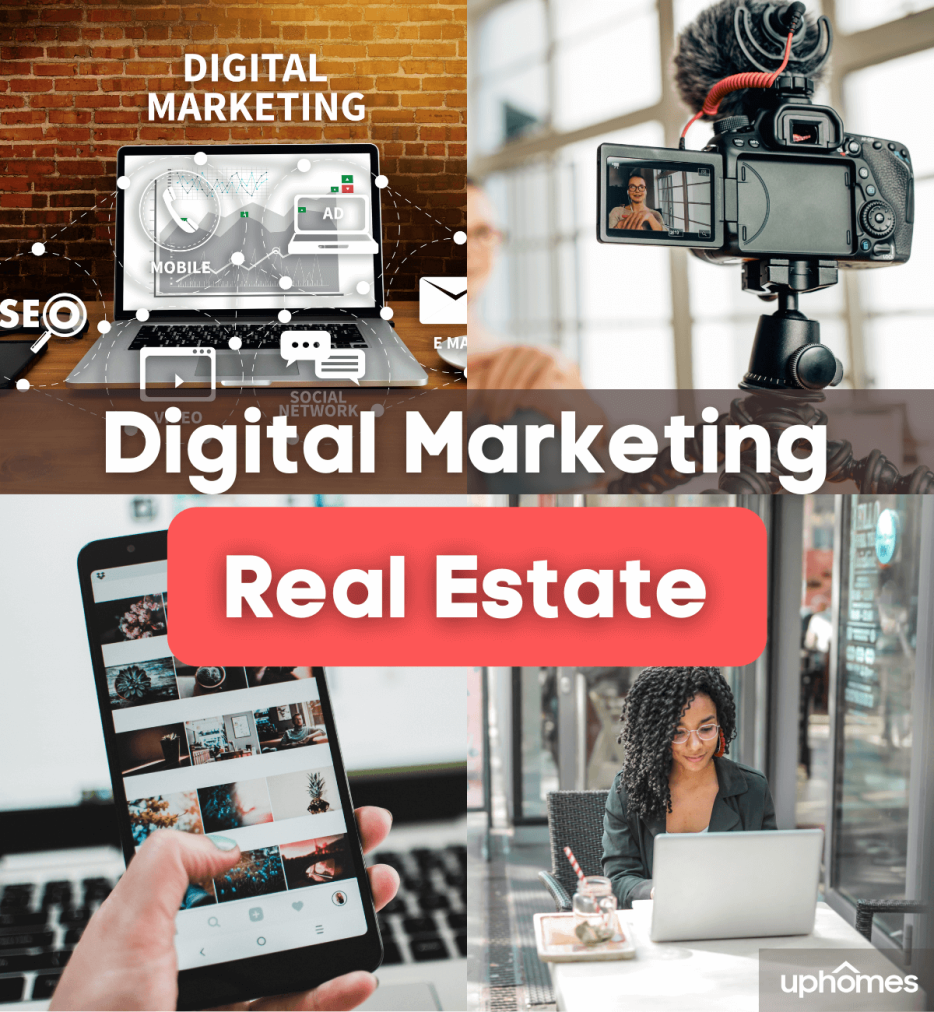 The Complete Guideto Digital Marketing in Real Estate
Finding success in the real estate industryrequires that you take a savvy approach to digital marketing. You need to lead generate, market your business, promote your properties, and engage with prospective clients. While this might sound like a lot to take on, it is possible to do it all— and do it allwell— if you embrace the right strategy. While many dated real estate brokerages are teaching you to make cold calls we are going to teach you how to attract business to your brand through digital marketing.
Don't let the competition fool you with their early success in chasing after business, this is a long game, a marathon, not a sprint. Get your digital marketing strategy up and runningby following this complete guide and five years from now you will belead generating in your sleep.
Teaching Realtors how to market their real estate business online is something we have been doing for quite some time. The landscape of digital marketing evolves every year and you'll need to be ready to adapt as new social media platforms continue to pop up. You can't be great at everything when it comes to digital marketing in real estate so be prepared to leverage others for help.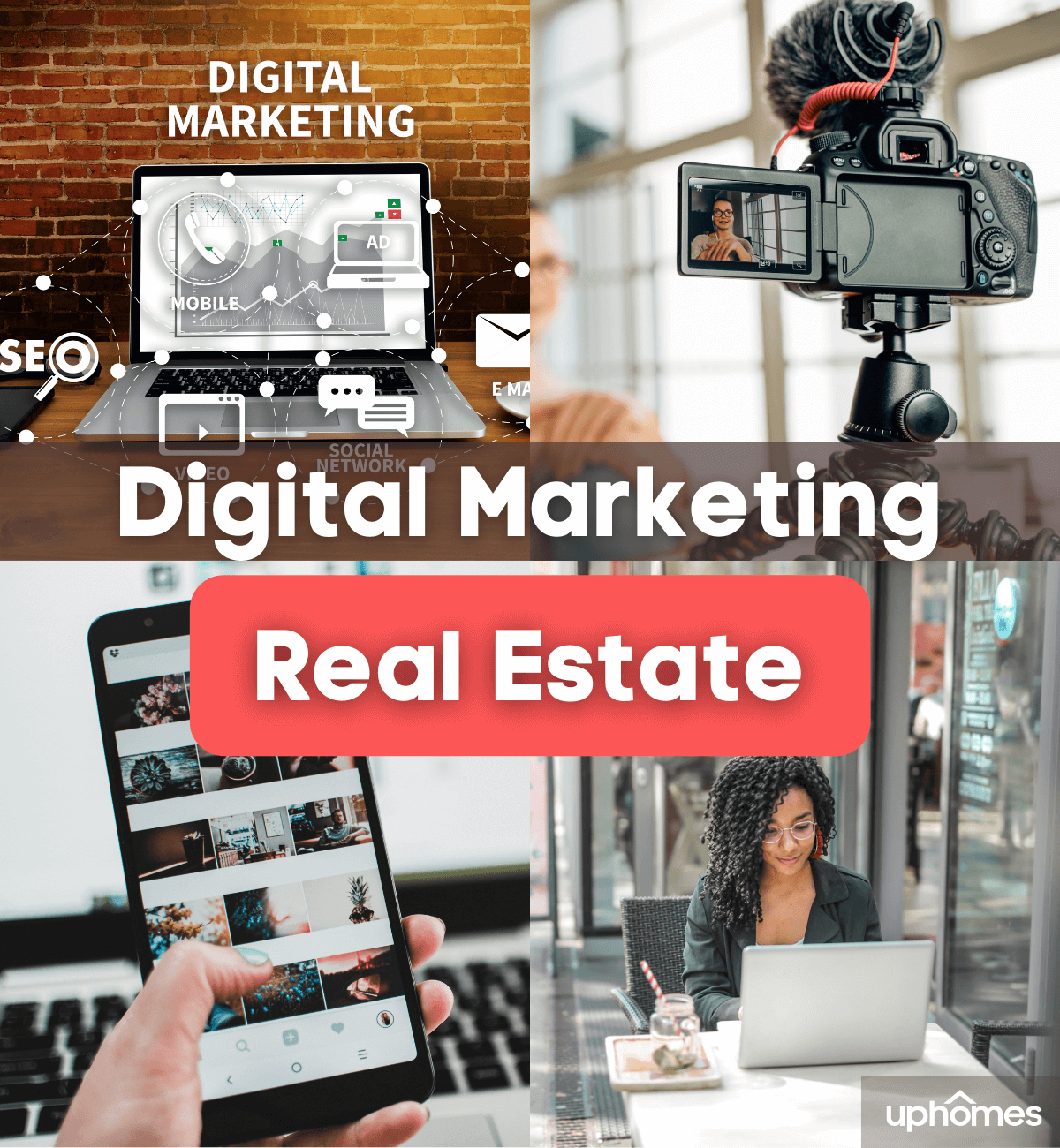 Develop Your Brand
When you want to get your business off the ground, one of the first things you need to do is establish your brand.Branding involves developing a visual style or design scheme that sets you apart from the competition. Youwant a look that is clean, unique, and memorable— and it needs to permeate every aspect of your business.
Create a Strong Logo
Real estate logos are everywhere. Some are great and some are awful.
A logo is a visualgraphic that will represent your company. It needs to be both original and clear so that anyone who sees it will associate it with your business. If you're not the most artistic person, outsource this job to a good graphic designer.
Work with your graphic designer so they understand your goals for the logo. You don't want to end up with a cartoonish logo if you're hoping to project a more professional appearance. Make your intentions clear.
Try not to use too much text. And consider how your logo will look printed in color versus black and white. Try out a few options before committing to the final one— and ask for input.
Build Your Brand Identity
Your brand identity includes your logo, color scheme, values, and style - even your font choices are an indication ofwhat yourbrand is about. Before you launch a digital marketing strategy in the real estate industry, you'll want to have these elements in place.
Cooler colors and neutrals, like gray, will help to communicate a sleek and professional tone. For a real estate company that caters to clients in urban areas, this might be the right way to go. Paired with a clean and semi-abstract image, you'll appeal to young professionals.
But if you're hoping to drive business with family-friendly buyers and sellersin the suburbs, you might want to introduce more curves and bright colors into your design scheme. Be aware of your target audience and craft the right brand for them.
Lastly, it's important to remember this is YOUR brand and not someone else's. Choose a brand identity that reflects you and makes you happy, not what makes others happy. The more truthful you are in your brand identity the more transparent youwill be in your digital marketing. If you build it, they will come, and you will attract people who are attracted to your brand.
Share Your Vision
Your vision needs to permeate every aspect of your digital marketing strategy. Sit down and jot down your goals and philosophy before you get too far into your planning. If you think your goals may change as you grow then plan forwhere you are heading, not where you are.
Understand Your Target Clients
Are you working with upscale clients? Or do you serve first-time home buyers andnew retireesalike? Or maybe you want to go neutral? Know your vision for how you fit into the real estate agency since your brand will need to communicate it effectively.
Write out a mission statement and vision. Keep the language clear and simple, and look for words that can help guide your digital marketing strategy. You might even be able to incorporate words into your logo, slogan, or other content you produce.
Hook Clients with YourWords and Actions
Determine your goals as a real estate business. Are younew and looking to make your markas the new real estate office in the area? Or are you an established brand staking your quality on your reputation?
In either case, you can make a case for why you're the better business for homebuyers. Craft a mission statement that emphasizes your reliability or longevity. Or present yourself as the new team in town that won't rest on its laurels.
Establish the Right Tone
As a business leader, you need to keep your tone professional and polished— but not stuffy. Decide how you want to engage with your clients and readers, and stick with it. Create style guidelines so anyone at the helm will know what to do.
Don't get too gimmicky or overuse hashtags to the point that you impair readability. Yes, it is important to appeal to younger audiences and use words that will generate leads. Sounding too juvenile or creating posts that are difficult to read can hurt your brand, however.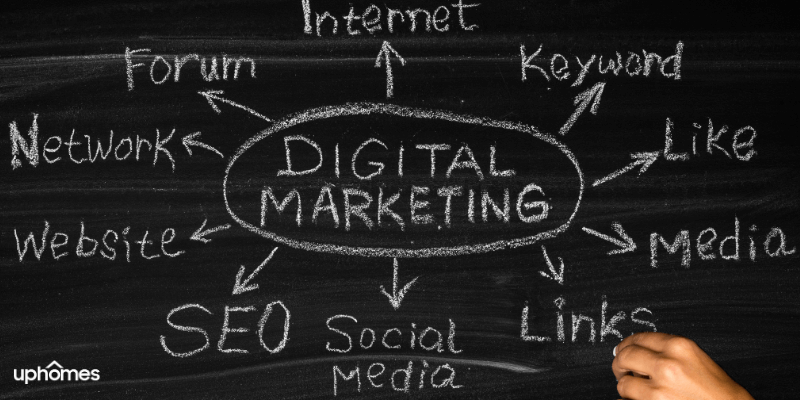 Createa Memorable Website
With consumers looking online to find just about anything, you need to have a web presence. A good digital marketing strategy always includes a fresh website and in the real estate industry, it's especially important to be found online.Your real estate website needs to be clear, well-designed, and user-friendly. The website needs to be so goodthe users can't helpthemselves, theykeep coming back.
Hire Out the Job
Unless you have experience inweb design, you might want to hire someone to take care of this responsibility for you. Yes, it will require an upfront investment. But in the long run, you'll end up with a more professional result.
The benefits don't end there. Hiring someone experienced with creating websites means that you'll get a faster site with optimized content and better security. And ultimately, you'll save time that you can put toward other parts of your business.
Include the Important Info
When you're creating a website, map out what needs to go on it. Include things like your logo, company name, and contact information.Implementa clear layout so thatvisitors know exactly where to go.
Create pages where you can showcase properties you're offering as well as recent success stories. Also, offer information on the region you serve so potential buyers can get aflavor for the area. Your website should make it as easy as possible for buyers and sellers to know what you do, how you do it— and how to get ahold of you.
Offering Useful Tools Will Help New Buyers
For new home buyers, thehome searchcan be intimidating. That's where including useful tools on your website can be an attractive feature for those new to the game. Utilize your real estate blogas a way to provide information for those who you know are searching for it.
Help visitors to your website see what amortgage paymentcould look like or how much a downpayment will impact their monthly payments. When you can clarify the numbers, you'll simplify the process.The more helpful you can be, the better it is for the user and ultimately, for your business.
Reach Out to Everyone Through Your Site
A website needs to be more than a collection of images and sentences. You need to leverage it as a toolthat engages young and new viewers alike — and as a tool that anyone can accesson any device.
Your Website Needs to Be Mobile-friendly
It's one thing to look at a website on a laptop. It's an entirely different thing to look at one on a mobile phone. When you're creating a website, make sure that it looks good on your phone, too.
Keep menu items simple, add search options, and make all links and buttons big enough for someone to click on. Work with your web designer so that your website reads clearly on a desktop, tablet, and phone.
Maintain a Blog to Start Making Connections
Personal connections make a lot of difference when it comes to developing a digital marketing strategy. A blog is one of the best ways to do this.
Start a blog on your website where you can post the latest real estate tips. Help answer client questions with in-depth answers like the pros and cons of new construction. Once you've built a large enough collection of real estate related content begin to leverage other verticals like our staycation guide. Updatethe blog regularly, add powerful images to each post, include a video where necessary and you will reap the rewards. With a blog on your site, you'llalso have the ability to connect with other real estate influencers all across the country.
Publish an Ebook to Attract Readers
Soundbytes of information may appeal to some, but you can reach another swath of clients by publishing an ebook. You don't need to be the world's greatest writer. You just need to offer useful tips.
Talk about topics like what to look for in a houseor how to finance a new home. When you offerebooks on your site, you'll appeal to serious readers thirsty for knowledge. Just ask them to input their contact information in exchange for a free download of your book.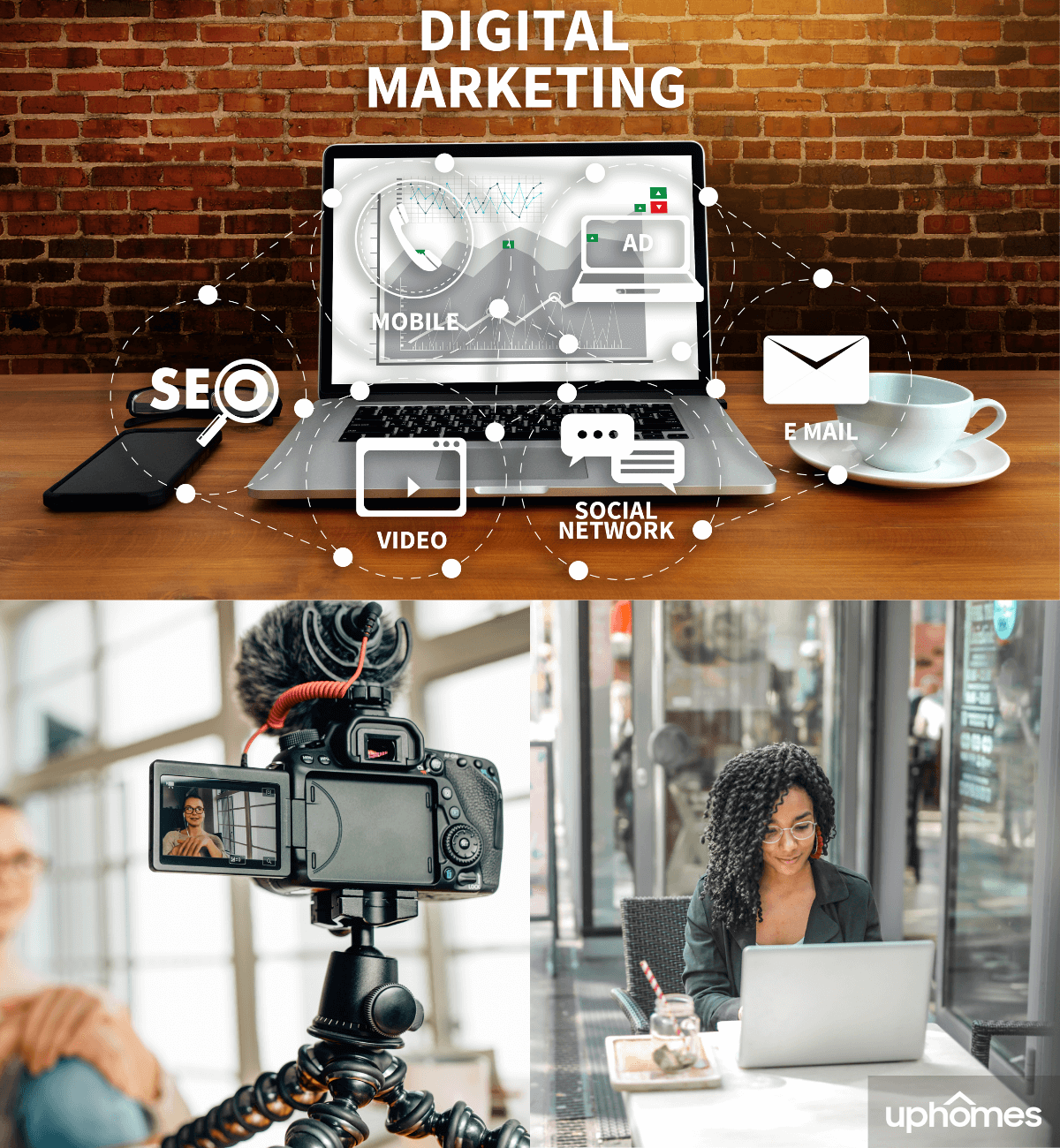 SEO is a Big Part of Digital Marketing
SEO stands for search engine optimization— and it will help drive traffic to your website. By using links and keywords as part of your digital marketing strategy, you can grow. But you'll need to get in the heads of your potential clients.
Know Why SEO Is Important
Prioritizing SEO as you build a website, blog post, or advertisement will help your brand ascend to the top. When people type a query into a search engine, you want them to find your services first. If you chose varied and imprecise words, they won't.
Being strategic about SEO means finding the right words related to your business and inserting them in the right places. You'll help generate a lot more traffic online to your business if you're intentional aboutthis.
Find the Right Keywords
What keywords should you use? Brainstorm the words most associated with your business or area. You want to put yourself in the shoes of someone searching for a real estate agent or listing.
Make lists of strong keywords or phrases related to the areas you serve or houses you're selling. Place themthroughout any text you use. You might be surprised by how much doing this can drive leads to your website and generate lasting customers.
Offer Local Perspectives
Keywords that concentrate on your local community may help you generate more organic leads.Plan on posting content about quality of life in your city,restaurants, neighborhoods, events, and other fun facts that will be helpful to people searching online. Use titles and proper names in your keywords.
You'll stand a better chance of ranking higher in search engine results because you'll be competing against fewer sites. When you focus your marketing on your immediate surroundings, you build relevance and a better rate of engagement.
Use Social Media to Your Advantage
Withnearly 70% of Americansusing Facebook and a growing number using Instagram and Pinterest, you need to take advantage of these social media platforms. You can think of them as digital marketing services that you can make work for your business needs.
Take Advantage of Built-in Tools on Platforms
You can find built-in ad tools on sites like Facebook or Instagram. They'll let you target the geographic region and demographic groups you want, and give you flexibility on how long your ads run.
Visibility is huge for any business. So it's worth it to invest in these opportunities. You'll even get detailed analytics so you can determine how effective your ad campaign was— and know where to make adjustments.
Be Consistent with Your Posting Schedule
A social media page that idles without any new content won't attract a lot of leads. An active account, however, will work wonders for your business.
Post every day, if not multiple times each day. And post at peak hours in the middle of weekday afternoons since more people will be checking their social media accounts during those points in the day. When people can anticipate that you'll be sharing new content regularly, they'll be more likely to follow you.
Don't Overlook LinkedIn
While platforms like Instagram and Facebook might seem like the most logical places to establish your presence, LinkedIn is a great option, too. Take the time to set up a profile for your organization.
You can set up ads that reach the demographic you want. And you can post news, listings, or other insights that will show your knowledge of the industry. As a bonus, you can even set up polls or other interactive content to get useful input from those you reach.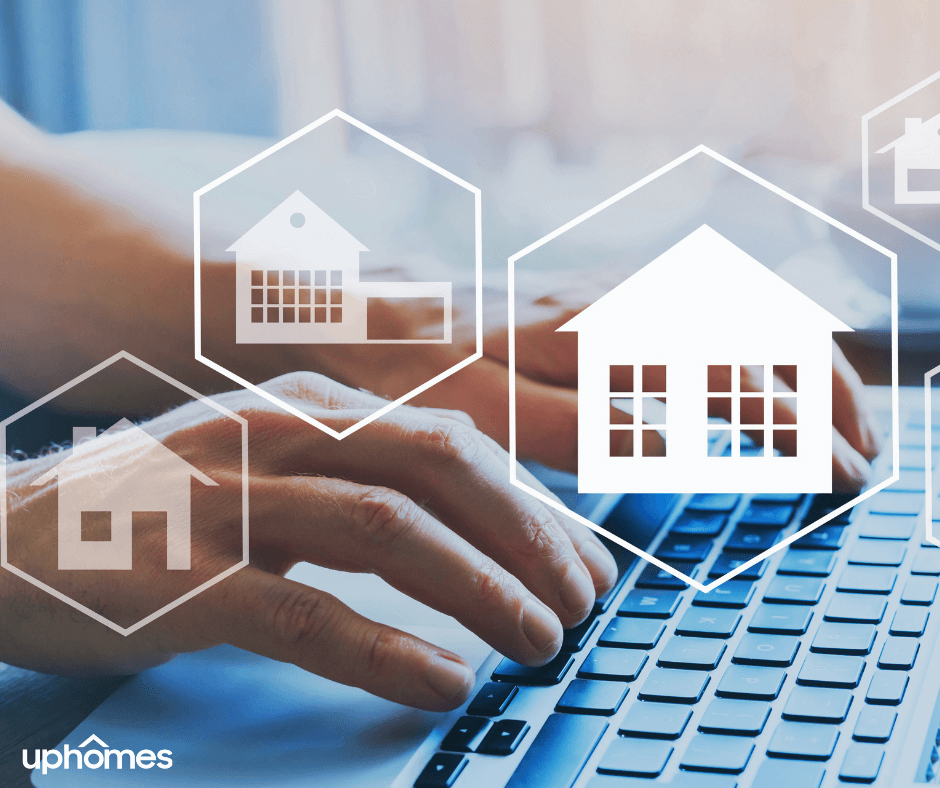 Email Clients to Keep Connections
Email remains areliable way to maintain contact with clients. While it's not as flashy as social media marketing, it can diversify your digital marketing strategy.
Keep a Contact List
When someone emails you with a question, don't just type an answer and forget about it. Look at each email as an opportunity to cultivate a new lead and strengthen your reach.
Maintain a database of all contacts that you collect. Even if you just have a short exchange with a potential client, gather as much information on them as possible and enter it into your database. You'll be able to email them listings for things like new construction homesor other contentthat is relevant to their interests— or reach out with events your real estate company may be hosting in the near future.
Send a Newsletter
Not everyone spends their time on social media or websites, so it's important to have a diversified digital marketing strategy. Newslettersrepresent a popular approach to email marketing. You'll be able to connect with a different audience than you would with an Instagram post.
Use a fresh and clean template for your newsletter so that it's easy to read. Bullet points are a great way to highlight recent successes or trends in real estate that your readers need to be aware of. Focus on some success stories and sprinkle in a few pictures.
As with social media postings, be regular with your newsletters. Plan on sending one out each month, for instance, and assign your best writers andmost diligent proofreadersto the job so you produce the most polished product possible.
Connect into platforms to help with your email marketing like MailChimp or SendGrid! Some Real Estate CRM (Customer Relationship Management) tools will directly connect to newsletter services as well.
Get Help Putting Your Strategy into Practice
From typing emails to assessing your SEO strategy, you'll need help managing your digital marketing strategy. Investigate the latest programs or find the right person to move forward with your plans.
Turn to Software for Help
When you have too many responsibilities to juggle, consider turning to management software to make your life easier. By using software, you'll be able to track data related to your email blasts. And email marketing software is designed to be easy to use.
Most software management services have templates to make composing emails simple— and aesthetically pleasing. When you can plug in your email script, personalize the greeting, and schedule your emails ahead of time, you'll be able to save time.
Work with your team to create a schedule for your emails. You don't want to bombard people all the time. But you do want to send friendly reminders about the services you offer.
AssignResponsibilitiesto Someone with Relevant Experience
Do you have an assistant who knows their way around Instagram or TikTok? If you're not savvy when it comes to social media, you'll have a hard time pretending to be.
This is an instance where delegating your social media management or blog posts to a skilled pro is a good choice. Choose someone with impeccable writing skills, an understanding of your brand identity, and an eagerness to weave together hashtags, visuals, and texts to create good content.
Check-in with Your Team to Track Progress
Follow up with the team members assigned to your marketing program. The success of a digital marketing initiative depends on the people executing it.
Ask for updates on social media followers and clicks each month. Track spending on ads to see if the investment is yielding engagement. And reach out to social media followers for feedback.
Develop Your Content
Once you've started accounts on sites like Instagram, Facebook, LinkedIn, or even TikTok, it's time to get cracking on the content creation. Since what you post shapes how people perceive your business, this is not an area to neglect.
Create Postsin Advance
Since you want to be consistent with your social media or blog posts, it's helpful if you can have some ready in advance. Many social media platforms have options so that you can plan out your posts and schedule them. Take advantage of this time-saver!
If you can delegate the responsibility of crafting engaging posts to an assistant, you can save some time. Make a point of posting several times per week across all social media platforms. Use a mix of infographics, photographs, and charts.
Take Good Photographs
Good pictures will go a long way toward selling a home. Blurry, dimly-lit photographs won't get the job done, however. That's why photography is so crucial to real estate marketing.
Learn how to takegood photographs— or hire someone who can do it. Avoid backlit photos or poor compositions. And make sure that each room is staged well so that it looks spacious and inviting. Go with wide-angle lenses in your real estate photography to make the room seem more spacious.
Choose Striking Visuals
Ultimately, you want content that strikes the right balance between text and visuals. After all, you don't want to confront someone with a big block of text on your website. Real estate is a visual business, and your content needs to reflect this.
Echo the colors of your brand in the templates you choose for all social media posts or email marketing campaigns. And keep your paragraphs simple so people don't get bored with too much reading.
Make Video Marketing Part of Your Digital Marketing Strategy
Videos can elevate your digital marketing strategy in a hurry. You don't need to spend a lot on fancy equipment, either. A solid smartphone, good lighting, and some basic editing can come together to produce a compelling video.
Learn What Goes into Making a Good Video
Even if you're not known for your cinematography skills, you can create effective videos to enhance your approach to real estate marketing. Spend some time practicing before you create your first official video.
Shaky camerawork is a big turn-off. Uneven lighting or backlit scenes won't do much to sell a house, either. Consider using a tripod for your phone or camera to ensure that you get clean, fluid shots of each room.
Edit Your Products
Finish by using some basic video editing software to stitch together your scenes. You can use built-in programs like iMovie or turn to free software online. Insert subtle transitions between scenes and correct the colors so they are as accurate as possible.
Check to see that everything is clear, and try adding some subtle instrumental music for ambiance. Create a YouTube account so you can have a homepage for all videos you create.
Do Video Tours of Properties
To kick things up a notch, add virtual tours to your offerings. Grab your smartphone and capture every angle of a home as you walk through it. Add some voiceover narration with a few details and you'll have a perfect virtual tour.
For buyers unable to make the trip to a home on the market, virtual tours are a helpful tool. They provide a better sense of scale and perspective than a static image would. And they give you a chance to show that you're thorough, knowledgeable, and willing to go the extra mile to help a client.
Virtual Interaction Should Be Part of Your Plan
The days of conducting all meetings in-person are probably over, so work on your approach to virtual interaction. Effective video conferencing should be part of your plans.
Offer Virtual Events
A big part of being a successful real estate agent is meeting people where they are. It would be ideal to meet with people in person all the time, but for people making cross-country moves, this may not be possible. That's where offering virtual events can be a game-changer.
Offer virtual updates about the latest real estate listings or news. If you have a few properties in a new development that you'd like to show off, make an event that centers onnew construction. Or host a meeting to answer questions about the home buying process.
Network Online
You can host virtual networking meetings, too. When you meet up with others in the field, you can learn new tips and tricks that can help grow your business. And you never know how another agent might be able to help you down the road.
As an alternative approach, reach out to people in other markets where you won't be in direct competition. Set up an informal meeting so you can share strategies, observations, or ideas. Send out invitations and get networking.
Participate inSocial Forums
The internetis home to countless websites catering to those who are curious about real estate. As an expert in the field, you can share your knowledgeandcultivate new clients in the process.
Be an active participant in relevant fora in the real estate business. Look at sites like Reddit to find communities where you can lend your expertise. When you've left a comment about a particular place or answered a question about mortgage rates, leave a link to your website to generate new traffic.
Tap Into Local Resources
With digital marketing, you're poised to reach a wide audience spanning states and countries. But don't lose sight of your immediate community when you're developing a strategy.
Talk to Businesses in the Area
Even though your focus is on digital marketing services, you'll need to mix in some in-person interaction to get your digital success moving. Start with your local businesses.
Ask if you can display your business cards in their shops. Offer to reciprocate the gesture and include cards or flyers for their businesses in your office. Look for ways to partner with local businesses since it will only help your standing in the community— and give you the exposure you need.
Seek Placement on Local Websites
Does your chamber of commerce have a website with a directory of businesses? Ask them and make sure that you get on it! Contact any local business websites to see if you can run ads on their site or just get a mention.
You could even work out a deal to link to each other's websites or run promotions. Introduce a share button on your website to make it as easy as possible for any business in town to share your content on its website or social media page.
Interact with Local Media
Lastly, don't shy away from any opportunity to share your story with local media. In fact, you can send a cold email to your local paper or news stations to let them know you're in the business— and eager to share your insights.
They just might tap you for an interview. Appearing on television, radio, or in print will lend credibility to your business!
A Few Final Suggestions on Digital Marketing in Real Estate
Striking the right balance with a digital marketing strategy requires that you know your desired outcomes— and make adjustments along the way. Keep in mind a few additional thoughts that can enhance your plans.
Always Point to Your Social Media Pages and Websites
Never miss an opportunity to promote yourself. Email marketing is an easy way to connect with people. And if you do it well, you can slide in opportunities for anyone reading to access your website or social media content.
While you don't want to be aggressive with your use of hotlinks or salesmanship, you do want to be active. Be organic about it.
Take advantage of moments in your prose to refer to a post or listing on your website. Make sure that your readers know who you are!
Don't Totally Ditch Regular Mail
Even though it's important to develop a real estate digital marketing strategy, don't completely forgo the old-fashioned approach to communicating.
Sending mailings is a good way to complement your digital presence. Aim to add some postcards or personal notes to the mix.
Generic form letters rarely do much to make an impression. But a handwritten note— even just a phrase or two— can go a long way. Highlight a newluxurypropertythat you're trying to sell or spotlight a recent achievement to drive interest in your organization.
Real Estate Digital Marketing Will Help Your Business Grow
Digital marketing is the key to growing your real estate business. When you set up a plan and delegate responsibilities to workers you can trust, you can establish a strong strategy that will help your business flourish. All you need to do is get started.
If you're just starting out in the real estate industry here's a great articlefor new Realtors to learn how to market their business.
To find the latest tipsand content related to real estate stay tuned as we continue to release more guides to help you build your real estate business online!

Find your new home
Search real estate and homes for sale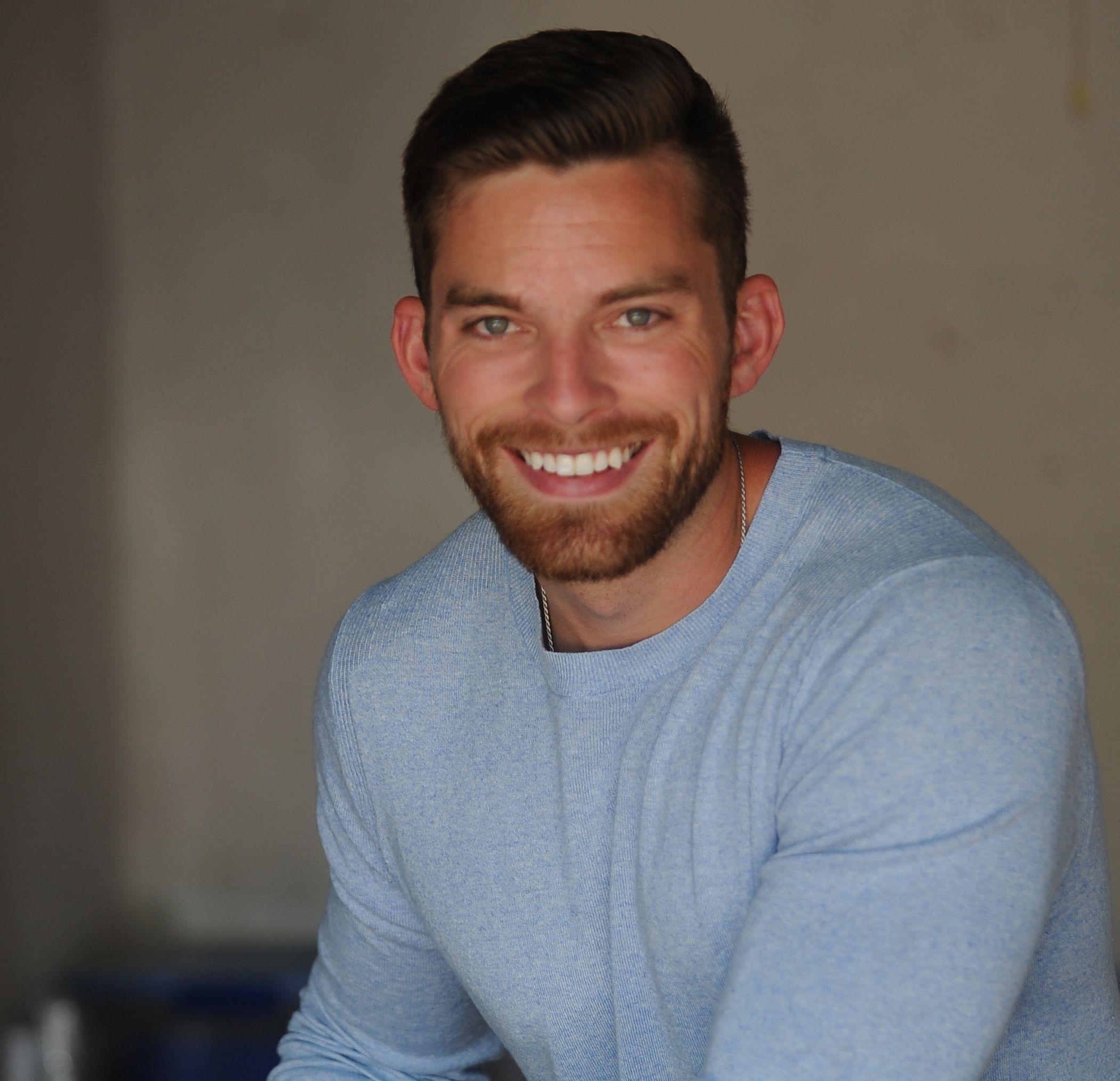 Ryan Fitzgerald
Hi there! My name is Ryan Fitzgerald, and I am a REALTOR®. My goal is to help you learn more about real estate through our Real Estate Blog! Hopefully, you enjoyed the above blog post and it found a way to provide help or value to you. When you're ready to buy or sell a home of your own let us know here. Please feel free to join the conversation by dropping us a comment below.