Should I Sell My House Now or Wait Until 2024?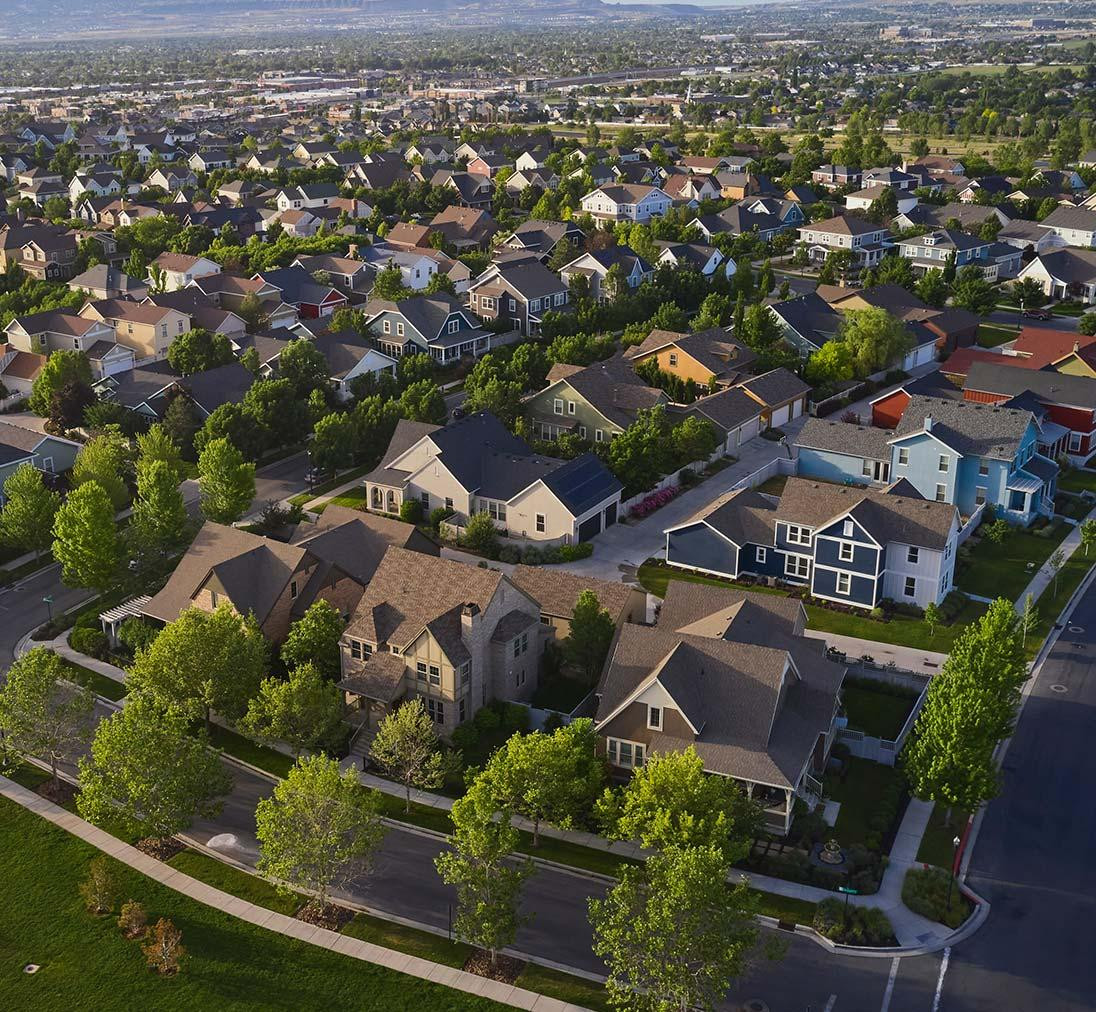 While some aspects of selling a home are exciting, it can also be stressful trying to get the most out of the experience.
So how do you figure out if you should sell your house now or wait? 
It's a seller's market in the United States right now, but that doesn't mean housing market conditions are definitely right for you to sell. We'll talk through some circumstances to consider so you can make the best decision for when to sell your home.
Is Now a Good Time To Sell? 
There's no hard-and-fast rule about what constitutes a good time to sell a home. There are many variables to consider, from your personal circumstances to the current state of the market. 
Here are some situations to help you figure out if now's a good time to sell your house: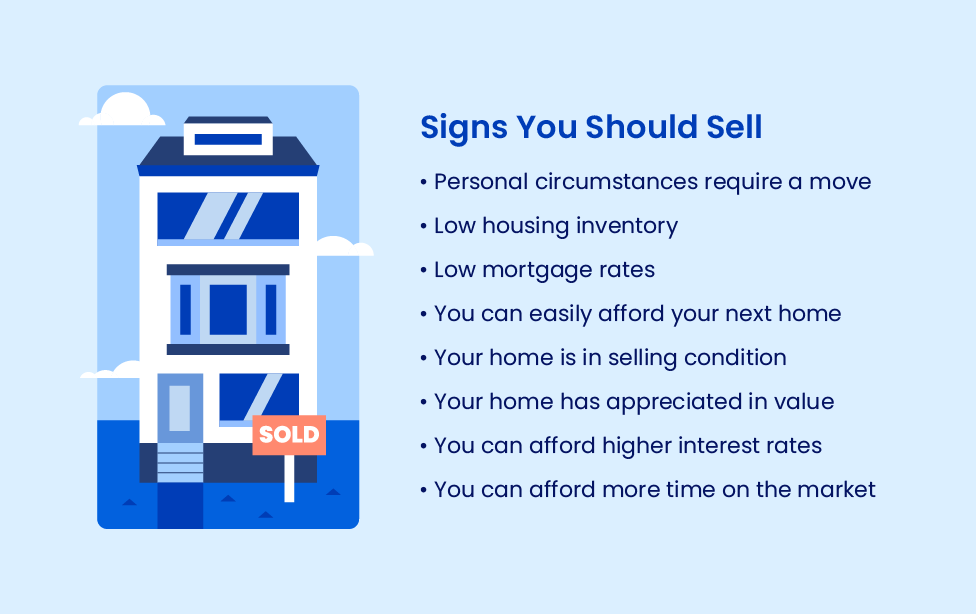 1. Personal Circumstances Require a Move
Did you know? Most home buyers in the United states have a median income of $100,00 to $124,999.
Sometimes, moving is unavoidable. Maybe you love your house but lack room for your growing family or you just landed your dream job in a new city. Some common personal reasons people need to sell their home include:
Needing to downsize

Moving for a job

Having a growing family

Experiencing a significant change of income
If something changes in your financial circumstances where you can no longer afford your home or live in it comfortably, it's a good idea to start looking to sell your home so you can find something that fulfills your needs.
2. Housing Inventory Is Low or Decreasing
Did you know? The National Association of Realtors predicts a low inventory throughout 2023.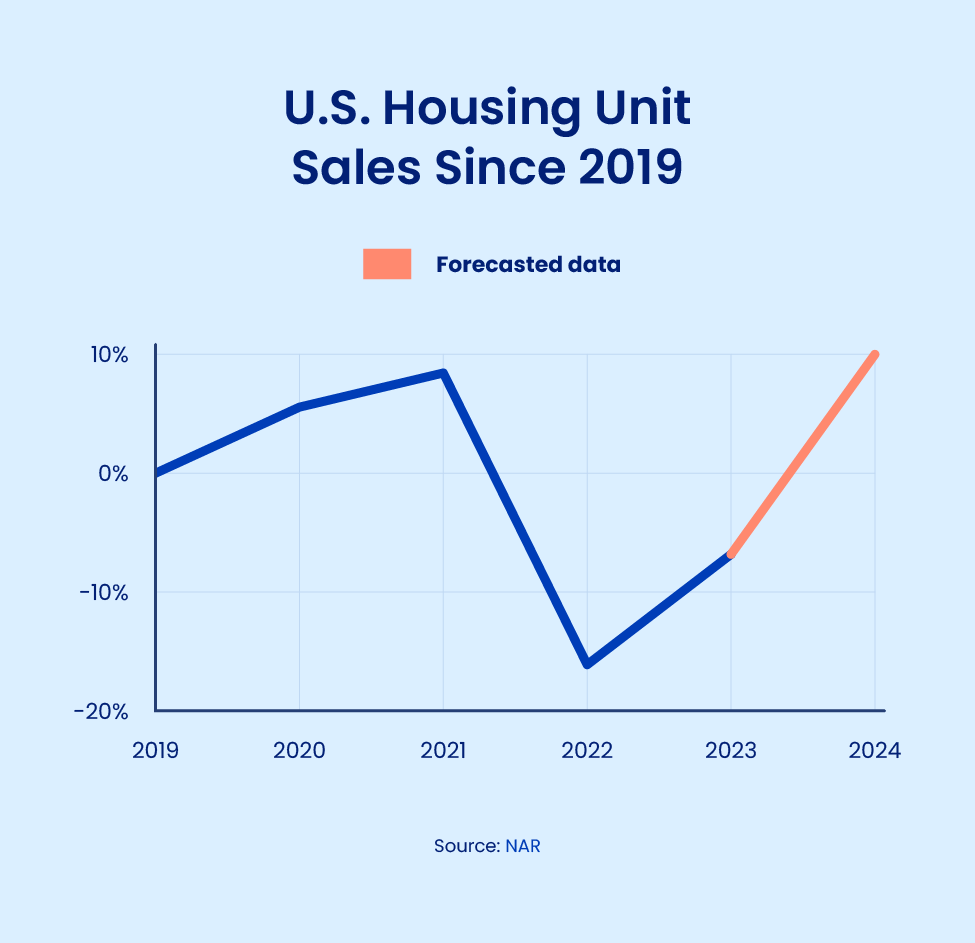 Low or decreasing housing inventory is a sign you should consider selling your home because it means homes are in high demand. You'll have more leverage in negotiating a better contract for selling your home and might even make a greater profit than you would otherwise.
3. You Can Easily Afford Your Next Home
Did you know? The average sales price of a new home in the United States was $543,000 in 2022. That's a 16% increase from 2021.
If you have a high enough income or have enough equity to easily afford your next home, you might not need to worry as much about selling your home in the current market. If your move is motivated by something other than financial need, you may have more flexibility if your house takes longer than expected to sell or brings in a lower price than you thought it would.
4. Mortgage Rates Are Low or Decreasing
Did you know? Throughout 2022, five-year adjustable-rate mortgages had the lowest interest and 30-year fixed-rate mortgages had the highest interest.
Demand for homes skyrockets when mortgage rates are low or decreasing because home buyers are concerned about keeping down their monthly mortgage payments. If you can lock in a low rate on a fixed-rate mortgage for your next home, then you can feel secure for years to come.
5. Your Home Is in Selling Condition
Did you know? More than 37% of luxury property buyers list move-in readiness as their top priority when searching for a home.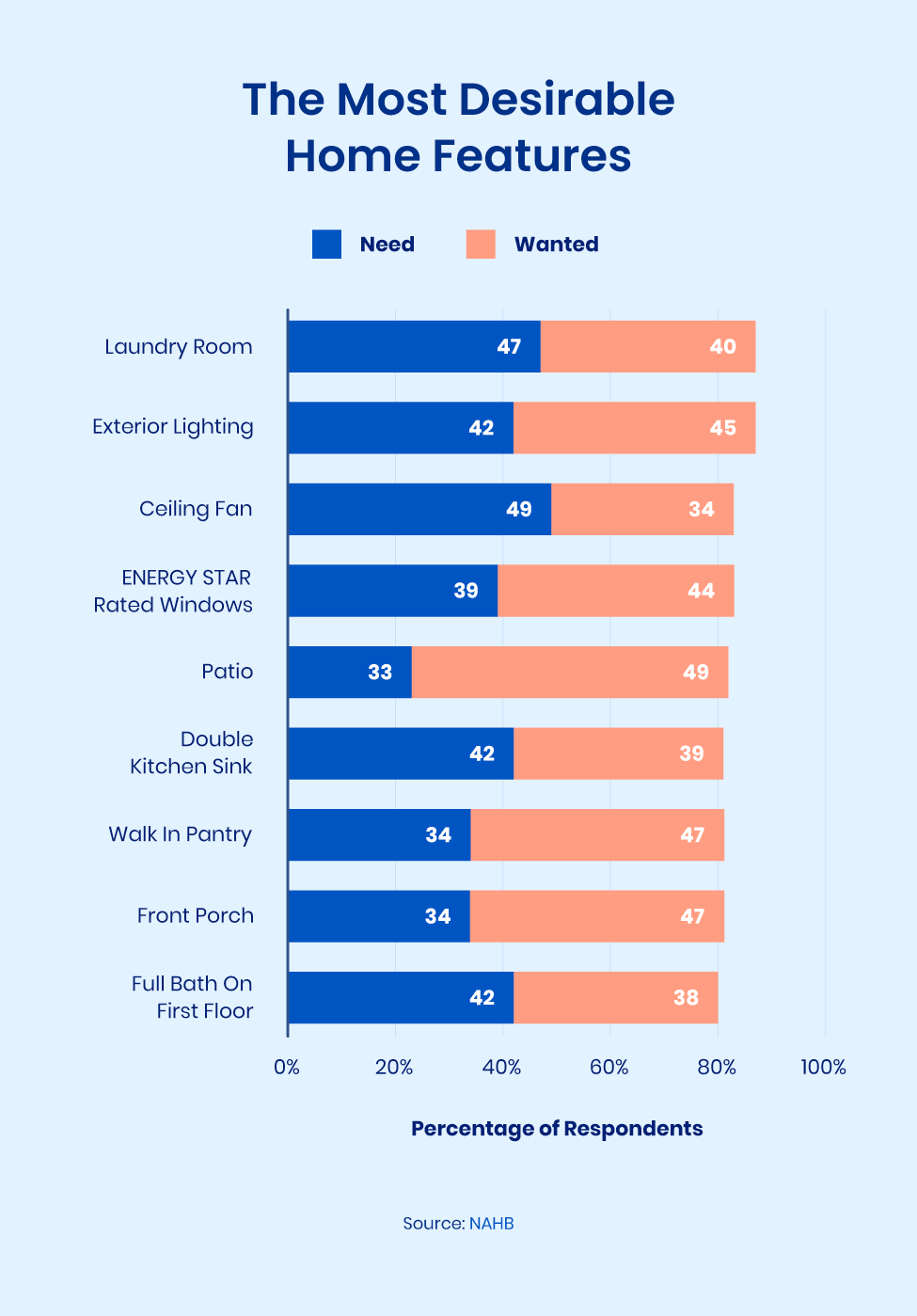 A move-in ready home is a big selling point to many buyers. You can earn back what you spend on repairs by increasing your home's value and potentially reducing the time your home is on the market. You should prioritize necessary repairs over cosmetic upgrades, but certain projects such as landscaping boost curb appeal and home value.
6. Your Home's Value Has Significantly Increased
Did you know? The value of residential improvement in the United States increased by 74% between 2008 and 2021, and is projected to increase through 2026.
If you've been thinking about selling your home, consider hiring an appraiser to see what your home is worth. If the value has significantly increased since you've moved in, you could potentially sell it and reinvest that profit into making your next home the perfect fit for you and your family.
7. You Can Afford Higher Interest Rates
Did you know? In 2022, 30-year conventional mortgage rates were the highest since 2008.
If you're considering selling your home and can afford a higher monthly payment on your next home (or already have a new place to live lined up), then now might be a good time to sell your home. 
As of the time of this writing, we're currently in a seller's market — so you have the upper hand when listing your home for sale. However, keep in mind that even though it's a seller's market, higher interest rates mean that buyers still command some power since there's less competition. 
8. You Can Afford More Time on the Market
Did you know? Homes generally sell quicker during summer months. They typically spend the most time on the market in December.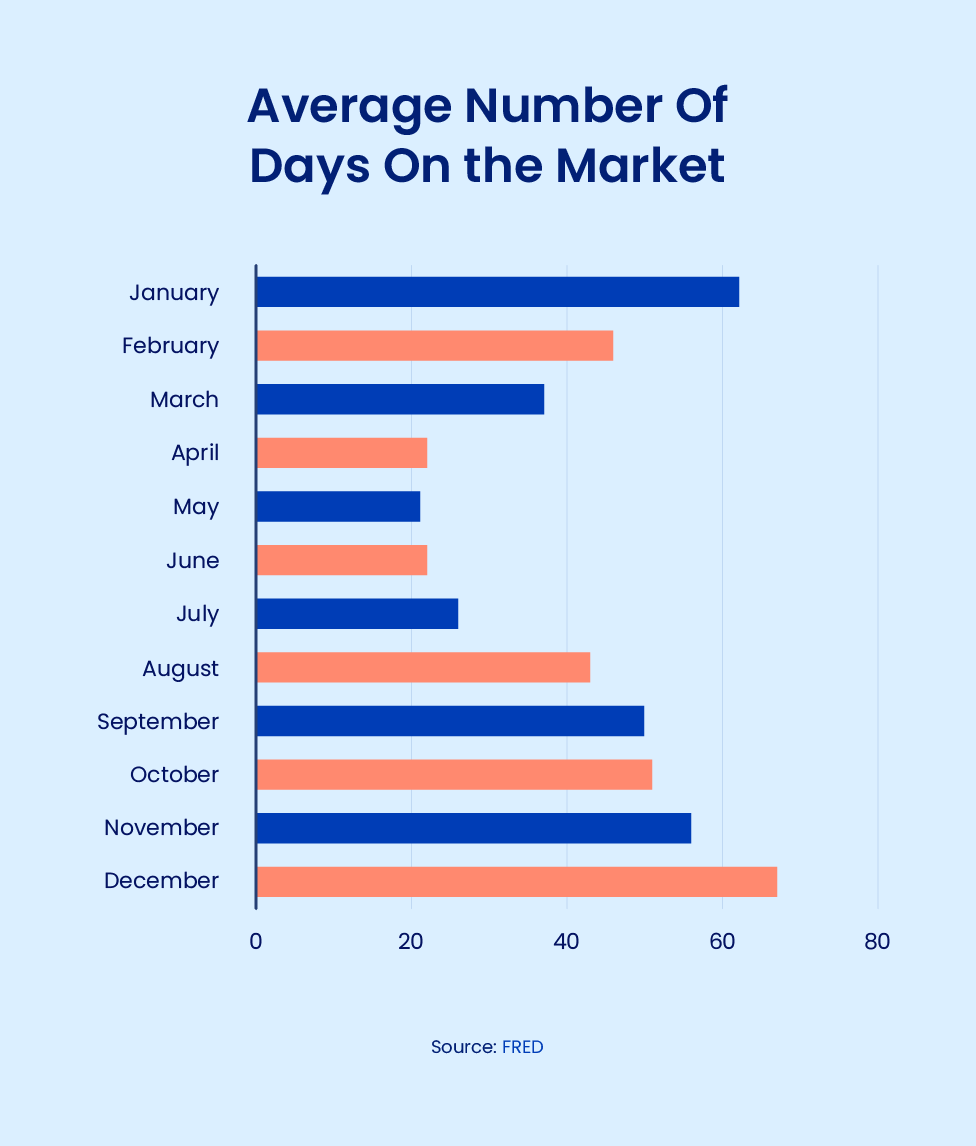 Trying to sell your old home while under contract or already paying for a new one can create a lot of financial stress. But if you can afford to wait for the perfect buyer, then you won't have as much pressure waiting for the perfect time to sell your home.
You Should Sell in 2024 If…
2023 might not be your year, but that just means you have more time to prepare for selling in 2024. Let's talk through some common situations in which you should hold off on selling your home. After all, good things come to those who wait.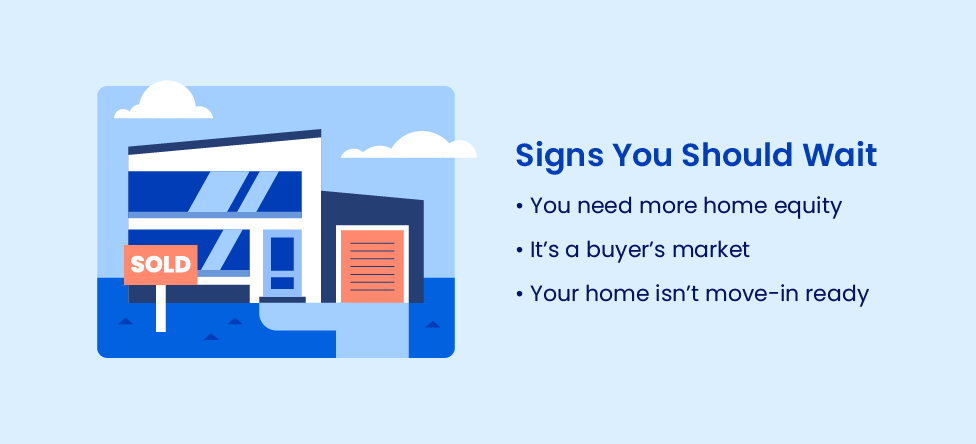 You Need More Equity
As you pay off more of your mortgage and reduce your principal, you have more equity in your home. The more equity you have in your home, the more profit you can make from selling it. If you haven't paid much of your mortgage, it could be worth waiting to sell until you have more equity in your home.
It's a Buyer's Market
In a buyer's market, the supply of homes is more than the demand, meaning buyers have the power to negotiate for lower home prices. If you're selling your home, this means you might not get an offer that reflects the true value of your home, so you might want to wait it out to see when the market turns in sellers' favor.
Your Home Isn't Move-in Ready
If your home needs a new roof or a different time-intensive repair, you may have a hard time convincing buyers to put in an offer. Take 2023 to handle these repairs and fix up your home. Not only will this increase the value of your home, but it can reduce how much time it spends on the market in 2024.
Ways To Sell Your Home Quicker
Once you've decided to list your home, there are some steps you can take to help it sell quicker:
Complete any necessary repairs

Finish any renovation projects you've already started

Stage the home to highlight assets home buyers want

Clean and declutter your home to show off its potential

Boost curb appeal

Work with a reputable real estate agent
These tips will help make your home more appealing and simplify the selling process so you can focus on your next chapter.
Make the Right Move With UpHomes
We can't give a definite answer to whether you should sell your house now, but we can help you make a more informed decision. Get in touch with UpHomes for expert advice on the next move in your home selling journey.

Find your new home
Search real estate and homes for sale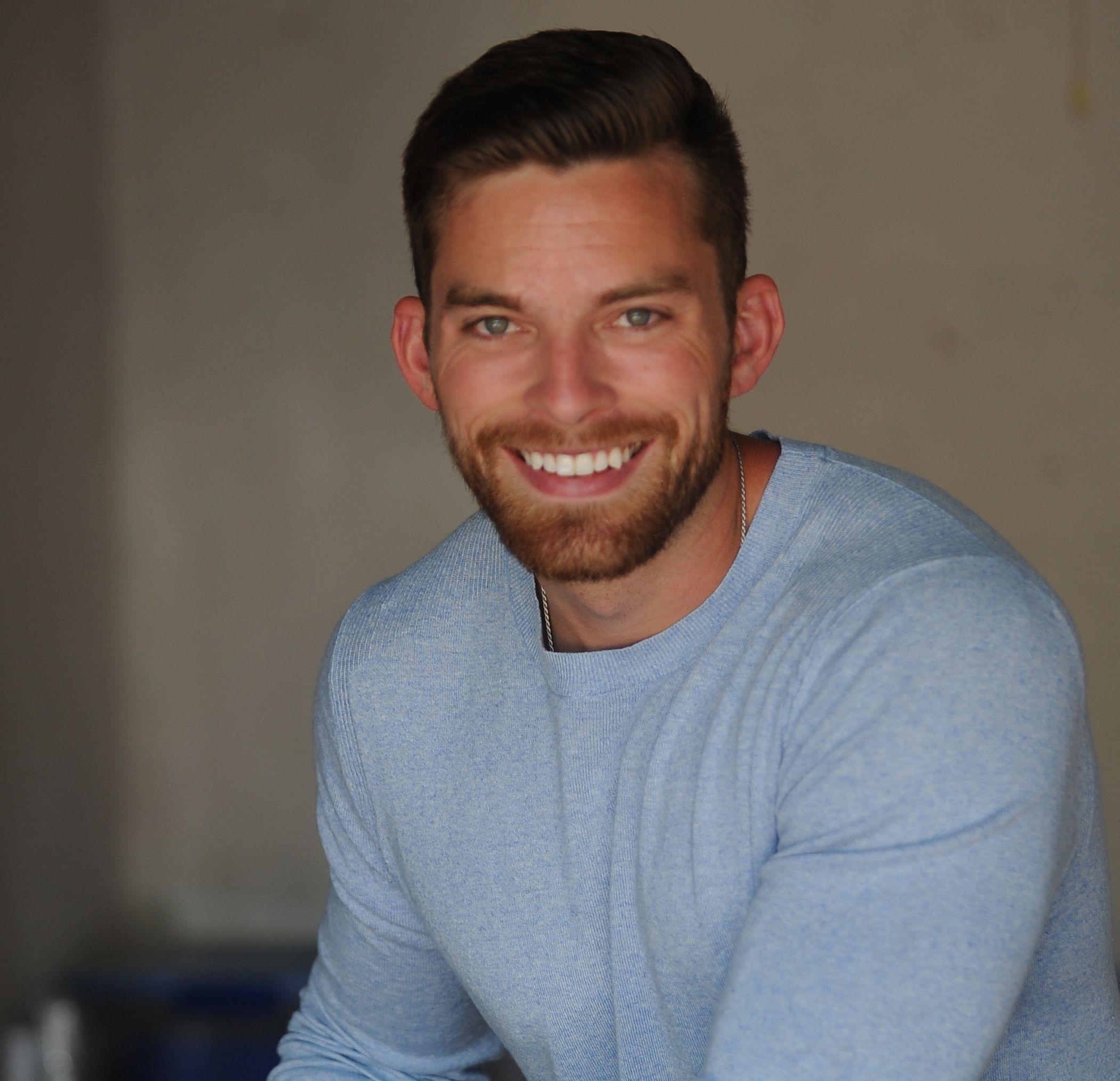 Ryan Fitzgerald
Hi there! My name is Ryan Fitzgerald, and I am a REALTOR®. My goal is to help you learn more about real estate through our Real Estate Blog! Hopefully, you enjoyed the above blog post and it found a way to provide help or value to you. When you're ready to buy or sell a home of your own let us know here. Please feel free to join the conversation by dropping us a comment below.