10 Things to Know BEFORE Moving to Corpus Christi, Texas
Living in Corpus Christi, TX
Are you moving to Corpus Christi, TX? Here are 10 things to know about life in Corpus Christi before you relocate!
Found in south Texas bordering the Gulf of Mexico lies the coastal city of Corpus Christi. Named after Spanish explorers who discovered the land in the early 1500s, Corpus Christi literally means Body of Christ in Latin. Often nicknamed "the Sparkling City by the Sea," Corpus Christi is best known for its pristine coastline, low cost of living, good economy, and abundance of outdoor activities including windsurfing, sailing, and kiteboarding.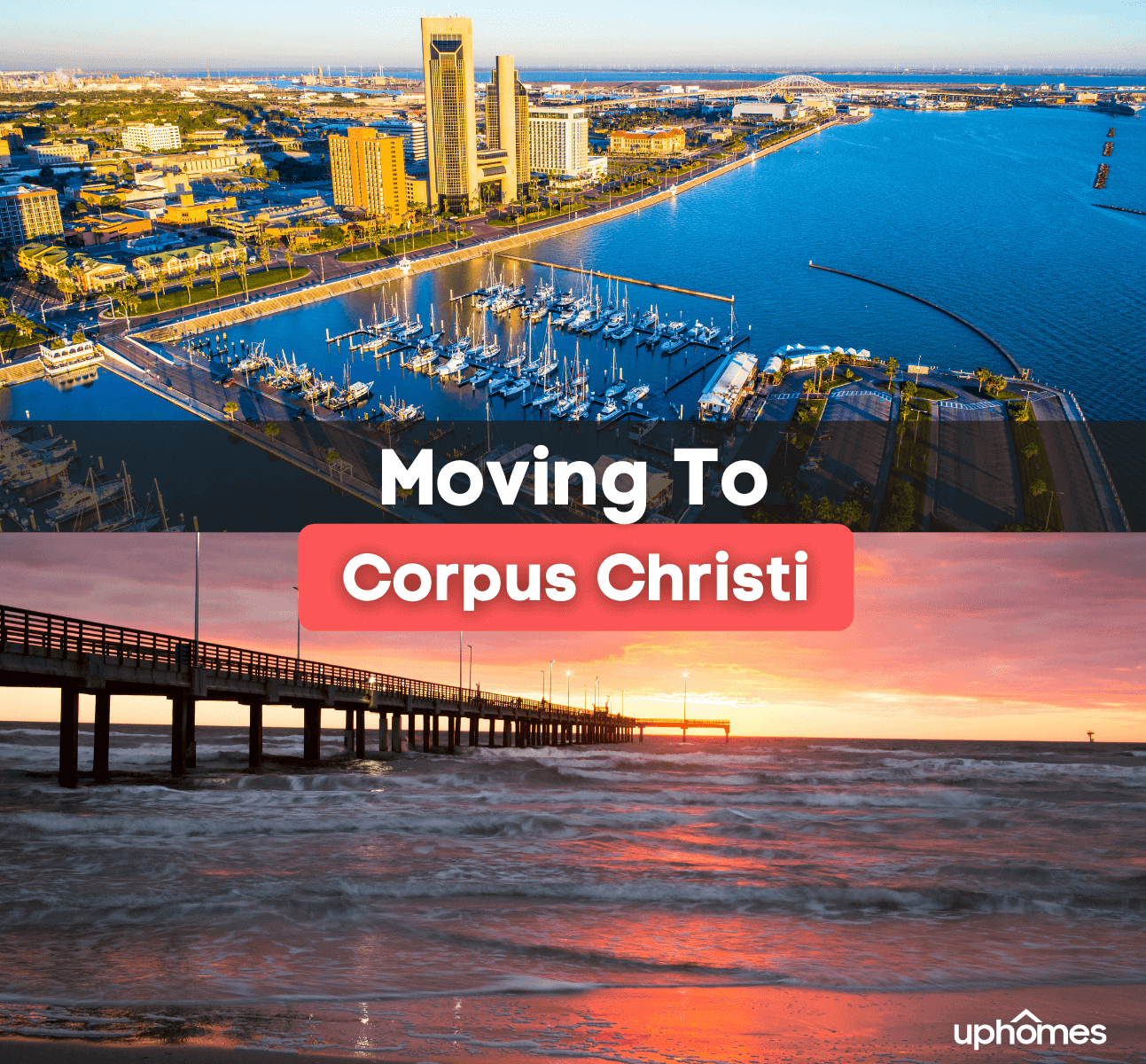 Considered the eighth-largest city in the state of Texas, Corpus Christi has a current population of 325,780 residents and is on its way to becoming one of the best places to live in Texas. A good place to live, if you are thinking about moving to Corpus Christi then you have come to the right place. Since moving can often be stressful and overwhelming, this moving guide was created to help your move to Texas go as smoothly as possible. Read on to learn more about the 10 Things to Know BEFORE Moving to Corpus Christi, Texas!
Watch out for tourists.
Did you know that Corpus Christi welcomes over eight million tourists every year? That is a lot of travelers! While all of this tourism may be great for the economy, residents need to get used to the constant flow of out-of-towners. During the summer months, in particular, residents flock to the area to enjoy the nice weather and beautiful scenery. Prepare for long lines, heavy traffic, and crowded restaurants and beaches.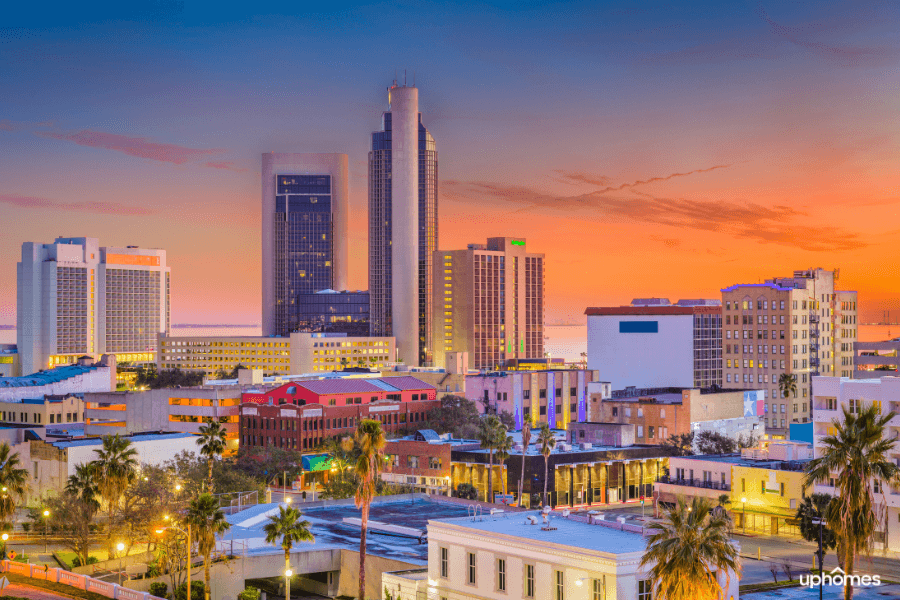 Low cost of living. 
If you want to live where you can get the most bang for your buck then look no further than the vibrant city of Corpus Christi, Texas. When compared to other similar-sized cities in the United States, living in Corpus Christi is affordable. In fact, the city is known to have the 15th lowest cost of living in the country and is the second most affordable city to live in the state of Texas. The cost of rent and living expenses including utilities, food, and transportation are all below average. Plus, with low housing prices and no state income tax, living in Corpus Christi will end up saving you more money in the long run. Keep in mind that even though prices are lower here, the poverty rate is 16.2%. This means that one out of every 6.2 residents lives at or below the poverty line.
The economy is dynamic.
The economy in Corpus Christi is complex and is made up of a variety of different sectors. The most popular industries in the city right now are aerospace, aviation, and manufacturing. The area is also known to be a large military center since it is home to the Corpus Christi Naval Air Station which just so happens to be the largest employer in the city. The Corpus Christi Army Depot is also located here. 
Even though the economy took a major hit during the COVID 19 Pandemic, much like the rest of the world, the job market is now thankfully on a steady incline. Over the past year, the job market in Corpus Christi has seen an increase of 0.3% and it is continually on the rise. It is increasing so much that the cities job growth is predicted to reach a total of 25% over the next ten years. So if you are moving to the area on the hunt for a job then you will most likely not be looking for long.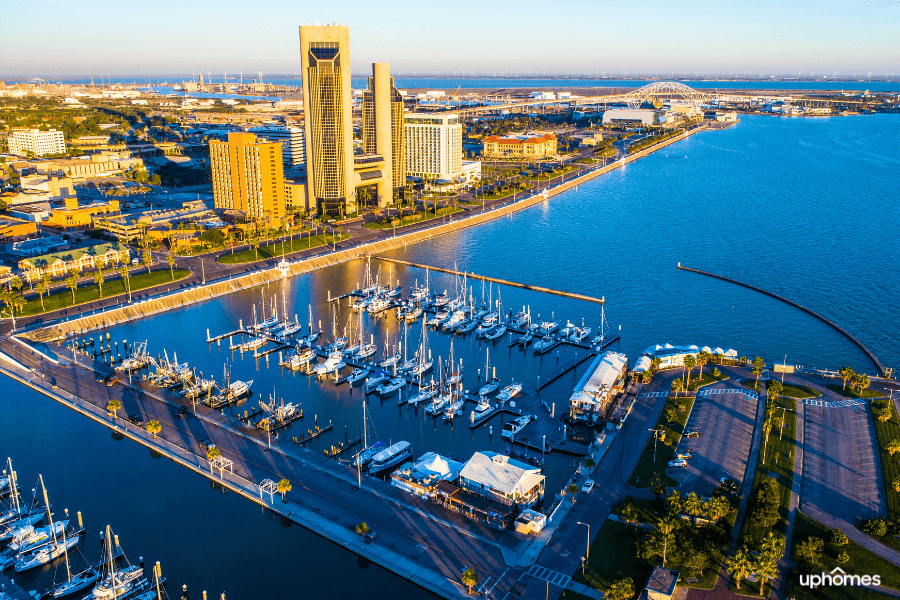 Prepare for hot weather.
Experiencing a subtropical climate, residents can expect hot, humid, and rainy summers alongside mild winters. Corpus Christi is one of the warmest cities in the state of Texas. The hottest month during the year is August with an average high temperature of 93 degrees Fahrenheit. Meanwhile, the coldest month during the year is January with an average low temperature of 47 degrees Fahrenheit. The months of March, April, and November are the most comfortable months of the year due to mild temperatures.
There are a total of 223 sunny days throughout the year while the city receives up to 33 inches of rain per year on average. This is less than the United States average of 38 inches of rain per year. If you are moving to the area from a colder climate then feel free to leave your snow shovel and snow boots behind since Corpus Christi receives zero inches of snow per year since temperatures rarely drop below freezing. The last time that measurable snow fell in the city was in the year 2004.
It gets windy. 
While the weather may be mostly warm and sunny, Corpus Christi also receives unusually high winds. Even though Chicago may be nicknamed "the Windy City," Corpus Christi is actually known to have one of the highest average wind speeds in the whole country. Due to its location along the coastline, gusty sea air can reach up to an average of 10.8 miles per hour throughout the year and up to 12 miles per hour during the spring months! No wonder kitesurfing and parasailing are such popular activities for the locals.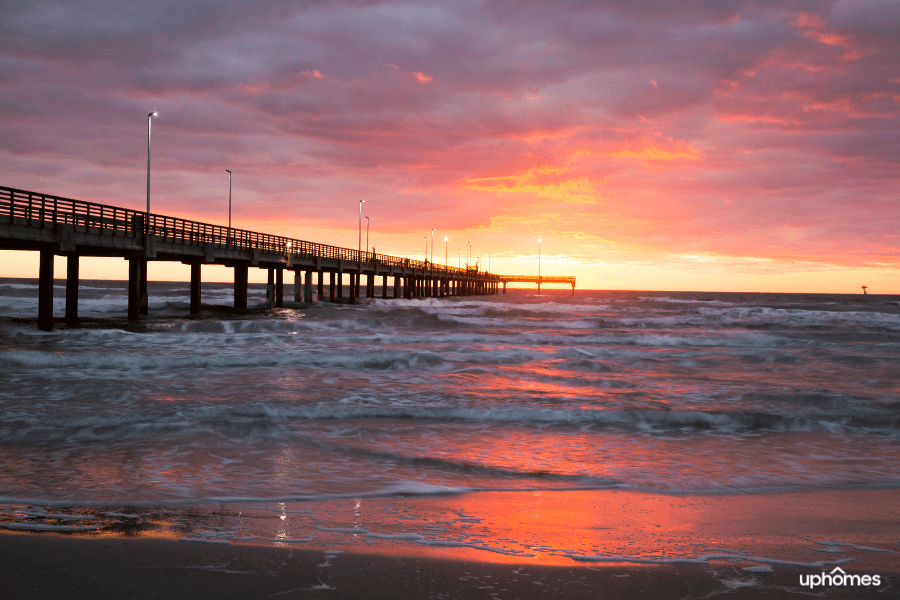 Spend the day at the beach. 
Even though the city itself is tucked into Corpus Christi Bay and is not directly in line with The Gulf of Mexico, the city is still home to many beautiful beaches and popular fishing spots. Many residents can be found soaking up the sun, playing in the sand, and participating in a variety of watersports including kayaking and paddleboarding. 
Check out these local favorite beaches in Corpus Christi, Texas!
Everyone here loves Selena
Selena Quintanilla-Perez was a famous American singer and songwriter that was best known as the "Queen of Tejano Music." Celebrated as one of the most beloved Latin singers of the late 20th century, Selena made an impact on the Mexican-American community and the world through her music. Tragically killed by one of her friends and president of her fan club, Selena passed away at a Corpus Christi motel in 1995.
Before her death, she lived in the city with her husband Chris Perez and is now buried in Seaside Memorial Park. Today, her fans preserve her memory through a memorial statue that is located in Downtown Corpus Christi. If you are a fan of her music then make sure to visit the Selena Museum in the city which houses her recording studio, awards, records, and famous costumes from her performances. The museum is open from Monday through Friday and tickets only cost $3 for admission.
Corpus Christi is the home of Whataburger. 
The famous fast-food chain restaurant Whataburger opened in 1950 right here on Ayers Street in Corpus Christi, Texas. Entrepreneur Harmon Dobson had the dream to open a restaurant that served the biggest burger that a customer could get their hands on. What once started off as a tiny burger stand has now spread all over the country reaching a total of 10 states and over 800 total restaurants. Now serving almost every state in the southern United States from Florida to Arizona, the company is home to over 43,000 employees. The largest Whataburger location today resides in Corpus Christi and stands at 6,000 square feet. Nicknamed "Whataburger by the Bay," this restaurant was opened in 1999 and features a bronze statue of its founder. As a new local to Corpus Christi, it is a must-do to give Whataburger a try.
Seafood is everywhere. 
Once you get your fix of Whataburger, make sure to feast on all of the fresh and local seafood that Corpus Christi has to offer. Due to its location on the Gulf of Mexico, all of the seafood in the area is caught by locals and is full of flavor. Whether you like shrimp, scallops, or the catch of the day, there are many restaurants near the water that all residents need to try. From casual dining experiences to five-star locally owned establishments, there are many spots to explore along the beaches and the bay that are serving only the most mouthwatering dishes.
Check out these local favorite seafood restaurants in Corpus Christi, Texas! 
Blackbeard's on the Beach: Not only is this restaurant pirate-themed, but the seafood here is outstanding. Offering live music throughout the week, housemade margaritas, and only the best seafood on the menu.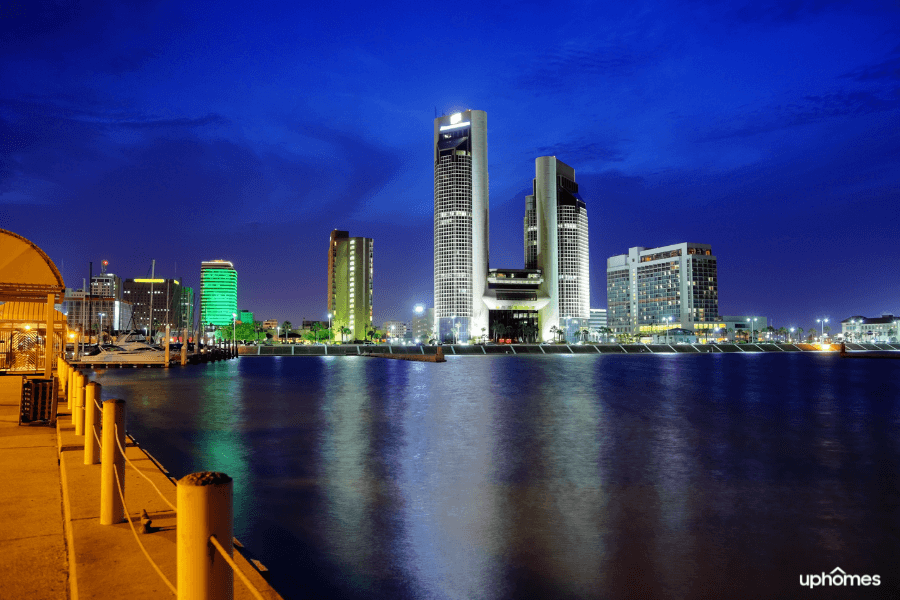 There are many things to do.
While many residents can be found hanging out by the beach or living the island life, there are plenty of other things to do in Corpus Christi that do not involve sand between your toes. Including both indoor and outdoor activities, the city has adventures for the whole family to enjoy. Whether you want to visit a museum, an art gallery, or take your significant other on a date night, Corpus Christi has you covered. 
Check out these local favorite things to do in Corpus Christi, Texas!
Moving to Corpus Christi, TX - The Bottom Line
Worth the move, Corpus Christi, Texas is a great place to live with a high safety rating and cheap housing. Attracting many families and young professionals to the area, the city is small but full of southern charm. While Corpus Christi may have many pros and cons, the pros definitely outweigh the cons. Full of many great areas and neighborhoods, living in Corpus Christi will appeal to any lifestyle. Before moving, make sure to reach out to one of our knowledgeable and experienced Realty Specialists to assist you through the home buying process. Contact us today to find your dream home in Corpus Christi, Texas!
#blog-moving-texas-cta#

Find your new home
Search real estate and homes for sale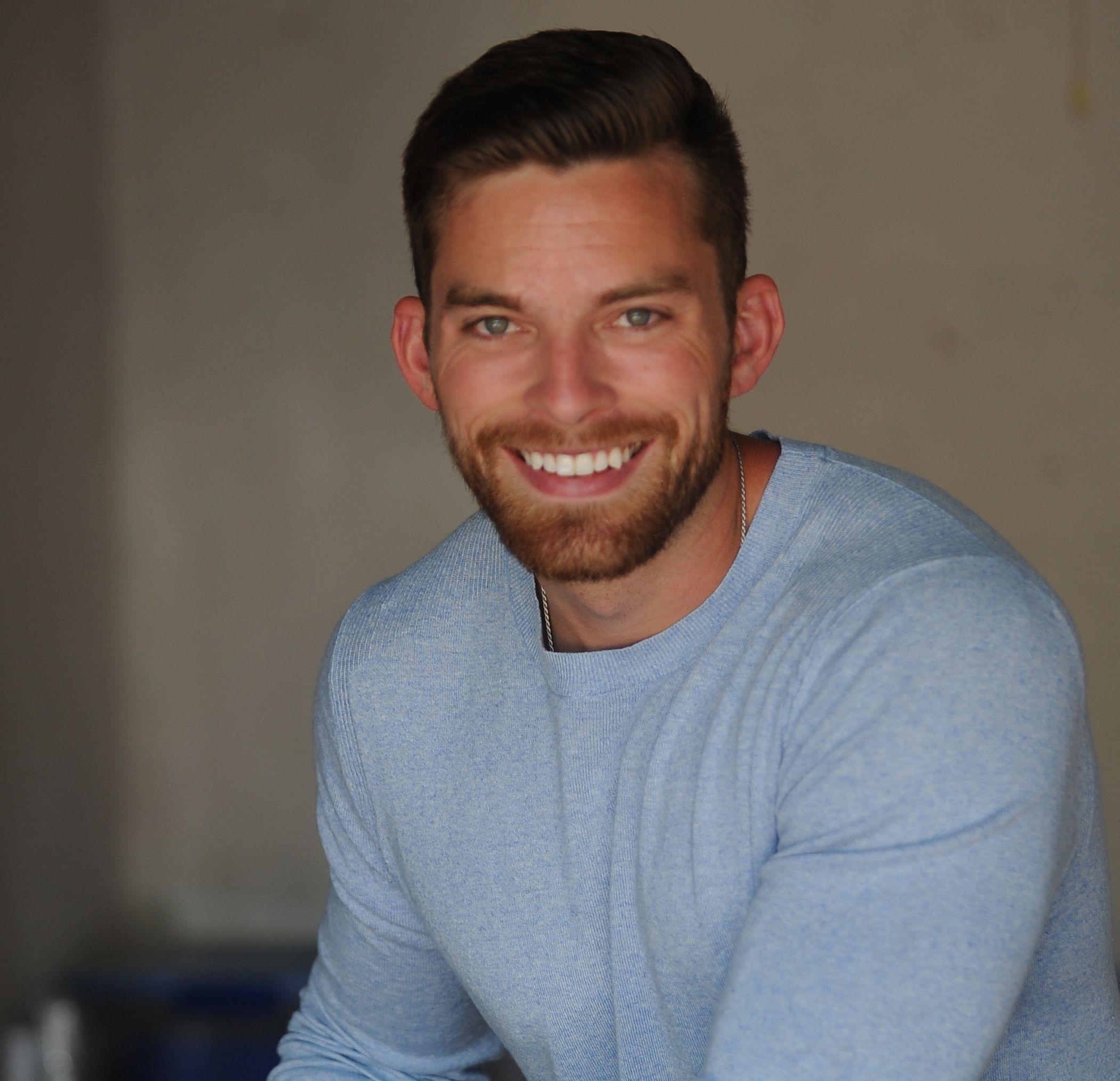 Ryan Fitzgerald
Hi there! My name is Ryan Fitzgerald, and I am a REALTOR®. My goal is to help you learn more about real estate through our Real Estate Blog! Hopefully, you enjoyed the above blog post and it found a way to provide help or value to you. When you're ready to buy or sell a home of your own let us know here. Please feel free to join the conversation by dropping us a comment below.