35 Best Staycation Ideas (Wherever You Live)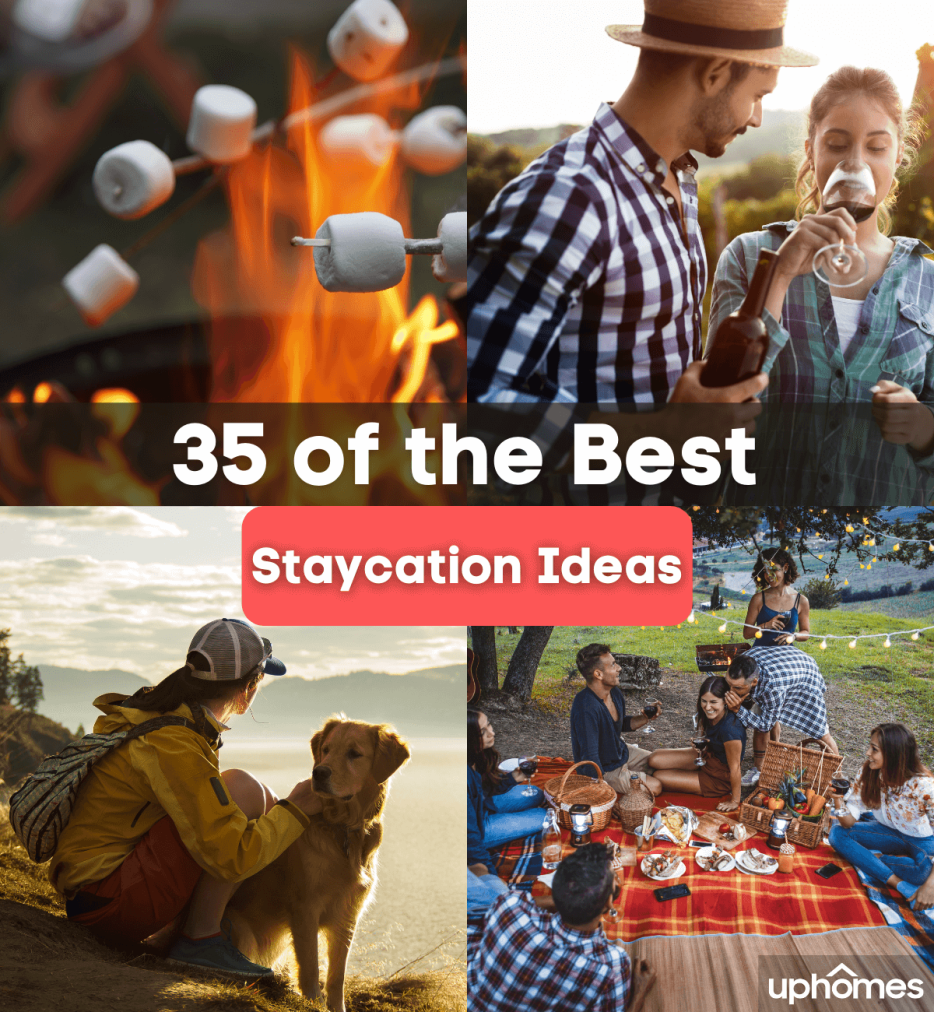 35 Best Staycation Ideas (Wherever You Live)
Looking for the best staycation ideas in your area? Here are35 of the best staycation ideas no matter where you live! Whileuphomesmight be a real estate company,we know how to staycation with the best of them!
Before we dive into the35 Best Staycation Ideas, first we need to understand what a staycation is.
What is a Staycation?
The Definition of a Staycation is a vacation spent at home and involving day trips to local attractions. A staycation means planning a lot of the same activities that you would do on a vacation, but without the stress of actually traveling far. A staycation saves time and travel costs with an added bonus of exploring your local community and areas that are nearby.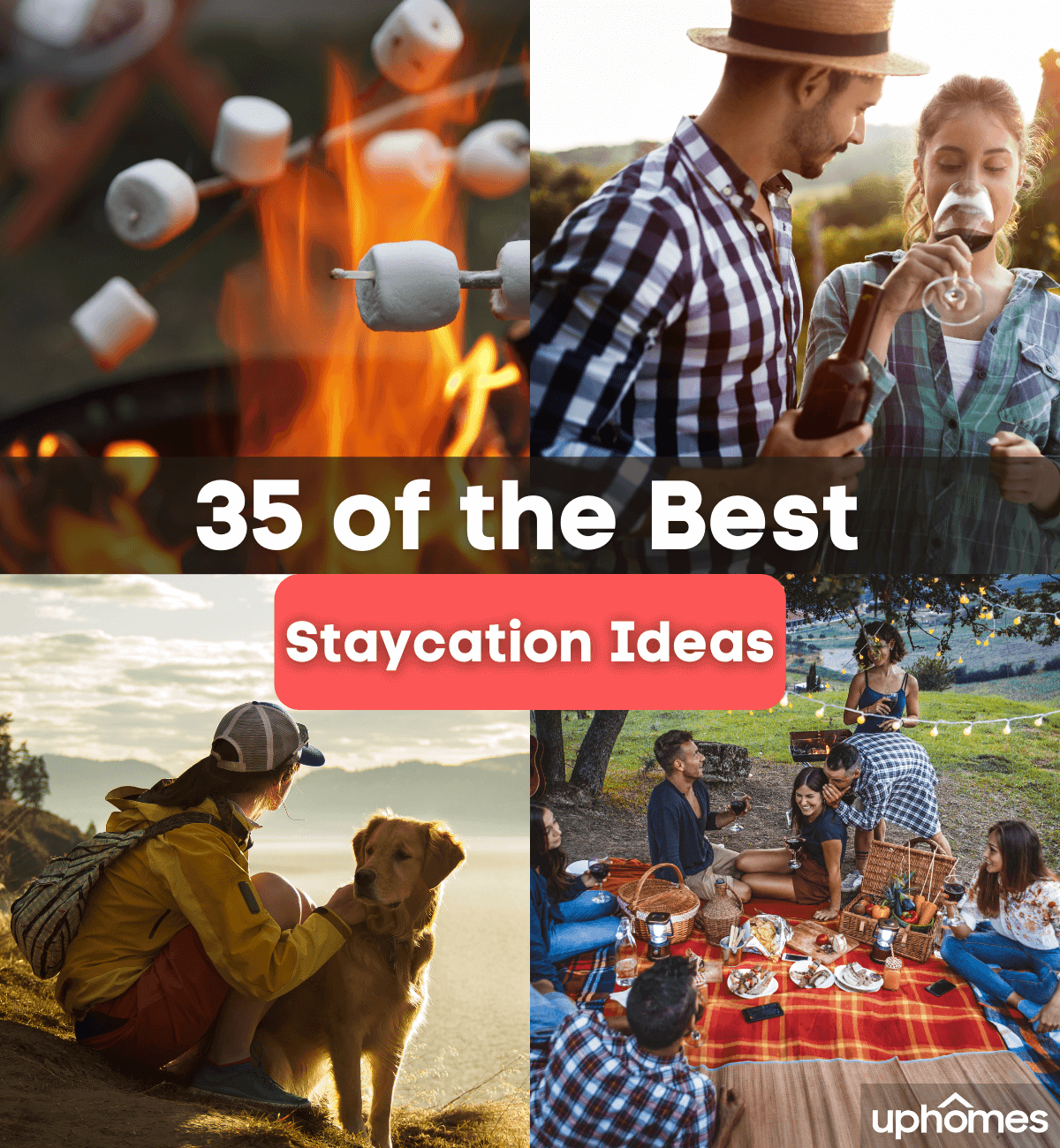 In this article, we are going to bring you the best ideas for staycations no matter where you live. This complete guide to staycation ideas is perfect for couples during Covid, for families at home, or for anyone looking to rid themselves of the Covid quarantine norm (while remaining safe of course).
If you are in need of a quick relaxing getaway or at-home vacation without breaking the bank, then this guide is for you. So here are the35 Best Staycation Ideas because it is the year to treat yourself!
Two Words: Spa Day
Sometimes all you really need is a day to relax and a spa day can do just that. Get your family or friends together and bring out the face masks! This is the perfect time to relax in robes, paint your nails, and perfect your skincare routine without having to go anywhere. Grab some fancy bath bombs and relax among the bubbles while drinking your favorite glass of wine. A spa day can also be a great date day for couples. Find a local massage therapist and get a couple's massage together. If you are wanting to stay indoors, get a house call masseuse to come to you.
Try a New Workout Class
Working out boosts your endorphins and serotonin levels which means increased relaxation and happiness. What better way to spend your staycation than to get moving! Check out that new workout class that your gym is offering with some friends. If you don't belong to a gym, then sign up for a free trial class that you have never done before. This is your time to try yoga, boxing, dancing, or even Tai Chi. During the pandemic, a lot of gyms and fitness centers have started offering virtual online classes. There are also tons of workout class videos on YouTube to try out. Now is the time to stay active and healthy.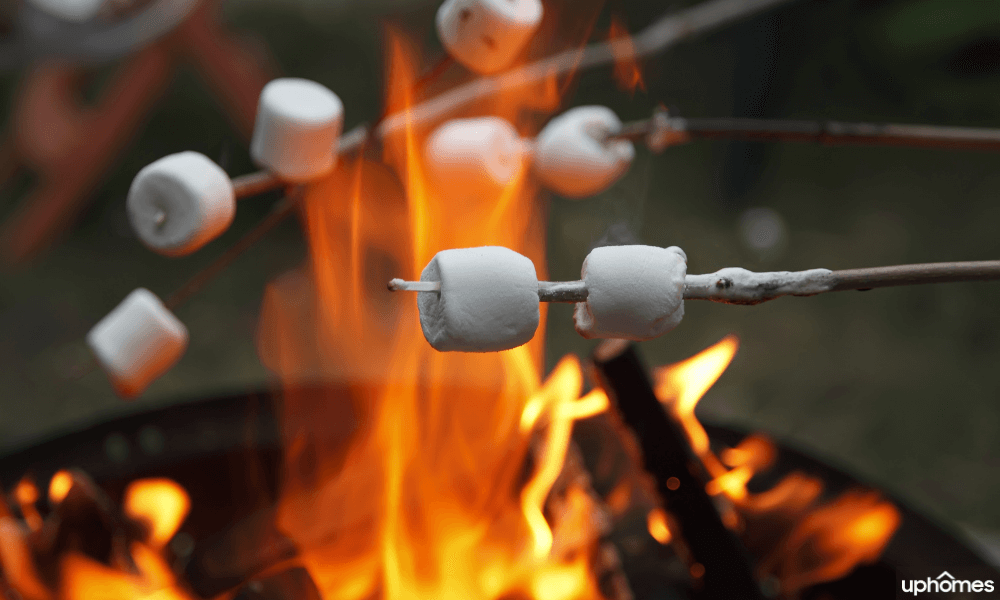 Go Camping
Get some fresh air and enjoy the great outdoors by going camping. Taking a camping trip is fun and can be a great way to connect with nature. The cool thing about camping is that you can set up a tent at a cool campsite nearby or just go right outside in your own backyard. If you opt for backyard camping, all you have to do is walk a few steps and set up your camping gear without the need to fend off wildlife. Make sure to grab ingredients to make s'mores to roast over the fire. If you can't make a fire, you can also make your s'mores in the microwave or in your oven. Tell some spooky ghost stories with your flashlight and make sure to stargaze.
Take a Local Distillery, Winery, or Brewery Tour
Have you ever wondered how your favorite beer is made? Or how your go-to bourbon developed its flavor? What type of grapes is in your glass of wine right now? These are all questions that can be answered on a distillery, winery, or brewery tour! Tours like this are so fun to go on with a group of friends or with your significant other. Learn all there is to know about how your favorite drink is made. Most tours also end with taste testing which is normally everyone's favorite part. Go online and see if you happen to live near a distillery, winery, or brewery.
With the Covid pandemic in mind, some infamous distilleries offer virtual tours online where you can watch videos about their distillation process. This is also great if you live far away from your favorite brand. You can get your friends or family together and host your own tour from the inside of your home. Put different wine bottles in each room of your house and have your own wine tour and tasting. Make it fun!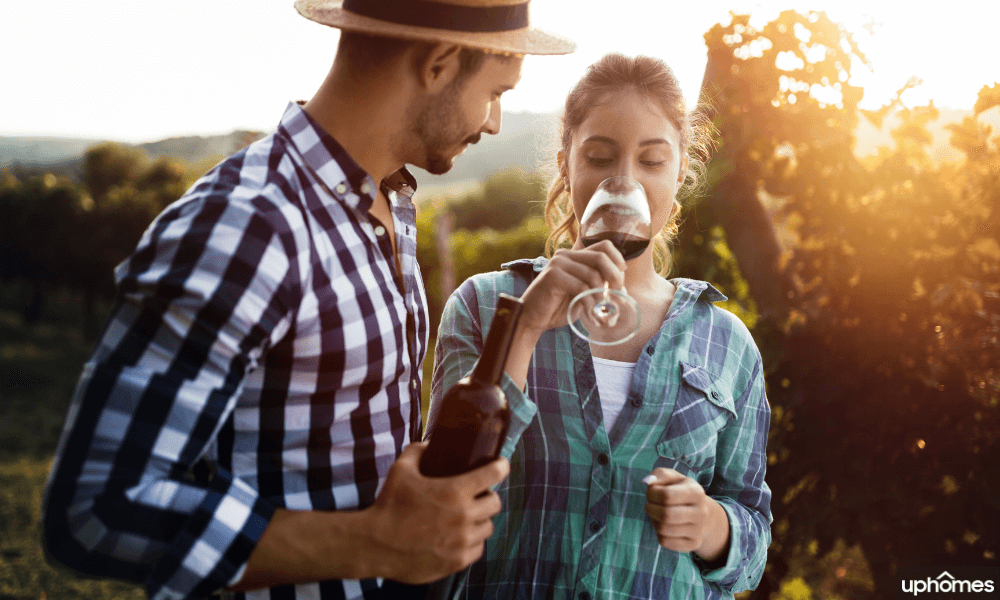 Cocktails All Day, Every Day
Gather all of your favorite cocktail ingredients and make drinks that you have always wanted to try. Look up fun recipes and make your own fruity simple syrups. If the weather is nice and warm make it tropical! Pretend you are on an island without leaving your backyard. You can even drink your cocktail straight out of a pineapple because who needs a cocktail glass? Put on your favorite swimsuit, wear that beach hat, layout your pool towel, and spend your day tanning while sipping on your masterful cocktail creations. Invite your friends over for extra fun and take turns making drinks.
Check Out a New Hiking Trail
Hiking can be the perfect outdoor excursion. If you live near the mountains or by some outdoor trails, lace up those hiking boots and explore. Get outside and find a trail that you have never hiked before. Maybe you'll discover a hidden waterfall or encounter beautiful wildlife along the way. If you have a dog, make sure to bring along your furry friend. If you don't live near large wooded areas or hiking trails, a lot of suburbs and cities have regular walking trails that you can check out. Take the trail less traveled by and it just might become your favorite one.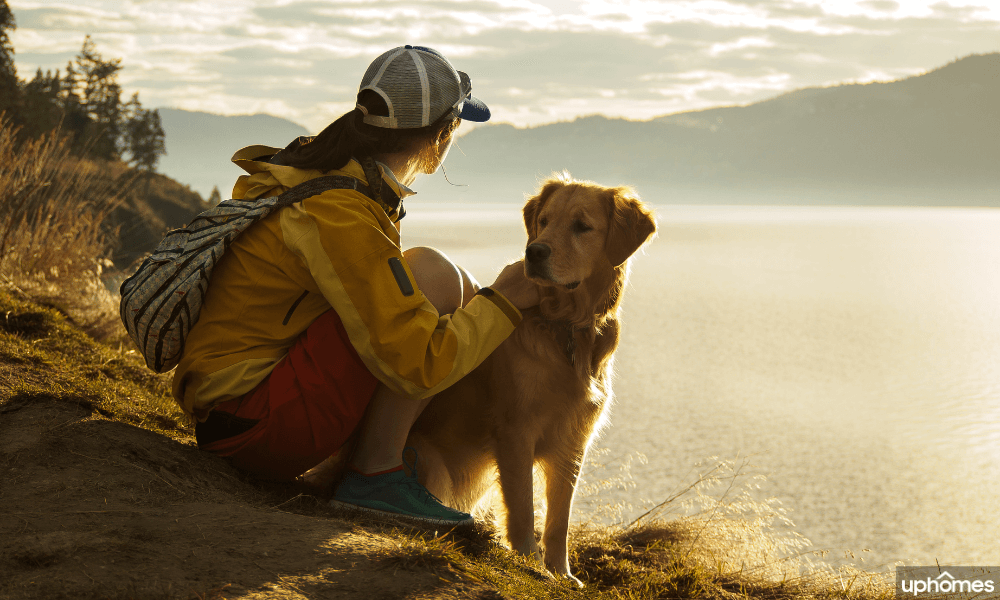 Geocaching Adventure (Scavenger Hunt!)
If you like scavenger hunts then geocaching will become your next obsession. Geocaching is awesome because it is basically a real-life treasure hunt. How cool is that? Spend the day outdoors and look for clues all over the place using GPS coordinates to find the geocache container hiding at a specific location. There are geocache locations set up everywhere with the only rule being that if you take something from the location, leave something in its place. You'll never know what you find. This is a great family bonding time or a unique date idea.
Virtual Museum Tour
Museum hopping in your local city can be a fun cultural experience. From art museums to history museums, there is always something new that you can learn. But what if there was a way to visit some of the most famous museums in the world without having to go anywhere? Due to the pandemic, a lot of famous museums from New York City to Paris are allowing visitors from the comfort of your own home. Visit the British Museum in London, the Uffizi Gallery in Florence, or the Van Gogh Museum in Amsterdam. If you are going to be confined at home on your couch, you might as well learn something.
Virtual City Tour
If you love the idea of a virtual museum tour, then you will love this! If you have always dreamed of visiting Naples, Italy, or Barcelona, Spain then you are in luck. There are now virtual city tours that you can find online. While the pandemic is still going on, you can travel the world without worrying about travel expenses or finding your passport. Learn about different cities all over the world and make plans to actually visit in the future. This is a fun and creative way to "travel" and a great way to spend your staycation.
Host Your Own Movie Night
Going to the movie theatre and stocking up on popcorn is a classic night out. But if you can't make it in time to the matinee, save a few bucks and host your own film festival at home. This way you can choose your own movies and stay in your pajamas. Invite your friends over or make this a date night with your significant other. If the weather is nice and warm and you happen to have a projector, take the movies outside in your backyard. Cuddle up with some blankets, bake some treats, and pop as much popcorn as your heart desires. Pick a theme to make the night more exciting! Choose to watch old-timey classics or immerse yourself in a galaxy far far away.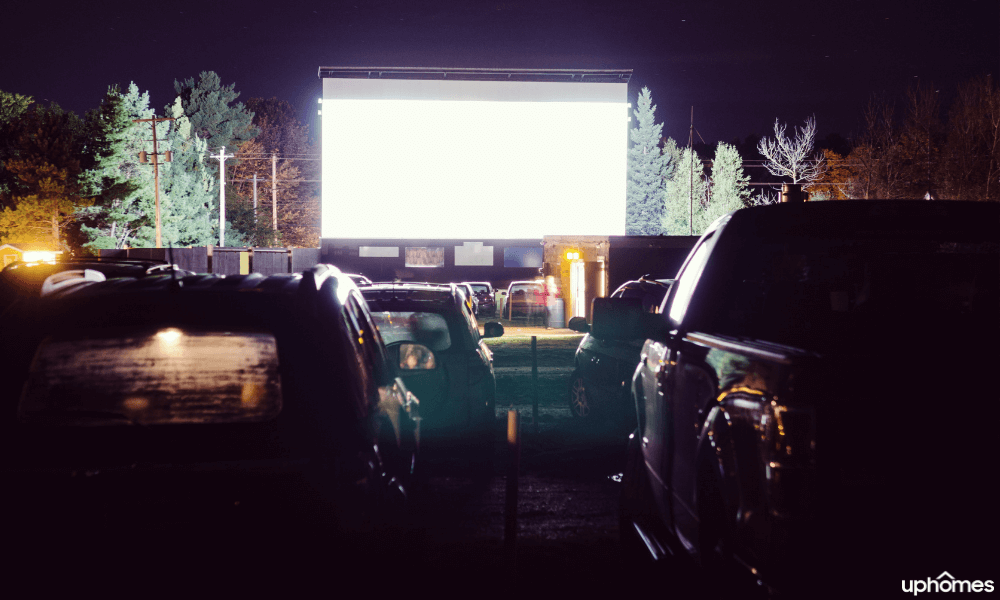 Drive-In Movie
This fun movie experience is making a comeback due to the Covid pandemic. Many cities are now hosting drive-ins so that people can go to the movies while staying in their cars. While some drive-ins are only during the Summer months, others are year-round. Check your local city to see if there is a drive-in near you. This awesome staycation idea will make you feel like you are living in a scene from Grease. Many drive-ins play a mixture of classic movies and new releases so make sure to check your local drive-in schedule. Pack snacks and bring your camera because memories at the drive-in will last forever.
Board Game Tournament
If you like a little friendly competition, break out the board games because it is time for a board game tournament. Get out your favorite games and dedicate the whole day to defeating your family at what you do best. Take a little break from social media and become the reigning Catan champion. Who will own the most houses in Monopoly? There is only one way to find out. If you are with some friends, play some party games such as Cards Against Humanity and share some decent laughs. Once you become the board game tournament champion in your house, there is no going back. In our opinion - This is a classic indoor staycation idea.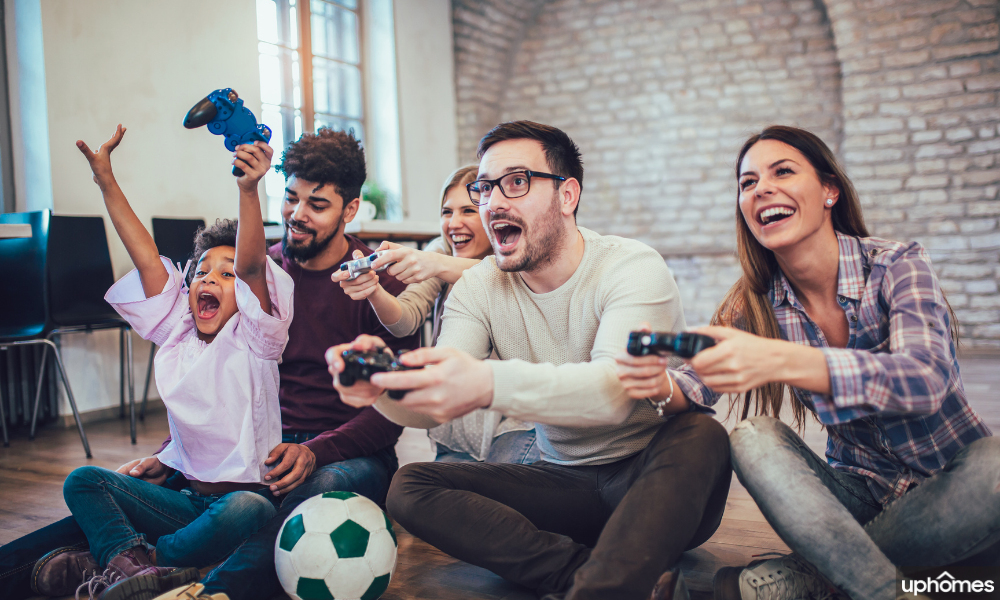 Video Game Tournament
Instead of a board game tournament, host a video game tournament instead. Now is the time to gather the troops and beat everyone in some multiplayer games. If you own a game console, this is the perfect staycation idea for you. Play Mario Kart, Wii Sports, Dance Dance Revolution, Guitar Hero, or Rock Band. You can even create your own bracket for whoever is playing and come up with a prize for the winner. Let loose and have some fun playing video games.
Themed Day or Dinner Night
If you are wanting an escape from reality, have a themed day or dinner night. This is such a unique idea and will have everyone wanting to participate. Instead of traveling far, you can eat food and listen to music from a different country or city from the inside of your own home. For instance, have an Italian day! Serve your favorite pasta dishes, drink Italian wine and cocktails, and watch your favorite movie set in Italy. Or if you are a Disney lover like me and can't get to the parks, have a Disney day! Watch Disney movies, listen to Disney music, and make sure to wear your favorite pair of Mickey ears.
Channel Your Inner Bob Ross
This is your sign to become the artist that you were always meant to be. Let your creative juices flow and get yourself some canvases and acrylic paint. If you have no idea how to paint, Bob Ross has blessed us with some fabulous painting tutorials where you can learn how to paint like Bob himself. Play some music that relaxes you and throw some colors together. Paint that mountain scene or decide to go the more abstract route. When you are done you'll not only have a new hobby, but a new piece of art to hang up in your living room.
Become a Yogi Master
Layout your yoga mat and get into downward dog by hosting a yoga retreat from your own room. Bring up some at-home yoga tutorials and master all of the poses. Pour yourself a nice tall glass of lemon water and spend plenty of time in Savasana. You can also take your retreat outdoors in your backyard or by the water if you live by the beach. If you are unfamiliar with yoga then this is the best time to learn simple poses. Relax your mind and find your center while improving your flexibility on your own private yoga retreat.
Photoshoot Time
Strike a pose! Get together your best outfits and have an at-home photo shoot. All you need is for someone to take your photos and for you to practice your smile. Decide on a theme for your photoshoot and either set up a background or find somewhere cute outside. Head downtown for a chic city vibe, or find a farm with wood fences and hay bales for a rustic look. Get some props together and you will have your next popular Instagram photo.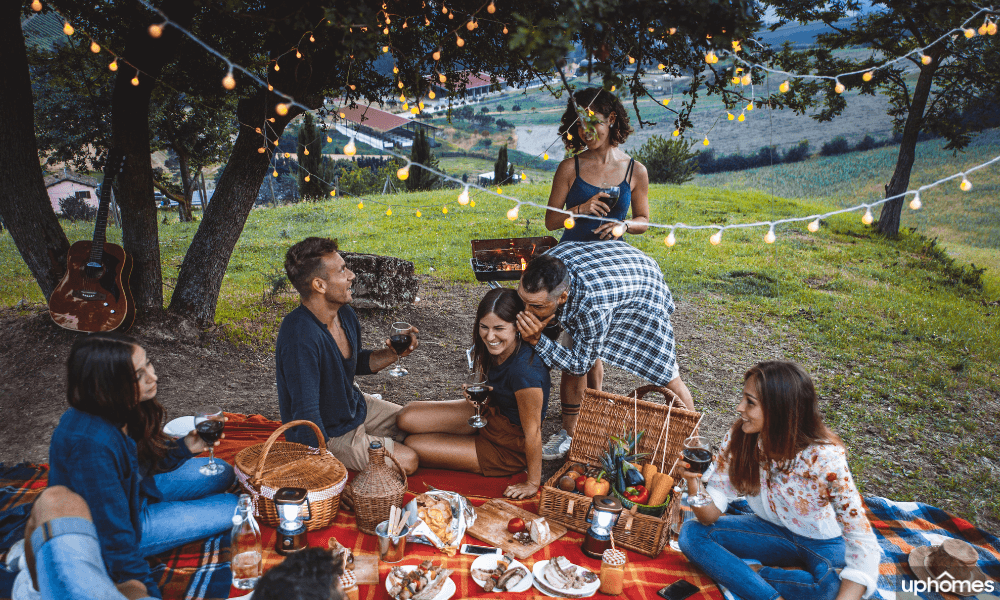 Have a Luxury Picnic
Have you heard? Picnics are all of the rage. All you need to do is pack up a comfortable blanket, make some goodies, and head on outside to dine al fresco. You can bring anything that you want to your picnic. Bring crackers, cheese, sandwiches, various amounts of fruits, dips, and your favorite beverage. If you want to spice up your picnic, even more, hop on the cake and wine glass trend. This involves bringing a whole cake to your picnic and cutting it with wine glasses instead of bringing a knife. This way each person can come in with their own cup and get their own serving without the mess of cutting and plating.
Don't forget to pack your polaroid camera! Make sure to dress super cute to get all of those memorable photos. You can picnic in a picturesque field or even just in your yard. And if the weather is not nice, then compromise and picnic on the floor in your living room.
Feng Shui Your Room
Sometimes a staycation can just mean taking the time to clean and reorganize. Take this time by yourself to rearrange your room and declutter your space. The art of Feng Shui is a Chinese practice of arranging pieces in your living spaces to create balance with the natural world and environment. Changing up your living space can be a good thing to create a sense of balance in your life. Once you make these improvements it will bring positive energy to your rooms and to your life. Does your room now meet the basic principles of Feng Shui? If not then consider a change in your space.
Beach Day
If you live close to a beach then spend the day or weekend by the water. A beach day can be the ideal way to staycation for families. This could also be a great idea for yourself or with friends. Wake up early to catch the sunrise and walk along the water. Soak up the sun, build the biggest sandcastle, read a book, and listen to the waves crash. If you like to stay active, play a beach game or learn to surf. If any restaurants or bars are open, make sure to check out the local favorites before you leave.
Mountain Day
Another great staycation idea is to take a quick day trip to the mountains if you live close by. If you prefer hiking, climbing, or white water rafting, then this is the perfect destination for you. Want to go skiing or snowboarding? Find your nearest skiing resort nearby and hit the slopes. Explore the nearest national park and breathe in that mountain air while hiking to the highest point. The mountains are calling.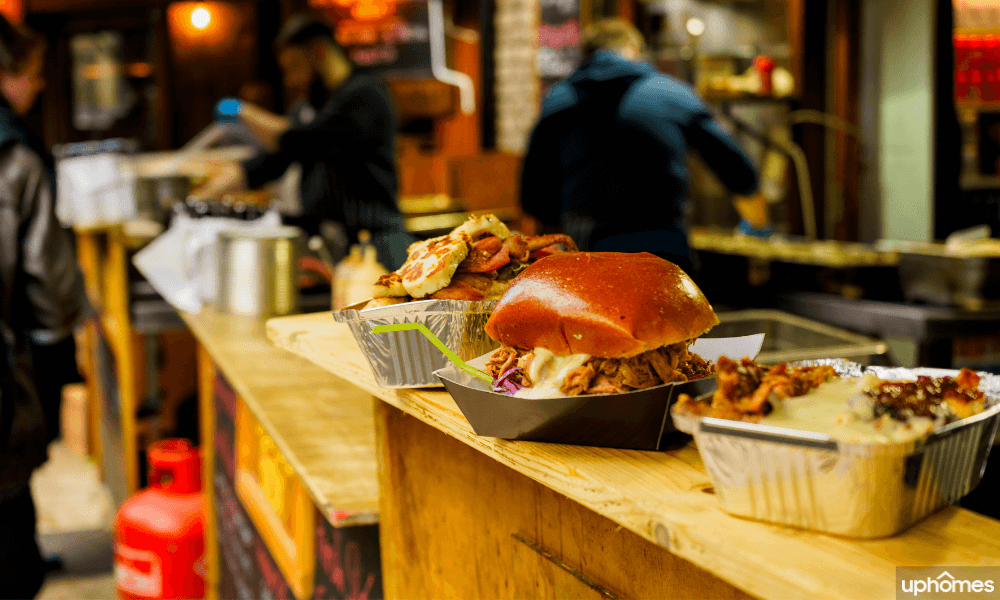 Food Tour of Your City
Take a food tour of your city and discover new restaurants and cuisine. You have most likely not been to every single restaurant in your hometown. Use this food tour as a way to branch out and try new things. This is a great staycation idea for couples during Covid. Check to see which restaurants are offering take out and choose a different place for each meal throughout the day. Want to make it more exciting? Decide who gets to choose where to eat by playing rock paper scissors.
Visit Your Local Library
Do you have a book that you have always wanted to read and never had any time to read it? Spend a day or weekend to head to your local library and check out some titles. Nothing beats cuddling up near a window and drinking hot tea while reading a good book. If you do not have time to go to your local library, or if it is closed due to the pandemic, there are many online books to check out. If you have a local library card, some libraries allow you access to the phone app Libby. This app is an online ebook resource. All you do is log in with your library card and you have the ability to check out ebooks that are then sent straight to your phone. If you have an Amazon Kindle, you can also download said ebook to the Kindle while you have it checked out. Ask your local library today if they have the app, Libby!
Play an Outdoor Sport
Go to your favorite local park and play a sport to pass the time. Most local community centers have open fields and courts to play soccer, volleyball, baseball, or basketball. Find some local tennis courts to play a match or head to a public golf course for a game of golf with your friends. If you are not well versed in the world of sports, spend the day learning how to play something new. For instance, if you have never played disc golf before, it is a must-try! Get some cheap discs and find a disc golf course near you. Similar to golf, the object of the game is to throw flying discs at targets. Maybe it will become your next favorite sport.
Find a Hotel or Airbnb For the Night or Weekend
If you live close to a big city or attraction but are still a bit far for a day trip, book a cheap Airbnb for the night or weekend. This is the perfect getaway. Discover a new area and stay somewhere else other than your home. Sometimes it gets boring staring at the same walls seven days a week, so it's nice to get out every so often. Depending on when you decide to escape for the weekend, you can normally find great rates for unique places. Find a treehouse, tiny home, beach cottage, or mountain cabin to spend the night.
Bike Ride Around Your City
Instead of walking the streets to get to know your city, bike it. Bring your own bike from home or choose to rent a bike or scooter through a shared biking service. Certain cities all over the United States offer shared bikes or scooters that you can rent through an app on your phone. Spend the day stopping at local shops or antique stores along the way. Plan out your route or take random turns. You never know where you will end up or what you might find.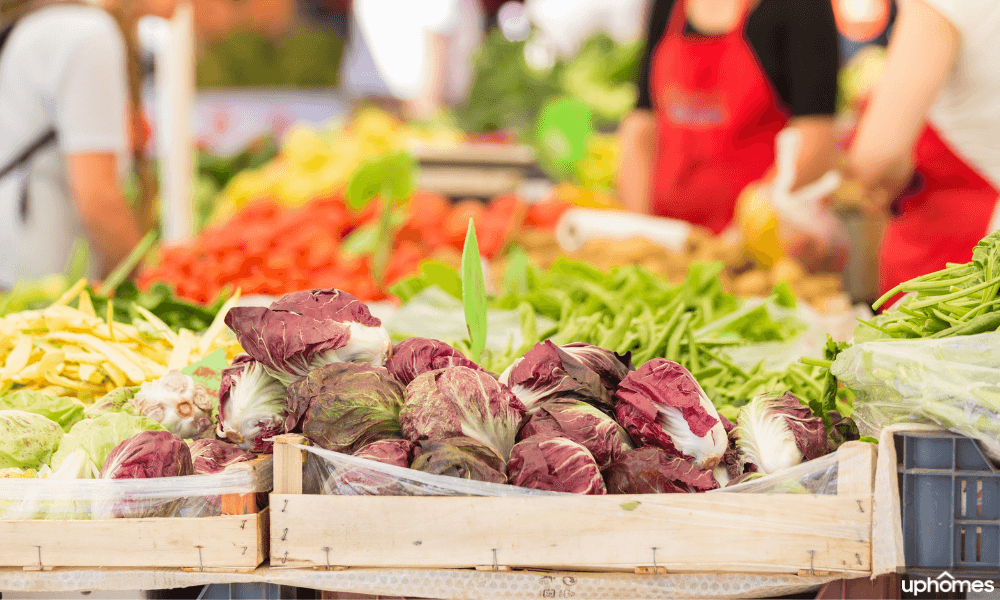 Visit a Local Farmers Market
Sometimes getting out and visiting the local farmers market can be just the staycation that you need. Not only are you supporting local farmers, but the farmers market is a great place to buy fresh and healthy produce. Buy the best fruits and vegetables in town and brainstorm your next meal. Be a little risky and branch out by incorporating different flavors into your cooking. Experiment by buying produce that you would not normally buy, and find a way to add it to a dish.
Plan a Stargazing Night
We get so caught up in everyday life that we often forget to stop for a moment and look to the sky. There are so many beautiful stars and constellations to admire. Drive out to a dark spot or sit in your driveway to look up. If you have a telescope, use it to find your favorite constellations or planets. If you zoom in close enough, maybe you will be able to see the craters on the moon. Set up an area with blankets and research certain constellations when you find them. This is quite the romantic staycation idea.
A Trip to the Zoo
Wherever you live the zoo is a great staycation idea for a family with kids, a group of friends, or anyone who is just looking for something fun to do while staying close to home! This is a great day trip and an easy way to have fun while learning about and experiencing animals who inhabit the world. If you're looking for an easy staycation idea the zoo is always a home run. No matter where you live there is likely some sort of zoo within driving distance which makes it the perfect day trip getaway!
Water Park In Your Front Yard
The perfect Summer staycation idea involves water and your yard. If you have kids they will love you for this. Instead of going to the pool or the beach, bring the water park to you. Have a water balloon fight, set up a sprinkler, fill up the kiddie pool, and get a cheap Slip 'N Slide. Make a fresh batch of homemade lemonade and slather on some sunscreen. Put on your swimsuit and wear those sunglasses because you are about to become the coolest person in your neighborhood.
Water Sports or Fishing
Find a lake near you when the weather is nice to swim, kayak, paddleboard, or canoe. Many lakes offer cheap rentals for a few hours or you can bring your own. Bring a buddy and spend the day out on the water while getting an amazing cardio workout in as you paddle. Anything on the water is a great activity to help you get outside! Fishing is a great way to teach patience for kids if you're out on the water. If you are new to kayaking or paddleboarding it is super easy to learn. Pro tip: make sure you know how to swim.
Learn Something New
Learning how to do something new can be so rewarding. During your at-home staycation, decide to learn a new skill. Learn how to knit that chunky blanket that you keep seeing on Pinterest. Figure out how to play your favorite song on guitar. Learn a new language. Learn the ins and outs of Photoshop. Get so good at your new skill during your staycation that you emerge a master and impress everyone.
Embrace the Art of Charcuterie
A charcuterie board is a layout of meats and cheeses normally with crackers, fruits, nuts, and basically anything else that you want to include. Essentially a charcuterie board is a fancy word for a cheeseboard. It is the perfect appetizer since it does not involve any cooking and is super simple to assemble. While it may be easy, there are essential elements of charcuterie that make it successful. So why not ace the art of charcuterie? Spend your staycation figuring out your favorite board spread. And then enjoy eating it.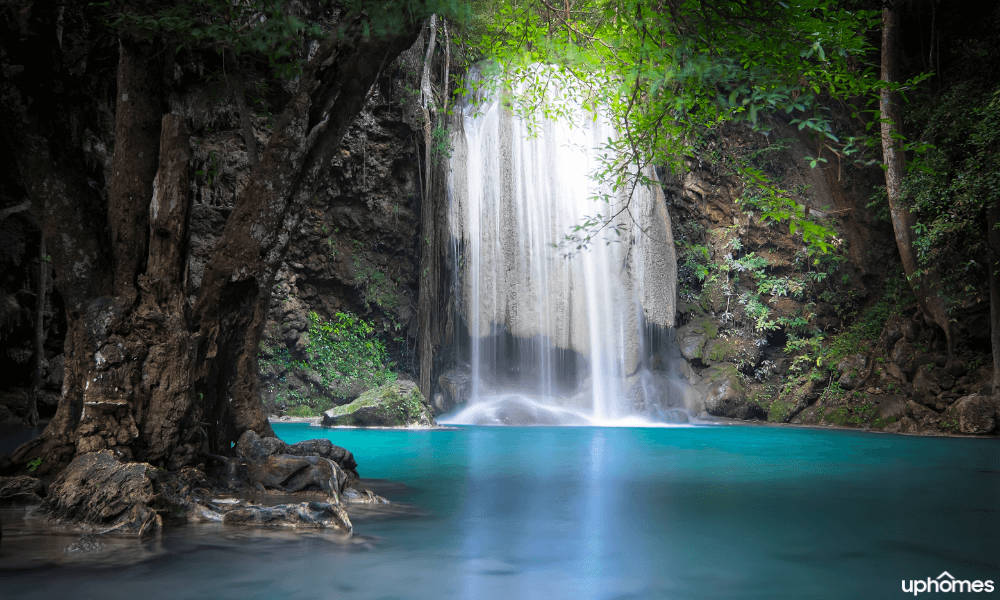 Go, Chase, Waterfalls
Look up the closest waterfalls and go find them! This is a great staycation idea for friends, family, kids, and anyone who is looking for something fun to do. This is the type of staycation idea that no matter where you live there is a way to embody the nature around you whether it's waterfalls, rivers, lakes, and more. One of the best things to do during a pandemic is to find ways to stay active and a little nature day is a perfect way to combine activity and fun! Oh, and did we mention the gorgeous pictures you'll be able to take for your Instagram! A memory you'll have forever.
Fancy Brunch
Do you know what's even better than getting to sleep in and relax on your staycation at home? Making yourself a fancy brunch! Brunch is a staple in our book and is an important part of the day. Browse the internet or your cherished cookbook for recipe inspiration. Decide to make something new like Croissant French Toast or bake a quiche. Get some espresso to make a fancy latte and decorate the table with fresh cut flowers. And whatever you do, do not forget the mimosas.
Staycation Tips and Tricks
Now that you know our list of the best staycation ideas, here are some tips to ensure that your staycation actually stays the best.
Focus on you. In order to enjoy your staycation, do what will make you happy. The whole purpose of a staycation is about self-care and being present in the now. Take the time to do what you want. Use this "me time" to your advantage and be fully engaged in what's around you.
Appreciate your surroundings. You are probably used to actually going somewhere different on a vacation. But this time around you'll be staying at home and learning how to have fun without going anywhere. You will learn to appreciate what you have and to enjoy the little things.
Live in the moment. Be happy and stay as stress-free as possible. Try not to think about your upcoming week and live in the moment. Be spontaneous.
Think about all of the money you are saving. Traveling places on vacation adds up quickly. But one of the pros of a staycation is the fact that you will have no travel costs. Staying at home really is the popular thing to do
Be Intentional. Plan and enjoy your staycation with intention. Choose to do something that brings you joy. Do something that you will be proud of. Find your passion.
If you enjoyed the article please help us spread the word by sharing it socially with friends and family!
#blog-toc-staycation-ideas#

Find your new home
Search real estate and homes for sale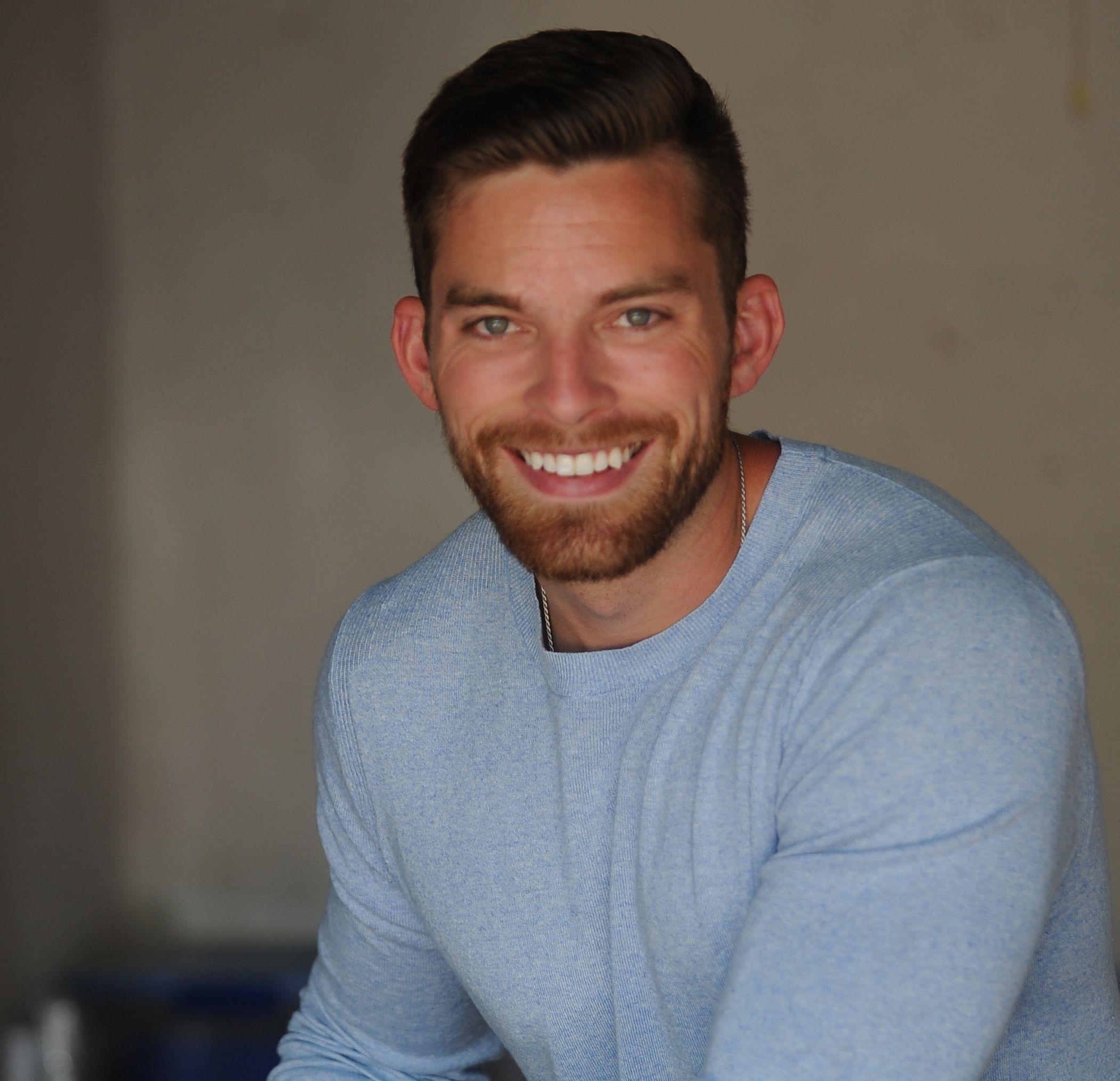 Ryan Fitzgerald
Hi there! My name is Ryan Fitzgerald, and I am a REALTOR®. My goal is to help you learn more about real estate through our Real Estate Blog! Hopefully, you enjoyed the above blog post and it found a way to provide help or value to you. When you're ready to buy or sell a home of your own let us know here. Please feel free to join the conversation by dropping us a comment below.