6 Best Neighborhoods in San Diego, CA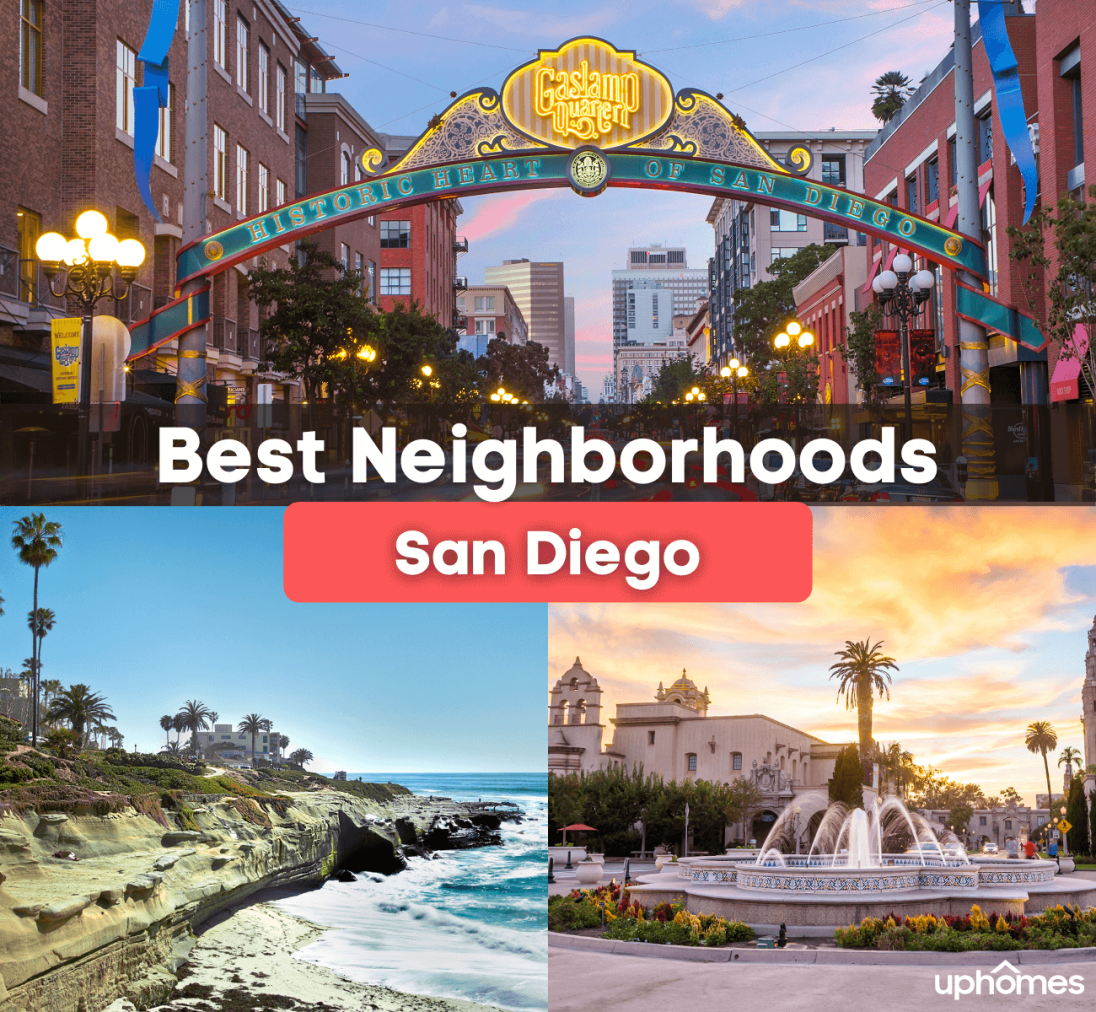 Best Places to Live in San Diego, CA
What are the best neighborhoods in San Diego? Check out 6 of the top places to live in SD below!
If you want to live somewhere with perfect weather all year round, look no further than San Diego, California. Considered one of the best places to live in California, San Diego is a fun place to call home, with fantastic beaches, affordable neighborhoods, and many business opportunities. Not only is the local economy growing and remaining strong, but many companies and start-ups are choosing San Diego as their headquarters location. Large companies, including Cubic Corporation, Pulse Electronics, Sony, and Qualcomm, are among the top businesses in the city that employ many residents.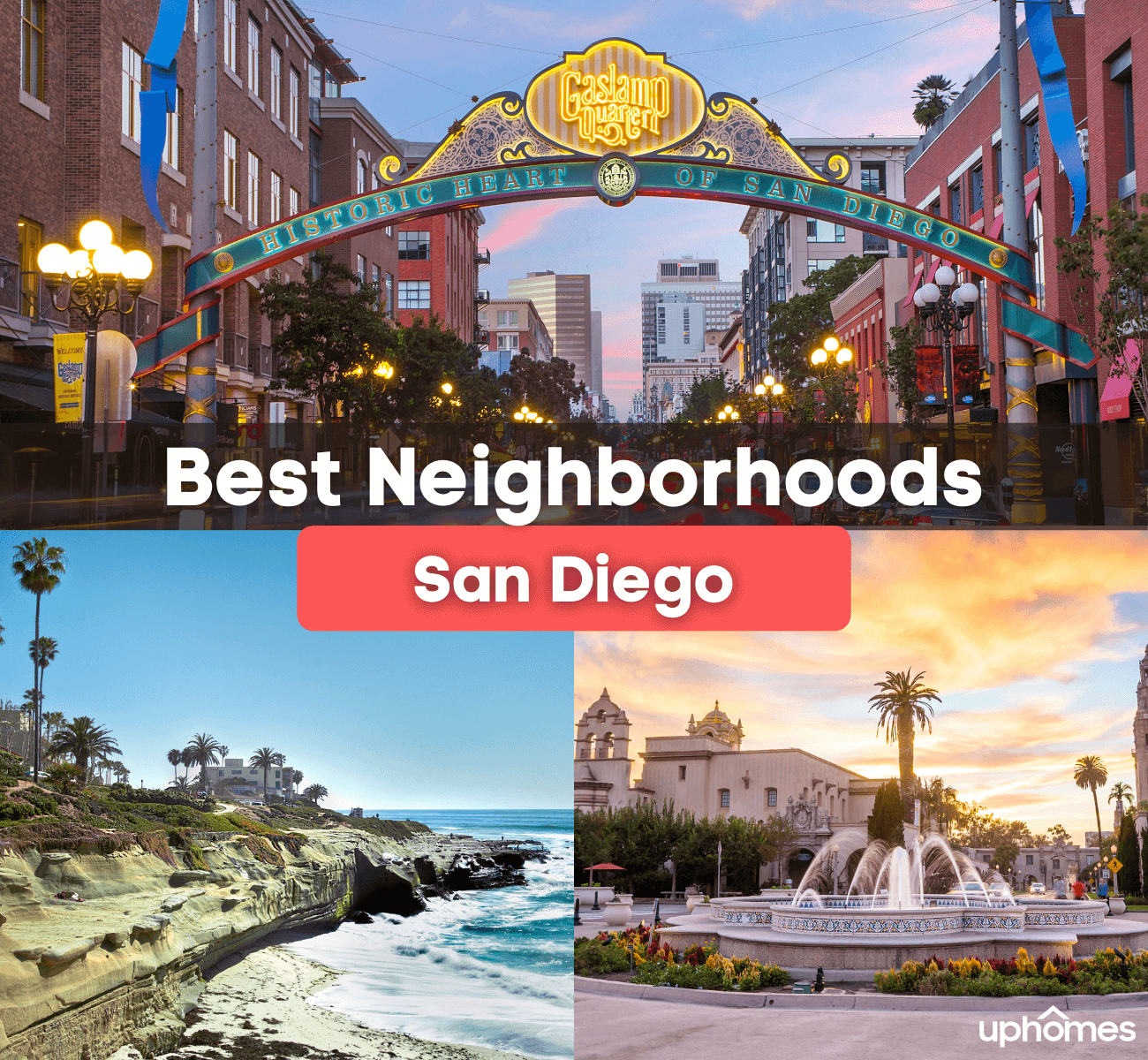 If you have always wanted to live in California and are considering moving to San Diego, this neighborhood guide will help you find a pleasant and safe neighborhood. With the help of this guide, learn where you should live in San Diego while staying away from the wrong areas. Read on to learn more about the 6 Best Neighborhoods in San Diego, California!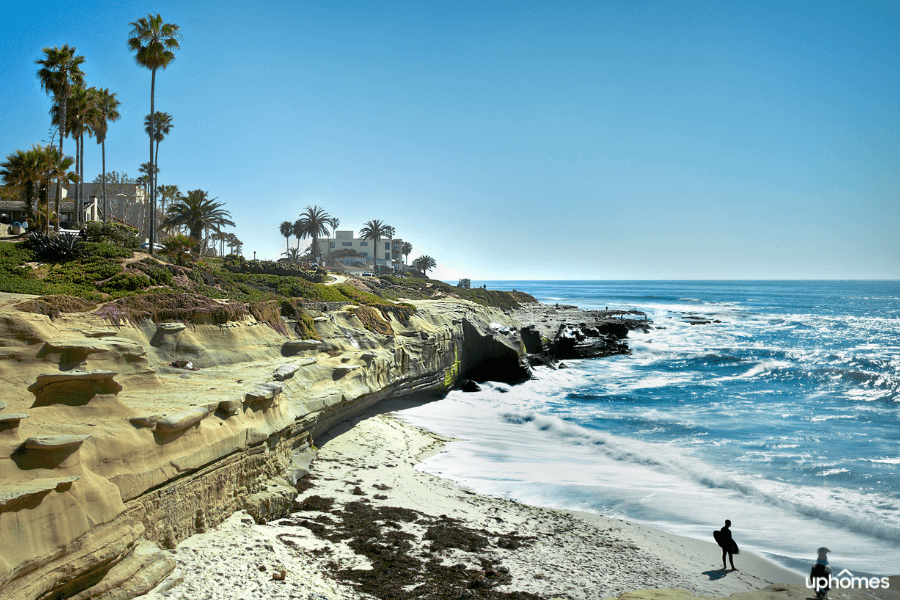 La Jolla
The gorgeous neighborhood of La Jolla is right next to the seaside on the San Diego coastline. Surrounded by pine trees and sandstone canyons, La Jolla offers its residents breathtaking views and scenery that is out of this world. With palm trees that sway in the breeze and beaches that attract every surfer nationwide, La Jolla is home to many wildlife and colorful fauna. Great for young professionals, families, and retirees alike, every day in La Jolla is comparable to living in paradise. If you are moving with school-aged children, then be happy to know that the public schools in La Jolla are all highly rated. Plus, with the technology industry, real estate, and tourism dominating the economy, the neighborhood of La Jolla is as thriving as it is beautiful.
With so much to do, find residents running on the beach, kayaking, shopping at luxury boutiques, or dining al fresco at one of the many chic eateries. There are various events and festivals planned throughout the year for residents to enjoy and participate in, including the La Jolla Open Aire Market and the La Jolla Fashion Film Festival. On the other hand, remember that all this holy living comes with a hefty price tag. The median home price in La Jolla is $1.7 million. But in our opinion, living in La Jolla is definitely worth the money. Check out the homes for sale in La Jolla.
Local Favorites: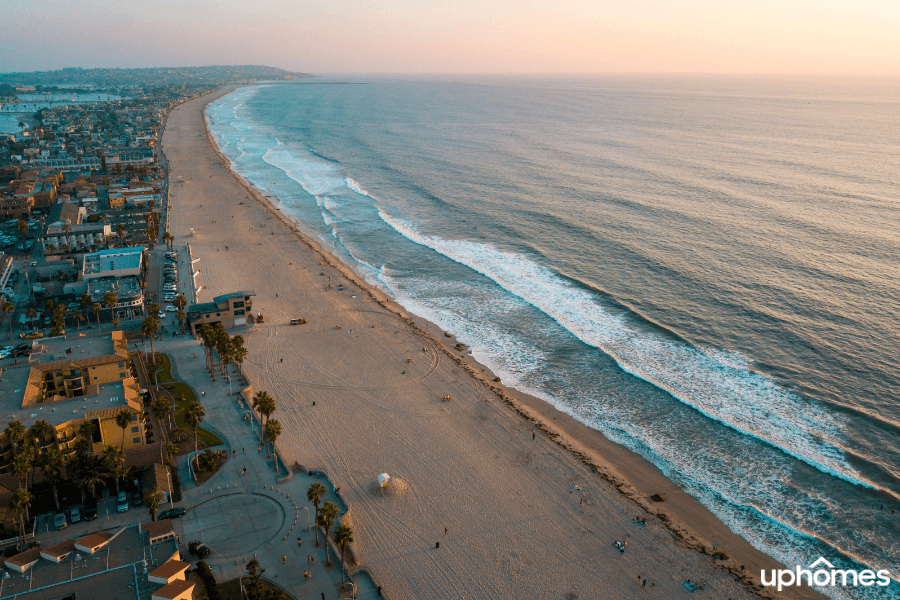 San Marcos
Found in the northern area of San Diego, the neighborhood of San Marcos is a progressive community home to about 95,000 residents. Boasting one of the lowest unemployment rates in San Diego County, many young professionals and families are moving to the area in search of high-paying jobs. San Marcos has a low crime rate and is safe and well-maintained. Known for having some of the city's best restaurants, the San Marcos residents love to eat out and dine on the local cuisine.
The neighborhood also loves to spend time outdoors at one of the many parks, walking trails, and green spaces. Spend your day walking, running, biking, or jogging while exploring all San Marcos offers. Not to mention housing prices are way more affordable than in other areas in San Diego. The median home price in San Marcos is around $613,000. San Marcos is quickly becoming one of the most desirable neighborhoods in the city, and it is easy to see why. Check out homes for sale in San Marcos.
Local Favorites:
Del Mar Mesa
What was once a farming community has since become one of the most sought-after neighborhoods in San Diego. Mixing an urban lifestyle with semi-rural living, the neighborhood of Del Mar Mesa stands out from other San Diego neighborhoods because 900 acres of this area are preserved wildlife habitats. Built in the early 2000s, Del Mar Mesa sits only four miles from the Pacific Ocean and is well known for its breathtaking scenic views. Making up 2,042 acres of the city, Del Mar Mesa has over 10 miles of walking paths, biking trails, and hiking trails that are perfect for traveling throughout the neighborhood and admiring the great outdoors.
This bustling community has many coffee shops, golf courses, restaurants, resort hotels, and large homes, perfect for any nature enthusiast. Ideal for raising a family, Del Mar Mesa is prized for its low crime rate and highly rated schools. Though the neighborhood tends to show off its rural characteristics, residents like to describe the area as a "rural preserve" due to its open land and immaculate architecture. The median home price in Del Dar Mesa almost reaches $1 million. In our opinion - living in Del Mar Mesa is super unique and laid back. Check out all homes for sale in Costa Mesa.
Local Favorites: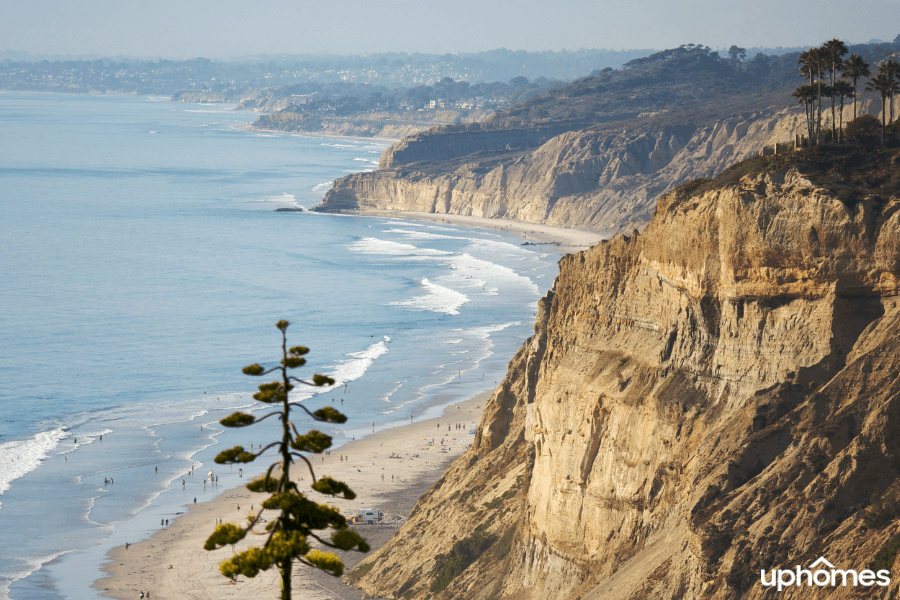 Solana Beach
Situated on the northern coast of San Diego, Solana Beach is known for its surfing, art galleries, and unique seaside boutiques. With a population of around 13,000, this neighborhood has some of the city's best ocean views.
Much like living in La Jolla but living in Malibu, Solana Beach was built on bluffs that sit directly above the beach. Considered a great place to live due to its low crime rates and excellent school system, this neighborhood offers its residents a nice mix of urban and suburban living. Whether you love to swim, fish, surf, or kayak, living near the ocean has many perks and provides residents with many ways to stay fit and active outdoors. The current median home price is listed at $1.1 million. Solana Beach may be the perfect neighborhood if you have always dreamed of living near the water.
Local Favorites: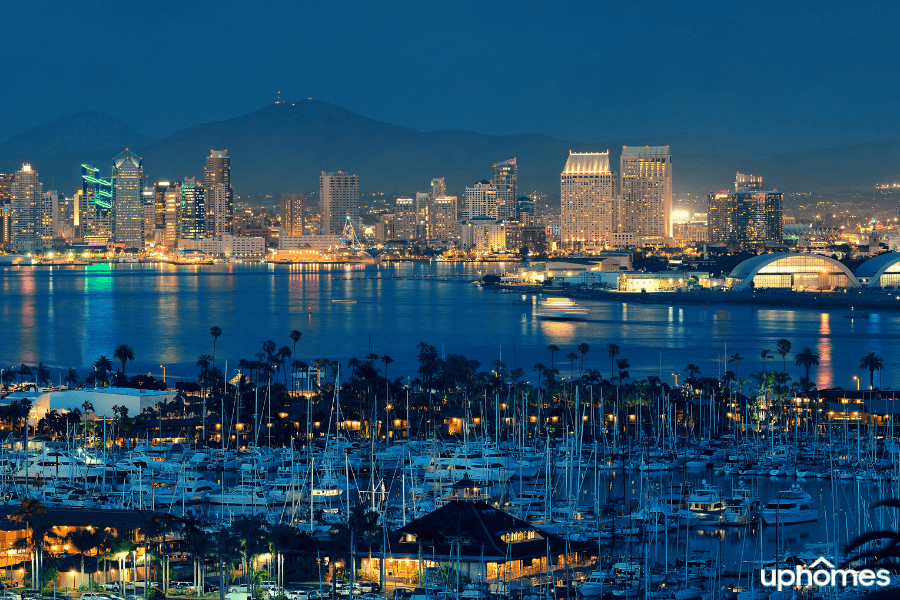 Pacific Highlands Ranch
Much like living in Del Mar Mesa, the neighborhood of Pacific Highlands Ranch has preserved half of its land as a natural habitat that provides the community with many nature trails. As one of the newest master-planned communities in northern San Diego, living in Pacific Highlands Ranch has many perks and benefits. Considered an affluent neighborhood, residents have easy access to nearby beaches, high-end shopping districts, fabulous dining, and top-of-the-line golf courses.
Surrounded by parks and green spaces, residents often describe the neighborhood as having a sparse suburban feel. Many homes here cater to the upper and upper-middle class, where most households earn an average annual income of more than $200,000 a year. Due to this, the current median home value sits at about $1.4 million. Not only is this neighborhood safe and family-friendly, but many people are choosing to move to Pacific Highlands Ranch for its many open spaces and large lots. If you want to be one with nature and do not mind a short commute to downtown San Diego, consider moving to Pacific Highlands Ranch.
Local Favorites:
Torrey Pines
This residential neighborhood in the northern part of San Diego spans 2,600 acres and is home to a population of 13,000. Providing its residents with a dense suburban feel, the neighborhood of Torrey Pines was named one of the best suburbs in San Diego. Near La Jolla, Torrey Pines is home to multiple golf courses and nature preserves.
There are abundant top-rated public and private schools, including Torrey Pines High School, perfect for raising a family. If you are moving with kids, then it is guaranteed that they will love Torrey Pines just as much as you will. The median home value in this neighborhood is a little over $1 million.
Local Favorites: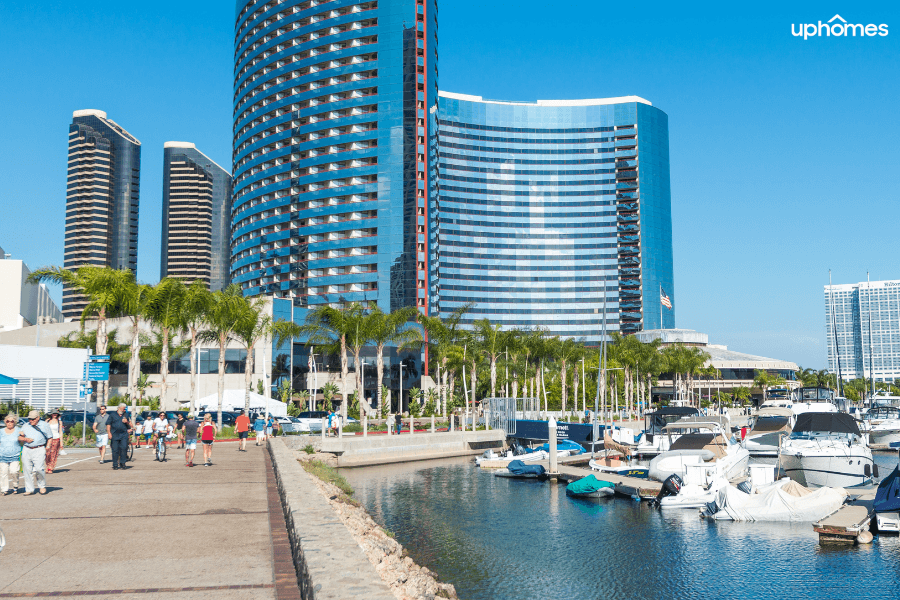 The 6 Best Neighborhoods in San Diego, CA - The Bottom Line
While living inLos Angeles or San Francisco may have its perks, moving to San Diego is becoming a popular destination among young couples and professionals. Before moving to the area, get in touch with one of our knowledgeable and professional Realty Specialists. With the help of our team, you and your family will be able to find your dream home in a neighborhood that is suitable for your lifestyle. Contact us today!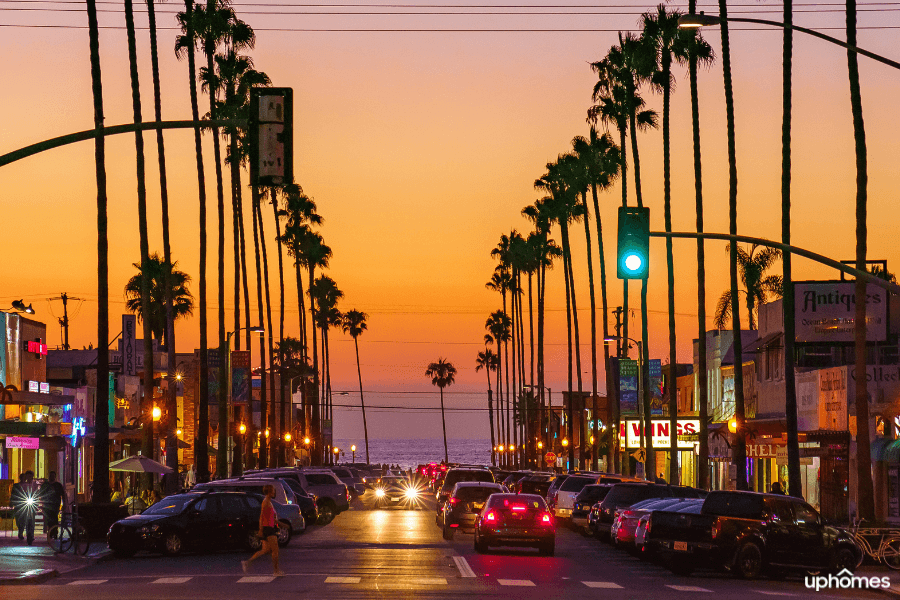 #blog-moving-california-cta#

Find your new home
Search real estate and homes for sale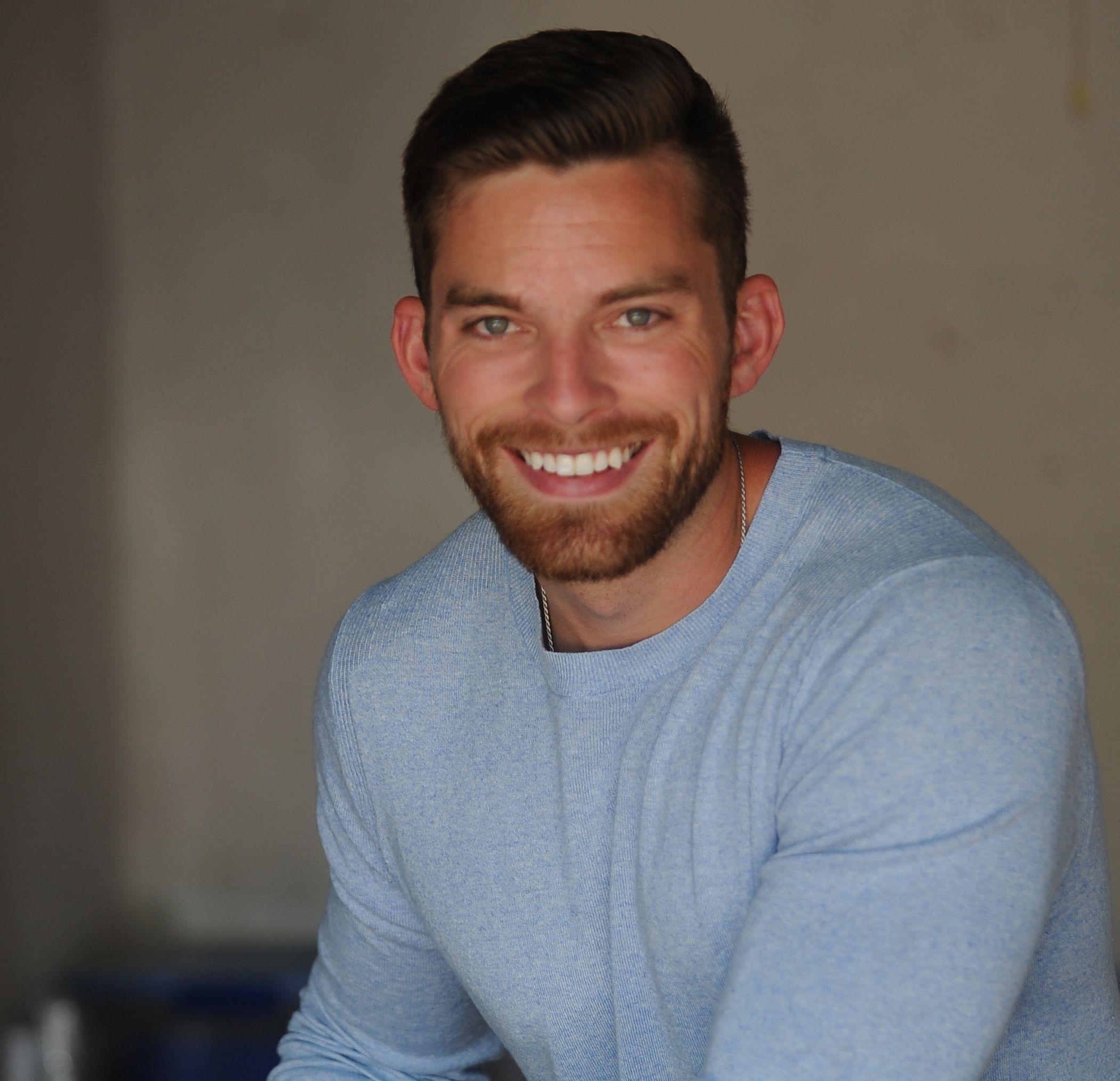 Ryan Fitzgerald
Hi there! My name is Ryan Fitzgerald, and I am a REALTOR®. My goal is to help you learn more about real estate through our Real Estate Blog! Hopefully, you enjoyed the above blog post and it found a way to provide help or value to you. When you're ready to buy or sell a home of your own let us know here. Please feel free to join the conversation by dropping us a comment below.