7 Best Neighborhoods in Reno, NV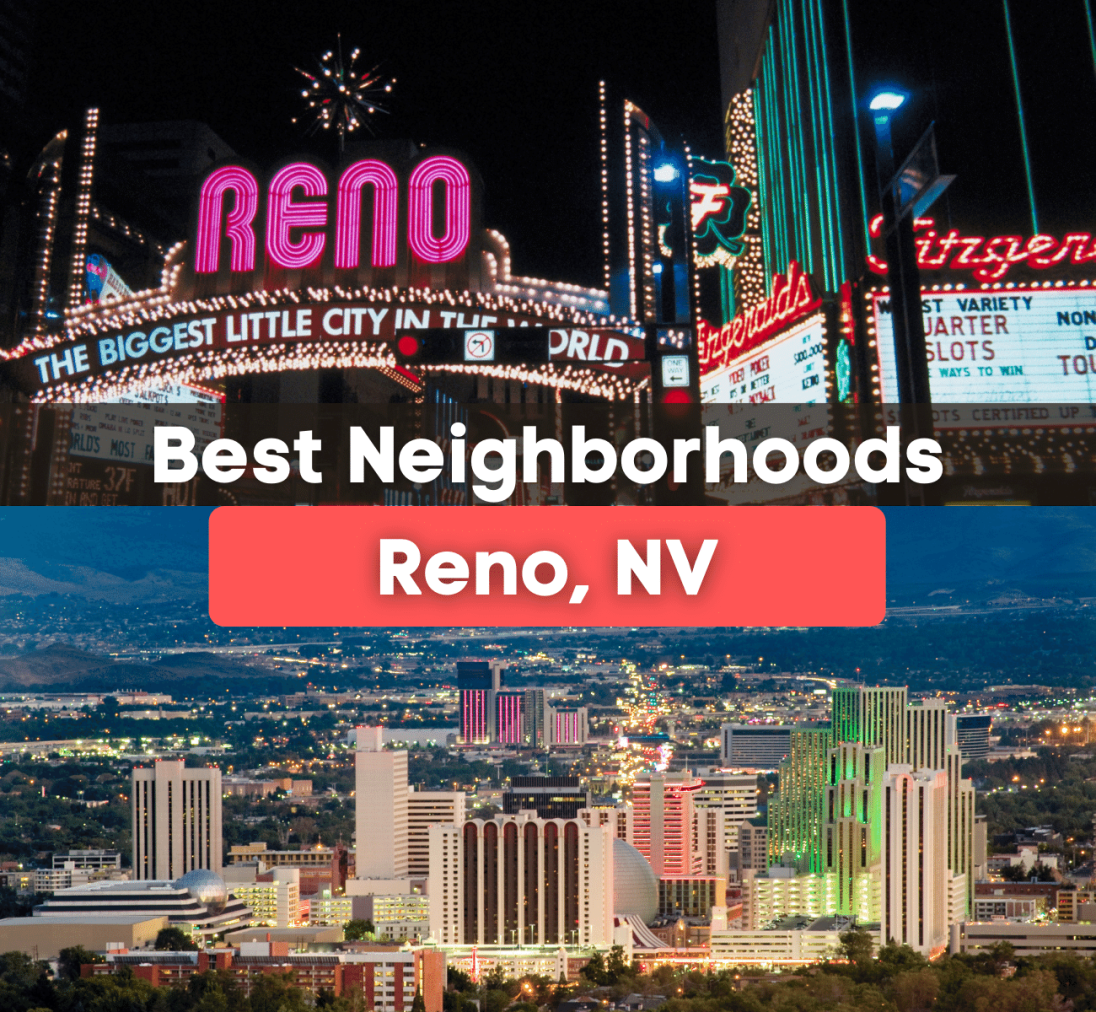 Best Places to Live in Reno
Are you looking for the best places to live in Reno? Here are seven of Reno's best neighborhoods!
Best known for its shining lights and casinos, Reno, Nevada, is a good place to live due to its excellent quality of life. While Reno may be known as "The Biggest Little City in the World," its number of safe neighborhoods and nice areas to call home is part of why so many families and retirees are moving here.
Home to some of the most luxurious and picturesque neighborhoods in the United States, Reno is currently experiencing rapid growth due to its easy access to outdoor excursions and family-friendly environment. With its location between the Sierra Nevada mountain range and the Virginia Foothills, most neighborhoods in Reno offer beautiful views and top-of-the-line amenities.
From upscale suburban communities to lively, upbeat neighborhoods, there is no shortage of great places to choose from that will fit any budget and lifestyle. So if you are moving to Reno and are wondering what the best area to live in Reno is, then this is the ultimate neighborhood guide for you!
Keep reading to find out where you should live in Reno!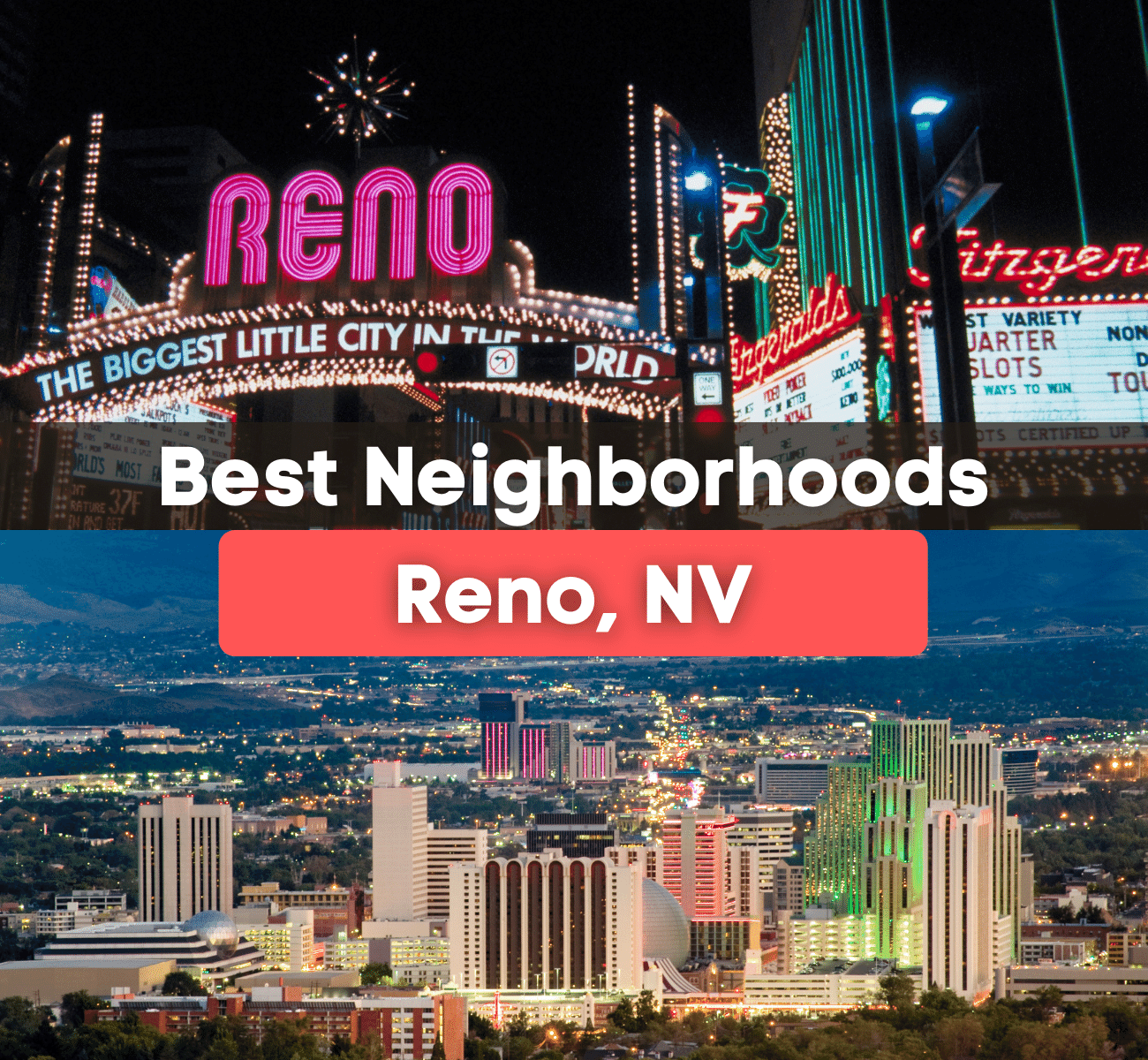 Search the best neighborhoods in Reno, NV, below!
Downtown Reno
Even though Reno may be nicknamed "the poor man's Vegas," Downtown Reno has many brightly lit streets and entertainment options that set it apart. Found at the heart of the city and recognized as a 24/7 entertainment district, Downtown Reno is a lively place to call home that is ideal for singles and young professionals that always want to have something to do.
Home to big-name casino resorts and the iconic Reno arch that lights up at night and has been featured in many movies, Downtown Reno offers one of the most buzzing and exciting lifestyles in Nevada. Featuring many local shops, hip bars, trendy cafes, world-class restaurants, and highly-rated entertainment options, there is always something new to do and see when living in Downtown Reno.
The Downtown Reno Riverwalk is the center of the Downtown district, a go-to spot to explore the city's art, culture, and heritage. You will never be bored living in Downtown Reno with more than three dozen boutiques, art galleries, salons, coffee shops, lounges, and wine bars.
Local Favorites: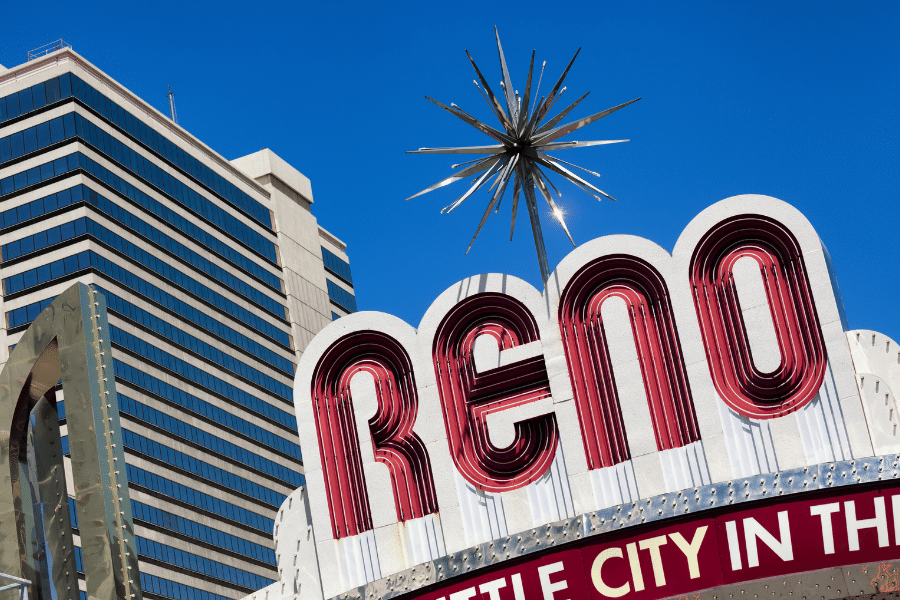 Midtown
Considered to be Reno's most diverse location, the Midtown district is a special place to live in Reno between South Virginia Street and Holcomb Avenue. Though Midtown may be a relatively small area, it is known to be one of the best places to live in Reno since it is home to more than 250 businesses, including local boutiques, art galleries, restaurants, and entertainment venues.
Recognized as the birthplace of the Biggest Little City's renaissance, Midtown is one of the oldest residential neighborhoods in Reno and one of the most vibrant business districts. Offering its residents urban living with a laid-back vibe and distinct art scene, frequently changing murals and public artwork are found around every street corner.
With a famous nightlife scene, many young professionals, couples, and singles are moving to Midtown to explore the neighborhood's many bars and watering holes. Also known for being one of the best places to shop in town, this neighborhood is full of artists and small business owners trying to make a positive change in the community. Check out homes for sale in Midtown.
Local Favorites:
Damonte Ranch
Damonte Ranch is a beautiful master-planned Reno community found at the base of the Sierra Nevada Mountains. Planned as a family-friendly community, Damonte Ranch consists of 1,962 acres and was built for mixed-use that features both residential and commercial properties. Damonte Ranch is full of adventure, with many community parks, picnic areas, open spaces, wetlands, and walking trails. Damonte Ranch High School has been ranked as the 24th best school in Nevada for those moving with school-aged children.
Local Favorites: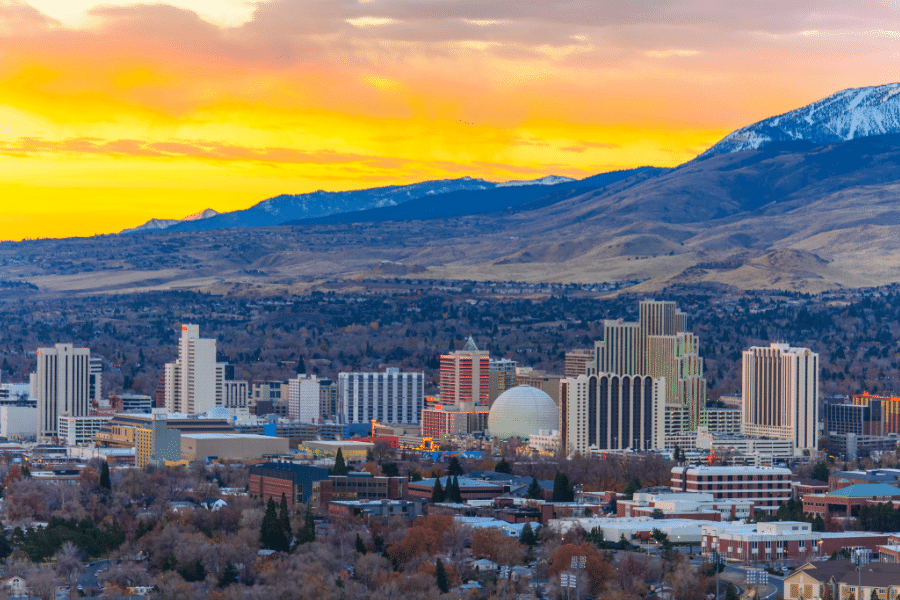 Caughlin Ranch
Caughlin Ranch is one of the finest and most sought-after master-planned communities in Reno that spans from the foothills of the Toiyabe National Forest to the Truckee River. Encompassing 2,300 acres, Caughlin Ranch offers a variety of single-family homes, commercial properties, and professional offices built with families in mind.
Located close to Downtown Reno and within proximity to top-rated restaurants, shops, entertainment, and outdoor activities, Caughlin Ranch was designed to offer the perfect balance between the community and nature. Home to a total of 30 subdivisions, 26 ponds, and three parks, including Village Green, Caughlin Crest, and East Ridge, this Reno neighborhood is truly unique.
Some of the best schools in the area include Caughlin Ranch Elementary School, Darrell C Swope Middle School, and Reno High School for those moving with school-aged children.
Local Favorites:
Arrowcreek
The Club at Arrowcreek is a 3,200-acre master-planned golf community that offers panoramic city and mountain views. Located in the foothills of Southwest Reno, this neighborhood features an 18-hole championship golf course, swimming pools, tennis courts, a fitness center, and miles of hiking and biking trails that will encourage all residents to live an active lifestyle.
Found only about 25 miles from Incline Village and northern Carson City, Arrowcreek provides a wide variety of luxury homes and custom-built homes that feature top-rated amenities. With 1,000 home sites and 3,200 acres, most homes start at about $400,000.
Some of the best public schools that serve the area include Hunsberger Elementary School, Arrowcreek Middle School, and Galena High School. Check out these homes for sale in Arrowcreek.
Local Favorites: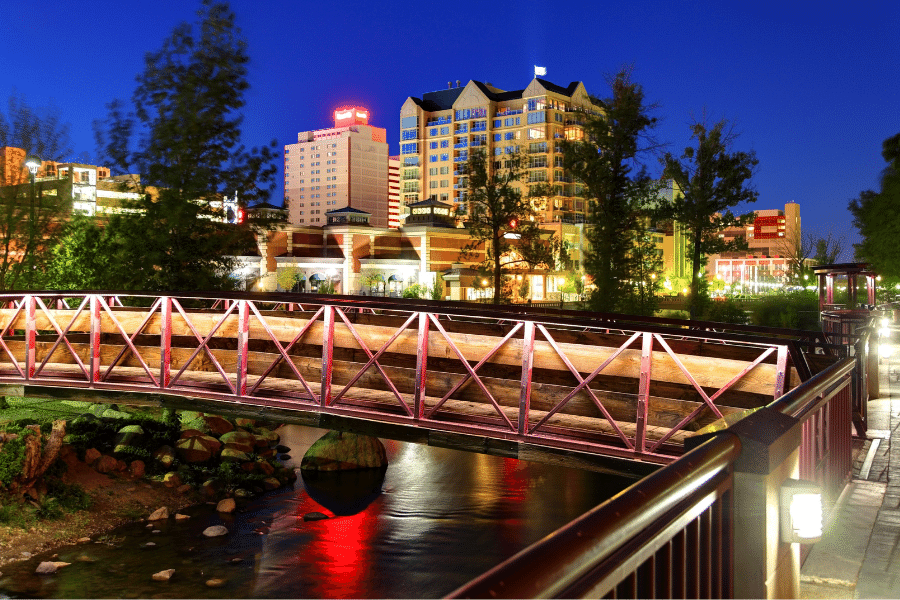 Newlands Historic District
Newlands Historic District is the second neighborhood in Reno to be listed on the National Register of Historic Places, right behind the University of Nevada Reno Historic District. Located on the bluffs of the Truckee River, this historic district is dedicated to preserving the history of Truckee Meadows. As a neighborhood that shaped Reno's early suburban development, the Newlands Historic District has significantly impacted the city.
By adopting the City Beautiful Movement, which focused on urban planning and design influenced by social issues in the 20th century, the Newlands Historic District and many others in the area started transitioning to pedestrian-friendly and automobile-friendly neighborhoods.
Featuring forested streetscapes, well-maintained landscaping, public parks, open green spaces, private gardens, urban art, and beautiful historic architecture, it is no wonder that so many individuals want to move here. Top schools in the Newland Historic District include Jessie Beck Elementary School, Darrell C. Swope Middle School, and Reno High School.
Local Favorites:
Fieldcreek Ranch
Fieldcreek Ranch is recognized as one of Reno's top custom home neighborhoods that were first developed in the early 1990s by Filberto Ferroni. Offering beautiful views of the mountains and the city, Fieldcreek Ranch offers spacious homesites and homes that range in price to fit almost any budget.
Within the community lies Wolf Run Golf Club at Fieldcreek Ranch, which features its large home sites on the golf course. This semi-private 18-hole golf course opened for play in 1998 and was designed by John Fleming. Offering excellent facilities, challenging greens, spectacularly managed fairways, and delicious dining options for a reasonable price, this neighborhood is perfect for all skill levels, whether you are an avid golfer or just learning how to play.
Some of the best schools near the neighborhood include Lenz Elementary School and Damonte Ranch High School.
Local Favorites: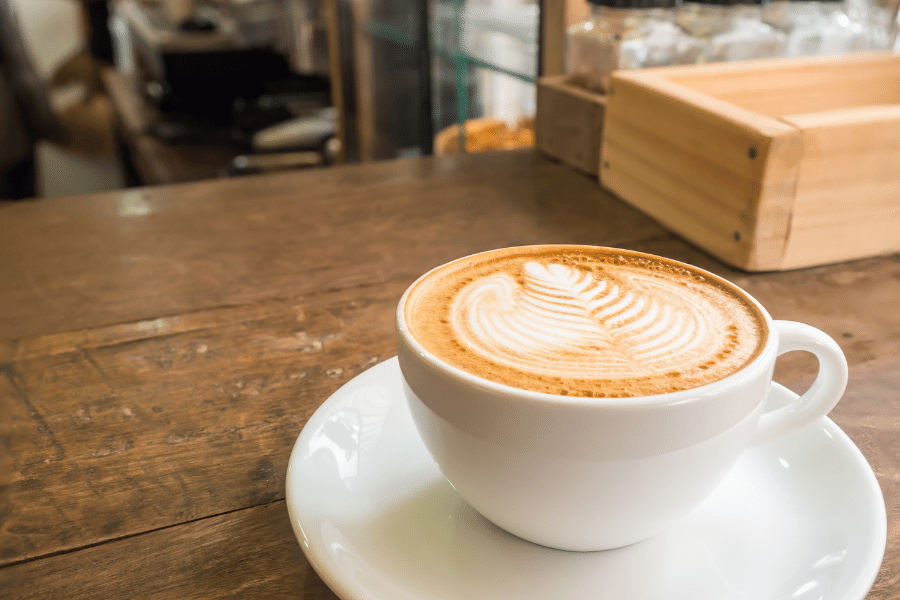 Where do you see yourself living in Reno, NV?
Even though Reno may be a significant vacation destination, its number of safe neighborhoods and tight-knit communities make this Nevada city a great place to live. With so many significant areas to choose from in Reno, it is hard to pick just one.
Before moving, reach out to one of our knowledgeable and friendly Real Estate Specialists to assist you throughout the home buying process and answer any questions you may have. Once you have decided on a property type and budget, our team will be there to help you find a neighborhood that best fits your lifestyle.
Whether you search for single-family homes for sale in Reno, luxury homes for sale in Reno, townhomes for sale in Reno, and condos for sale in Reno, contact us today to kick start your home-buying journey!

Find your new home
Search real estate and homes for sale