5 Best Neighborhoods in Arvada, CO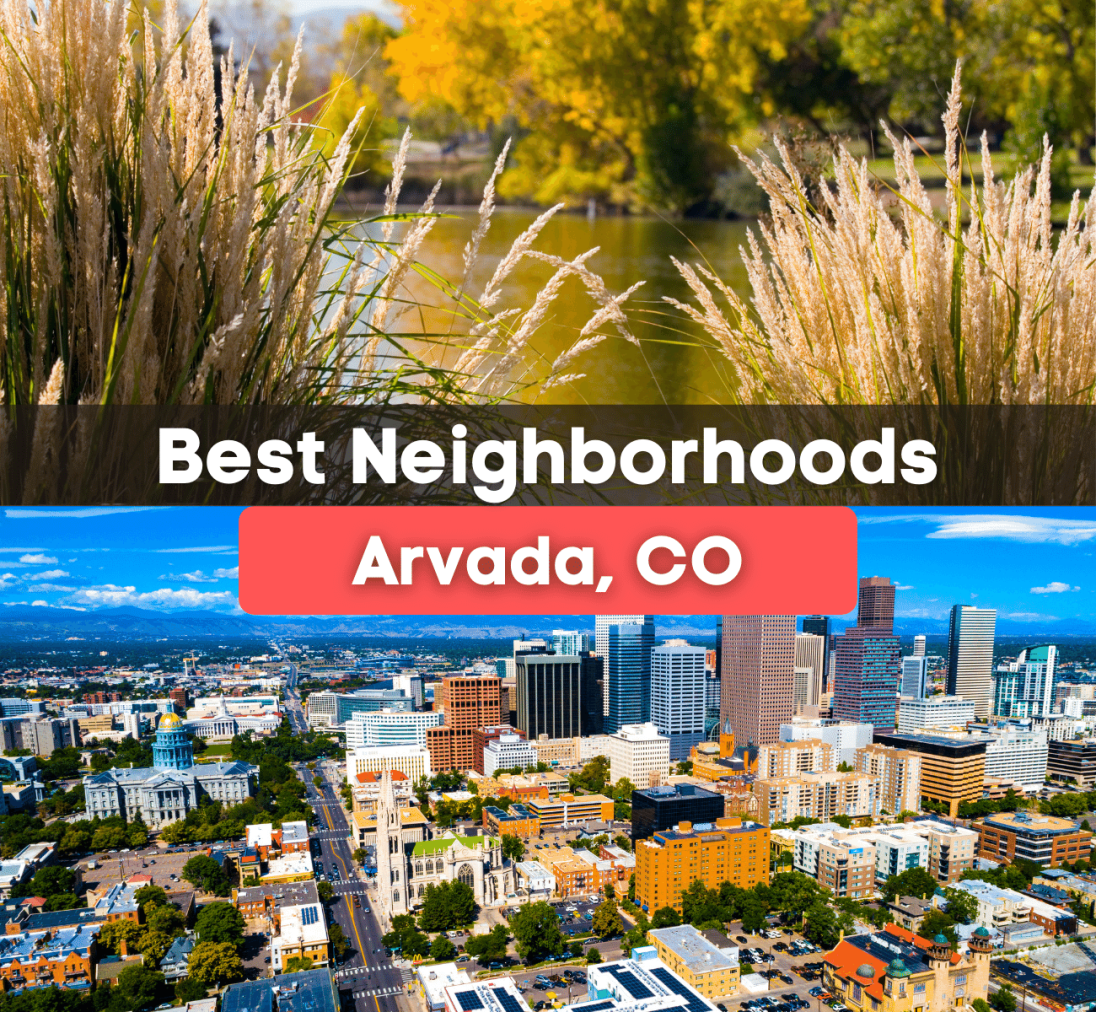 Best Places to Live in Arvada, Colorado
What are the best neighborhoods in Arvada? Here are the best places to live in Arvada, CO!
If you're thinking about moving to the Denver suburb of Arvada, you've come to the right place. It's located west of Westminster and covers Adams and Jefferson Counties. It's in a prime location just east of the Rocky Mountains. Compared to Westminster, Arvada typically has better schools, a stronger job market, higher quality of life but a higher cost of living. People who live in this city love to get outdoors at the 90+ parks across Arvada.
The cost of living can be similar to Denver in some ways, but you will more than likely get more space and more bang for your buck here. The Jefferson Public School district is one reason families come to Arvada because it offers kids a top-rated education. For buyers looking for a home, there are a lot of different neighborhoods to explore and choose from depending on your budget and lifestyle.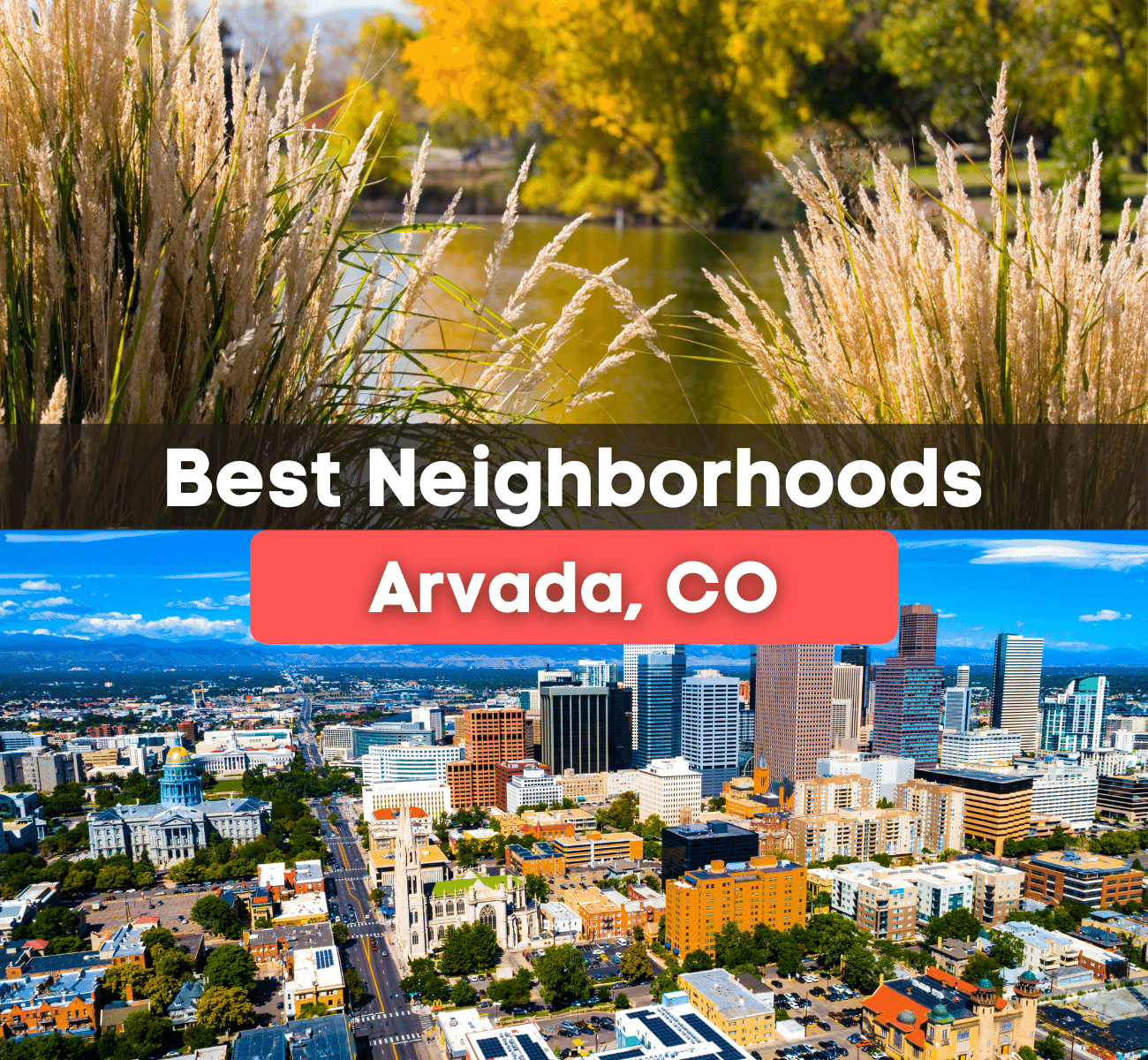 The median home listing price for a home right now is anywhere from $350,000 to $450,000 and it's a highly desirable housing market. Arvada also attracts young professionals who like the outdoors and year-round indoor activity venues like Activate Indoor Activity Park and Archery Games Denver.
If you're still considering whether Arvada is the right place for you, make sure to check out our blog: 10 Things to Know Before Moving to Arvada, Colorado. (LINK TO ARTICLE) When moving to a new place, it's important to find the right neighborhood to fit you and your family. We've done the research for you to ensure you get a glimpse of the best neighborhoods and choose the best one for you. Keep reading to see the 5 best neighborhoods in Arvada!
Candelas
Candelas is a fairly newer neighborhood that was developed in 2013. It offers houses anywhere from $400,000 - $1.3 million+. Located off of Candelas and 86th, it's a neighborhood that has something to offer for a wide range of budgets. The neighborhood offers single-family homes as well as townhomes.
You can find some of the townhomes in this area for less than $400,000, closer to the $300,000's, depending on what's on the market at the time you are looking. Candelas has plenty of amenities for residents who live there including a pool, fitness center, and plenty of parks scattered throughout the neighborhood. You can easily find walking trails to explore and a small pond nearby.
Another convenience to the residents of Candelas is that it's close to many shopping options like King Soopers grocery store. There is also a new medical center being built nearby, a daycare called Primrose right down the street, several fast-food restaurants, and a tire shop. It's an area that is up and coming with a lot of land available where new amenities are being built. If you have kids, there is also a high school near Candelas called Ralston Valley High School. The views in this neighborhood are stunning!
It gives you a mountain feel while still being near the city. One con of Candelas that may draw some people away is that it's near an area called Rocky flats which used to be a place where they made nuclear weapons. However, back in 1995, the plant was subject to a $7 billion dollar clean-up fund. Now, it's just an animal refuge.
Local Favorites:
Standley Lake: Located about 10 minutes from Candelas, Standley Lake is a 1,200-acre reservoir that offers paddle boarding, kayaking, fishing, picnics, walking, bicycling, camping, and wildlife viewing.
Stoney Creek Golf Course: The golf course is located in a country setting with trees, bushes, creeks & brooks. It's set in a small valley so noise from cars is eliminated. Beautiful views of the mountains!
Cimarron Park: Located next to the neighborhood swim & fitness club, the park offers a multi-purpose turf field, tot lot, swings, park shelter, and community amphitheater.
Forest Springs
Forest Springs is a neighborhood with about 108 homes, located in West Arvada. It's a well-cared-for area and many of the homes are unique. It's a family-friendly neighborhood with beautiful landscaping. It is also convenient to the King Soopers grocery store and several other shops & fast food restaurants.
Forest Springs is not technically a 55+ community, but residents there would say it is. This area definitely has an older population because of the patio-concept homes. The detached patio home community was constructed in the mid-1990s.
The HOA maintains the ground maintenance, exterior maintenance, and snow removal in its monthly fees. It's an ideal neighborhood for people who love low maintenance. In 2019, Forest Springs won the city of Arvada's Neighborhood of the Year award which celebrates neighbors who are building strong communities. The neighborhood won because of the organized activities like its first National Night Out block party and neighborhood movie night.
They also created a community library box, built a community seating area, and hosted a police safety workshop. The neighborhood also got involved in volunteer work by launching a challenge for neighborhood groups across the city to make birthday bags for families served at the Community Table.
Local Favorites:
Forest Springs Park: Offers outdoor recreation with a playground and nature preservation. There are also fitness stations, horseshoe pits, and a bocce court.
West Woods Range Golf Course: Golfing center featuring three courses, a pro shop & a restaurant with a patio & scenic views.
Home Cookin Cafe: Family-owned and operated breakfast & restaurant joint with house-made specialties like the breakfast burrito.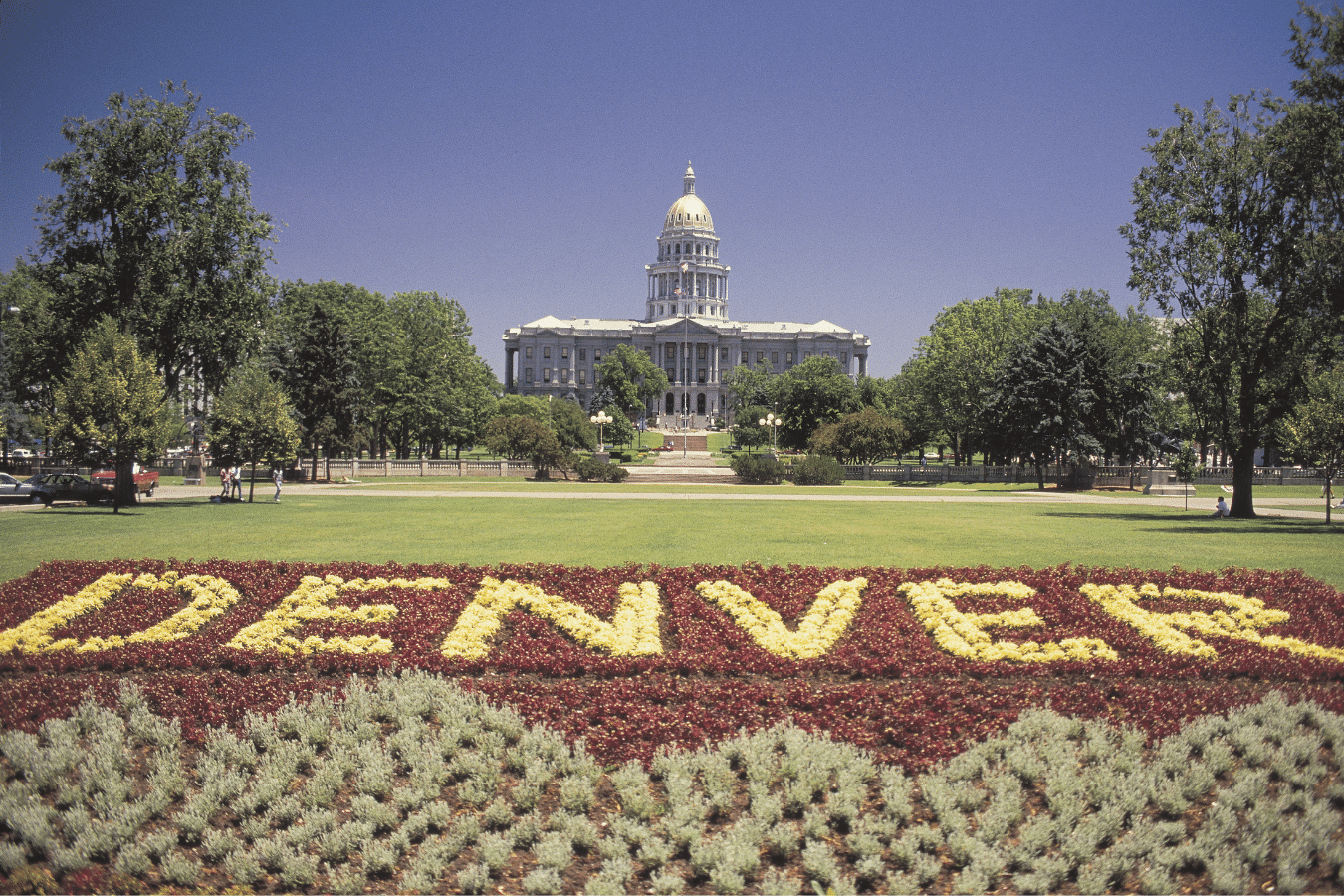 Village of Five Parks
The west metro neighborhood of Village of Five Parks is located minutes away from work or play amenities. It's situated on Holman St and 84th Place, just minutes from Colorado Highway-72. Each of the homes in this neighborhood is built with innovative, energy-efficient features to cut down on utility bills.
The homes qualify for five-star energy efficiency ratings. The price for homes in this neighborhood starts at about $523,000 with 1,461-2,011 square feet but the average price is about $705,000. Village of Five Parks is also located in the Jefferson County School District so your kids will get a high-quality education. Ralston Valley High School is located right next to the neighborhood. Kids in this area also usually attend Meiklejohn Elementary and Wayne Carle Middle School.
You will pay HOA fees here around $127 a month but they do a good job with maintenance and you won't have to spend time on fixing your lawn. This neighborhood is an award-winning community that began construction in 2002. The developer, Village Homes, promised to build a community of 625 houses, retail shops and office centers, recreation facilities, and parks, all within walking distance.
Local Favorites:
North Standley Lake Open Space Park: 3,000-acre park offering a lot of outdoor fun! Located next to Standley Lake, the park offers paddleboarding, kayaking, fishing, picnics, walking, bicycling, camping, and much more.
Simms Street Recreation Center: Rec center featuring gymnastics, dance & cheerleading studios, pottery studio, outdoor & indoor pickleball courts, preschool gym, multipurpose room, arts & crafts studio, health & fitness room, and a multi-purpose gym.
Westminster Hills Dog Park: Large, off-leash park for dog walkers spanning 420-acres with trails and some unfenced areas.
Leyden Rock
Located off of Indiana & Leyden, is a neighborhood called Leyden Rock. It's right next to the Candelas neighborhood. Leyden Rock is also located in between Golden and Boulder so if you're a big skier or mountain biker, you can easily get to the mountains. With about 877 houses, this neighborhood is continuing to grow.
It's similar to Candelas in many ways including the fact that most of the properties have walk-out basements. No matter where you are in this neighborhood, the views of the mountainous landscape are absolutely stunning! As far as home prices, the lower-priced homes are around $600,000 while the high end is closer to $1.13 million. There are plenty of parks to explore nearby, a pool and tennis courts. It's a very well-planned, beautifully laid-out community. It is a highly-polished community and some of the houses look similar.
If you're looking for a neighborhood where every house is totally unique, this one might not be the one for you. One con to living in Leyden Rock is that there are a lot of high winds in this area. The winds will come blowing over the mountains so you are exposed to more gusty winds from time to time. Leyden Rock is also a very large area so if you buy a property towards the back, you will have a few minutes to drive out of the neighborhood.
Local Favorites:
Apex Recreation Center: Two hockey/ice skating rinks with public skating hours, a swimming pool with slides & a kids center, a gym, and a rock-climbing wall.
Leyden Rock Ping Pong Park: A newer park established in 2020 at the corner of W 86th Ave and Yule St. It features two picnic tables, a ping pong table, and regulation cornhole. Great place to spend some time with your family, friends & neighbors.
Skate City Arvada: Roller skating rink with free skating hours & cheap lessons for all ages.
Lake Arbor
Located at Wadsworth Blvd and Pomona Dr, Lake Arbor is a neighborhood with a lot of amenities nearby including a popular golf club, parks, walking, and hiking trails as well as shopping centers. The neighborhood is close to the shopping at 80th & Wadsworth. The average price of a home in Lake Arbor is about $545,000 but you can sometimes find properties for sale as low as $300,000 depending on what is available. There are also apartment options available for those who aren't looking to buy a property.
People who live in this neighborhood say it's quiet, dog-friendly, and family-friendly. It's also close to downtown Boulder! The community itself offers a garden and pool area and for many homeowners, the golf course is right outside of their front door. There is access to public transportation for people who live near here but most people prefer to use a car.
Residents who live in Lake Arbor say there is a close sense of community and people are friendly. It's like living in a small community within a bigger city because this neighborhood is convenient to almost everything you will need. For people who like plenty of greenery, it's a great place for that too with lots that feature plenty of trees and plants. I
f you have a family, Lake Arbor is located right next to Little Elementary School. In 2019, Lake Arbor won 3rd place in the city of Arvada's Neighborhood of the Year Awards. Lake Arbor was recognized for organizing activities like the Neighborhood Easter Egg Hunt, a pool party, Holiday Light Competition, and trail clean-ups, and a 5K fundraiser.
Local Favorites:
Lake Arbor Golf Club: A golfing oasis in the middle of a city setting. This golf club offers green traditional fairways, gorgeous ponds and creeks, and some of the best greens in the Denver area. The course measures about 5,900 yards in length and has a very walkable layout. It also offers leagues and clinics for junior golfers.
Lake Arbor Park: Neighborhood park featuring a kids' playground, open fields, and multiple trails including a loop around the lake.
Mission Commons Shopping Center: Shopping mall located on 88th & 90th on Wadsworth Blvd. Anchors include Planet Fitness, Big 5 Sporting Goods, Sears Outlet, Burger King, Chase Bank, and Dunkin Donuts. The mall is over 125,000 square feet on 15 acres.
The Bottom Line - Best Neighborhoods in Arvada
Arvada, Colorado is a Denver suburb that offers a variety of different neighborhoods all conveniently-located near the big city. Some of Arvada's other popular neighborhoods that we haven't mentioned here include Spring Mesa, Meadowglen, Pomona Lakes, Far Horizons, Whisper Creek, Landing at Standley Lake, Semper, Mount Olivet, Wallace Village, and Alta Vista Sub. People who live in Arvada neighborhoods love the incredible scenery, excellent schools, and thriving employment opportunities in and around the community. Before you move, make sure to reach out to one of our helpful Realty Specialists to guide you through the moving and home-buying process. Contact us today to find your dream location in Arvada!

Find your new home
Search real estate and homes for sale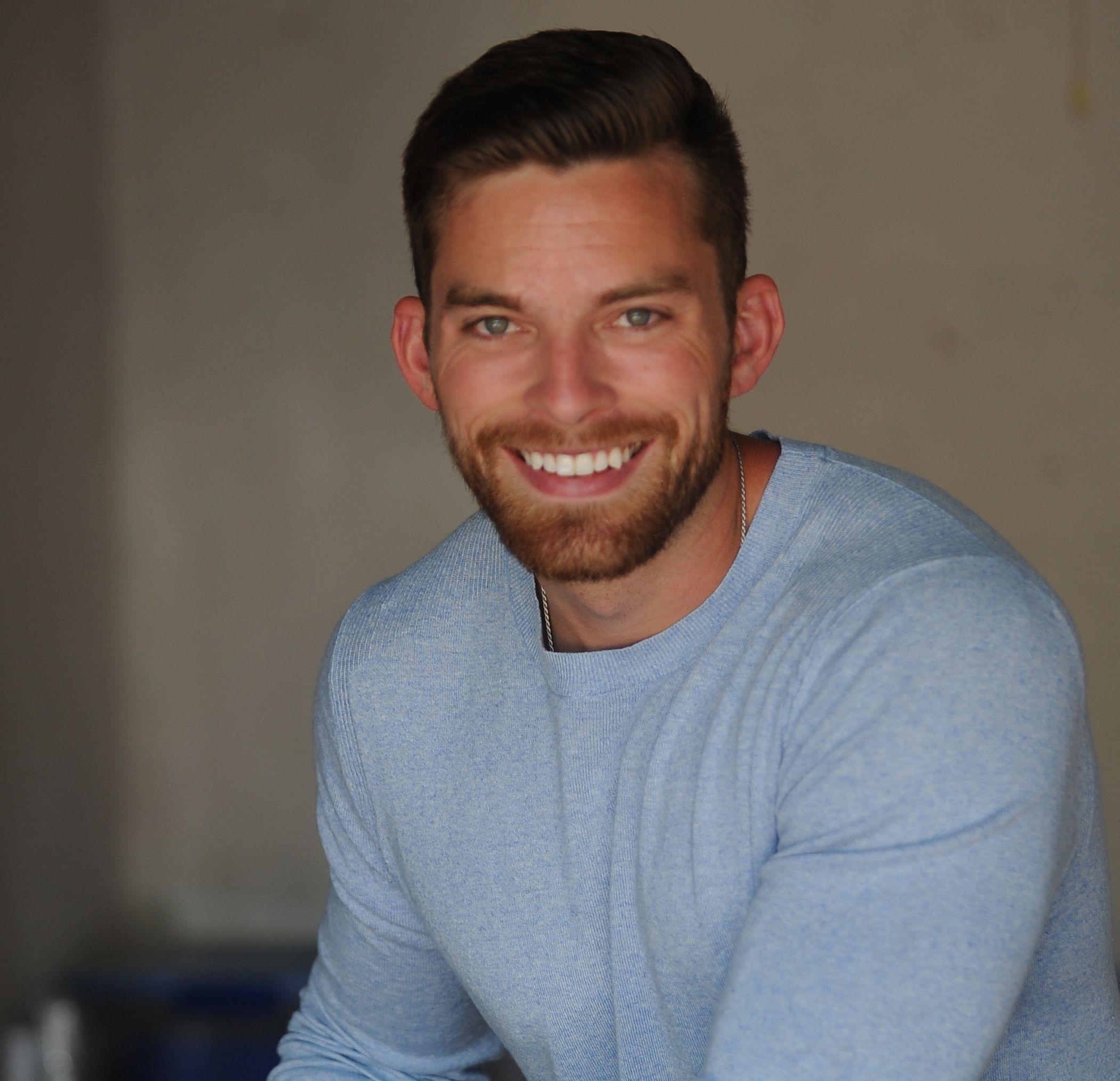 Ryan Fitzgerald
Hi there! My name is Ryan Fitzgerald, and I am a REALTOR®. My goal is to help you learn more about real estate through our Real Estate Blog! Hopefully, you enjoyed the above blog post and it found a way to provide help or value to you. When you're ready to buy or sell a home of your own let us know here. Please feel free to join the conversation by dropping us a comment below.